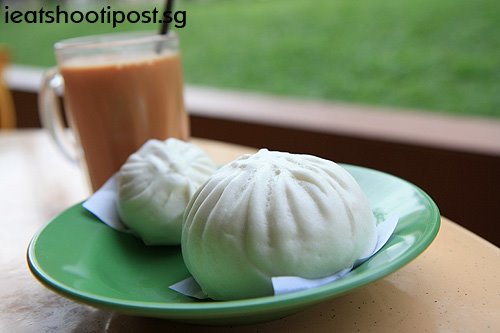 I love Paus ever since I was a kid. I remember one of the best Big Paus I ever ate was when I was still a student. The Pau was made in the corner coffee shop along Serangoon road just before you turn left to get onto the PIE. (Diagonally opposite Jackson's Food Centre) They used to mix the pork with chunks of chicken with the bones still intact (if you are lucky you might get a wing!). It was one of those things I would save my pocket money and look forward to eating right have school. Sadly, I have no idea where they dissappeared to.

The household names for Paus in those days were Tanglin Pau and Tiong Bahru Pau. I remember that they too were very good and us boys (my two brothers and myself) would often look forward to driving out to buy Teck Kee Tanglin Pau. The fat man logo on the bottom of each pau was a signal for our salivary juices to start flowing. As with most things, when these two established brands expanded, the quality dropped. They are still one of the better paus around and would probably be blogged one day, but it is still the good old 'mom and pop' stalls that excite me most.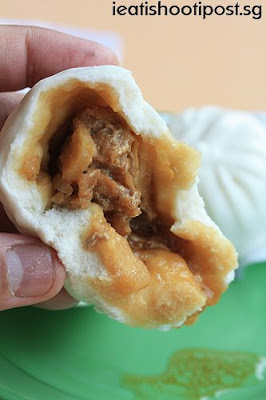 This is one juicy pau!
So when our Hougang expert, Bugger listed down this stall in our forum as selling the best big pau in Singapore, it did not take me too long to wake up extra early on a Sunday morning to find out whether our friend's tastebuds are reliable or not.
This stall had just moved from Hougang Ave 7 to its new location, so their old customers are still trying to locate them. According to Bugger, I would have to put up with a long queue otherwise. I am glad to tell you that our friend's tastebuds aren't bad at all. This big Pau is easily the juiciest Pau in Singapore and is chock full of crunchy turnips which I love. There is no egg in it and the meat filling is a little on the sweet side which suits me fine, but some readers might complain that it is a little sweet. Tastewise, if it just had that bit more ooomph, it would have gotten the same rating as Tanjung Rhu's. 4.5/5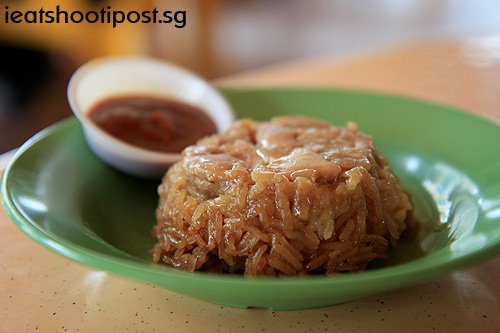 The other items like the Siew Mai and Char Siew paus were all very good but not as exceptional as the Big Pau. The Lo Mai Kai was a beauty but sadly the glutinous rice was somehow not as sticky and fragrant as I liked. All these items are a 4/5. While I was taking photos of the stall, one of their customers told me that their Fan Choy is really really good, but unfortunately he bought the last one! Aiyah, I really hate it when someone tells you something is die die must try, then tell you it just sold out! (Well, he did graciously offered to give his to me, but really paiseh to accept his offer)
Conclusion
This is so far the juiciest Pau in Singapore that I have come across. The meat could have been more fragrant but the joy of biting into a Pau and having the juices trickle down your hands should get most Pau lovers excited.
What to do next?
For Bugger's list of Hougang eats, click here
Find out the other places for Pao here