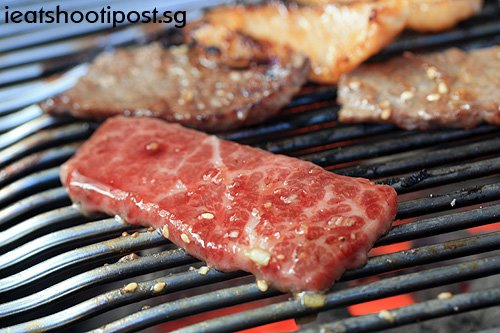 Does the thought of tender, juicy beef sizzling over a charcoal grill thrill you? Yeah, me too. A slice of nicely grilled Wagyu Karubi dipped in Tare sauce eaten with a mouthful of good Japanese rice is as a wonderful a treat as a Scooby Snack. The only problem is that such a treat usually burns a hole in your pocket and its normally reserved for that special occasion.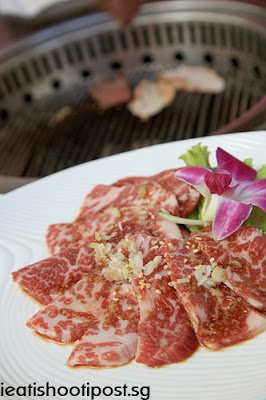 US Karubi – All you can eat Buffet from $43++
So, if you which to keep your pocket intact but still want to be able to satisfy your beef craving, then you might want to consider a "all-you-can-eat" buffet. Nowadays, you can get a pretty decent "all-you-can-eat" buffet for $20 plus. But for that kind of money, you seldom get really good beef. They might throw in some normal Australian or NZ beef into the buffet, but the beef is seldom that good.
So unfortunately, if you want good beef (and "good" anything else in life), you usually have to pay for it. But even if you have to pay more for it, we still want to get "value for money" right? We are Singaporeans after all.
Now, most people will not consider a $43 buffet "value for money", but when the buffet has "all you can eat" USDA grain fed Karubi, then for Beef lovers at least, this is a reasonable price to pay to satisfy that craving for good beef.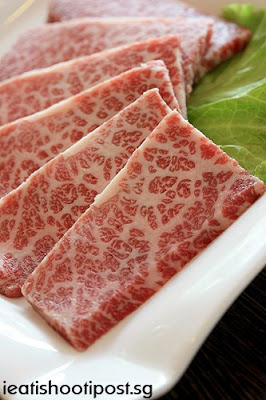 Wagyu Tokujo Karubi $45.90 per 100gm serving

Having tried both the US Karubi and the Aust Wagyu Karubi that day, even my kids can tell you that the Wagyu is the better cut. However if you were to consider that the Wagyu is $45.90 per 100gm, and for the same price you can get unlimited US Karubi, Pork jowl, Scallops etc, then the buffet is definitely better value for the money. The US Karubi 4.25/5 is actually very good and you'd probably be very happy with it if you did not have the Wagyu 4.5/5 to compare.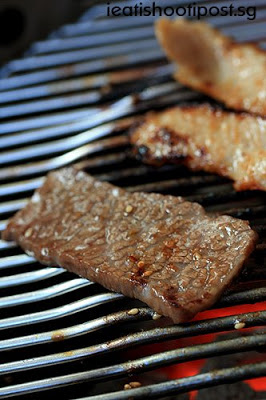 Conclusion
Great value if you are after an "all you can eat" Yakiniku buffet with good beef. The US Karubi is very good, but if you really want to splurge, then you should go for the Wagyu Karubi. This new branch at United Square offers Charcoal BBQ which is different from their main store which uses gas. Overall, the meat and seafood (they've got good sized scallops) is very good quality so no complaints there. The only one thing I would like to see is a variety of sauces to go with the beef. I found the standard sauce not sweet enough and there was no option for an alternative.
Post Script:
Thanks to an Anonymous reader who alerted us to the fact that if you add $20 more to the standard buffet, you are able to include Wagyu in your buffet. Now that means for $63++ you can have all you can eat Wagyu Karubi. That is certainly very very good value for money for Wagyu! I have just called them and they confirm that it is "all you can eat" on three Wagyu items which includes the Karubi.
Update: 17 Dec 2008
Thanks to the clarification from the Exec Chef of Yakiniku Daidomon. The $20 addition to the buffet does not include the Wagyu Tokujo Karubi that you see in the picture, but they have 3 other cuts of Wagyu, Wagyu Karubi (short rib), Wagyu Harami (skirt) and Wagyu Nakaochi (meat between the ribs).