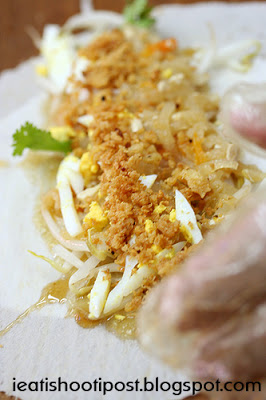 Poh Piah is like the snack food that you buy to accompany your main meal right? I mean, does anyone here simply go out there and eat Poh Piah and that's it? Usually, we would order a few Poh Piahs as a common "share-share" type of dish.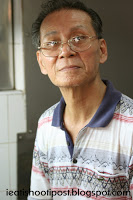 I sometimes think about hawker dishes along the lines of Darwin's theory of Evolution. Hawkers that have been around for a while tend to have food that is pretty good. It is survival of the fittest after all. And the evolution of Poh Piah has really come to a standstill. There has not been much evolution in the Poh Piah since I was a kid. Does that mean that the Poh Piah is perfect and nothing else can make it better? There are some things like that you know. Like the paper clip. It works so well that nothing can be added to it to make it better. Do you think this applies to Poh Piah as well or can it be further improved?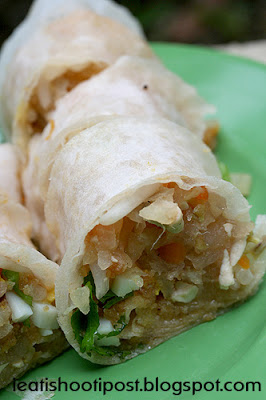 Poh Piah $1 each
This Poh Piah is almost legendary so I am sure there are many fans out there. The skin is homemade, so it is nice and chewy, the ingredients are fresh and the crispy bits are really crispy. A good Poh Piah, but is this as good as it gets? Or can it be better? 4.25/5
Conclusion
Been searching for the ultimate Poh Piah since the beginning of the blog. Still looking for the 4.75 one.