Poh Piah is like the ultimate side dish for most of us. Almost everytime I visit a FC, I get tempted to buy just that one or two Poh Piah to put on the table.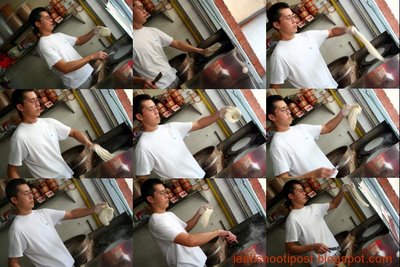 This montage is for those of you who have never seen Poh Piah skin being made. Ever wonder if they make it this way commercially? Think about it. Almost every FC sells Poh Piah, but where did all the skin come from? If you are interested, head to the 2nd floor of Margaret Drive Food Centre and you can see it being made. Basically, the guy puts his whole hand into a big vat of gooey flour mix, and just slaps it onto a hot griddle, then deftly retracts his hand leaving the thin Poh Piah skin on the griddle. Repeat it a few hundred times and you would build the leaning tower of Poh Piah pictured above.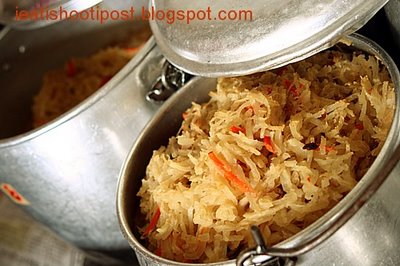 The other main ingredient is of course the braised turnip. It is the chinese turnip that gives the Poh Piah its distinctive taste. You don't appreciate this stuff till you go overseas. When I was in Australia, you can't find chinese turnips, so most restaurants substitute shredded lettuce for turnips when making spring rolls. Not the same yah? A really nice turnip filling is sweet, savoury and really satisfying.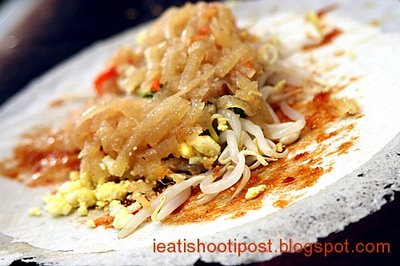 This particular stall was featured in AsiaOne as one of 4 best Poh Piah stalls in Singapore. I think it's because it's one of the few that makes their own skin. The filling is your classic, sweet sauce, chilli, braised turnip, bean sprouts, eggs and the best bits, the crunchy sweet thingy. Some stalls use peanut to substitute, but that just does not cut it. You need this mysterious, crunchy sweet thingy.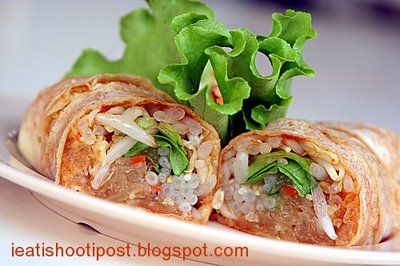 Conclusion Good, I give it 3.5/5, but I just can't help thinking how this could be so much better. I think that hawkers should seriously rethink and reinvent hawker food in Singapore. Just like what we did with Godzilla Da Pao and Sirloin Steak Satay. All I did was to suggest the idea to the stallowners and they were willing to experiment with it. Now both items are doing so well that I won't be surprised if other hawkers start copying them. We are not talking about a quantum leap, just the next step in the evolution of an old favourite. In the Da Pao scenario, all we did was take the humble pau, increase the size (like those in Malaysia) and add really nice stuff like salted eggs and lup cheong. With Sirloin Steak Satay, we increased the size and use a better cut of beef. Why can't we do it with Poh Piah? The fact is that there are many people like you and me out there who want better stuff and are willing to pay just a bit more for it. Now, if you are a Poh Piah seller, this is my fantasy Poh Piah. Make it bigger! Add extra crunchy thingy, add Crispy Pork Floss, Black Sesame Seeds, Nice King Prawns and XO lup cheong in your Poh Piah and I will come and eat it and maybe take a few pictures. And if you are reading this blog and happen to know a hawker somewhere who is passionate about their food and willing to take the next evolutionary step, go ahead and encourage them, give them your wildest ideas and tell us all about it! We would all benefit from a hawker food revolution! For those who want to have their own Poh Piah Party, they sell a $50 set which includes everything needed to make 40 Poh Piahs. Call 96423881 to order.