With skinnyfoodie, chinchaiguy and iwatch_ueat
If like me you really enjoy discovering new things to eat, then you must visit this dessert stall in the new Tiong Bahru Market. They have a whole array of Ice Kachang flavours to tempt you, ranging from strawberry to mango and chocolate fudge to Dinosaur.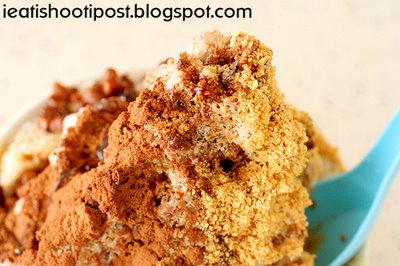 Hey wait a minute! Did you say Dinosaur? That sounds interesting and a definite must try. In case you haven't figured out, Dinosaur is derived from "Milo Dinosaur", the ice Milo drink with Milo sprinkled on top. The Ice Kachang Dinosaur has got Milo on one side, finely ground peanuts and red beans on the other sides. The whole thing is flavoured with gula melaka. It tastes good, but I don't know if I like it enough to buy one for myself the next time. But I would definitely bring other people to try it just to look at their faces when they first set eyes on it! 4/5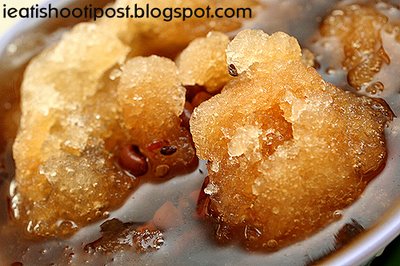 The Ching Ting was pretty good. What I like about it is the generous use of fresh crunchy water chestnut which makes it different from the other Ching Tings around. 4/5
Conclusion
Make sure you check out their unusual list of Ice Kachang Flavours. Judging from the quality of their ingredients, I am sure you will find something that you like.