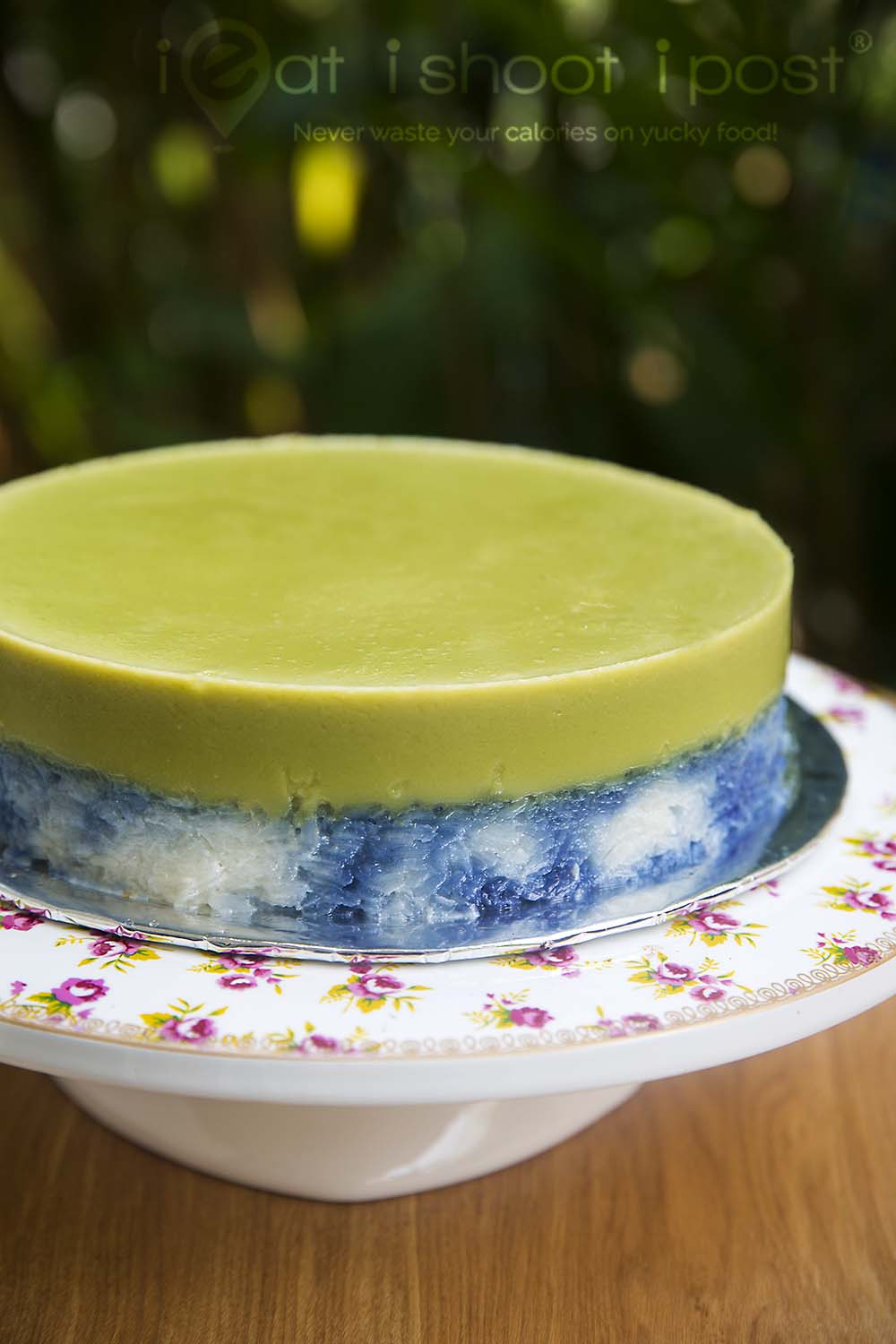 I was quite surprised by the number of "Likes" that my photo of kueh salat garnered when I posted my first attempt on my Facebook page.  Although I knew that kueh salat was a popular dessert amongst Singaporeans, I never knew that it THAT popular!  So since there is so much interest in it, I set myself to research and come up with a fool proof kueh salat recipe which everyone can do at home.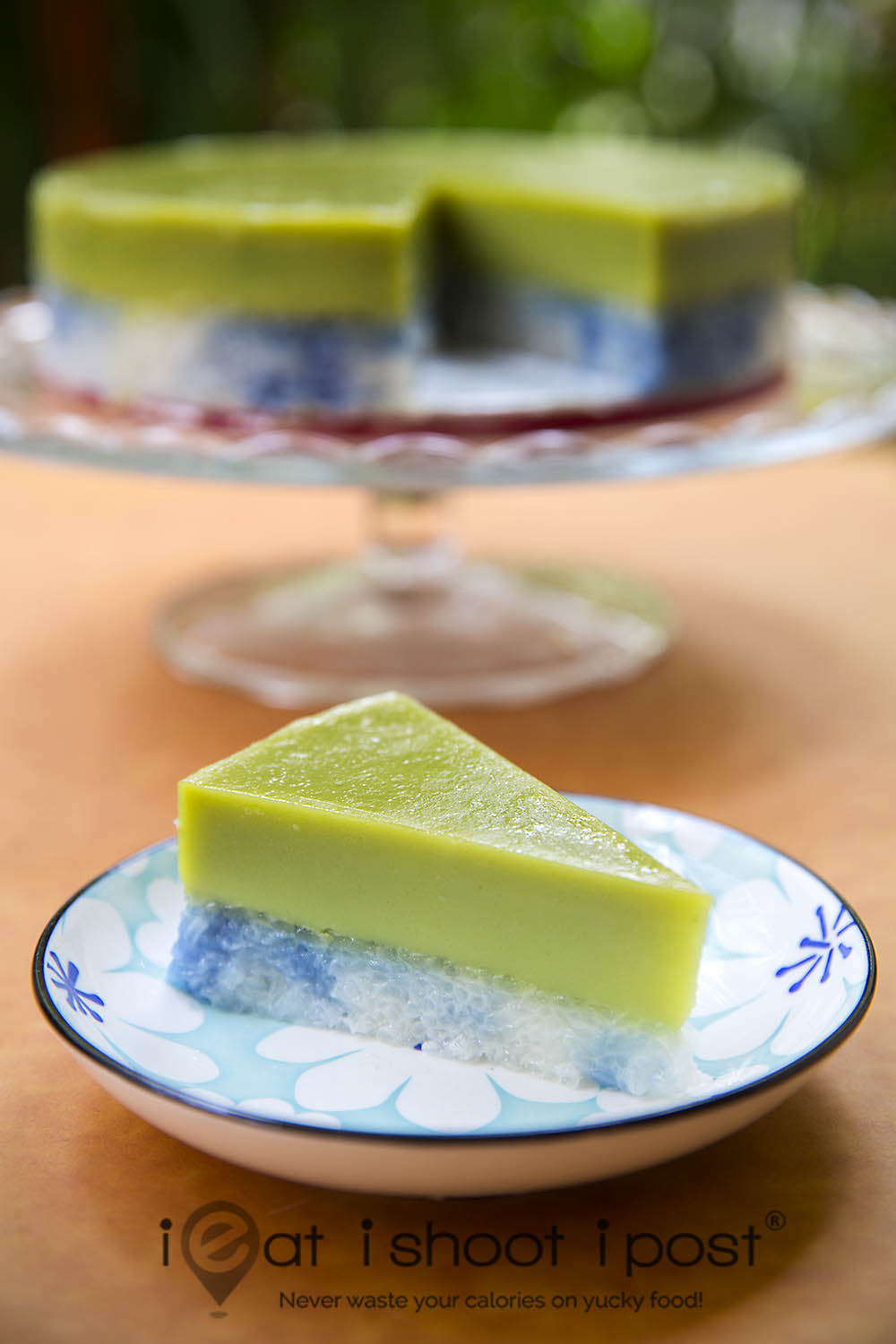 First, I need to define what I envision the perfect kueh salat to be. I find a lot of commercial kueh salat to be too heavy.  The rice layer is thick and gummy and the kaya layer too firm. What I think a perfect kueh salat to be is to have a sublime kaya layer which is light and silky smooth like a pannacotta and a rice layer where the rice grains are still distinct and not so tightly packed so that when you bite into it, the kaya and rice will easily mix together.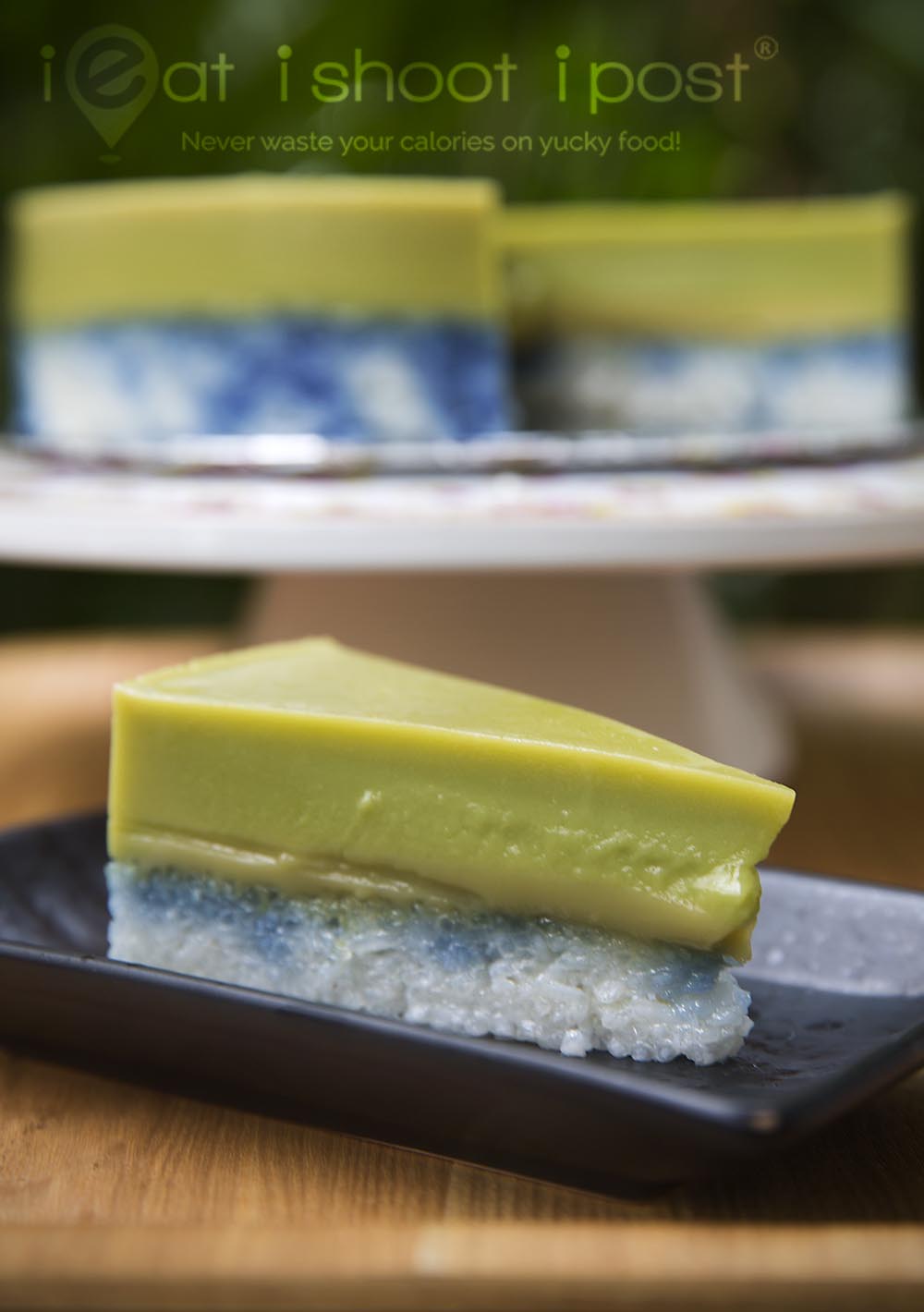 I managed to make the kueh salat which I liked but my softer kaya is so delicate that it breaks easily when you try to transport it.  I also found that most people still prefer the firmer version which is what we all grew up eating. So in this post, I will give you tips and principles on how to make both versions.
I decided on the round shape because I wanted to serve it on a plate to be eaten with a fork.  This helps to distinquish it from the usual rectangle slices which you eat by hand.  You can, of course, make it into a square shape too.  But, having it as a wedge makes it different from what you can easily buy outside.  The last thing you want is for someone to taste your kueh salat and say that it's "as good" as the ones from such and such a place.  Heck, if it is only "as good", you might as well just go buy it!  No, you want them to say it is the best kueh salat ever and that they will not be able to get it anywhere else!  Now, that will be a kueh salat worth your time and effort!
Here is the kueh salat recipe with detailed notes following:
Recipe
Click on the links of kitchen equipment/ingredients to buy them
Equipment:
8 inch baking pan with removable bottom
Glass bowl set over a pot of simmering water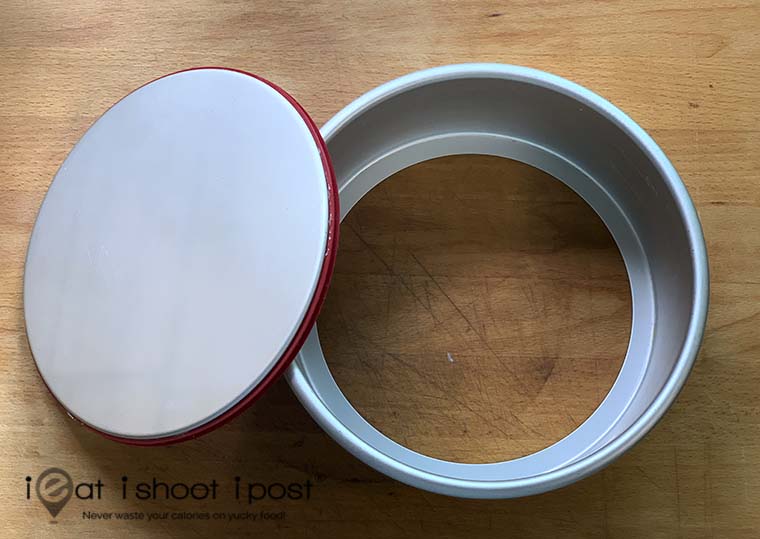 Ingredients
Rice layer
Glutinous Rice 2 cups (Standard Rice cup 160ml)
Coconut milk 120ml (first squeeze)
Salt 1 tsp
Sugar 50g
Bunga Telang flowers (blue pea flowers) 30 (boil in 100ml water to extract colour)
Kaya layer
Eggs 60g x 5  (300g-330g after cracking)
Coconut milk 350g
Sugar 250g  (Can reduce to 150g to 200g if you want it less sweet)
Salt 1/2 tsp
Pandan leaves 10 large  (to grind and squeeze juice)
Pandan leaves 15 leaves tied into 3 bundles (for cooking)
Custard powder or corn flour 40g (dissolved in 2 Tbsp water)
Plain flour 15g (Omit for silkier version)
Alkaline water 1/4 tsp (Optional – buy from bakery supply shops)
Method for kueh salat recipe
Prepare both rice and kaya concurrently.
Rice
1.  Pour boiling water into glutinous rice, stir well and let it soak for 1 hr to 3 hrs or until the rice becomes translucent and the centre is no longer chalky
2.  Wash away excess starch and place rice in the baking pan
3.  Steam for 10mins
4.  Add coconut milk, sugar and salt to rice and mix evenly
5.  Steam 10mins
6.  Boil bunga telang flowers in 100ml water and strain.
7.  Sprinkle blue ink onto rice in random pattern
8.  Press firmly to expel any gas trapped in the rice.
9.  Steam 5mins just before adding kaya.
Kaya
1. Blend or whisk eggs till the whites are completely broken
2. Heat coconut milk, sugar, salt and pandan leaves till pandan leaves are wilted and fragrance is released
3.  Let the coconut milk cool to 80°C before adding it to the eggs
4.  Blend 10 pandan leaves with 50ml coconut milk and squeeze out the juice.
5.  Add the pandan juice, eggs and coconut milk, dissolved custard powder and alkaline water (if using)  into a glass bowl and set over gently boiling water. (not furiously boiling)
6.  Cook the kaya until the batter reaches a temperature of 80°C.  It should be slightly thickened (but not too thick) with the consistency of light cream. Make sure you stir it constantly so that it doesn't get lumpy.
7.  Pour the kaya through a sieve onto the pressed rice. (rice must be hot)
8.  Gently steam (90°C) for 40mins or until the middle of the kaya is no longer wobbly.   If you are using a steamer, make sure the water is gently boiling and uncover the lid a little so that the steam is able to escape.  If you steam it at 100°C, you will overcook the custard and bubbles will form.
9.  Depending on your steamer, it might take anywhere from 40min to 1hr 15mins for the custard to firm up.  Check by gently shaking the pan and gently pressing on the middle of the kaya.  Once it is firm, you can remove it from the steamer and let it rest.
10.  Allow it to come to room temperature before cutting.
11.  Consume within a day.  After one day, you will need to refrigerate it.  Once it is refrigerated, you will need to steam or microwave it before consuming or the rice will be too hard.
Note:
If you wish to make a more tender custard, omit the plain flour and steam at a lower temperature (85°C) for a longer time.
Here are the steps in detail.
Rice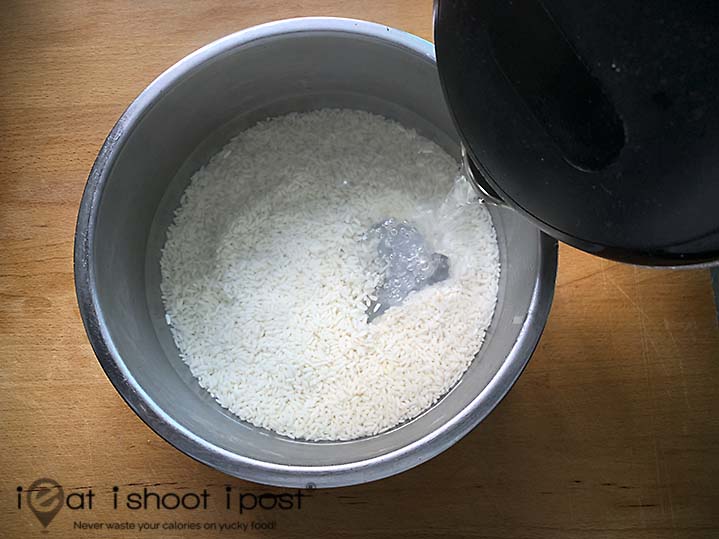 Most recipes just ask you to soak the glutinous rice overnight.  However, I found that soaking in boiling water is better as it helps to reduce the starchiness of the rice as well as shorten the time it takes for steaming the rice.  After adding the boiling water, just stir it a couple of times and leave it to soak for at least 3 hours or overnight.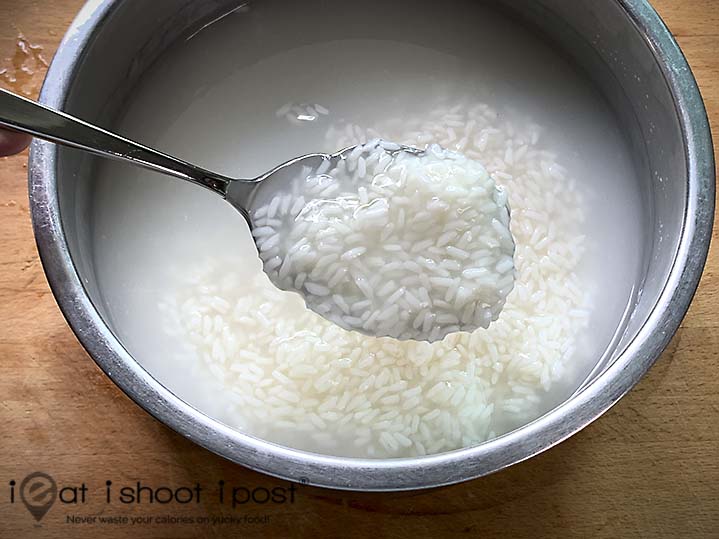 After 3 hours, you will find the rice is slightly translucent and a lot of starchy liquid.  Wash away this excess starch.  You are actually reducing the calories and the glycaemic index of the rice and making it healthier!  (Healthier doesn't mean healthy yeah?)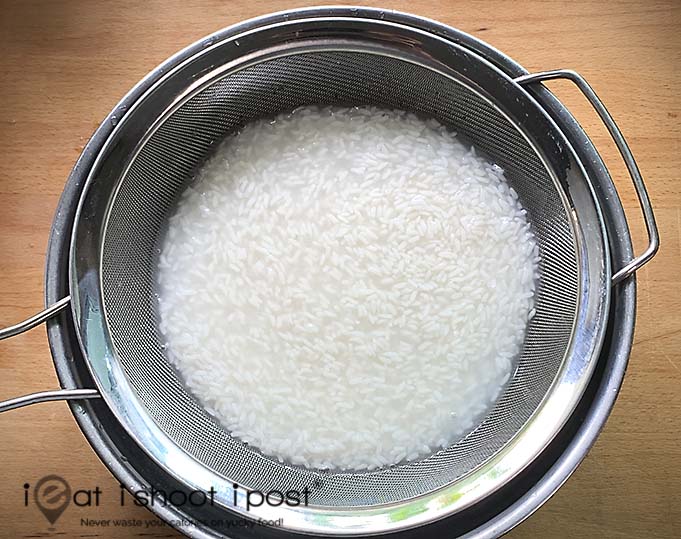 Wash the rice and strain.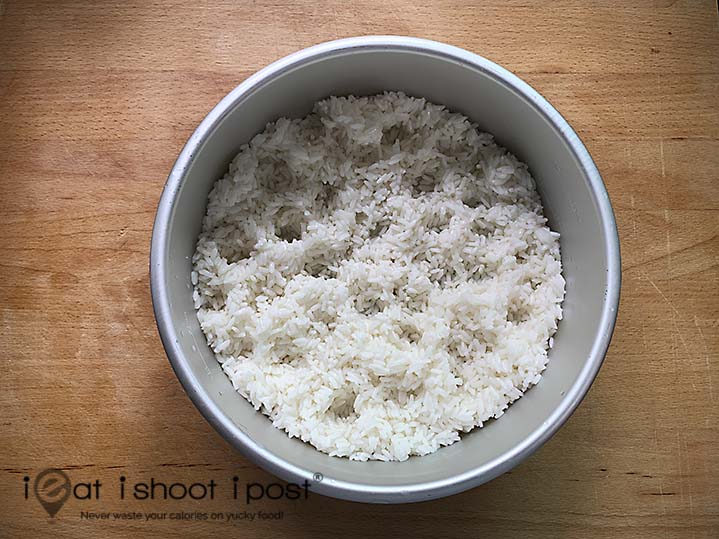 Place the rice into the baking tin (If you don't have a tin with removeable bottom, you will need to line the bottom with baking paper or banan leaf). Use your fingers to make several dimples in the rice so that it will steam evenly.  Steam at 100°C for 10mins.
After 10mins of steaming, add coconut milk, sugar and salt and mix evenly.  Then steam for another 10mins.  The rice should be nice and tender by this stage.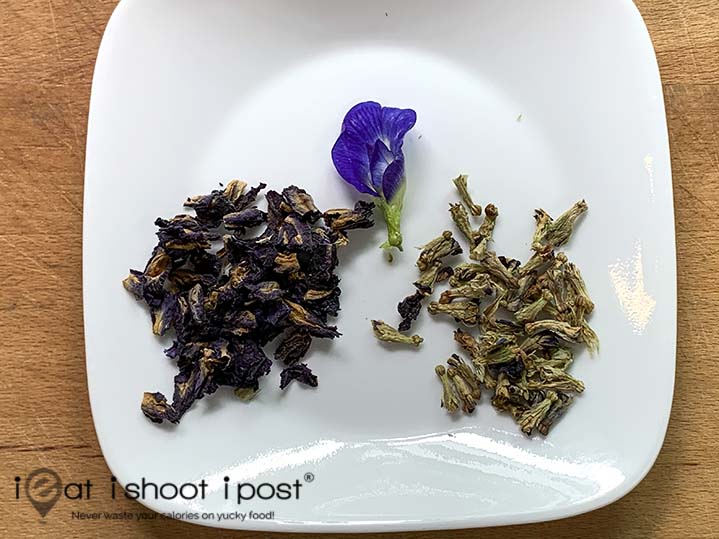 For the blue ink, you will need bunga telang flowers.  The dried ones are available at bakery supply shops like Phoon Huat.  One extra step you might want to do is to remove the green part.  My friend tells me that it is not good to eat the green part, so it is an extra precaution.  Bibik Kathryn from Peramakan says she removes it as it might cause a brownish tinge. If you can't find the flower, you can use artificial blue colouring or just not add any colouring.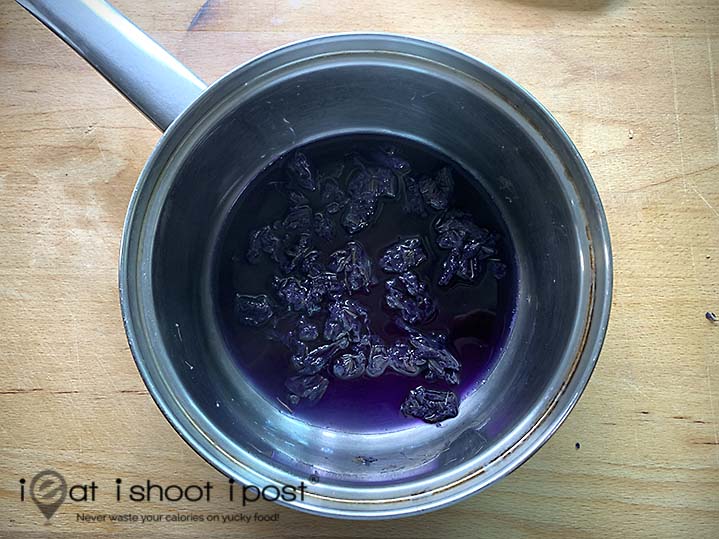 Bring the flowers to a boil for a few minutes to extract the ink then sieve and sqeeze out the blue ink.  You can put this into a squeeze bottle for easy application.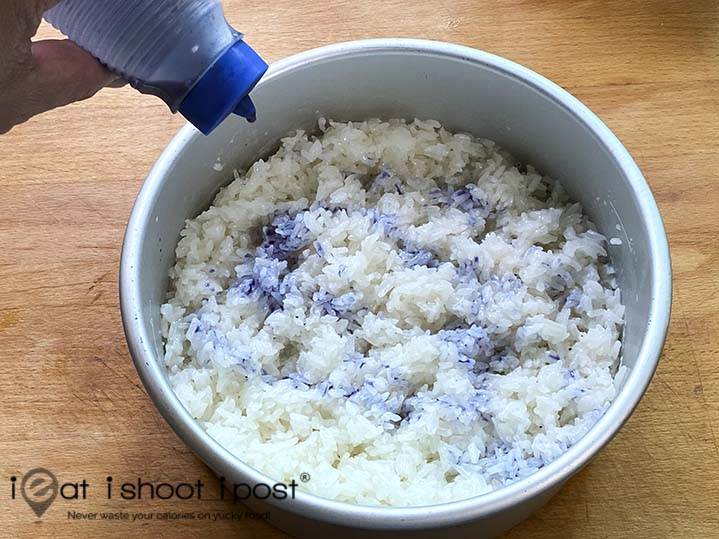 Add the ink into the rice in a random fashion, making sure you ink the sides.  You should use a fork to make holes in the rice so that the ink will be able to seep down to the bottom.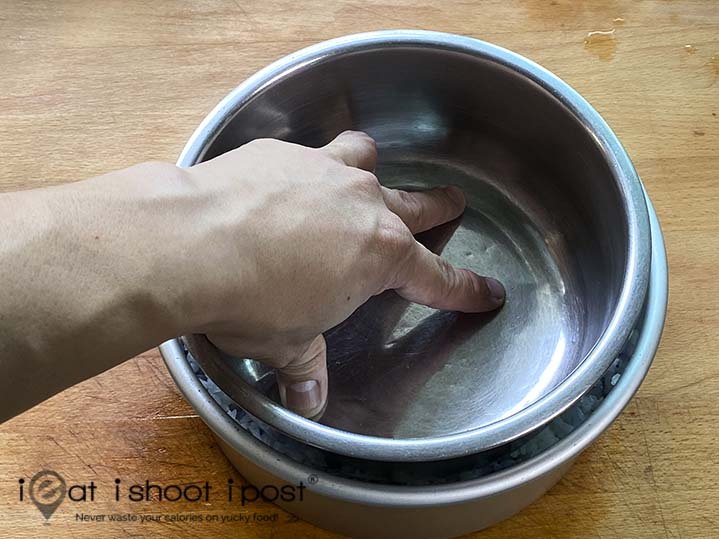 After inking the rice, use a flat bottom bowl and press down firmly to expell all the air.  It is important you do this when the rice is hot and moist.  If you make the mistake of fluffing the rice and leaving it to dry, there may be air bubbles trapped in the rice layer which will rise during the final steaming process and leave your kaya layer like the surface of the moon.  Trust me, I know.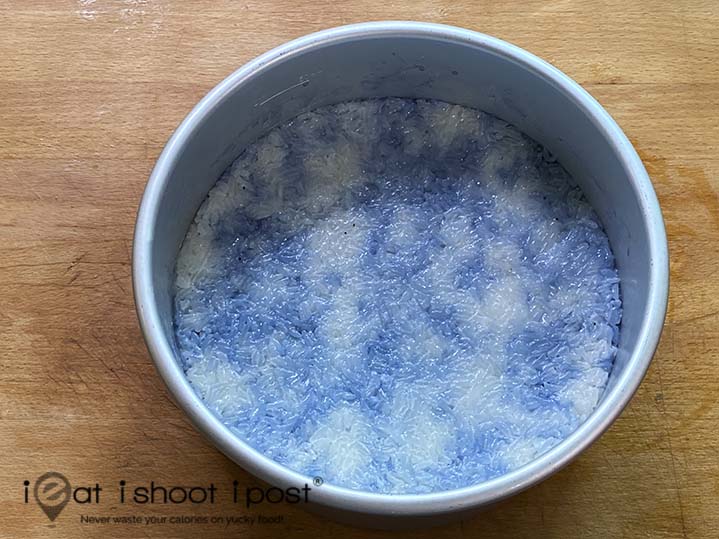 This is how it looks like after pressing.  Steam for another 5mins before adding the kaya.  The surface needs to be hot when you add the kaya, so you need to time it properly.
Kaya (make concurrently)
Using a hand blender will ensure that your eggs are evenly beaten so that the whites are no longer stringy.  If you don't have a hand blender, use a fork and beat and then strain it.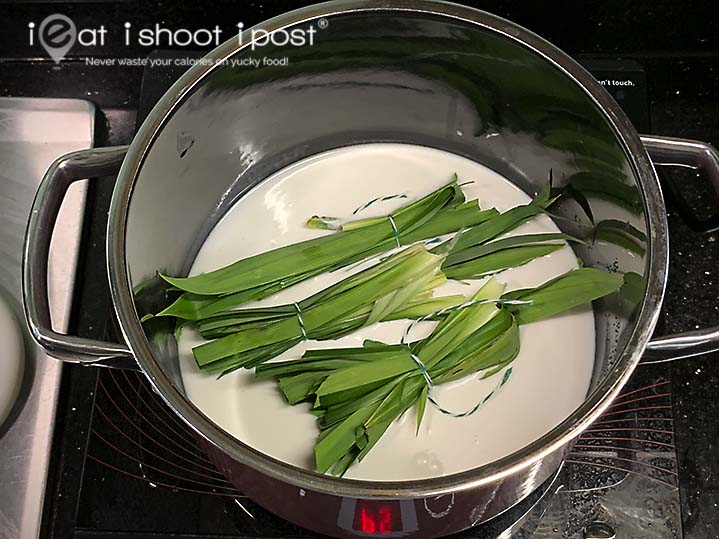 Most recipes don't call for cooking the batter first.  However, I find that the fragrance is enhanced when you simmer the coconut milk with the pandan leaves.  The pandan juice provides the green colour, but not as much aroma as when you boil the pandan leaves.  So bring the coconut milk, sugar, salt and pandan leaves to a gentle simmer and cook till the pandan leaves are wilted.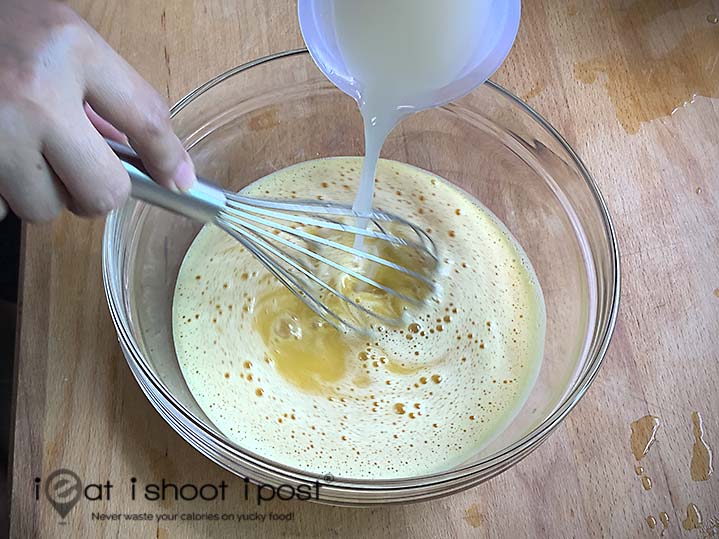 Make sure you let the coconut milk cool a little (cool to 80°C before you add it to the beaten eggs. Stream the warm milk into the eggs while stirring constantly.  Keep stirring until the mixture turns greenish and has the lovely smell of pandan.  Now you add the pandan juice and custard powder mixture.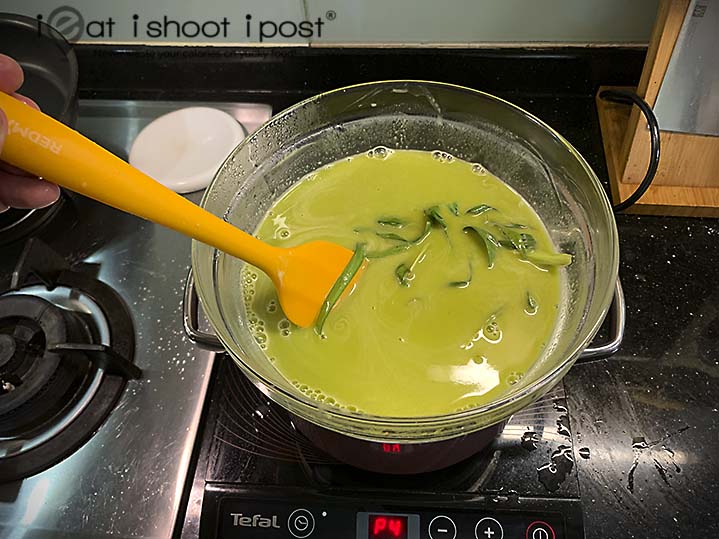 Now gently warm the batter up to 80°C using a bain marie (ie set your bowl over a pot of gently boiling water). 80-85°C is the temperature where the eggs start to thicken and the cornflour starts to gelatinize.  This is the most crucial step in the whole process.  If you let the kaya thicken too much, it will become lumpy instead of smooth.  So watch it like a hawk.  Once the consistency is like light cream, remove it from the flame.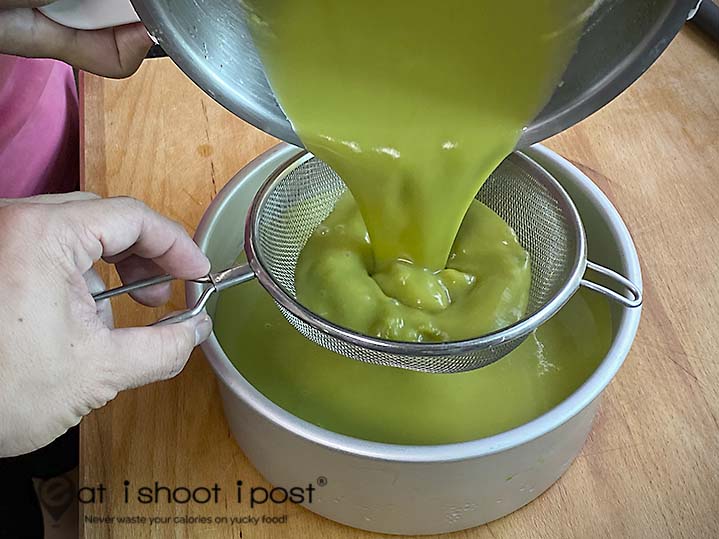 Sieve the kaya onto the hot glutinous rice.  The rice has to be hot in order for both layers to stick together nicely.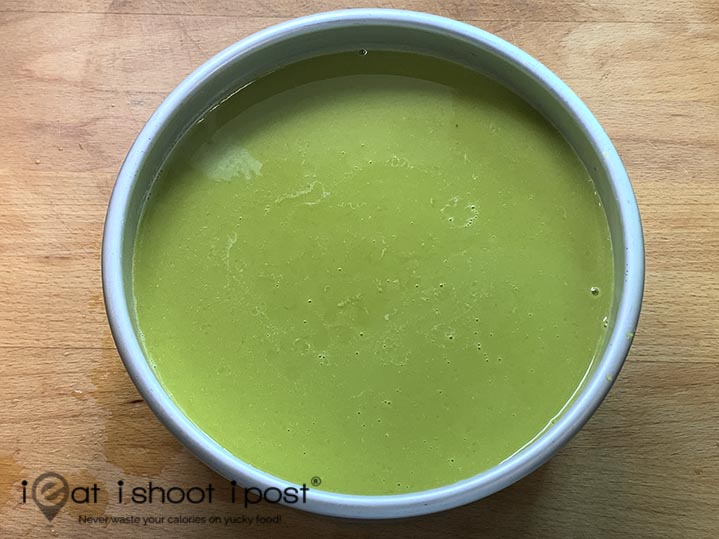 Make sure you give the baking pan a few sharp knocks to expel any bubbles and then place it in the steaming oven to steam.
For softer version , steam at 85°C for and steam for 1 hour 15mins or until the middle of the cake is no longer wobbly.
For firmer version, steaam at 90°C and steam for 45 min to 1 hour or until the middle of the cake is no longer wobbly
If you are using a normal steamer make sure that water is not at a furious boil and place a chopstick between the wok and the kid to keep the lid slightly ajar so it doesn't get too hot.  After 45 mins, gently jiggle the pan to see if the kaya is set.  If still too wobbly, then steam it longer. The kaya layer is ready once the middle is firm. If you want it really firm, increase the heat.  If you want it silky smooth, lower the heat and steam for longer time.
Additional notes
1. After steaming, allow the cake to cool before depanning.
2. Wet your knife before slicing to prevent the glutinous rice from sticking to the knife.  Even better if you have a wire cake cutter.
3. Best not to put the cake in the fridge as the rice layer will harden.  Best to be eaten within 1-2 days.
4.  If you do leave it in the fridge, you will need to re-steam the kueh or warm it up using a microwave oven.
5.  If you want the kueh to look like the one from Chalk Farm or Coconut Club, just cook the batter to 90°C where it becomes a thick kaya and spoon it onto your baking pan.  Steam it for an hour or until the surface is firm.
6.  Depending on the quality of your pandan leaves, you might find that the colour of your kaya is a little pale.  You may want to add some pandan paste or apple green colouring to improve the appearance of the kaya.
And viola! You have made a beautiful kueh salat! Thanks for trying out my kueh salat recipe. Remember to hit the share button and share this with all your friends if you enjoyed it!
Disclosure: Some links above are affiliate links, meaning, at no additional cost to you, a small commission is earned if you click through and make a purchase.
Check out our other dessert recipes:
Pandan Chiffon Cake
Cendol
Bika Ambon
Japanese Cheesecake
Butter Cake
Places to eat Kueh Salat:
Peranakan Khek