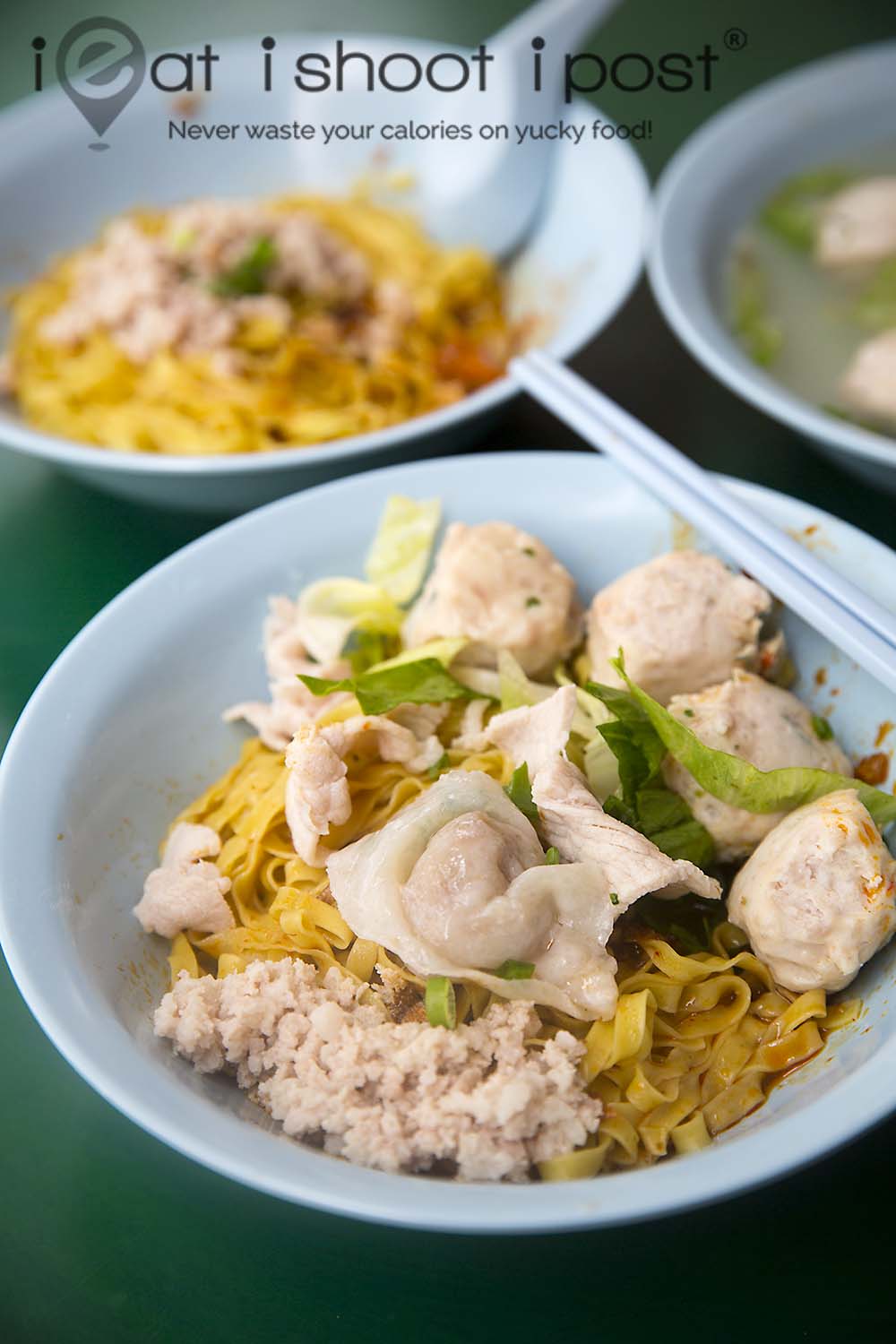 Fishball minced meat noodles are a dime a dozen.  But ones with fish dumplings, or what is known in Teochew as "her giao" are much less common.  Even rarer as ones with really good handmade her giao!
What makes these dumplings so special is that the "her" ie fish is not in the filling but in the wrapper!  It is made by mincing and pounding fish meat with tapioca flour and rolling it out into thin sheets before it is cut into squares and using it to wrap a pork filling.   To be able to make a good her giao takes years of experience and it is also very time consuming which explains why there is a dearth of stalls selling this item.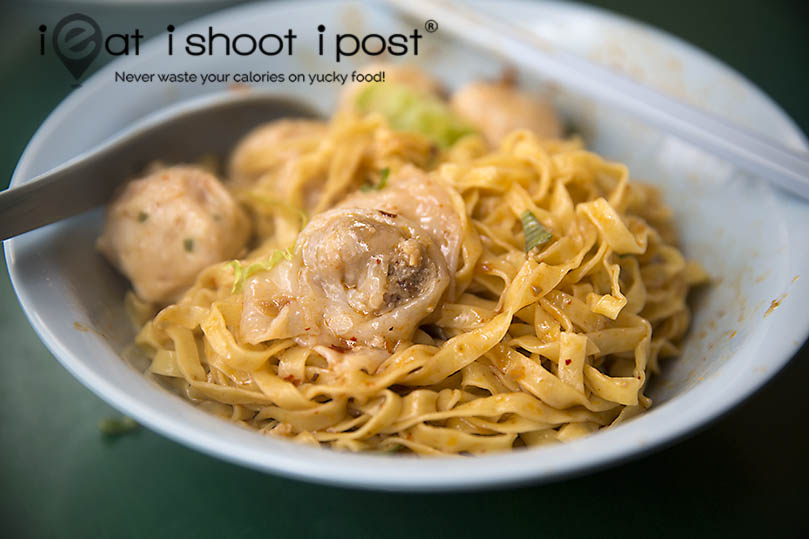 A good her giao should have a skin which is resilient with a nice chew and a savoury filling which is juicy and slightly tacky.  The juxtapostion of such unique textures make them one of the most compelling dumplings you can ever put into your mouth!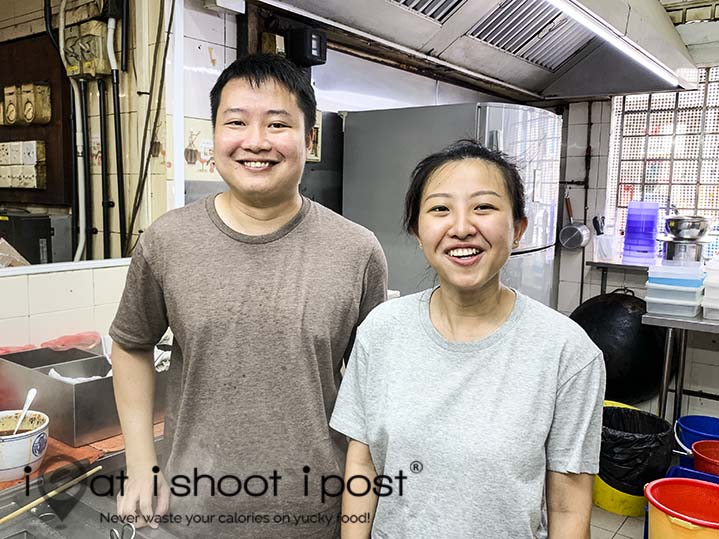 When I heard that this new stall run by a young couple was serving handmade her giao, I wasted no time to see whether they are any good!
Keith and Michelle used to work as recruiters before their love for fishball noodles drove them to open their own stall.  They wanted to serve a bowl of fishball noodles in which all the components are of a handmade quality.  They make their own chilli sauce and pork lard and work with a supplier who handmakes their her giao, fishballs and meatballs from yellowtail fillets.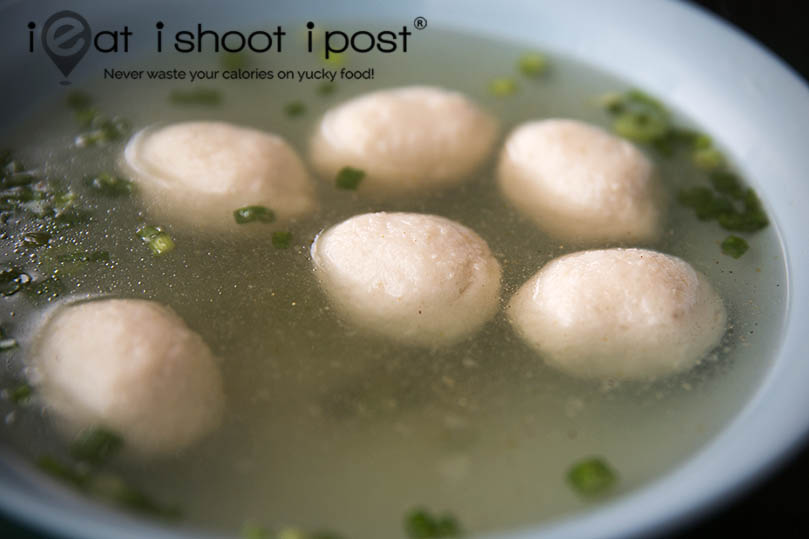 The quality of the dumplings and fishball is excellent.  The her giao has a nice and chewy skin and the filling is full of fried solefish (ti poh) flavour and has that requisite lip smacking tackiness about it.  It isn't as sticky as some that others have come across, but still very good. I also like their meatballs which is a mix of yellowtail fish meat and pork.  The are the size of golf balls and the boucey, tender texture is addictive.
Even though Keith has only been cooking mee pok for 4 months, I think he has quite mastered the skill.  The mee pok was cooked well, the pork lard is crunchy and his chilli has a good zing to it.  If there is one thing I would like to see, it is  a non-chilli (white) version that still has a good amount of umami in it with a good balance of black vinegar.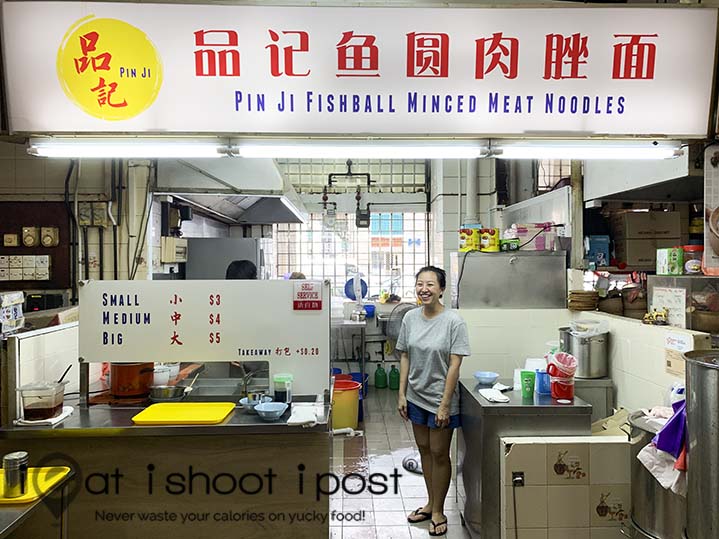 Conclusion
Really good to see a next gen hawker doing a good job with mee pok tar.  My only concern is that  a lot of the dish has to do with the quality of the her giao and fishballs of which he is totally dependent on his supplier.
NB
Also in the same coffeeshop is Xiao Di Hokkien Mee, also another new generation hawker!