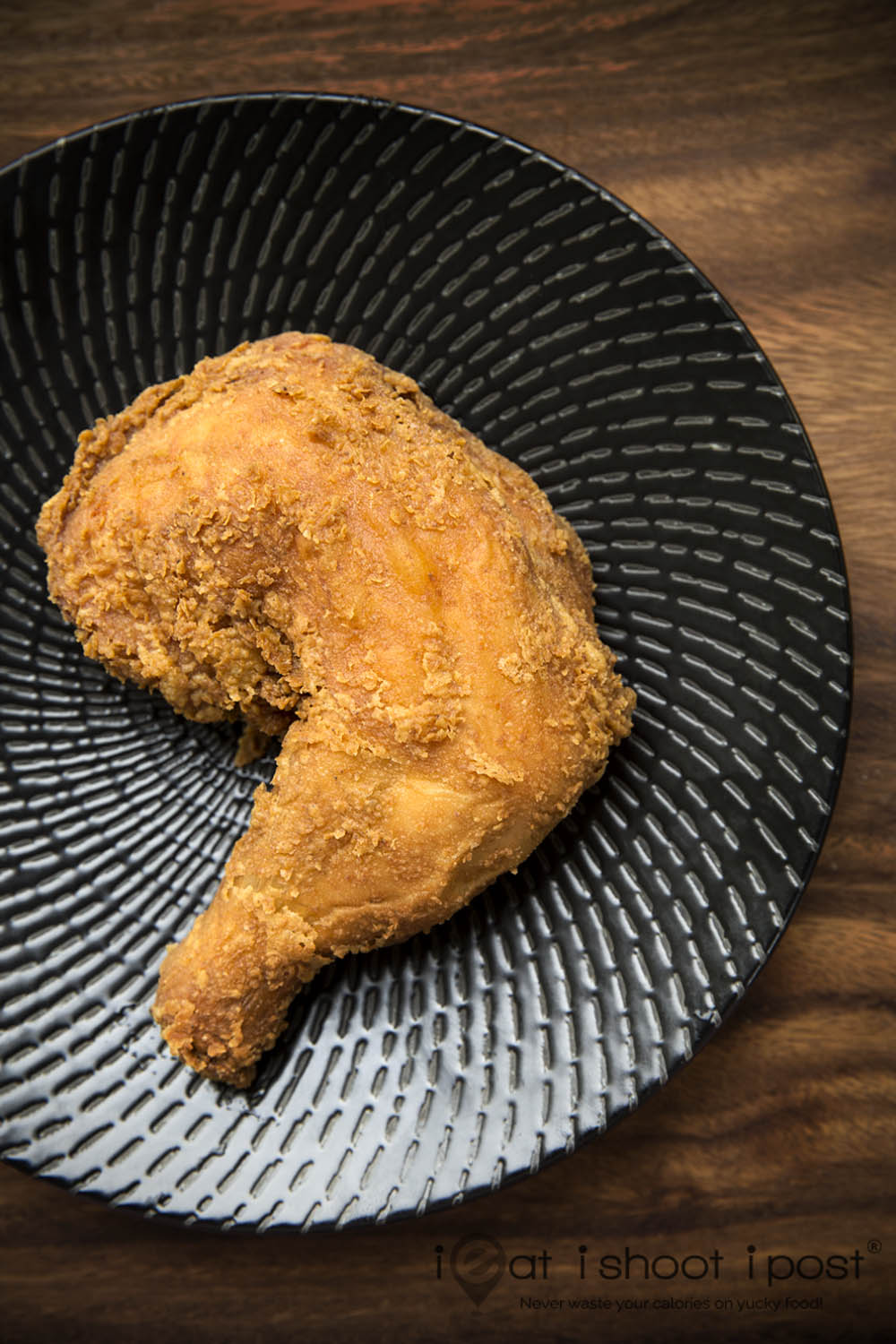 In this post, I am going to present to you the final recipe for my fried chicken. This is recipe combines the best of both Malay style ayam goreng and Southern fried chicken. A unique breading technique is used that will produce a thin and crunchy crust on the outside while the marinade ensures that the inside still oozes with juices when you bite into it. Best of all, it is easily made with three main ingredients plus four basic ones which you probably already have in the pantry. I will also share some of the other breading techniques that I have attempted so that you can see the type of crust you can get from these other techniques.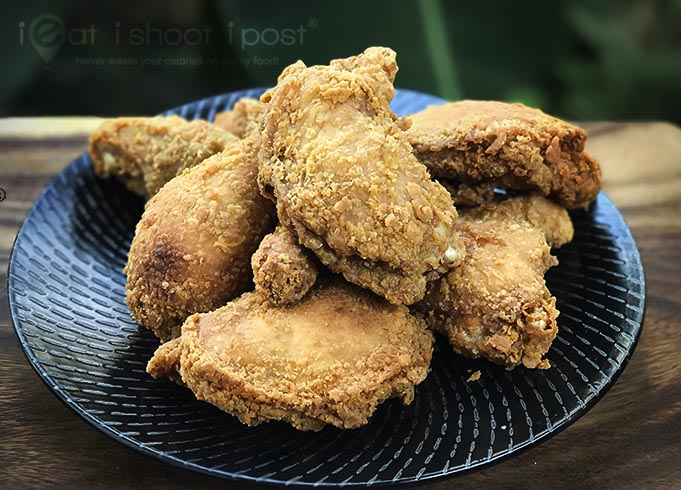 The inspiration for this simple fried chicken recipe started with The Food Canon's new recipe book. He had written an ayam goreng (Malay fried chicken) recipe which was handed down from his mum that uses coconut milk in the marinade. It looked easy enough but it required pounding your own spice mix. So I thought I would simplify his recipe by using curry powder instead and I was amazed by the results.
My first attempt was quite good. I liked the spiced coconut marinade which acted like a brine for the chicken that resulted in a wonderfully moist chicken whose juices flowed down my fingers when I bit into it. However, I wanted a crust with a bit more more crunch. That launched my quest for the perfect fried chicken. This is the winning recipe after six attempts using a dozen different breading techniques. It started off as an ayam goreng recipe, but has evolved into my own version of KFC. I hope you like it!
Ingredients
Marinade
Whole chicken legs 4-6
Coconut cream 200ml (1 small UHT pack)
Curry powder 3 Tbsp
Salt 2 tsp
MSG (optional) 1/2 tsp
Breading
Plain flour 2 cup
Baking powder or bicarbonate of soda 2 tsp
Method Overview
1. Mix coconut cream, curry powder, salt and msg (optional)
2. Put chicken pieces and marinade in a zip lock bag and mix to cover the chicken evenly and leave in the fridge to marinate for at least 1 hour or overnight.
3. Bring the chicken to room temperature before cooking
4. Remove the marinade from the chicken
5. Mix plain flour with bicarbonate of soda and add 8 Tbsp (1/4 cup) of the marinade to the flour. Using fingers mix till flour and marinade form a rough mix.
6. Remove most of the marinade from the chicken and drop into flour mix. Cover and press the flour onto the chicken and shake it to remove excess flour.
7. Deep fry in 170°C to 180°C oil for 12-15mins (depending on size) till golden brown.
8. Drain well, leave to rest for 10min and serve!
Here are my detailed notes: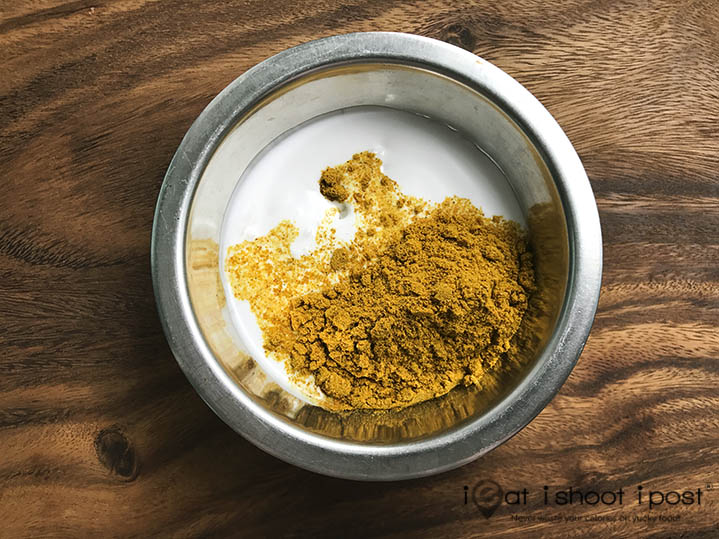 Prepare marinade by mixing coconut cream, curry powder, salt and msg (optional). This recipe is based on the convenient 200ml UHT pack coconut milk which is easily available at the supermarket. Do note that some coconut cream brands like Kara contain stabilisers like guar gum and carrageenan which gives it that thick creamy texture. I find this useful as a marinade as it has the consistency of buttermilk. Other brands may be a bit more watery. I have used them before and they work too.
As for the curry powder, I am using Waugh's curry powder which you can buy from the Thai supermarket at Golden Mile. I use this yellow coloured curry powder primarily because of the colour. I have also tried Baba's meat and fish curry powders as well. The flavour is very good but the final colour of the chicken is quite dark. It still tastes delicious so don't stress if you can't find Waugh's curry powder. If you have spices at home, simply use a mix of coriander, cumin, fennal and tumeric powder in the proportion of 2,1,1,1 and it should work too. The spices give the aroma while the salt and msg penetrate the chicken to season the meat, so you can use any curry powder you like.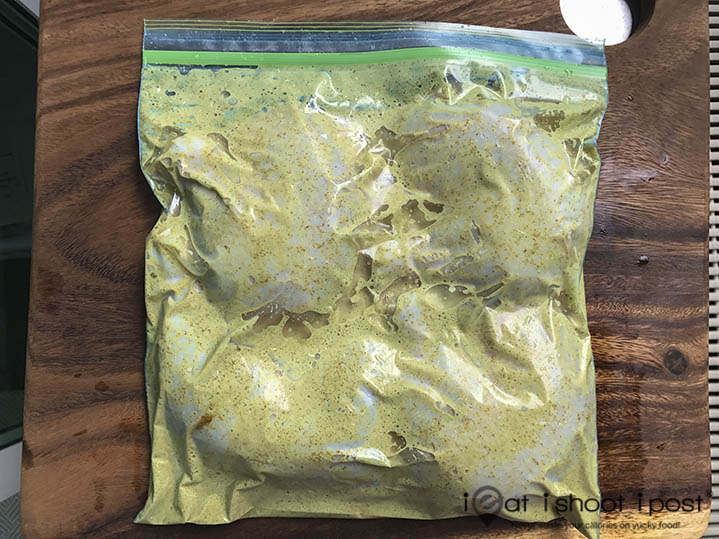 The coconut and salt is effectively a brine-marinade which not only seasons the chicken but helps to keep the meat juicy after it is fried. One hour should be enough for the salt to penetrate to the bone but I usually marinade in the morning and fry the chicken in the evening. Using a ziplock bag or plastic bag with most of the air removed ensures the marinade covers all of the chicken while it lies in the fridge. The beauty of seasoning it this way is that the salt is in proportion to the coconut milk so you can vary the amount of chicken as long as there is enough marinade to cover the chicken pieces.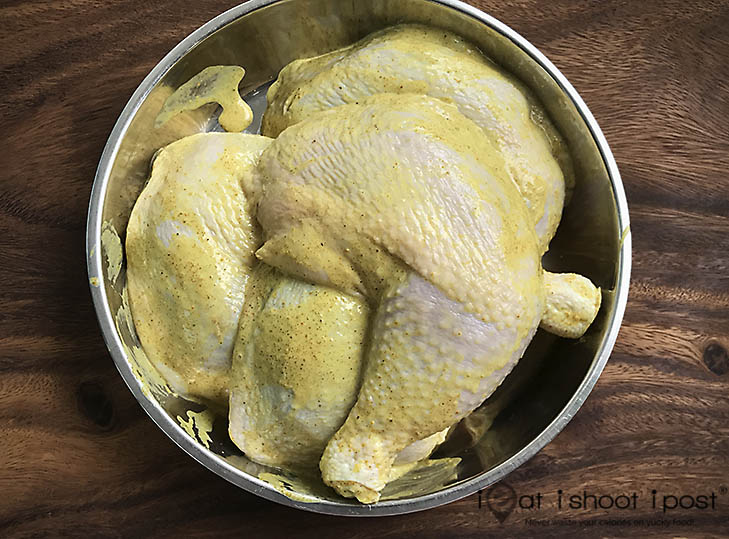 After marinating, remove most of the marinade from the skin side of the chicken. If there is too much marinade the flour will not stick and the crust will lift off when you fry the chicken. (Guess how I found out?) So if you want a nice, thin and crispy crust, dab away most of the marinade with a paper towel.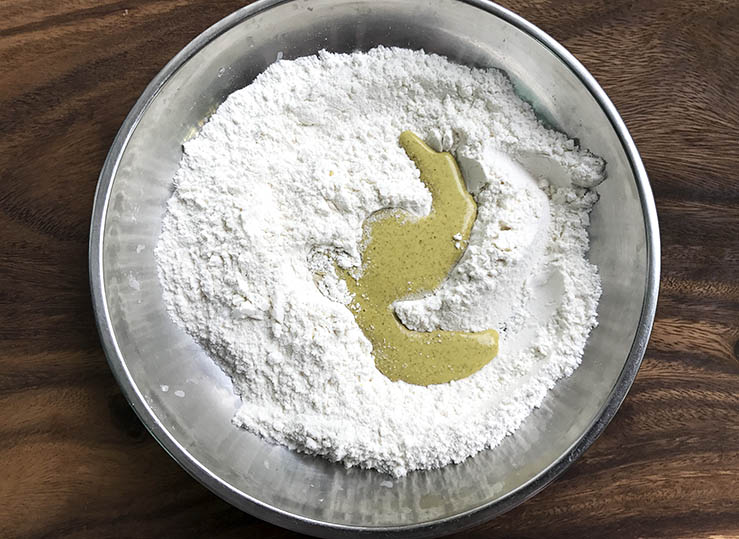 This next step is something which I picked up from "Cook's Illustrated" extra-crunchy fried chicken recipe. Their recipe uses buttermilk which is mixed into the flour first before it is breaded. As I was doing my research, I poured over at least 20 cookbooks at home and this is the only one that uses this technique. Instead of buttermilk, the spiced coconut milk is added to plain flour which has been mixed with bicarbonate of soda (or baking powder).
Rub the flour and coconut milk between your fingers like how you would make shortcrust pastry till it resembles a crumble. There should be small lumps of moist flour intersperse between dry flour. These little lumps will puff up when it's fried to give you those extra crunchy bits.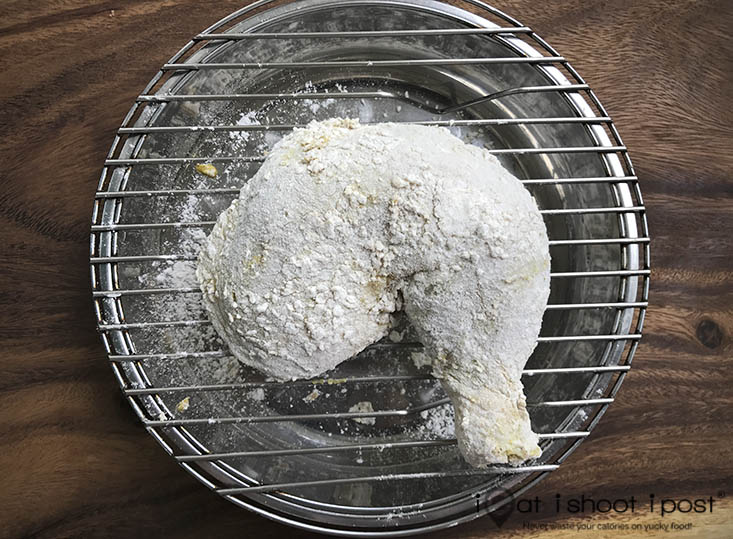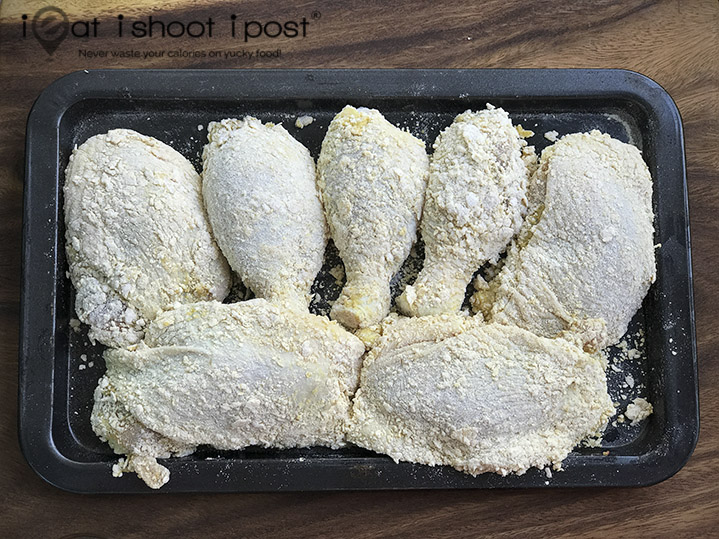 To coat the chicken, put a piece of the chicken in the flour with the skin side up. Take a handful of flour and bury the chicken. Press down firmly and vigorously shake off any excess and leave it on a baking tray with the skin side up.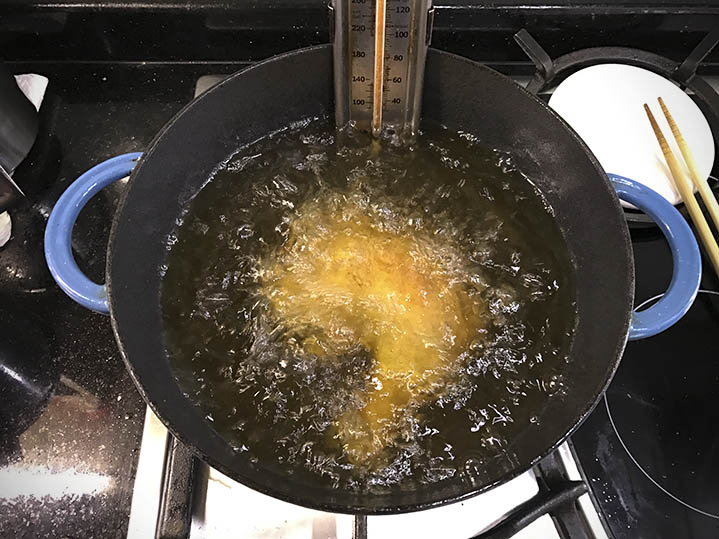 Heat some vegetable oil to 180°C and fry for 12 – 15mins. The whole thighs I buy from the wet market tend to be smaller ($1.50 ea) and they are done in 12mins. (If you divide the drumstick and thigh, it will only take 10mins) The frozen ones or fresh ones tend to be larger ($2.80) and will take 15mins to cook. I usually check using a thermometer to make sure the temperature at the bone reaches 75°C, but they should be done when you see the bubbles decreasing and the crust is golden brown. Do note that the oil temperature will drop when you put the chicken into the oil, so you might want to heat the oil to 190°C before putting it in.
Let the chicken rest for 10mins before serving or leave it on a wire rack in a warm oven until ready to serve. The crust will remain crisp if you leave it in the oven.
Here are my other results using different breading techniques and curry powders: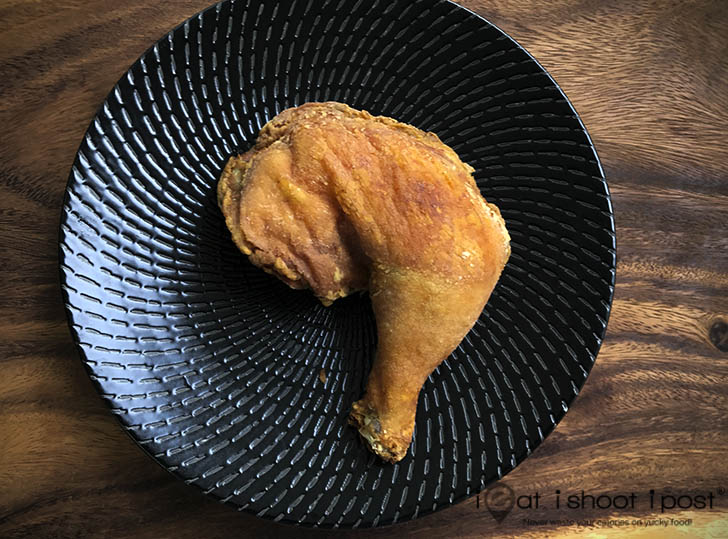 Waugh's curry powder and cornflour
Dab away most of the marinade, cover with cornflour and shake off excess. The crust is thin and light but tends to be a bit tough and doesn't have those flaky crunchy bits.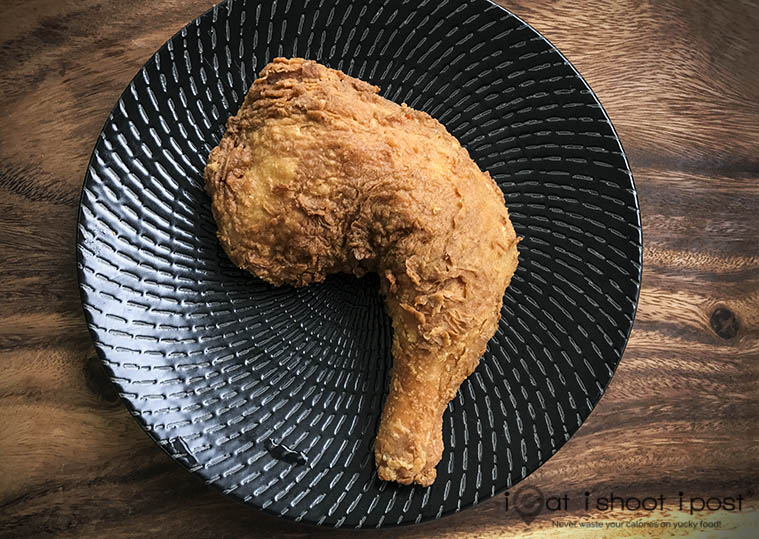 Waugh's curry powder and double-coated with plain flour
The chicken is first coated in plain flour then dipped into the coconut marinade and coated again with plain flour. The crust is nice and crunchy but I found it a bit too thick. It might have worked better if I used another brand of coconut milk which is not so thick. This technique is advocated by both Thomas Keller and Michael Ruhlman as the best Southern fried chicken recipe. In their technique, the chicken is first brined, then coated with seasoned plain flour, dipped in buttermilk and coated again with plain flour.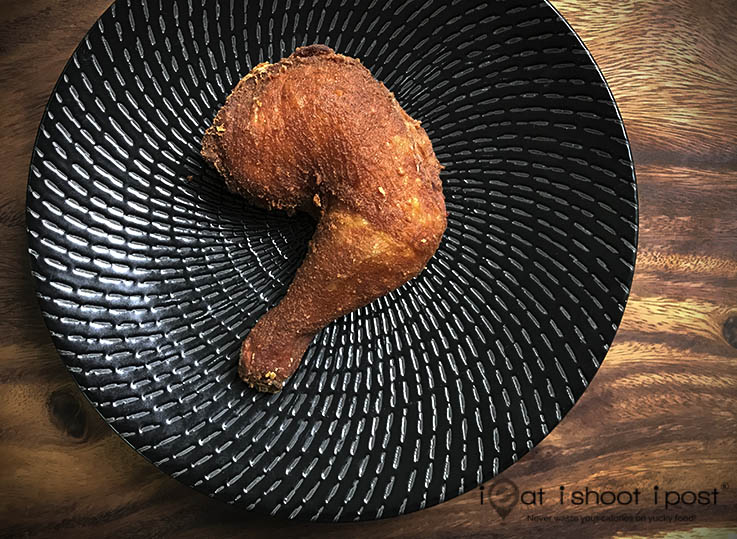 Baba's fish curry powder with corn flour in the marinade
This is a technique that is similar to my har cheong gai recipe and was suggested by my friend Henry from Four Farmers. Two Tbsp of flour is added to the marinade. The chicken is removed from the marinade allowing the excess to drip off and put straight into the hot oil. The marinade should have the consistency of cream and should cover the chicken evenly. The resulting crust is very even. It tends to get dark quickly especially if you use dark curry powder. So you will have to cook the chicken at a lower temperature initially (160°C)
then increase the temperature towards the end. (180°C)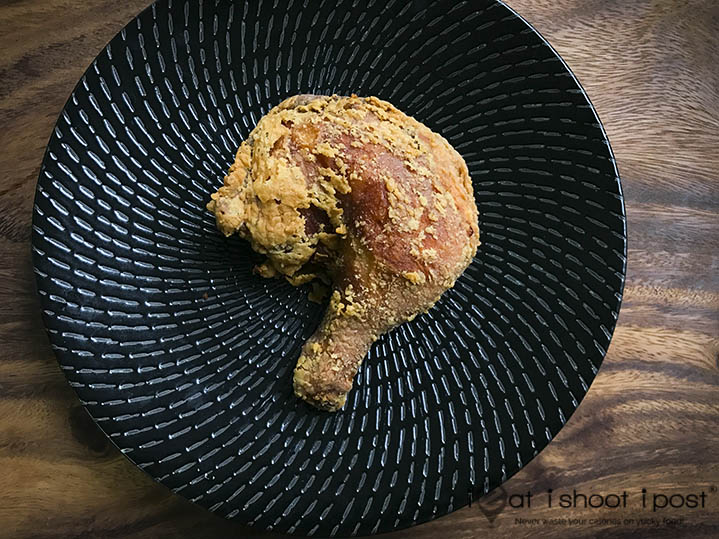 Baba's meat curry powder with potato starch
The chicken is coated with potato starch and left to rest for a while before deep frying. The resulting crust is uneven and there are some parts of the chicken that is covered with thick flakes of crust. It might have worked better if the marinade was cleaned off the skin surface with a paper towel before coating with potato starch. Leaving the chicken for too long after dredging allowed the potato starch to form plates of crust. The chicken should have been fried immediately after dredging. The contrast between the red curry powder and the potato starch is too stark and unattractive. If you only have potato starch at home, I recommend you dab off the marinade with a paper towel, apply a thin coating of potato starch and fry it straightaway. It should give you a similar result as cornstarch.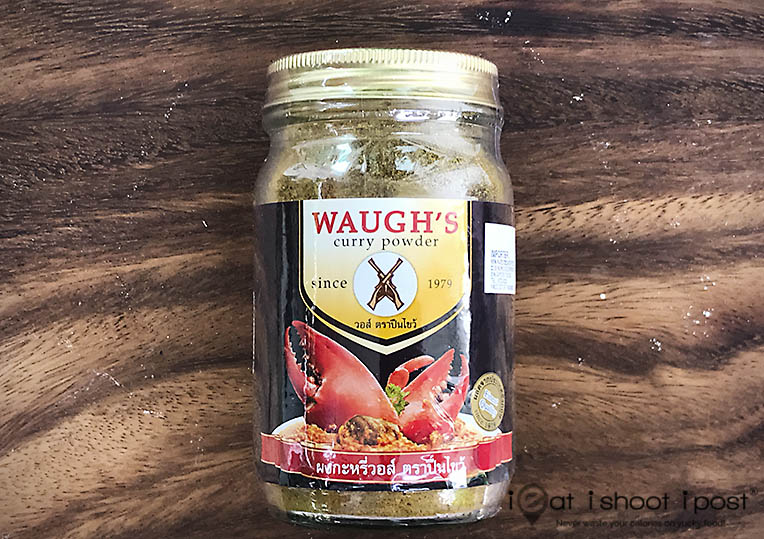 In case you are looking for Waugh's curry powder, this is what it looks like. It is one of those culinary legacies left over from the British Empire. It is a mild and very fragrant curry powder that can be used for many dishes. Good to have a bottle at home. It is available in the Thai supermarket at Golden Mile Complex.
Related Chicken Recipes:
Crispy Chicken w Colonial Curry Sauce
Tea Smoked Chicken
Har Cheong Gai
Singapore Roast Chicken
Teriyaki Chicken
Ayam Curry Kapitan
Places to eat Fried Chicken:
Eng Kee Fried Chicken Wings
Istimewa Nasi Padang
Arnold's Fried Chicken