With its harsh winters, remote location and pristine waters, Hokkaido has gained quite a reputation as a treasure trove of fresh food and ingredients.  If you are talking milk, simply add the "Hokkaido" tag in front of it and it becomes super-excellent milk. Same goes with uni, potatoes, corn, rice, wagyu and many other ingredients!  You may not have heard about anago (sea eels) from Tokyo Bay, or maguro (tuna) from Oma or sakura ebi from Shizuoka, but I'll bet you know about Hokkaido wagyu, Hokkaido potato and Hokkaido rice!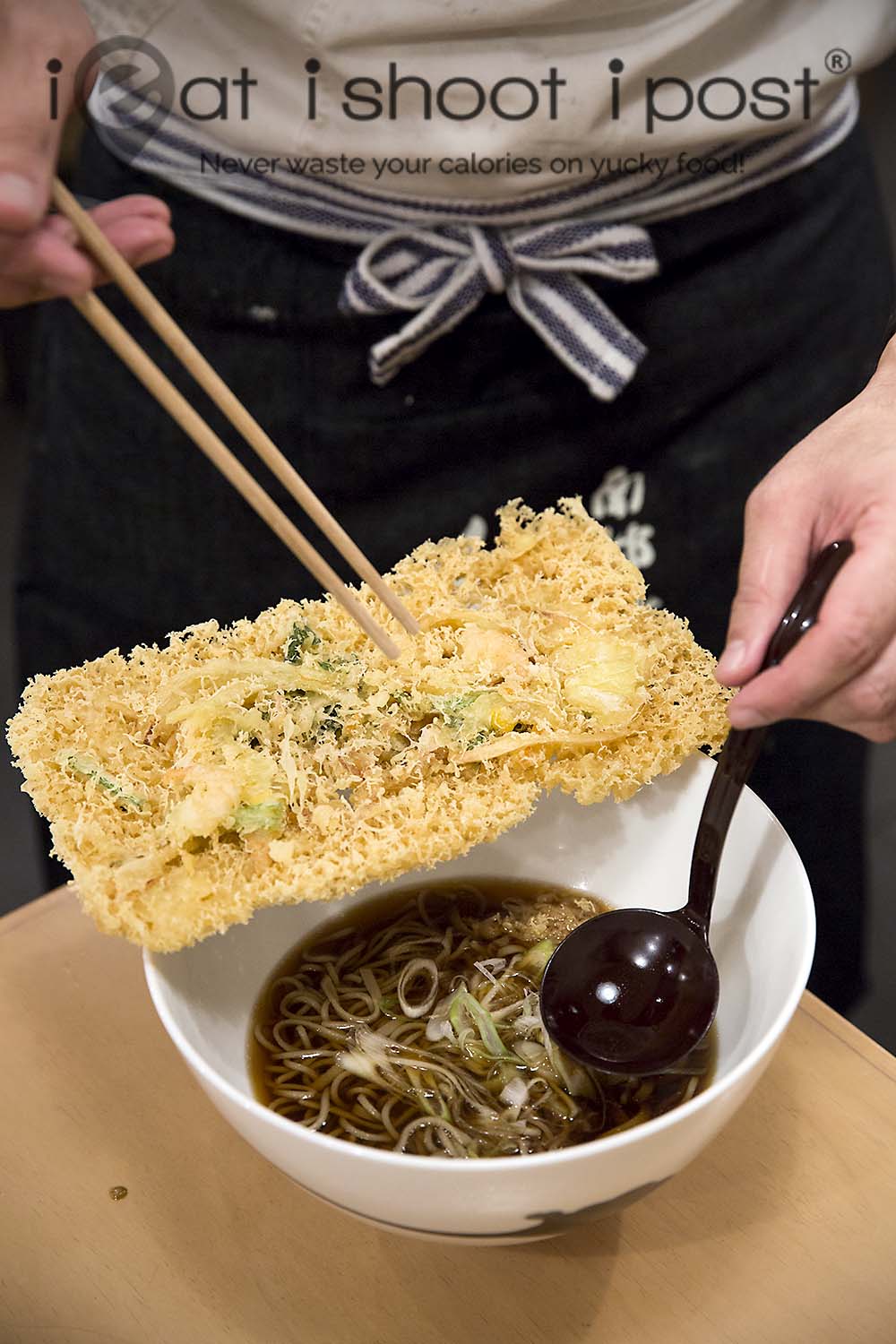 I have visited Hokkaido twice and the quality of the produce never ceases to amaze me.  My first visit was to Hakodate where I managed to visit their konbu industry as well as to come face to face with a dancing squid for lunch.  Then I went into the interior and visited the agricultural farmlands around Kamifurano to see how they grow those super expensive melons!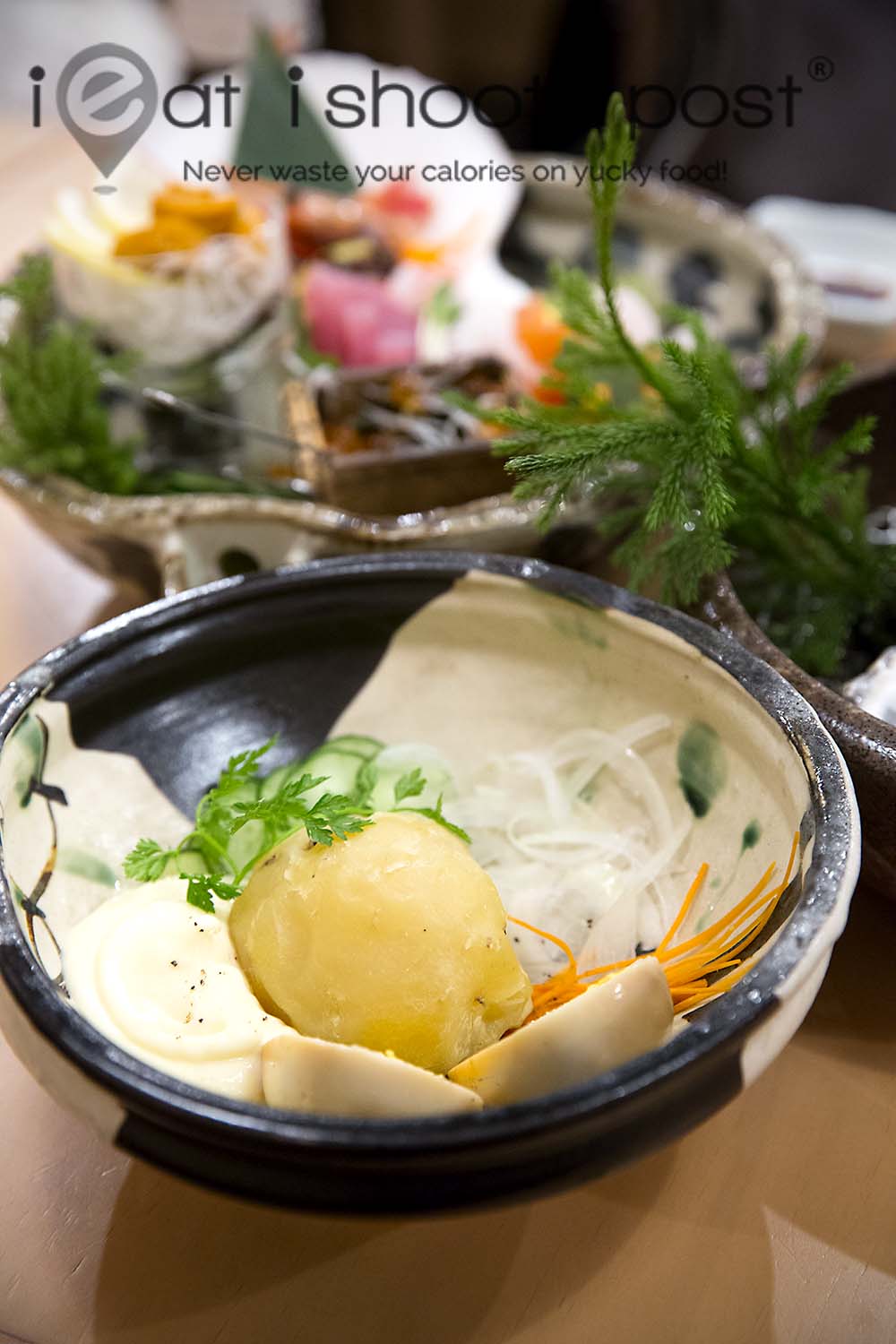 One item that I haven't gotten to try yet were their jagaimo ie potatoes.  So far I had only tasted their ever popular Jaga Pokkuru from Potato Farm which I am sure you must have already come across as everyone seems to be buying them home as gifts . Jaga Pokkuru is nice but I have never really thought they were worth their exorbitant price tags!
The potato salad at Hokkaido Izakaya changed all that though.  Yes, it is a simple salad of boiled potato, smoked eggs and mayonnaise but the intense sweetness and flavour of the Hokkaido potatoes was quite a revelation.  It was so good, we had to order another one! Best potato salad I ever had.  4.5/5
They have different menus for lunch and dinner.  Their lunch menu feature affordable sets like the kakiage soba ($12) which is perfect for the executives working in the CBD area,    The soba is made from Hokkaido buckwheat and you can see it being made fresh at the front of the stall.  The kakiage looks more impressive than it tastes though, but the soba was good. 4/5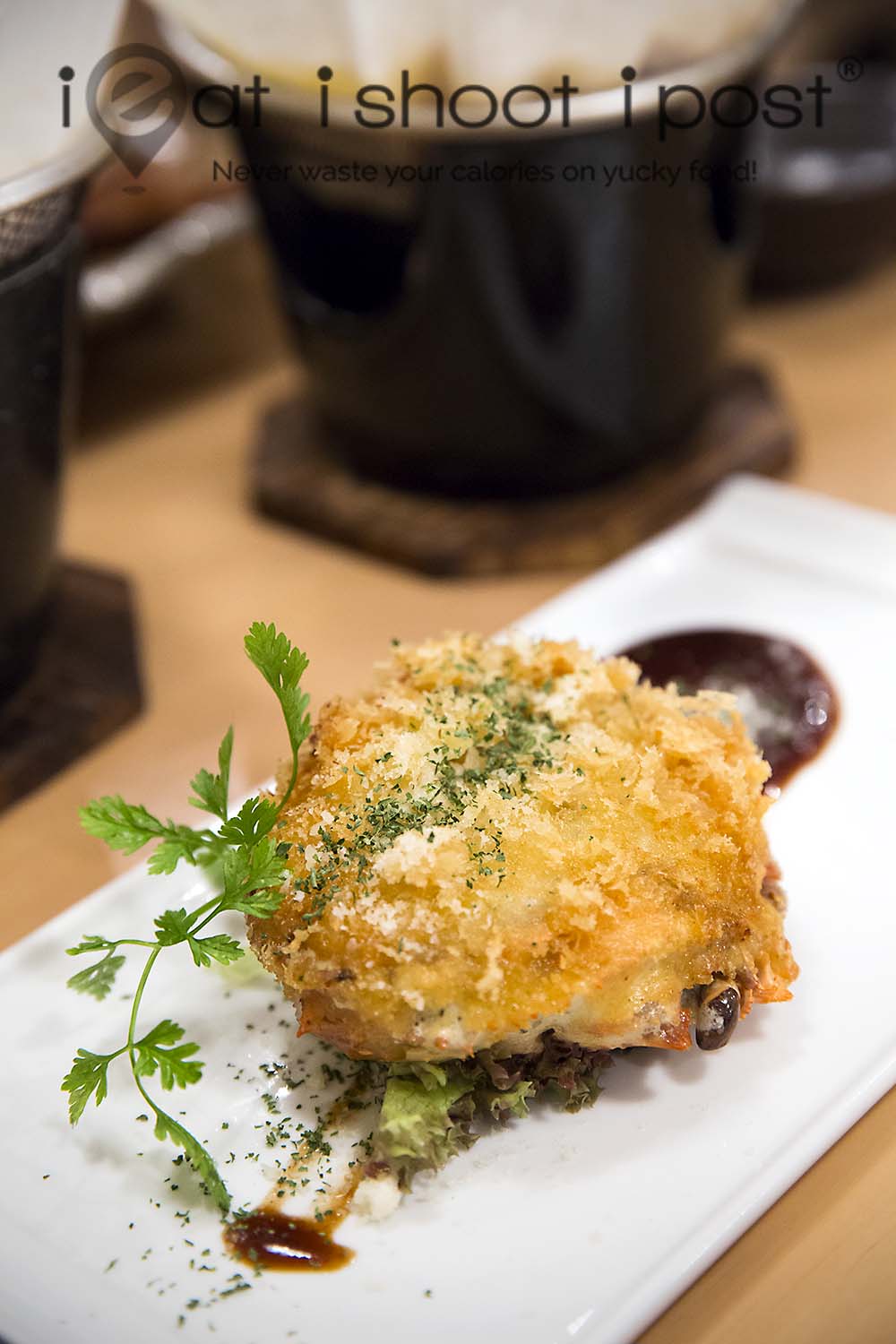 Their seafood hotpots are well worth ordering.  We tried the butter miso seafood hot pot and the salmon milk hotpot and both were rich and flavourful.  The salmon milk hotpot is made with milk and miso paste and tastes almost like a creamy pasta sauce.  It is important here to highlight the fact that they try to use Hokkaido ingredients wherever possible, but not all the ingredients are from Hokkaido so that prices are kept realistic.  Take the salmon hotpot for example, the miso is from Hokkaido, but the salmon and milk are not. The end result is still delicious nonetheless and the price is reasonable ($18) . 4.25/5 
The snowcrab croquette is one of those things that you can't really go wrong with.  Snowcrab and cream with a crunchy panko crust.  It is the perfect kind of izakaya food.  4.25/5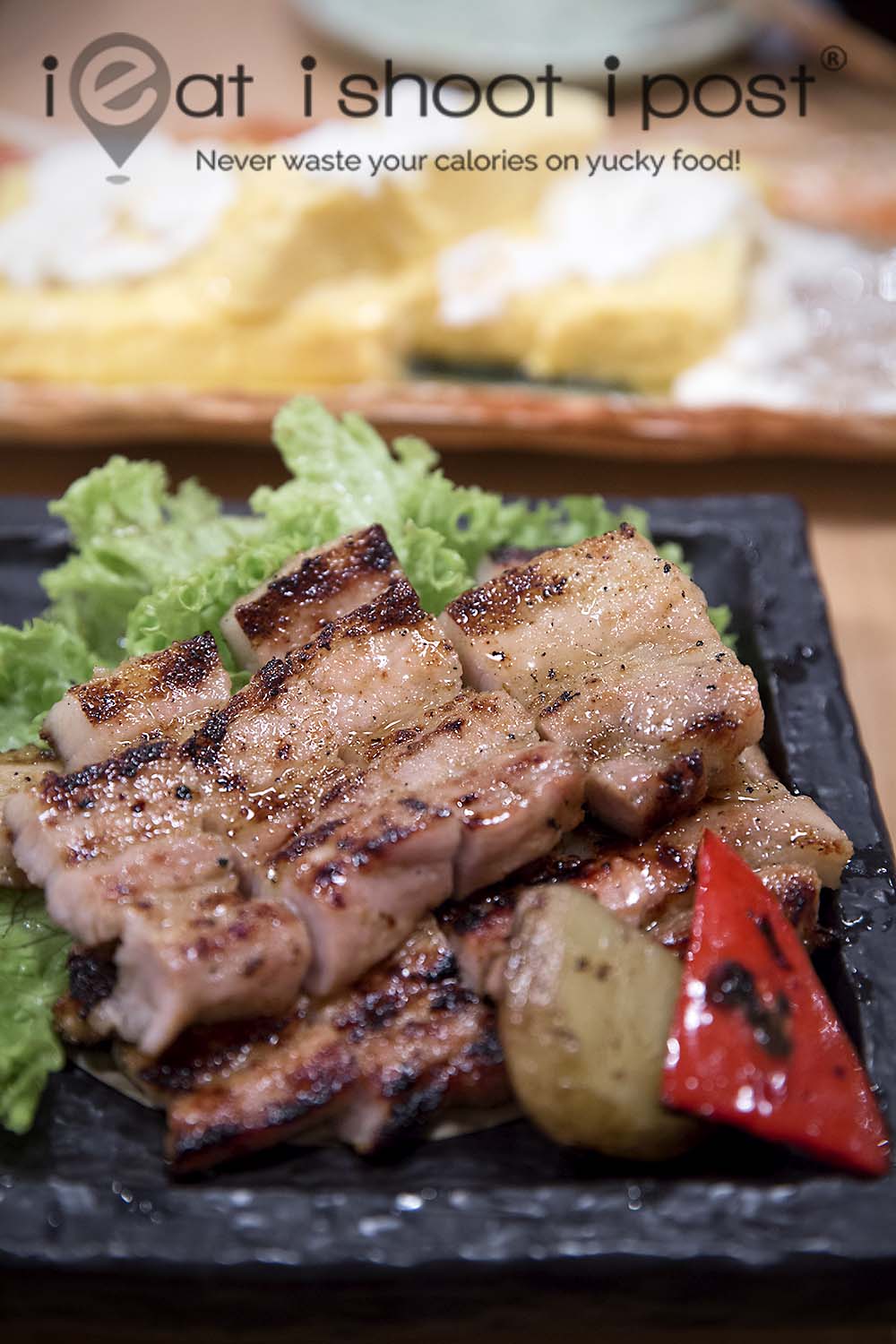 I was hoping to taste some Hokkaido pork but sadly, they were not able to import it just yet.  I had a most unforgettable grilled pork at Kiyomoto Izakaya which is worth travelling to Asahikawa just to eat. However, the miso marinated pork belly here is pretty good.  The pork belly is marinated with Hokkaido miso and sake lees for two days before being grilled over charcoal.  The texture and flavour might not be at the same level as the one in Kiyomoto Izakaya, but it is good nonetheless.  4/5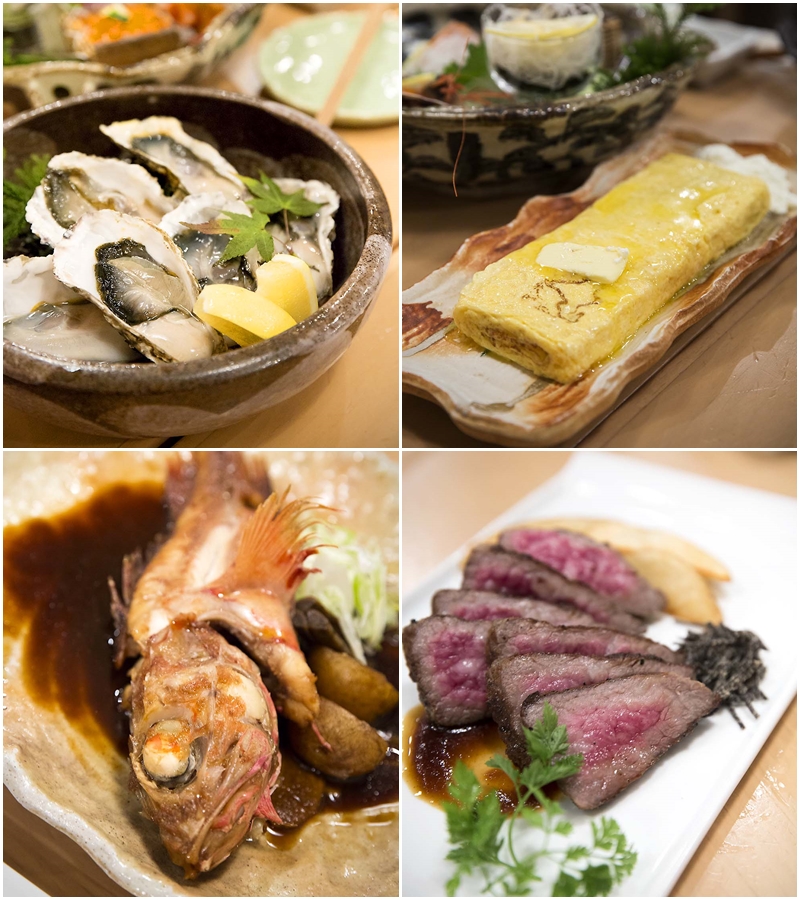 Not all of the dishes are worth recommending though.  You would be better off ordering sashimi and raw oysters at a specialised sushi restaurant.  The grilled wagyu is a little tough as they use secondary cuts like top round, so even though it is Wagyu, it won't give you that burst of juices that you get with sirloin.  The sauce for the grilled fish is good, and $60 for kinki is quite a bargain as this fish usually goes for hundreds of $$$ at restaurants in Ginza.  The fish is frozen, of course, so the meat is not the same quality.  Still acceptable if you really need to get kinki.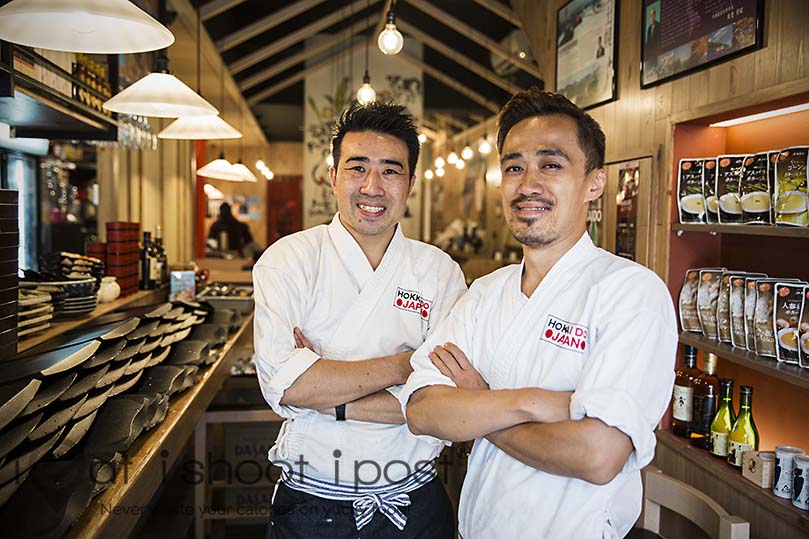 Conclusion
Good place for some casual Izakaya style food at reasonable prices. They do try to use Hokkaido ingredients whenever the price is justifiable.  Their lunch and dinner menus are different so do check their website for more information.  Expect to pay around $50 per head.
Disclosure
This review was written as part of a media tasting.  This  means that we were hosted to the meal but there was no obligation to write a review, nor was there any payment made for this write up.