This stall is closed!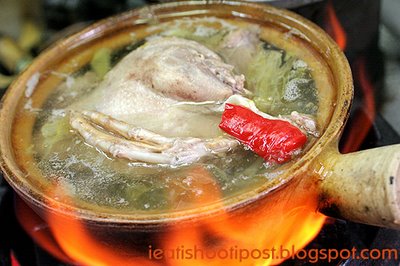 Once I was ignorant of Kiam Chye Ah (Salted Veg Duck Soup), now I have been enlightened. This very Teochew of Teochew dishes is "chicken soup for the soul" and if you have any digestive ailments, a bowl of this soup might just restore your digestive balance.
This is another of those MakanSutra Legends that I have been tracking down one by one. Yet another Teochew couple! If you have read my previous blogs, you would know that I have unashamedly proclaimed that Teochews were Hao Lian (Proud) especialy when it comes to making sure that they only serve the freshest of ingredients in our food.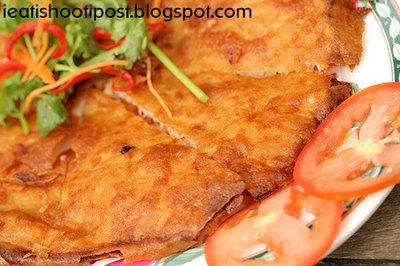 Before we tackle the famous Kiam Chye Ah, let's start with the less well known but equally shiokelicious prawn fritters. This is made from squid paste, chopped prawns, onions, waterchestnuts, carrots and panfried till it is super crispy.
Everyone loved it. Tastes great with the chilli sauce and plum sauce they provided. Definitely have to try this for yourselves. 4.25/5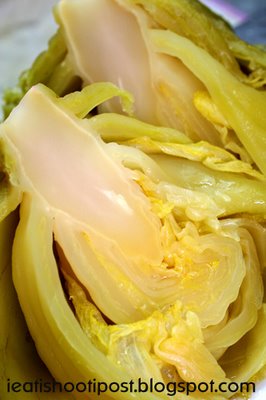 To make a good Kiam Chye Ah, you need good Kiam Chye. Uncle was showing off his pail of whole Kiam Chye (Whole head of salted cabbage) which has been soaking in water to remove the excess salt. The Kiam Chye comes from China and only has the nice thick inner leaves.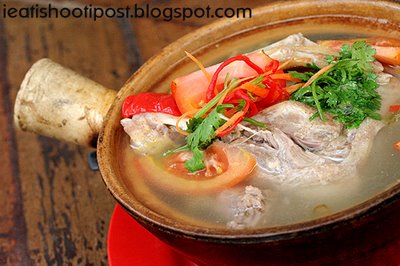 The duck is first quartered and then boiled in a big cauldron with ginger and sour plums to create the stock. Then the duck and soup stock are placed in a claypot and Kiam Chye, tomatoes and chillies are added. It is then brought to a boil and left in the steamer. It takes 45 minutes to thoroughly extract the essence from the duck meat which by this stage is reduced to a friable mass which you can shake off the bone.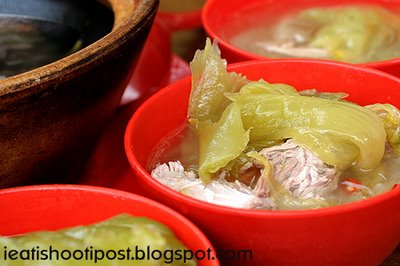 This is the good stuff. Most people just take the piping hot soup to savour the salty, tangy taste of the Kiam Chye and Sour Plums. If you ask me, I can't really identify the taste of duck. Then again, I really don't know what boiled duck tastes like. 4.5/5
Incidentally, do you know why they call a duck a duck? A duck is called a duck because it ducks underwater while swimming! Just thought I'd share that interesting piece of trivia.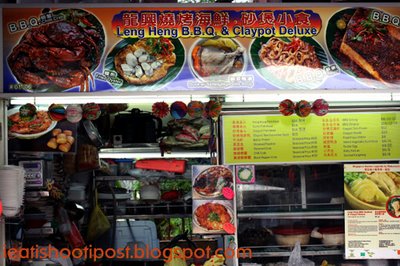 Conclusion
We loved both dishes so much that we are already making plans to come back to try their other famous dishes like the Hong Kong style steamed Fish Head and the Chilli Crabs. It's amazing that so much can be done in such a tiny space. They are truely deserve to be Hawker Legends, at least in my books.
Leng Heng BBQ Seafood & Claypot Deluxe
East Coast Lagoon Village Stall No. 6 (Near the beach)
64450513 Lao Ma
Opened 3.30pm till 11pm
Closed on Thursdays