With AC Towkay & iwatch_ueat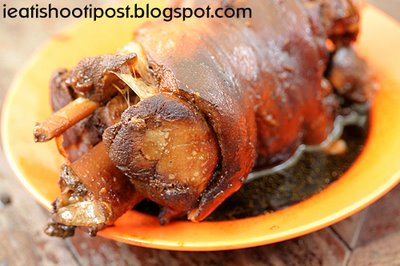 Please read the disclaimer before reading this blog!
Ter Kar (Pig's Trotter) is not something for the faint hearted or people who have been scheduled for cardiac bypass surgery. This is a delicacy you can only partake Gu Gu Chip Pai (Long Long time once). But oooooohhh, when the skin and fats combine with the dark sauce and melts in your mouth, you wish there was not such thing as High Cholesterol. Why does everything that tastes good have to be bad for you?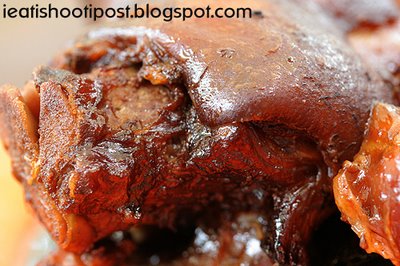 This close up is for all those who won't blink an eye at the thought of Trotterless Pigs. This is, afterall the best part of the pig! The Lor (Dark Sauce Gravy) here is pretty good, but not awesome. The best Teh Kah I had was in a little "hole in the wall" in a remote village 2 hours from Bangkok, that one was awesome and I would fast for 5 days to enjoy the dish. (Bit of exaggeration but you get my point).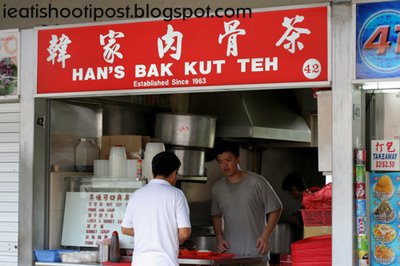 Conclusion
It was 2.30pm in the afternoon and there were at least 5 people sitting around with Pig Trotters on their plates. Most of them have been reduced to bone. I was warned that the Bak Kut Teh was not as nice, so don't bother trying it. Again, this is not my idea of a Late Night Seaside Dish, but good enough to bring my mom and mother-in-law to eat. 3.5/5 Oh, it is not all doom and gloom for the health conscious epicureans. You have a choice between the artery clogging version or the healthy lean meat version.
Acknowledgements: Superfinefeline recommended this