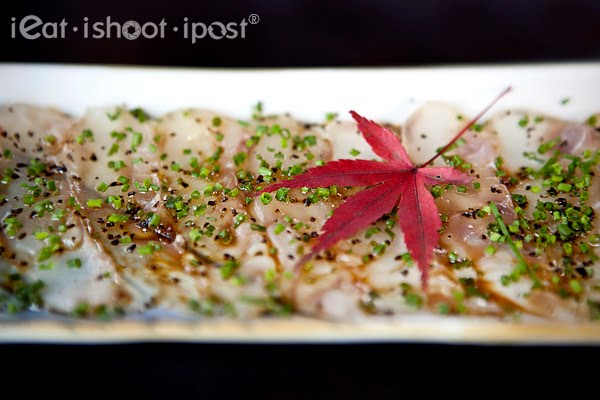 I love watching
Iron Chef
. In fact the reason I started subscribing to Asian Food Channel was so that I could watch Iron Chef. For those of you who don't already know, Iron Chef was one of those Japanese variety shows that managed to achieve cult status by inviting Chefs of exceptional culinary prowess, dressing them up in ridiculous costumes and pitting them against each other. It was like watching a gladiator match except that the only blood that was shed belonged to some unfortunate beast.
One of the larger than life characters was Chef Masaharu Morimoto who represented Japanese cuisine. Although he was Iron Chef Japanese, he championed a progressive form of Japanese cuisine which was frowned upon by the traditional Japanese chefs who held on tenaciously to classic Japanese cuisine. There was one episode where the traditionalists brought in a whole entourage of chefs in order to take down Chef Masaharu Morimoto who they see as the pariah of Japanese cuisine.
Now, whether you are going to enjoy the food at Kinki or not will depend on whether you are a traditionalist or if you believe that Japanese cuisine can be further improved with additional ingredients from other cultures. In other words, do you believe that sashimi should only be eaten with wasabi and soy sauce? If your answer to this question is an unquestionable "I would rather commit Hara Kiri than to eat this fusion crap" then may I suggest you stop reading right now, because what I am going to tell you about the food at Kinki is going to make you curse and swear and spit on your computer screen.
Me, I am like the guy who is able to take different sides of an argument just for the sake of arguing. On the one hand I am a strong proponent of classic Sushi culture where everything from the grating of Wasabi on the oroshi (shark skin board) to the placement of salt outside the restaurant all represent what is great about Sushi culture – the ritual. Rituals are extremely important in Japanese culture. For example, there are at least ten rules that need to be observed with something as simple as handling the chopsticks. So I really enjoy the ritual of sitting at the Sushi bar, using my hands to pick up the nigiri sushi and in one fluid movement, dip the fish (not the rice) into shoyu and transferring the sushi into my mouth upside-down so that the shoyu hits the tongue first. It was Chef Nogawa who taught me this and you can view the video here.
But here at Kinki, you can throw all that stuff right out of the window. At Kinki, you let your hair down, you don't get too worked up when they make the Okonomiyaki like a Roti John (Malay fried baguette, more about this later) and you certainly don't worry too much about eating sushi with cocktails with Jazz music blaring in the background. Traditionalists will call it blasphemy, the people at Kinki call it "Urban dining".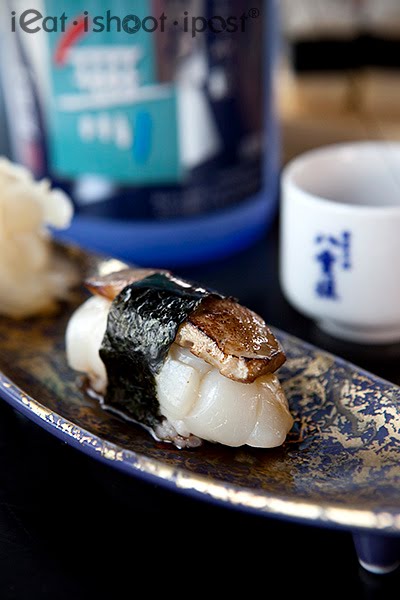 Ok, now that you get the picture, let me get down to the food. The food here is good and although I seldom use this word for Japanese cuisine, some of it is actually quite Shiok. Japanese food frequently celebrates delicate clean flavours which can seldom be described with the word "Shiok" which is used for bold, gutsy flavours that produce an irresistible urge to swear. But by using non-traditional Japanese ingredients like Truffle oil, Chef Wing Lam who is an American trained Hong Kong Sushi Chef manages to introduce the
Shiok
into a sashimi dish. The Japanese enjoy Sushi mainly because of the nuances in texture of different fish. But by adding a shio konbu with truffle sauce, he managed to create a sushi dish that captures the unique chewy texture of Tai (Snapper/Red Sea bream) but at the same time deliver an umami punch unexpected in a Sashimi dish.
4.5/5
Another great example is the Foie Gras and Scallop Sushi where the addition of Pan Seared Foie Gras and Anago Soy Sauce added the thunder to the otherwise gentle drizzle of a Hotate Nigiri Sushi. The combination of the savoury sweet Foie Gras complements the texture of the raw scallop perfectly. If not for the price tag I would eat a dozen of these at least. 4.6/5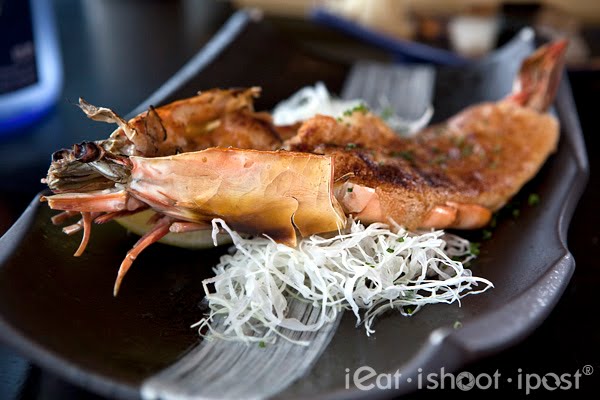 The Grilled Giant Sea Prawn is hardly imaginative but it is a tried and tested flavour which happens to be the restaurant owner's favourite dish of all time. If not for this fact, Chef Wing would probably have added something even more exotic to the dish to bring it to the next level. The prawn, I was told comes from Europe but frankly I could not tell the difference between whether the prawn is from Europe or Thailand. The prawn could be sweeter and juicier, I felt. 4/5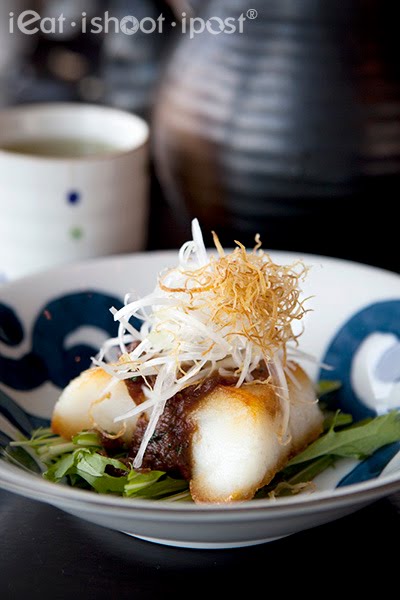 The Cod Fish with Pork Floss and spicy Miso is another shiok dish which the chef had create in defiance of the traditionalist. Chef Wing tells me that the idea of pork floss came about because he noticed that Singaporeans like to eat pork floss buns. So he added pork floss to a very special organic spicy miso paste that is only available to two restaurants in Singapore. The result is a sweet, salty, umami paste that complements the oily Cod fish perfectly. 4.5/5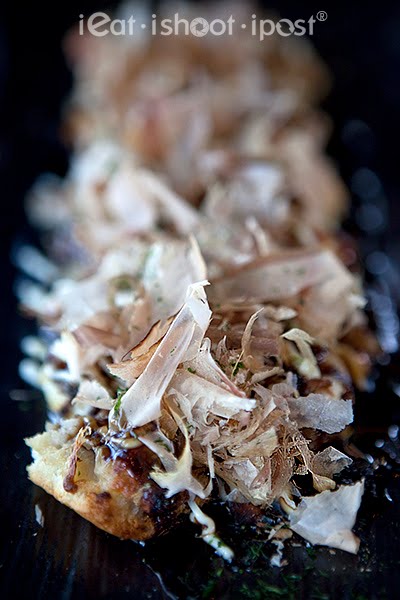 Remember I was telling you about the Japanese Roti John? As you know, Roti John is a Malay dish where French baguette is dipped into egg wash, sprinkled with mutton and onions and fried. Okonomiyaki on the other hand is a Japanese pancake made from eggs and flour and commonly topped with katsuobushi (Bonito flakes). So you would never expect to an Okonomiyaki pancake be crunchy. Actually, I would argue that this dish shouldn't even be called Okonomiyaki since it doesn't even have eggs and its not even fried! The only thing that makes it vaguely resemble an Okonomiyaki is the katsuobushi on top. It's like calling a Kia a Mercedes just because you added the Mercedes insignia on the front of the car! This should more accurately be called Japanese style Roti John. But the problem is, if you do that, you won't be able to charge $24 for it.
In any case, whatever they call it, this open sandwich is really quite enjoyable. Chef Wing uses buffalo mozzarella to give the sandwich a bold creaminess which complements the fresh seafood very well. The baguette is toasted till it is crisp which adds a nice contrast to the creaminess. 4.25/5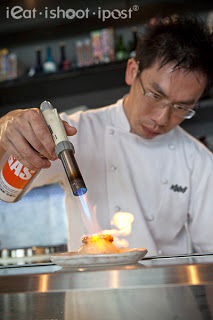 Conclusion
Kinki has got great food with a view overlooking the bay and you don't have to worry about having to stiffen your upper lip to enjoy the food there. Chef Wing's palate seems to be very close to my own, so I really do enjoy his food. I just wish it could be a tad cheaper so that it can be a place I can visit at a whim instead of waiting for that special occasion.
Special for ieatishootipost readers
Mention ieatishootipost when you make your reservations and get a 20% discount from 24 Jan 2011 till 5 Feb 2011.
Conditions:
Discount only applicable for dinner hours
Discount not applicable with other promotions or set meals
Reservations, a must. When making the reservation, reader must mention ieatishootipost
This was a media invite