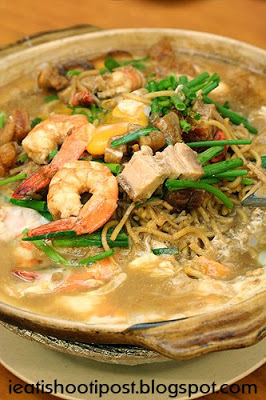 With Damien, smart, sumosumo, bashful hunter, holydrummer, fashion foodie, khim and friends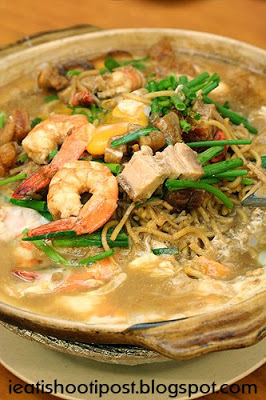 Special Claypot Hokkien Mee $5 per person
Kim's Hokkien Mee: The Hokkien Mee Experiment – ieatishootipost
This pot of Hokkien Mee was one and a half years in the making. For those who can still remember, one of my earliest posts was about my fantasy of putting Sio Bak in a claypot of Hokkien Mee. However, on that occasion, I had to bring along my own Sio Bak and it wasn't really braised in the claypot, but merely tossed in with the Hokkien Mee. So it wasn't quite what I wanted but it was still pretty shiok. Since then, I have looking for a Hokkien Mee Hawker who is adventurous enough to accommodate my wacky ideas.
So after putting the idea in the back burner for over a year, along comes the enigmatic Mr Tan Kue Kim (The original Kim) who quite readily agreed to do a Sio Bak Claypot Hokkien Mee for me. Finally, I will get to experience a real Sio Bak Braised Hokkien Mee! And when my makan kakis got wind of it, they also wanted to come along for a piece of the Sio Bak!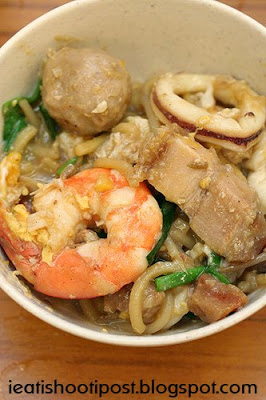 This Claypot Hokkien Mee is not for the faint hearted. Its got all the good stuff in it including Sio Bak, crispy pork lard, pork balls, prawns and sotong. A Cardiologist's dream to be sure. Comon', I know many Gastrointestinal Surgeons who love Kway Chap, Cardiologists who love pork lard and Respiratory physicians who smoke. Doctors are human after all. If you prick us, will we not bleed? Thankfully, we are the ones who usually do the pricking.
Tastewise, the opinions were divided. Those who where looking for a very good Hokkien Mee felt that braising the Hokkien Mee in a Claypot did not add value to a standard fried Hokkien Mee. There were others like Bashful Hunter who liked it because it was a novel way to enjoy Hokkien Mee. Personally, I was slightly disappointed that the stock that day did not quite hit the umami spot although the simmered Sio Bak was still quite shiok. Majority of the makan kakis however felt that the traditional boiled Pork Belly, sliced thin would still be better.
Ok, the bottomline from me: I would still go back and order it as is because I just love all that extra ingredients but it is not something I yearn to eat again the following week. I can't help but wonder how it compared with the Claypot Hokkien Mee that he used to dish out in the 80's? Ratings range from 3.5 to 4.25 so you'll have to try it yourself and make up your own mind.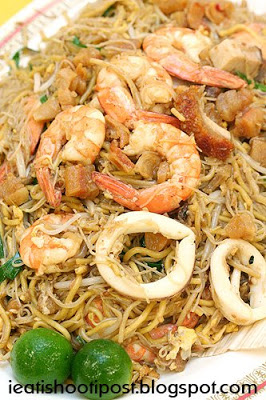 Kim must have mellowed down quite a lot if you believe all the stuff that was said about him years ago. He was very accommodating and knowing that we are a bunch of foodies, he said he would specially fry for us his dry version that night. The dry version is fried with thin bee hoon and eaten with cut chilli, so it is similar to the Nam Sing and Hainan Hokkien Mee version.
The verdict: Being seasoned foodies, the dry Hokkien Mee did not quite give us that rush of excitement because we were comparing it with Nam Sing and Hainan. However, it was still a good plate of Hokkien Mee and definitely better than average. 4/5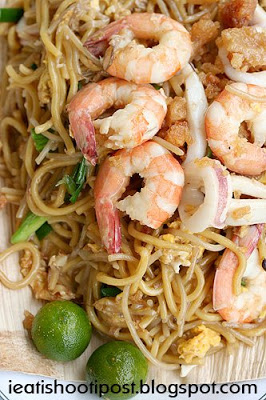 To complete our Hokkien Mee Trilogy, we had Kim's standard Hokkien Mee which I have already reviewed in my previous post. Most of the kakis felt that this was better than the dry Hokkien Mee. 4.25/5
Conclusion
So that concludes our great Hokkien Mee experiment! I still feel that the Claypot Hokkien Mee has got potential and with a bit of tweaking, this can be one of those dishes you would travel across the island to eat. Kim tells me that he will be stocking Sio Bak at his stall, but if you are planning to go, it is still better to give him a call first.