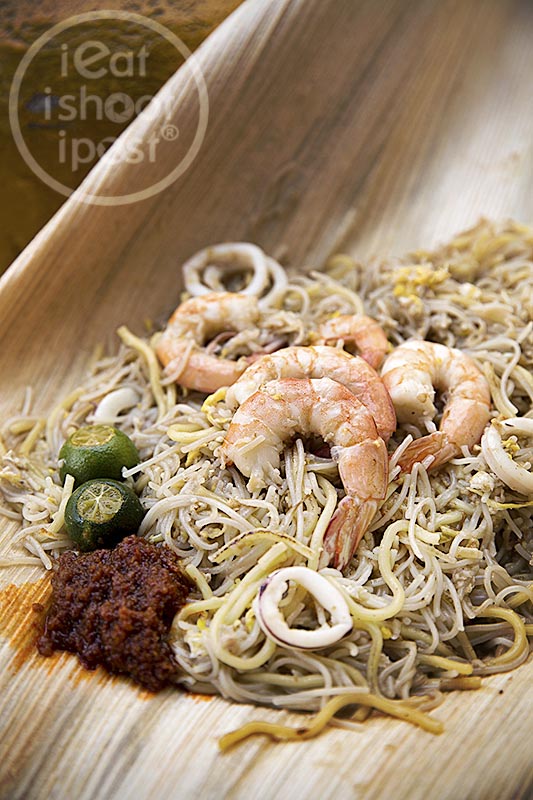 Hokkien Mee on Opeh Leaf
I met this young pastor recently who asked if I could help his uncle who had just been released from prison. He had been in and out of prison for the past 20 years and had finally decided to get baptized and start life anew. He had opened a stall selling Hokkien Mee and asked if I could drop by to see if his Hokkien Mee was any good and perhaps give some tips on how it could be improved.
I like such inspiring stories, but was a little apprehensive because Hokkien Mee is not a skill that someone can just pick up overnight. So I visited the stall not thinking that I would blog about it.
However, that all changed when I saw him at the wok. Mr Lee was attacking the wok like a veteran. He was using two ladles to toss the noodles up in the air till you could smell the aroma of the noodles and garlic! A lot of Hokkien Mee nowadays suffer from a lack of vigorous frying which results in a plate of noodles that is more like pasta, where the noodles and beehoon are just given a bit of a stir around the wok and then braised in the prawn stock. For good Hokkien Mee, the noodles have to be well fried in lard, eggs and garlic till the noodles are just a little charred before the stock is added. That is when you get that smokey charred flavour which you don't ever get with pasta. You can easily tell if the hawker is doing it right by observing if he needs to scrape the burnt bits off the bottom of the wok after each session of frying!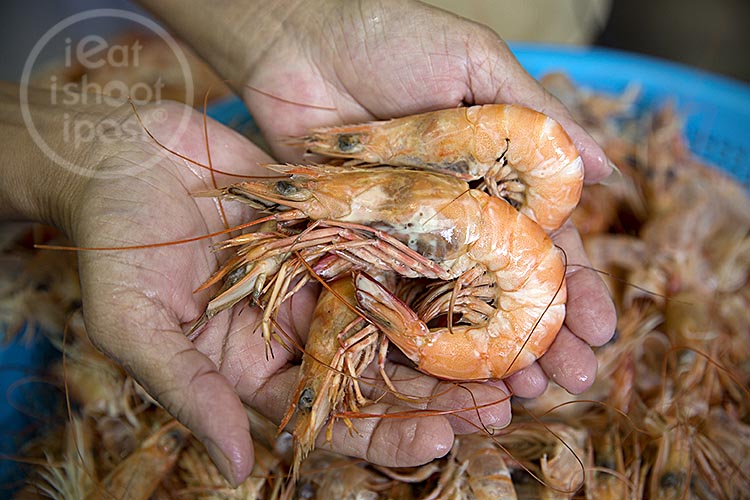 It turned out that Mr Lee had already been frying Hokkien Mee for over thirty years. The family used to run Heng Heng Hokkien Mee at the old Toa Payoh Interchange Food Centre. He had learnt his Hokkien Mee Kung Fu from a Hawker master at Toa Payoh Blk 75 and started the stall as a young man in the 80's. However, he got into drugs and soon became involved with a gang and other members of his family had to take over the frying. Over the years, he rose to became the Gangster Chief of "Hong Ong San" in Toa Payoh and was involved in drugs, illegal gambling and womanizing. This eventually landed him in prison where he spent a total of 20 years.
In the last few years of his prison stint, he got involved with a Christian group and finally came to grips with his wasted life. Now at 58, he is starting life afresh with his newly resurrected Hokkien Mee stall.
Here is another tip on how to tell a good Hokkien Mee from a mediocre one. Look out for is the type of prawns they use. The old school Hokkien Mee masters will tell you that the best prawns to use are Sua Lor prawns (greasyback, metapenaeus ensis) which used to be quite abundant in local waters. Nowadays a lot of Hokkien Mee Hawkers use farmed tiger or vannamai prawns because the supply is more consistent. I am glad that Mr Lee still insists on using Sua Lor prawns to make his stock which is another sign that he knows his Hokkien Mee.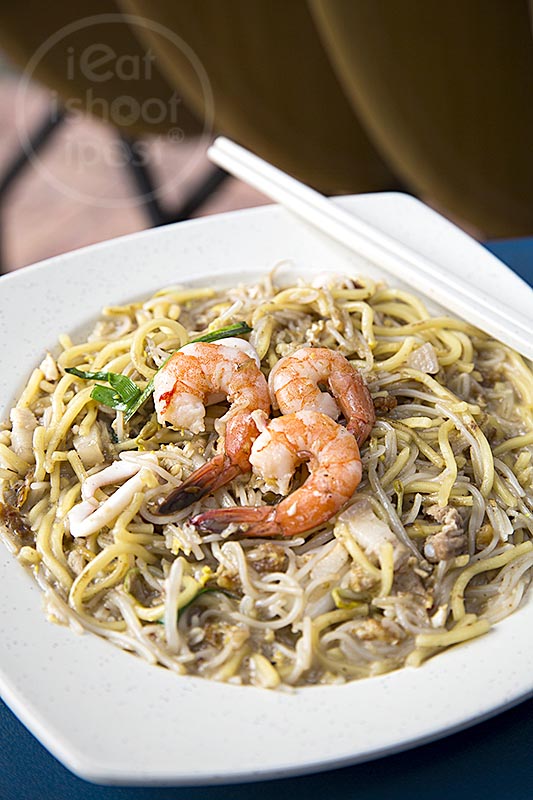 Another clue is the addition of pork belly to the Hokkien Mee. A lot of stalls nowadays omit this ingredient citing that many customers don't want to eat the fatty meat nowadays. Mr Lee, on the other hand believes that it may be more of a cost issue as fresh pork belly is quite expensive these days. The pork belly adds an extra flavour boost to the stock as well as providing the slivers of soft, gelatinous, slivers of pleasure in the final dish.
What gives Hokkien Mee that unique flavour is that crucial step at the end of the frying process where the final splash of stock is added to the cooked noodles. Here is where the chopped garlic is fried in lard till it is fragrant, then the stock is added and the wooden lid is placed over the wok to trap the aromatic steam. The garlic is therefore a crucial ingredient and the best hawkers always insist on procuring old garlic and chopping it themselves instead of buying the ready chopped, factory processed version.
Although not critical to the final flavour of the Hokkien Mee, the Opeh leaf is the most powerful visual cue to the authenticity of the Hokkien Mee. Some people feel that it actually enhances the flavour of the Hokkien Mee when you allow it to steam in the leaf when you pack it home to eat. I am not totally convinced of this, but the Opeh leaf does have a placebo effect on me. (Note that Opeh leaf is only used for the $8 portion)
It is heartening to see the whole family working together at the stall. His ex-wife (divorced for 18 years) helps him out at the stall by preparing the chilli and serving the plates. Seeing them working together, one only wonders if there is a possibility that they would get back together again. Indeed, Mr Lee took me aside and told me that he is working hard at winning her back!
So as you can see, this Hokkien Mee has all the elements that make it an old school Hokkien Mee, but I am sure that what you are most interested in is how it tastes, right?
As I have alluded to earlier, a lot of Hokkien Mee nowadays lack that charred noodle flavour. That toasty flavour is one of the things that you will notice with the first mouthful of the noodles here. The homemade chilli is also full of flavour and adds an extra zing to the dish. I usually don't go for the heat in the sambal, but when it is packed with umami, that is when I ask for an extra dose of the chilli! I do feel that Mr Lee still needs some time to fine tune the timing and fire control so that the noodles are not overfried such that they are all "chopped up" by the time it arrives on the table. That may be the right style for Mee Goreng, but the key to a good Hokkien Mee is to be able to get that charred flavour while at the same time not over cooking it so that the noodles still retain some bite and "slurpability".(long enough so that you can slurp it up) 4.25/5
Conclusion
Not only is this a story of redemption, it is also a story of the resurrection of an old school Hokkien Mee! We often lament about the lack of Gen Y hawkers entering the hawker trade, but here is another segment of our society who are making a big contribution to the preservation of our hawker dishes. I am happy to see the re-birth of an old school Hokkien Mee that strives to preserve the authenticity of the Hokkien Mee I ate when I was a kid!