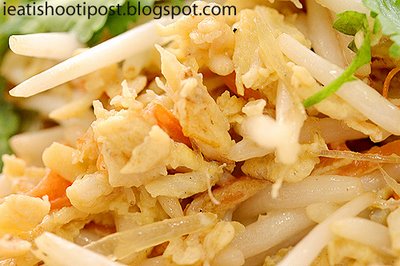 I am continuing to discover that Singapore is a treasure trove of great eats just waiting to be discovered! When you find a great place like Joo Heng which has existed longer than this middle aged blogger has, you invariably ask yourself, "What have I been missing all my life?"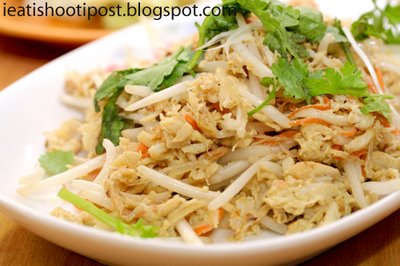 First up is the Fried Shark's Fin. This reminds me of the fried egg dish that you always get on your cold dish in a 8 course Chinese Dinner. Its Shark's Fin fried with egg, crab meat and Tau Gay (Bean Sprouts) and served with fresh crisp lettuce. It is very good but not a die die must try. At $30, you'd have to try it at least once and decide if you are willing to pay for it the next time. 4/5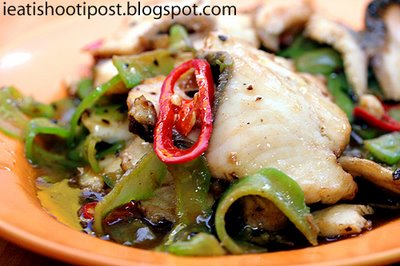 The Fried Fish Slices with Bittergourd is very nice and one of the best I have tasted. They use Loi Her (Snake Head) which is a fresh water fish. You can taste the bitterness of the bittergourd which gives it a bit of bite and when combined with the chilli and black beans.. fantastic. This dish is definitely one I am coming back for. $10 4.5/5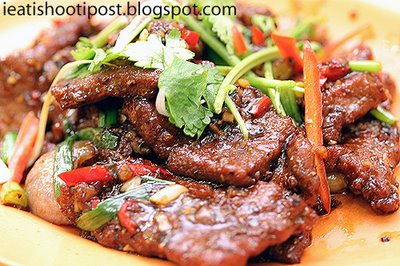 The Black Pepper Beef is a misnomer. Its not just black pepper, the super tender slices of beef are fried in garlic, chillies, capsicums and spring onions. One of the better ones I have tasted. $10 4/5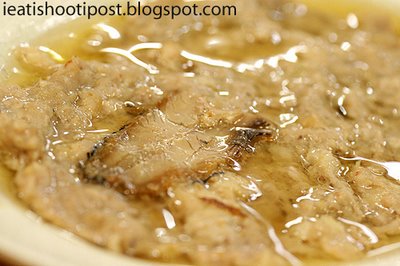 Their version of Salted Fish Mince Pork is unique in that they added waterchestnut to give it a sweet and crunchy twist. I love it. Mince pork a bit thin and would be great if it were double the thickness. They use threadfin salted fish from Malaysia which gives it a fantastic salted fish flavour. $6 4.5/5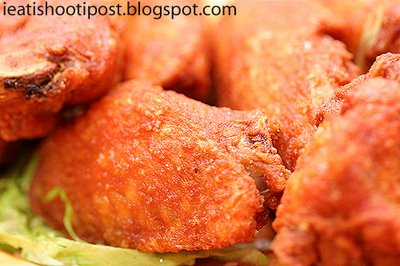 The Har Cheong Kai is very good but not the best around. It would have been much better if they used fresh chicken. Taste wise, it is very good, and you know that they marinade it for a long time by the amount of red colouring that has seeped into the flesh. Good, but I have had better Har Cheong Kai from Hong Kong Street Fish Head Steamboat over at Alexander Village. $8 3.75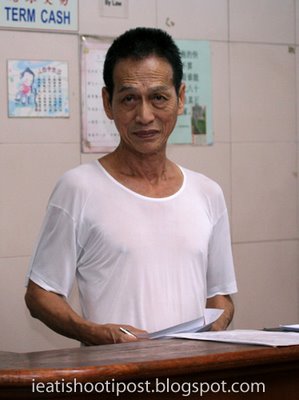 Mr Soon is the original Chef. Although he is Hokkien, the food is not really Hokkien cuisine, but a mix of whatever is great from the other dialect groups. In other words. Singapore cuisine! They have been in business for over 40 years but moved here only 14 years ago.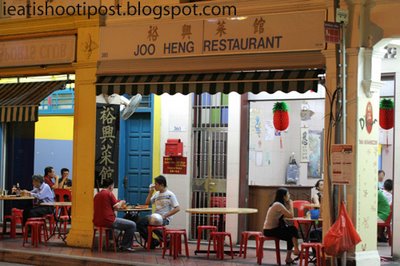 Conclusion
One of those places that you simply want to go back again and again. All the dishes we tried were very good, some were exceptional. If we had ordered a sweet and sour pork in place of the fried sharks fin, we would have paid less then $50 for five really nice dishes. I was fortunate to go on a long weekend when you don't have to queue outside for a table. If you are going, do get there either before 6pm or after 9pm or risk a long queue.
Other dishes I was recommended: Lotus root soup, fried sweet potato leaves. Lots of people were also eating the steam fish head there.
9/10 (T4+V2.5+S1.5+E1) This is one of the Grand MakanGuru's (eslim) favourite places to eat. Need I say more?
Ackwowledgements: Another of eslim's great recommendations