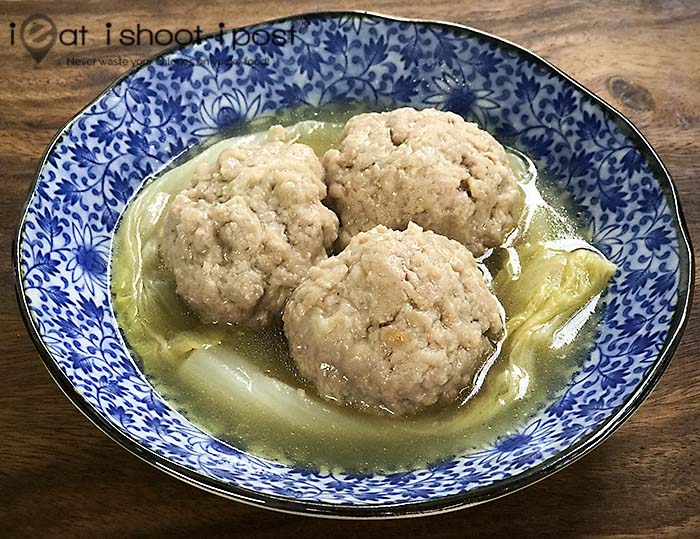 According to legend, this dish of pork balls was first invented by a Yangzhou chef during the Sui Dynasty.  It was then known as "Sunflower Chopped Pork" as the chef wanted to please the emperor by coming up with a dish that celebrated a local scenic spot known as Sunflower hill. (1) Later in the Tang dynasty another chef recreated the dish for a nobleman whose guest noted that the floating vegetables resemble the mane of a lion and thus called it lion head meatballs!
This recipe highlights a few basic Chinese cooking techniques which are useful to note.  The first is the way the minced pork is handled.  It is important that the pork be roughly chopped.  If possible, buy a slab of pork belly and chop it with a cleaver till each piece is roughly the size of a corn kernel.  I cheated by buying my pork from the butcher and asking him to pass it once through the grinder.  The ready minced pork would be a bit too finely minced to give you that rough texture and bite. The pork is cooked for 2 hours in order to tenderize the meat and get the fats to turn luxuriously sublime.
When mixing the pork, it is important to mix it in one direction in order to line up the protein fibers.  As you mix, you will notice the pork getting more bouncy. Picking up the minced pork and throwing it against the bowl will also help to produce that bouncy texture.  Water and cornstarch is added to ensure that the pork ball retains water and adds to its juiciness.  Make sure that pork is cold as it will be firmer and easier to handle.
When molding the pork balls, throw it from one hand to the other in order to get rid of bubbles inside, then coat it with the starch to give it a shiny surface when it's cooked.
If you don't have a pressure cooker, just simmer the pork balls for 2 hours in an ordinary pot.  You want the pork balls to be tender enough to cut smoothly with a spoon and the cabbage to be silky and floating like clouds.
This is the basic recipe.  To make it more interesting, you can add ingredients like chopped water chestnuts or bamboo shoots for texture, chopped carrots for sweetness and crab meat, fried sole fish and salted fish for flavour!
Ingredients
Meatballs
Coarse minced pork 800g
Salt 2 tsp
Chinese wine 2 Tbsp
Ginger chopped 1 Tbsp
Scallion chopped 1 Tbsp
Stock or water 75ml
Egg white 1
Corn or potato starch 2 Tbsp (dissolve in 1 Tbsp water)
Corns or potato starch 2 Tbsp dissolved in 1 Tbsp water for coating the meatballs
Soup
Chinese cabbage 8 leaves
Stock or water 750ml (or enough to cover meatballs and cabbage)
Chinese Wine 1 Tbsp
Salt 1 tsp (to taste)
Ginger 1 thumb size smash with back of knife
Scallion 1 (white part) smash with back of knife
Method
Chill the pork and coarsely chop the pork.  Add ginger, scallions, wine and salt and mix in one direction till the pork binds together.  Add stock a bit at a time and continue to mix.  The minced pork will become quite loose and watery.  Add starch and continue to knead and it will start coming together.  Pick up the pork with your hands and throw it back into the bowl a few times.  (it's quite therapeutic, especially if you are frustrated).  Once the pork is firm, shape into balls, coat with cornstarch slurry and set aside.
Blanch the chinese (napa) cabbage and set aside.  Place ginger and scallion in a pot and cover the bottom with cabbage.  Add stock and bring to a simmer.  Place the pork balls gently into the pot, then cover with the rest of the cabbage leaves.  Add wine and salt and cook for 2 hours or pressure cook for 40mins.  If you are using the pressure cooker, allow it to cool and depressurize naturally.  (Around 10-15 mins)
Enjoy!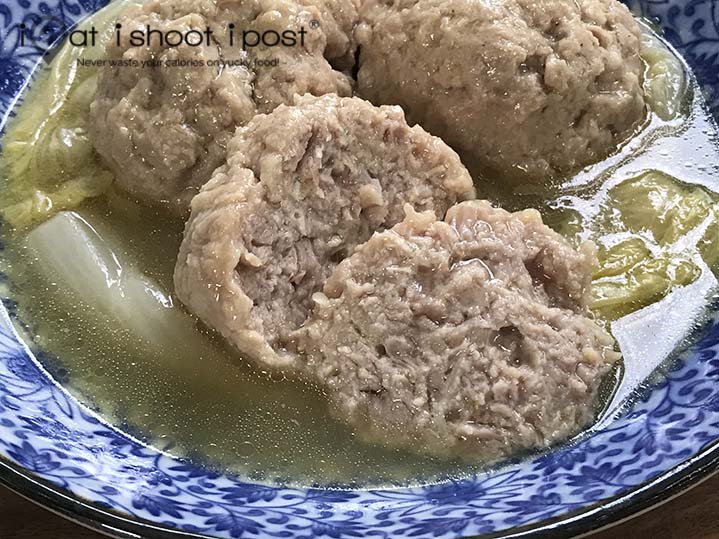 Reference:
Land of Fish and Rice, Fuchsia Dunlop, 2016
Other similar Chinese recipes to try out:
Steamed Fish
Steamed Pork
Fishhead Steamboat
Fish Soup
Crayfish Porridge 
Check out what you can cook for CNY:
18 CNY Dishes to usher in the New Year