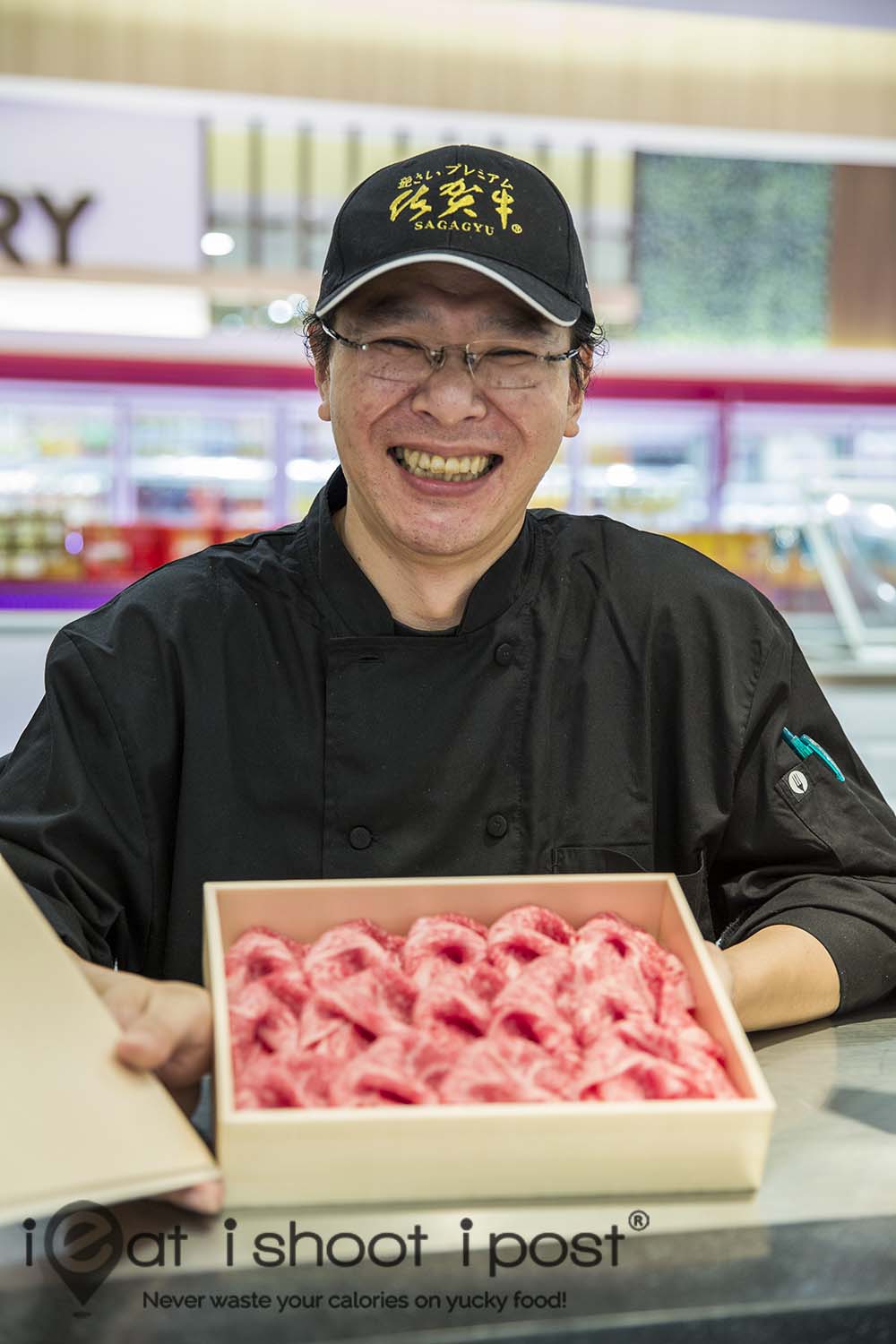 I remember the very first time I had a slice of Japanese wagyu.  It was one of those gastronomic moments that probed deep into the inner recesses of my soul to invoke that sense of childlike wonder.
How can a slice of beef, or any meat for that matter, be so sublime, so ethereal, so….. shiok?
Those of us who have have had our palates caressed by its velvety, vermilion voluptuous-ness will attest that life is just not same after Wagyu.  Perhaps ignorance really is bliss, especially if the bliss is worth $$$/kg.
It was only a few years ago that Japanese Wagyu was still the stuff of legend.  There were rumours that the black haired beasts lived in the lap of luxury, feasting on beer and getting body massages from kimono clad ladies! (Just kidding about the kimonos)
The meat's intricate reticular marbling bordered on absurdity! If you stared at it long enough, it you might just see the figure of a cow in 3D.  The meat is so fat that sometime it looked as if it was a block of fat interspersed with muscle fibres!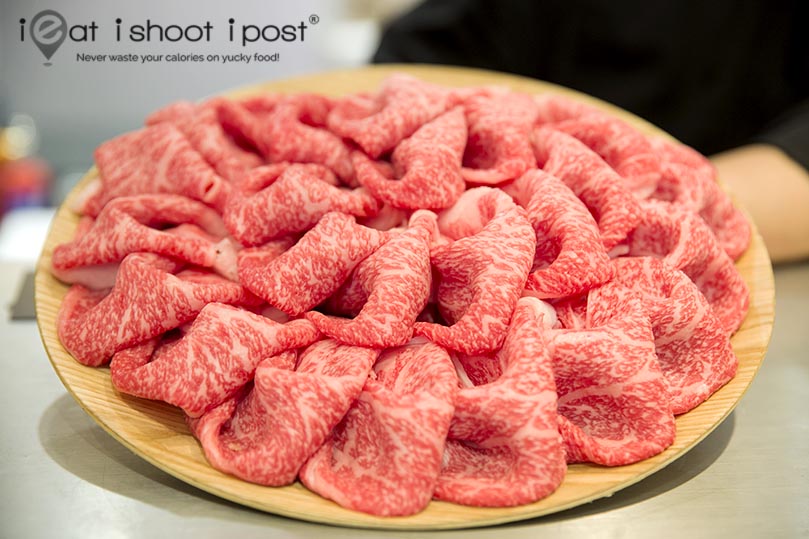 But Wagyu is here to stay and slowly it is migrating from the tables of high end restaurants into the HDB heartlands.  Don't believe me? Just take a closer look at the freezer section of the supermarket the next time you go shopping!  I have even seen grannies asking the counter staff for Wagyu which would be quite understandable as the meat is much easier on their dentures!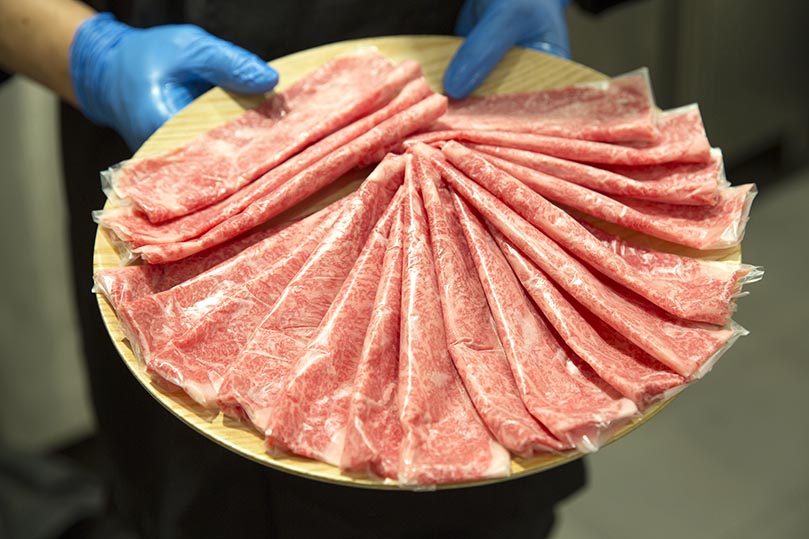 But buying Wagyu is much more than just buying a hunk of meat.  The meat needs to be sliced and packed properly so that the full potential of the premium beef can be realised.   How often have you brought Wagyu home only to find that the meat just didn't look and behave like the $$$ that that you had forked out for it?
Here is where Master butcher Keiji Koshino steps in.  Keiji-san is a 2nd generation butcher from Hokkaido who is now heading the Japanese meat counter at Cold Storage Takashimaya.
The attention to detail the Japanese butchers bring to their craft is amazing.  The Japanese divide the carcass into 36 different cuts and each has its own unique taste and texture and so the butcher needs to know how to section the meat properly. Cuts like misuji (flat iron), tomo-sankaku (tri tip) and ichibo (sirloin cap) are specially prized for their unique characteristics which you can appreciate when it is served in thin slices. (For more information about Japanese beef cuts please see my post.)
The thickness of the beef depends on how it is to be served.  Sukiyaki beef is cut 2.5mm thick whiles beef for shabu shabu is sliced 1.5mm.  Because the slices for shabu shabu are so thin, the butcher wraps each slice individually so that it doesn't break when you pick it up with your chopsticks.  It is also important that there is a bit of fat attached to the meat for shabu shabu.  That is why the most prized cut for shabu shabu is the striploin.  However, when you have premium A5 beef like the Hokkaido Snow Beef, even secondary cuts taken from the top round can be sliced to make beautifully marbled meat for shabu shabu.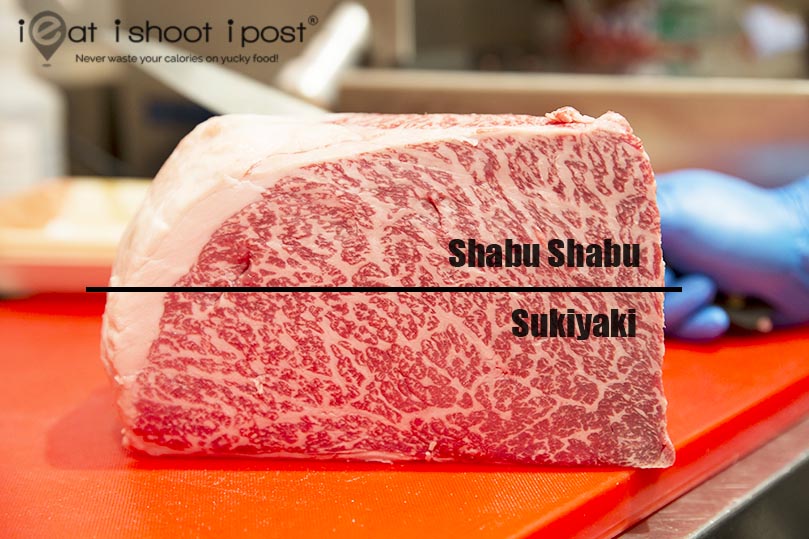 There are currently two premium wagyu available with more to be added later.
Hokkaido Snow Beef (Watch video)
Hokkaido Snow Beef is one of the rarest Japanese Wagyu that you can find.  It is so rare that you can't even find it on the main island of Honshu. It is bred in a private farm at Lake Uenae by Fujio Terauchi who is known as the "Wagyu meister".  The frigid conditions produces Wagyu that have slightly different characteristics.  The cattle are also fed Hokkaido corn (what a life!) which gives the meat its unique flavour and sweetness.
Only two heads of beef are harvested each month and they can found only in Hokkaido, the US and Singapore.  In Singapore, the striploin, ribeye and tenderloin only be found at CUT by Wolfgang Puck.  The secondary cuts like the top round is now available to the public at Cold Storage, Takashimaya.  Other cuts like chuck and brisket are also available on pre-order.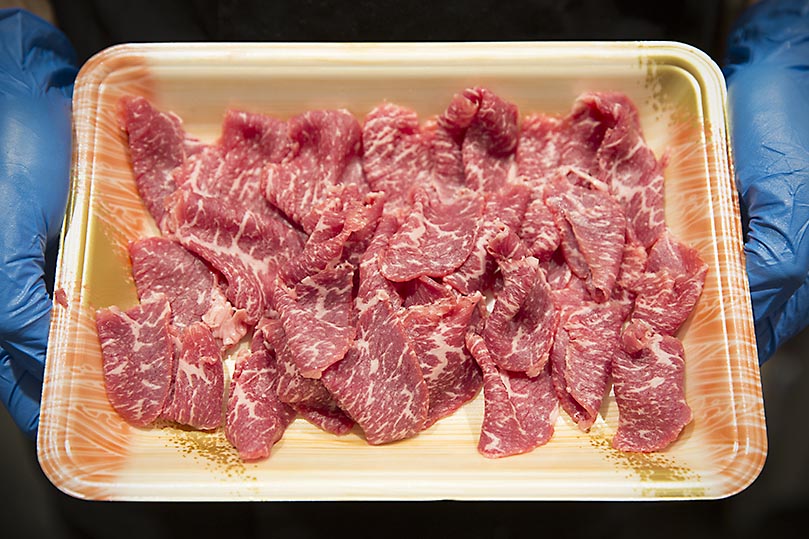 Hokkaido Snow Beef is also available as kiriotoshi.  These are sliced from portions of the beef which are not suitable for shabu shabu or sukiyaki because of its size and shape.  They are cheaper but still very delicious and perfect for stir frying and making Wagyu beef don!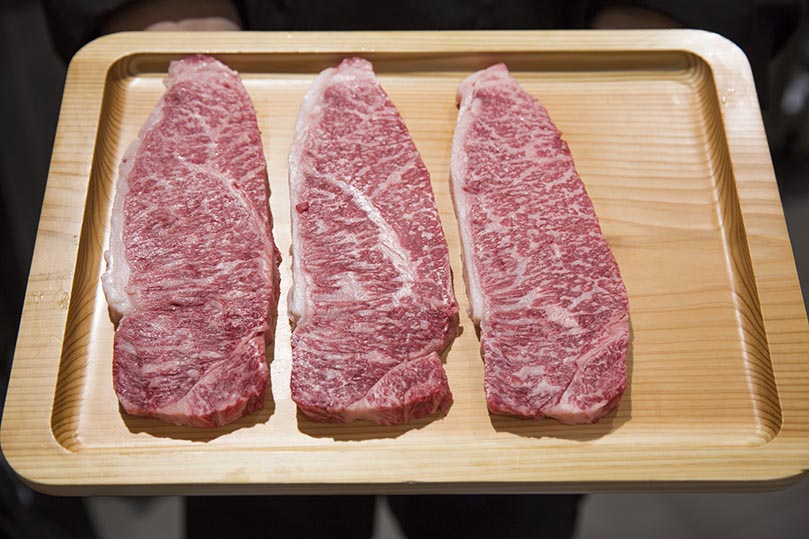 Saga Beef  (Watch video)
Located at the northwestern part of Kyushu, the cattle in Saga prefecture enjoy a more temperate climate, green grass, clean water and a stress free condition, unlike their friends up in Hokkaido.  Saga beef is regarded as one of the best brands of wagyu in Japan and in recent years many of the top Japanese restaurants here have started serving this wagyu.  Prime cuts like sirloin, ribeye and tenderloin are available and Keiji-san will carefully slice and arrange it in a beautiful box that is perfect as a gift or for a special occasion.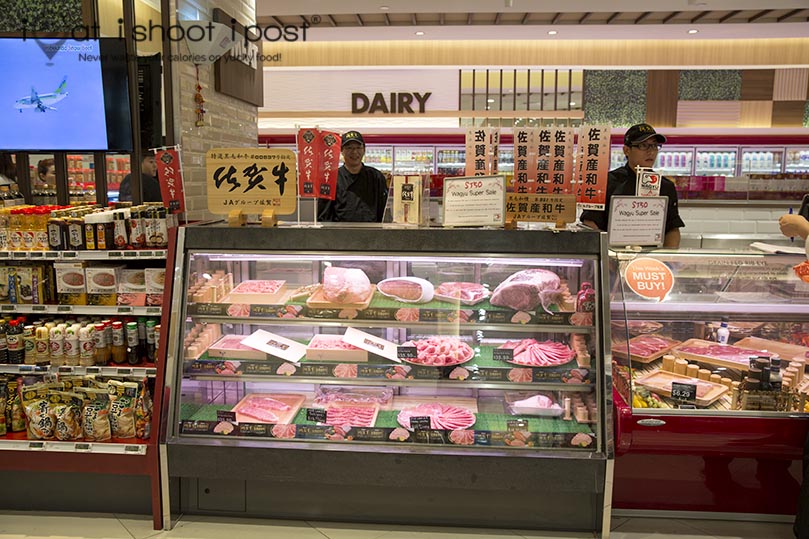 Conclusion
Wagyu is such a great ingredient that you really don't have to do much to it to make it into a sublime meal.  That is why you should just make it yourself instead of paying a chef to cook it for you! The simplest way to have it is to buy a few slices of beef, bring it home, briefly baptise it in hot water, dip it in goma sauce and, voila!  You got yourself a slice of heaven!  Even wagyu steak is super easy.  The meat is so delicious, you just need sprinkle some salt and black pepper on it, gently sear it in a pan and dip it in soy sauce with some wasabi!
Opening Special!
The first 50 customers of each day will be able to purchase one pre packed Japanese Wagyu at 50% off!  Limited to one tray per customer. Offer valid till 3rd March 2017.
Disclosure
This is a sponsored post