This restaurant is closed!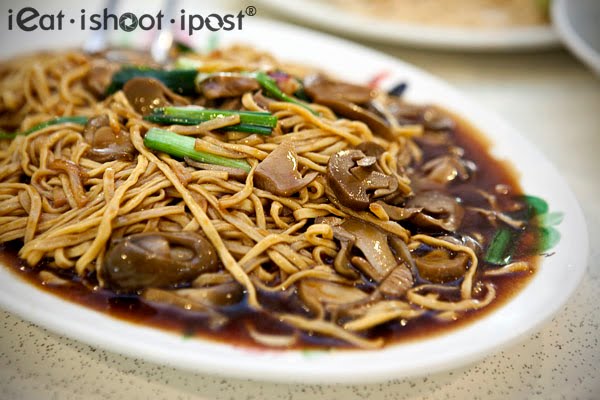 A lot of people tell me that Pasir Ris is a foodie's desert and there are not many great eateries around. It seems to me that most of the newer estates like Pasir Ris, Punggol and Sengkang all suffer from the same problem. Older estates like Commonwealth, Toa Payoh, Ang Mo Kio abound with great hawker finds compared to the newer estates. Do you think this is a reflection of the difference between the old generation of hawkers verses the new ones? Or is it because HDB designed the new towns where all the amenities arecentralizedrather than spread out under the block of flats such that there are not enough privately owned hawker stalls? What do you think?
Whatever the reason might be, I have to agree that there are not many stalls on the radar for Pasir Ris. However, that doesn't mean they don't have a few hidden gems like J.H.K Restaurant which is located at the Pasir Ris Community Centre. If you don't know any better, you might not think very much of a community centre restaurant. I wouldn't have known about it if not for the recommendation of our favourite
Hong Kong Masterchef, Gen Shu
. Just like Gen Shu, the Chef owner of JHK, Chef Ip had initially arrived in Singapore to work as a Cantonese Chef for several hotels before settling down in our country and opening up his own eatery. If there is one thing about Hong Kongers is that they are pretty proud of their cuisine. So the proposition of a Hong Kong Chef serving out Hong Kong cuisine at heartland prices is indeed very compelling. So compelling that we just had to go down and try it for ourselves.
The first dish that I would recommend is the Yee Mee which our kakis all agreed was one of the best you can get at Cze Char prices. Chef Ip uses a very good quality Yee Mee that leaves you with a nice eggy aftertaste that is very different from the Yee Mee that you normally get at your neighbourhood Cze Char. The sauce is slightly on the sweet side which is fine with me since I like my food a little sweeter.
4.25/5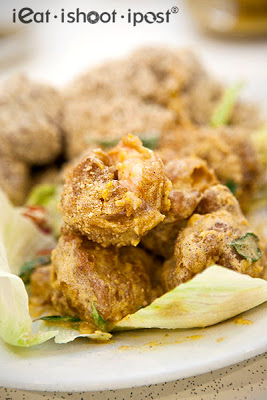 Cereal Prawn and Salted Egg Prawn from

$12
The Cereal Prawns at JHK are a little different from the usual style that we are used to at the Cze Char. Chef Ip grinds the cereal into a fine powder before frying it and using it to coat the prawns. I find the twist quite refreshing and enjoyed the dish a lot, although I must admit that I would probably still have enjoyed it if he didn't grind the cereal.
4.5/5
. The salted egg prawns would have been better if they were not so oily.
3.5/5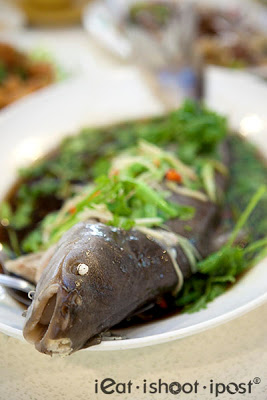 Steamed Patin Fish Hong Kong Style $38
The steamed Patin was excellent. The Hong Kong Style sauce was really good and the fish was perfectly steamed. As you know, Patin is a very oily fish, so when it is steamed properly, the portion of the fish where the oils and gelatine are is absolutely sublime. Chef Ip's sauce also has sliced chilli in it which I think is a Singapore twist to the Hong Kong style of steaming fish, but it worked very well. 4.5/5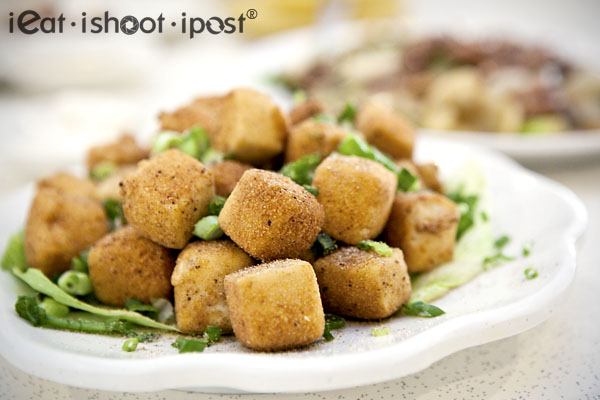 Fried Tofu with Fragrant Spices $8
The fried tofu with fragrant spices is another of the signature dishes there. Imagine sprinkling the BBQ seasoning mix from your favourite pack of potato chips over some freshly fried tofu and you can work out what this dish would taste like. It's the kind of dish that would be perfect as a snack when you are watching football. Personally, I think that tofu is not the right vehicle for the spices, it would have worked a lot better with something like cottage cheese. But then it wouldn't be a Hong Kong dish would it?
3.5/5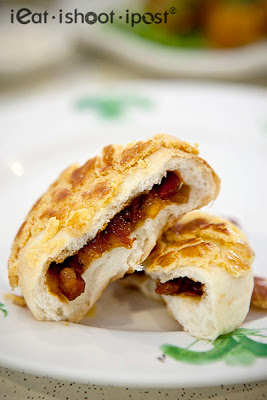 Freshly Baked Polo Bun 80cents
If you are fortuanate enough to visit JHK just when the Polo Buns are fresh out of the oven, then you are in for a real treat. The char siew filling really is Hong Kong style and the buns are super soft when they are still warm. I bought some home and by the time they are cold, they are not as soft. However, 20 seconds in the microwave and they are like what they were fresh out of the oven. The restaurant serves a limited number of dim sum dishes as well and they are pretty reasonable. You can get a breakfast set which consist of one basket of dim sum, a bowl of century egg congee and a cup of tea for $5 which I thought is an excellent deal.
Conclusion
A nice casual place to have a chinese meal together where the food is prepared with passion and the prices are reasonable. You really can't compare this with the top notch Cantonese restaurants of course, but if you need to have a special menu, Chef Ip would be more than happy toaccommodateto your budget.
Announcement for our next makan session in June!
We will be holding our next makan session at JHK at the end of June and the exciting news is that our favourite
Hong Kong Masterchef, Gen Shu
has agreed to come out of retirement to join forces with Chef Ip as a Special Guest Chef! Now this is something that we have been waiting for! The details for the sign up will be announced soon, so do look out for it!