Garlic Prawns with Vermicilli $36/kg
When I started writing the blog four years ago, it was a one man show for a couple of months before readers started to write to me about wanting to join me during the blogging sessions. Soon, I had a couple of kakis who would accompany me during the week when I went around blogging the famous hawkers stalls around Singapore. This community of close knit kakis has grown through the years and these are the people who drive the blog by their recommendations and their support for all the projects that I get into, like the makan sessions and fund raising events.
If you want to know who these people are, all you need to do is to join the
ieatishootipost forum
. Here is where the kakis share notes on what to eat as well as to lament the poor performance of Liverpool this season. If you love food, support Liverpool, like photography and are Teochew, you would fit right in. You don't have to be all four, just any one will do.
Our kakis all met up for a special tasting session at Chin Huat last week. Since we had the
ieat Crab Fest
last year, Chin Huat has been one of my regular places to bring friends and family to eat seafood. The food there is good and the prices are reasonable and Amy is one of those young Lao Ban Niangs whom you can plan the menu in English! For this occasion, I wanted to let the Kakis try the Salted Egg Crab and Golden Sauce Crab which I have tasted before, as well as try some new dishes that are made from Wagyu Beef. Although Wagyu has become a household name nowadays, there aren't many "Cze Char" restaurants serving it yet and it is a shame. I thought that a Wagyu Beef Hor Fun would be something to behold.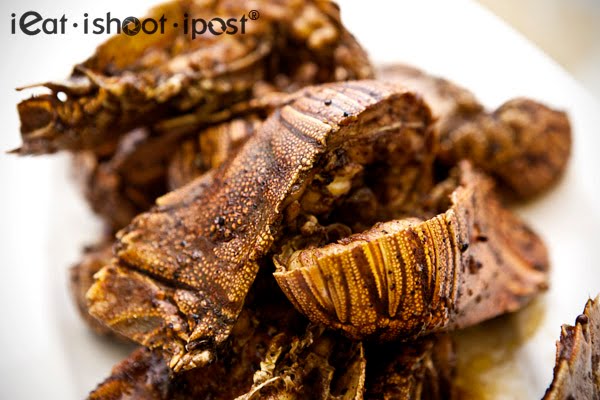 Live Crayfish in Black Pepper Sauce $58/kg
But before we get to the crabs, let start with the prawns and crayfish. The steamed garlic prawns with vermicilli is an excellent way to start a seafood meal since this is a dish that is light on the flavours, so you can appreciate the sweetness of the prawns.
4/5
.
Live Crayfish is not as common as the frozen ones which are more common. If you have ever eaten a crayfish and the flesh is slightly powdery, then it is definitely frozen. Actually, crayfish, and that includes lobsters, should be eaten live because they have enzymes in the digestive system that quickly degrades the meat once the crayfish dies. The first thing you will notice about live crayfish is that the flesh is very firm and springy. The pepper sauce that accompanies the crayfish is the same one they use for their crabs and is very good. However most of our kakis would have preferred the crayfish steamed with a light sauce so that they can appreciate the sweetness of the live shellfish.
4.25/5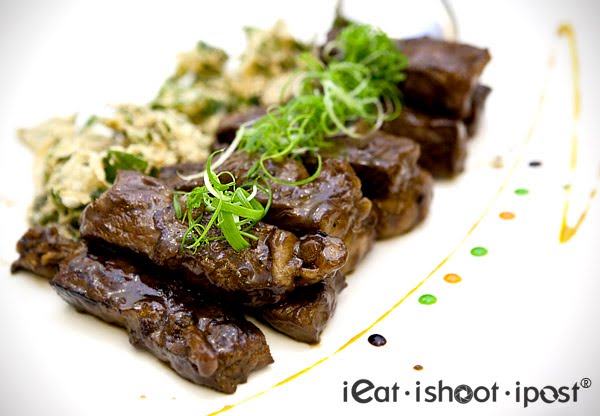 US Kobe (Wagyu) beef with Sweet Mustard Sauce $38 (200g)
The dish that caught everyone by surprise was the US Kobe Beef with sweet Mustard Sauce. This one got almost unanimous approval by our kakis. The beef (flat iron) was tender and beefy and the sweet mustard sauce was a perfect complement to the beef. We all agreed this new dish should bepermanentlyon the menu.
4.5/5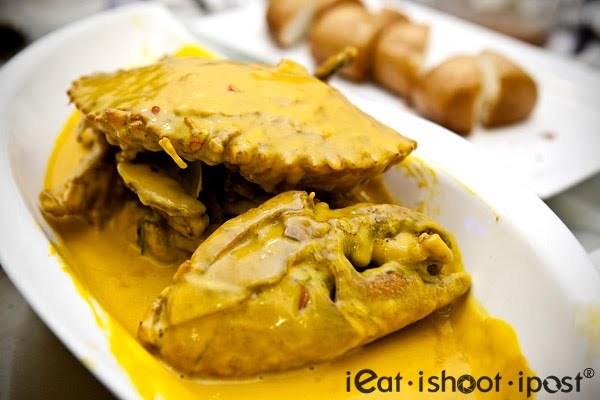 Golden Sauce Sri Lankan Crab $39.80/kg
The Golden Sauce Crab has been my "must order" crab dish every time I dine at Chin Huat. I would usually finish off at least 3 mantou (fried buns) dipped in the sauce and be quite happy without eating the crab. The Sri Lankan Crabs at Chin Huat are excellent btw. They have consistently been solid every time I ate there and they have really huge ones if you request for them. Between the two crab dishes we had that evening, half preferred the Golden Sauce Crab, while the other half preferred the Salted Egg Crab. I can't do without my mantou and golden sauce, so it's a4.5/5 for me.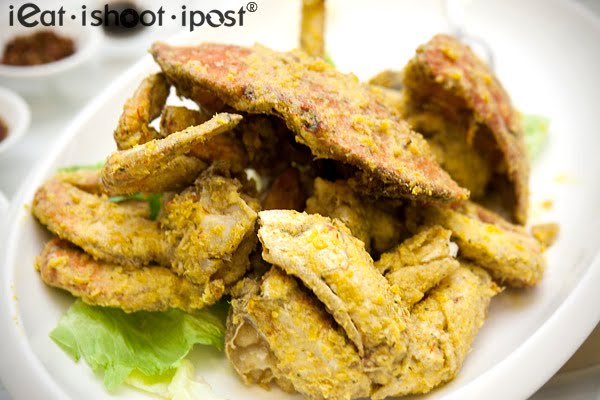 Salted Egg Dungeness Crab $58/kg
The salted egg crabs were the reason I planned this particular makan session. I had this during Rockett Girl's birthday last month and I have been looking forward to eating it again. It is the best Salted Egg Crab I have have come across so far. Chin Huat's serves the dry version and they managed to achieve a very nice balance between crispy, sweet and savoury that is very addictive. This time round, Amy suggested we try using Dungeness Crabs instead of Sri Lankan Crabs. The Dungeness Crab is the one that you find being served in San Francisco and being a sea crab, their flesh tends to be sweeter and less muddy than their Sri Lankan cousins. The shell of the Dungeness is also thinner and you can actually cut it with a pair of scissors instead of having to break it open with a nutcracker. That creates a whole different experience when you are nibbling on the salted egg batter.
4.5/5
The Kobe Beef Hor Fun had to be placed back to the drawing board as it did not produce the ooomph we were all expecting. The Hor Fun is very good, but it is the cut of beef which was wrong. I suggested that they try using something with a bit of chew like shortribs (karubi) next time. So if you are visiting Chin Huat, you can ask them if their Kobe Beef Hor Fun is ready. 3.5/5
Conclusion
We all agree that the food was excellent and the company was great! With the discovery of their Salted Egg Crabs, I think I shall have to order both the Golden Sauce and Salted Egg crabs every time I dine there. It really is very hard to decide between the two. The Kobe Beef with mustard sauce is also another "must order again" dish. I am hoping they will get the Kobe Beef Hor Fun perfected soon too!
If you would like to get to know our kakis better, do join the ieatishootipost forum! Our kakis are posting photos of what they eat daily and there are mini sessions going on all the time. Do contact the administrator, Cactuskit or Soundman if you wish to join our weekly lunch sessions.