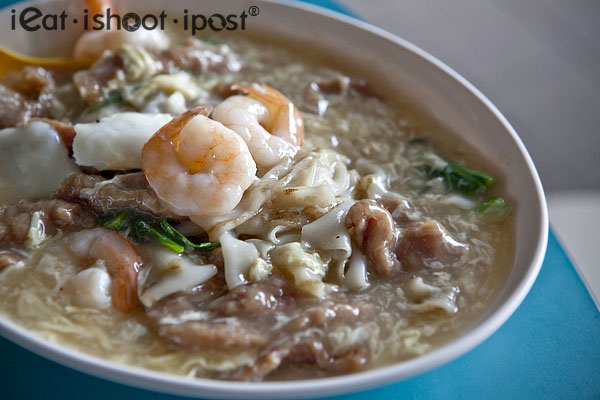 Beef Prawn and Fish Hor Fun $5
Fried Hor Fun is one of those dishes that you tell whether it is good or not by smelling it. Amazingly, there are not many foods like that in our hawker centres. Let's see, Mee Pok, Chicken Rice, Char Siew Rice, Fish Soup, Poh Piah, Rojak even Hokkien Mee. You don't really smell these as much as a good Wok Hei from a well fried Hor Fun. There is something magical about the combination of Kway Teow (Rice Noodles), oil and soy sauce fried in a smoking wok which you don't get with frying noodles.
Hor Fun is often a dish which you order from the Cze Char. There aren't many specialized Hor Fun stalls like this one where Hor Fun is the main dish, which is why I got excited when I heard about it. That and the fact that I really haven't found a great Hor Fun which I can recommend anywhere else.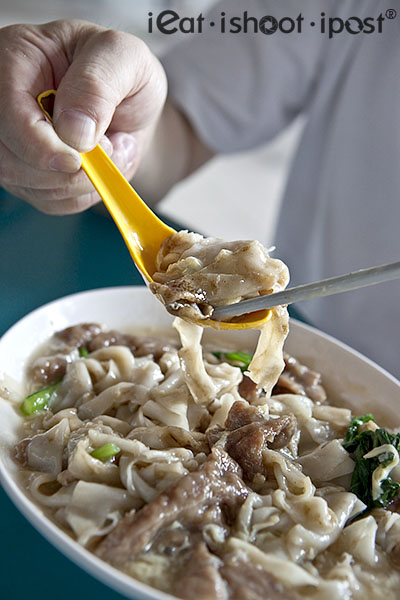 Well, if you are hankering for some good Hor Fun, this is one place I can recommend. This is Hor Fun where you can smell the Wok Hei while you are carrying the plate back to your table. When you order the Hor Fun, he will fry it fresh over a superheated wok so as to infuse the Hor Fun with that Wok Hei flavour before frying the ingredients. But the sauce is not prepared when you order, instead it has been prepared beforehand and simply spooned over the freshly fried Hor Fun.
I loved the Hor Fun and the sauce but I found the ingredients over tenderized and lacking flavour. It would have been perfect if the beef had a bit more bite and the prawns where not so springy. Otherwise I really enjoyed the Hor Fun. 4.25/5
Conclusion
One of the best places to get a good plate of Hor Fun with Wok Hei. Too bad the meat and prawns are over tenderized.