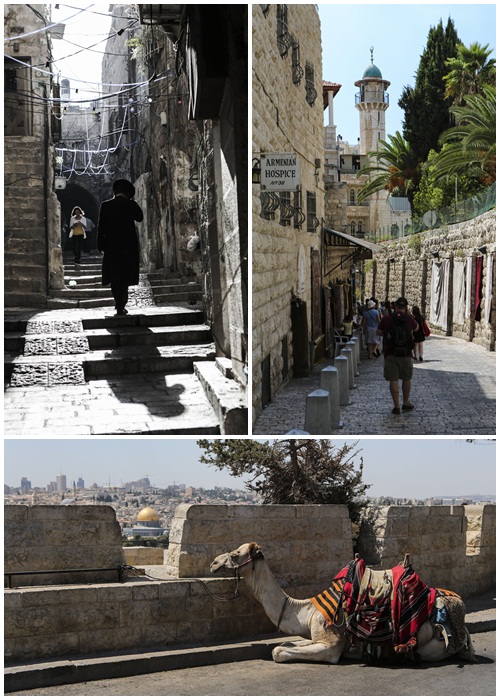 Views of the old City of Jerusalem
If you missed part one of my Israel Food Trip then please click here to read it first. Seriously, you don't watch part 2 of a 2 parter without watching part one first right? But ok, if you don't want to, just read on, but don't blame me if you are lost!
So I awoke to a beautiful sunrise over the Sea of Galilee all excited because this is the day we visit Jerusalem! This is the day I get to visit the Mount of Olives, the Garden of Gethsemane and walk the Via Dolorosa to the Church of the Holy Sepulchre which is built over the site where the crucifixion of Christ took place. And yes, I was also on a mission to find the iconic Israeli dishes which, I must admit, still eludes me after our first day in Israel.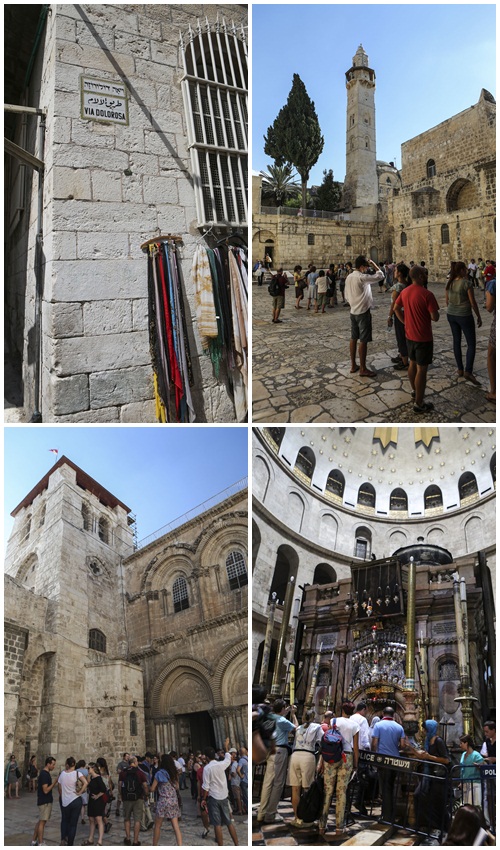 Church of the Holy Sepulchre and the Via Dolorosa
A lot of my friends who have been on the holy tour keep telling me that I need to bring a bottle of Sambal Belachan along because the food in Israel is pretty blah. I guess the tour guides were focussed more on the spiritual aspect of such tours rather than the pleasurable (carnal) parts. Hey, you are on a pilgrimage right? You should be praying and fasting rather than thinking about food!
But I don't buy that. I think the tour guides just bring you to places that are easy to get seats for big groups which usually mean that they are pretty empty, which usually means that the food is not great to start with, which means that restaurants pay the tour guides commissions to divert their groups of clueless tourists there. So, if you are planning to tour Israel with your church group, do some research first (like read this blog) and go find yourself something good to eat rather than putting your stomach at the mercy of the tour guide! Either that or maybe you should just take the opportunity to fast and pray. Either way just remember my adage: "Never Waste Your Calories on Yucky Food!"
Our morning started with a view of Jerusalem from the Mount of Olives. This was where we caught a glimpse of the Temple Mount upon which sits the Dome of the Rock. This Muslim landmark was built over where the Jewish Temple used to stand after it was destroyed by the Romans in 70 AD. The Dome of the Rock is probably the most iconic structure of Jerusalem and is one of the oldest Muslim structures which was built over the spot where it was believed that the Prophet Mohammed embarked on his night journey to meet with God.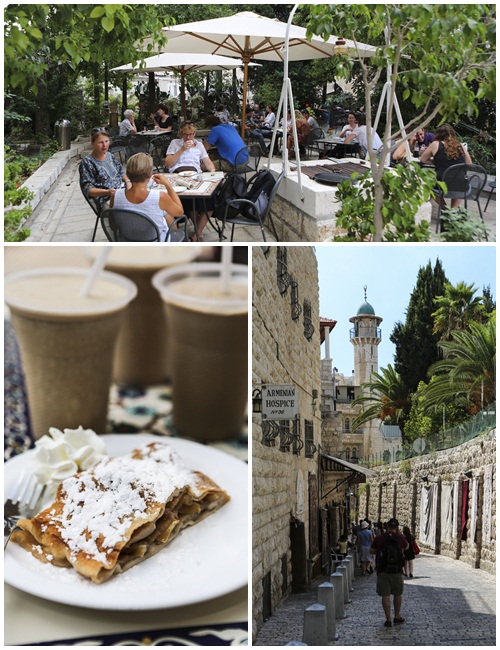 Iced Coffee and Apple Strudel at the Armenian Hospice
We then continued our tour by entering the Lion's gate which took us to the starting point of the Via Dolorasa. But rather than tracing the path from start to finish, our guide took a detour halfway through to take us out of the heat and humidity into the tranquility of the cafe situated at the Armenian Hospice. The contrast between the beautiful garden cafe and the busy streets below is truly amazing, as was the ice coffee at the cafe. Definitely a quick stopover if you are walking the Via Dolorosa!
Like most foodie trips that I have been on, there really isn't a fixed time for three standard meals. Basically, we just ate whenever there was an opportunity. So between morning tea and lunch time, our guide took us for a quick bite of another Israeli favourite street food, the falafel. Now, if you have always associated the falafel with other Middle Eastern cuisines OTHER than Israeli cuisine, I don't blame you. In Australia, I have always associated falafel with Lebanese cuisine. On the other hand, if you live in the US where there is a sizeable Jewish population, you might see it as Israeli food.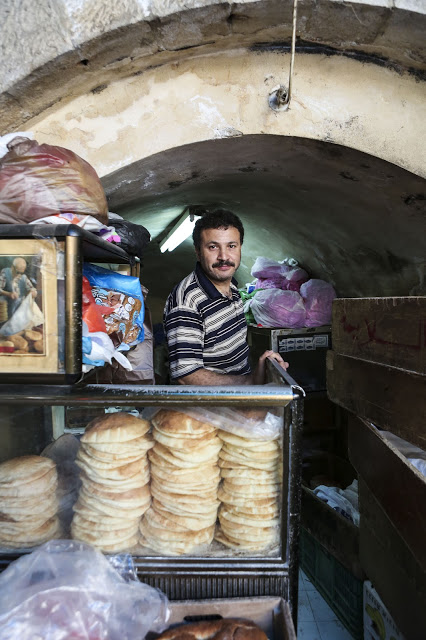 Pita Bread Shop in literally a "hole in the wall"
Falafel probably originated in Egypt although there are some theories that say that it originated from India instead. That wouldn't be too far fetched since the falafel is very similar to those vadai that are made from lentils and chickpeas.Whatever its origins, it is claimed by Egypt, Palestine and Israel as their national dish. But unlike the thorny but seldom serious skirmishes that Malaysia and Singapore occiasionally have over who owns Bak Kut Teh and Chilli Crabs, the debate over who owns Falafel is often seen as a reflection of the poitical situation in the region.
I am amazed at just how small the old city really is. You can basically walk from one end to the other end within an hour or even quicker if you don't stop to buy, smell or eat something. The city itself is divided into four quarters, viz, Jewish, Christian, Muslim and Armenian quarters and though there are no distinct borders between the quarters, it is interesting how you can just turn one corner and suddenly find them selling a range of different things.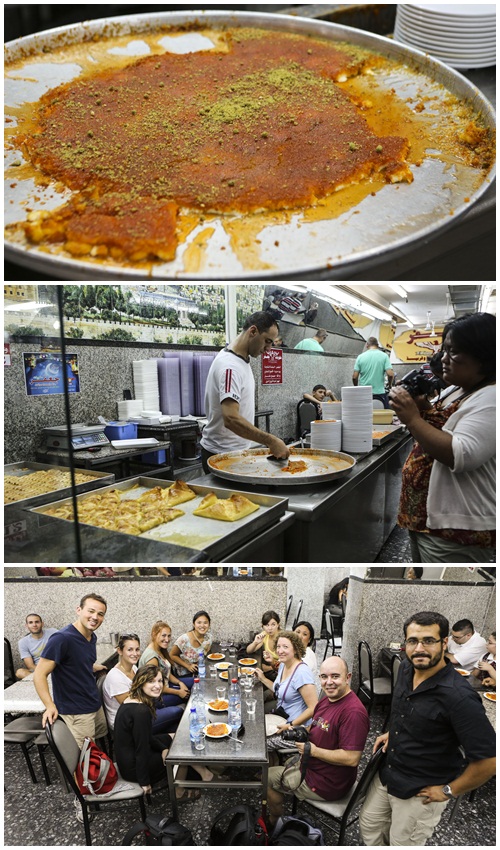 We stopped for afternoon tea in the Muslim quarter to try some Kanafeh. This is an Arabic dessert that originated in the city of Nablus. The Jerusalem version is bright orange in colour and consist of a layer of goat cheese topped with semnolina, baked and then drenched in a rose scented syrup. Like most of the desserts in the Middle East, it is very rich and sweet which I thought would go well with a cup of tea. But over the next few days, I would come to realise that a good cup of tea is pretty hard to find in Israel. The drink of choice is coffee. With tea, they tend to add mint or some other herbs in it and it is hard to find a decent milk tea anywhere!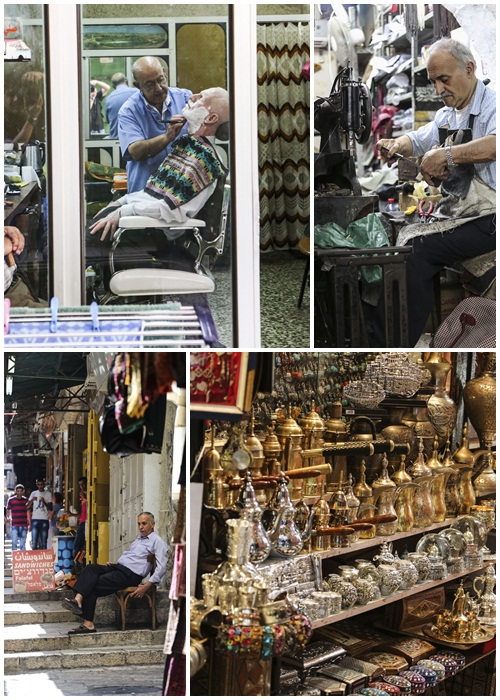 Typical shops in Old Jerusalem
If you do come to Jerusalem, one of the places that you should try to visit is Zalatimo's Murthabak. I have heard so much about them but on the day we were in Jerusalem, my guide told me that they were closed.
I was quite fascinated with Zalatimo's because this really looks like the Murthabak that we get here in Singapore except that it is filled with goat's cheese instead. I have always assumed that Murthabak came from India but was fascinated to learn that it actually originated in Yemen which explains how its been sold in Jerusalem since 1860.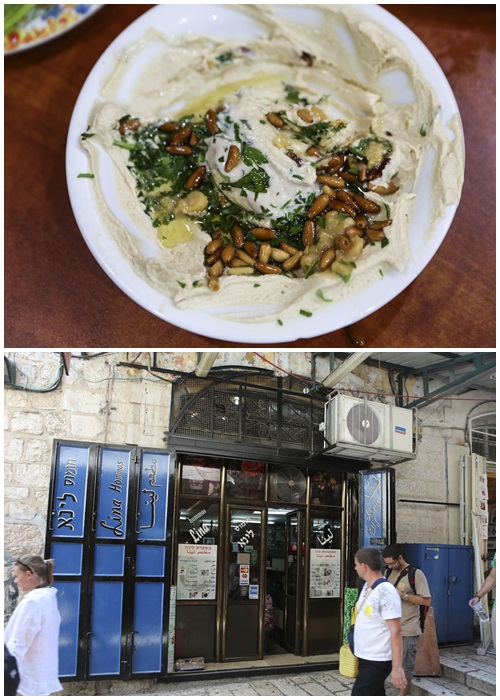 We continued our quest to find the best hummus in Israel and ended up at Lina's restaurant which was one of the top places for hummus in Old Jerusalem. I was busy talking to the owner, so by the time I got upstairs, I could only take a photo of a half dipped plate of hummus!
Here's my friend Micha demonstrating the right way to eat hummus. I think the main thing about hummus is that it is more than just a dip where you simply flavour the bread with the paste. Rather, the bread is only serves as a means of scooping up the hummus and the aim of the game is to get a decent mouthful of the stuff with each scoop!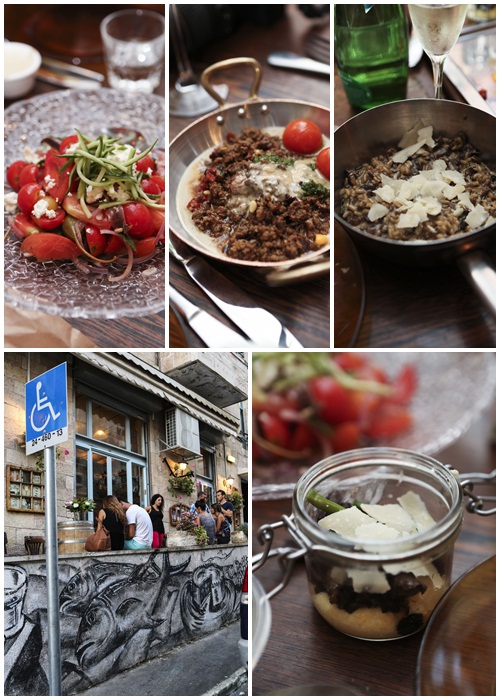 For dinner, we headed out of Old Jerusalem to the Machaneyuda restaurant that was located near the famous Machane Yehuda market. This place serves Mediterranean style cuisine using the local produced that is sold at the market. This is reputedly one of the best restaurants in Israel and I was told that there is a one month waiting list, so you will have to plan ahead if you wish to dine there.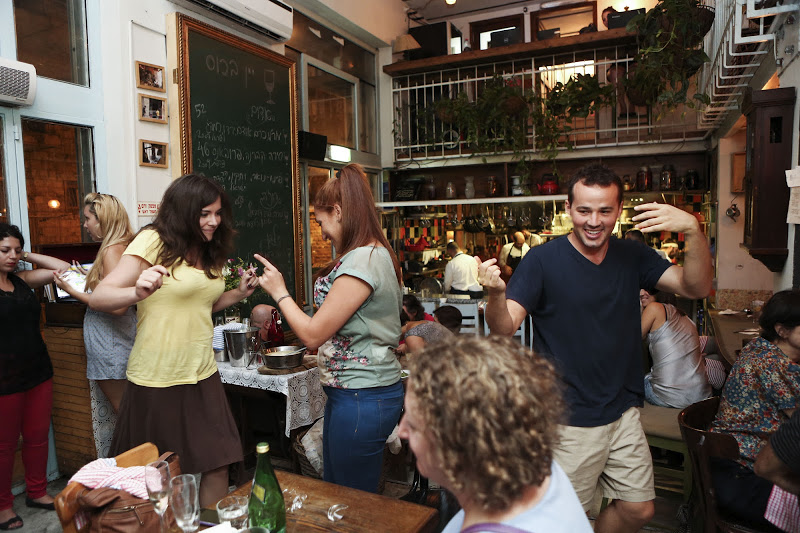 The food there is fresh and well executed and if the tour guides were to bring their groups there, no one would ever complain that food in Israel is blah. Although it is not a kosher restaurant, they do serve kosher food on request. So for Jews observing the kosher laws, they have a dish of spiced minced lamb without the cream sauce. We tried both version and I must admit that I prefer the creamy version.
The best way to describe the restaurant is that it is downright straightforward, unpretentious and unencumbered, very much like most Israelis that I have met. The food is undoubtedly good but the highlight of the evening was when the music started and people got up to dance right in the middle of the restaurant! Then the chefs in the kitchen started to join in and turned the pots and pans into percussion instruments. It was the most amazing thing I have ever seen which I would never expect to see in Singapore. It really felt like a flash mob as the chefs all got back to cooking again when the music stopped!
That was the end of yet another eventful day! Tomorrow, we head to Machane Yehuda market! Stay tuned!
Read Part 1, Part 3 and Part 4 of my Israel Food Trip.
This trip was sponsored by Taste of Israel.