Sorry registration is closed!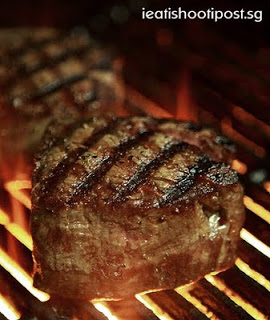 Now this is a makan session that I have been working on for a while and I am glad to announce that it is finally here!
If you love beef but always wonder which cut of beef to buy when you are at the butcher's, this class is for you! If you eat steaks at the restaurant because you didn't know that you can make a better steak at home, this class is for you. If you want to know what is the difference in taste between grassfed, grainfed, Wagyu and Dry Aged beef, this class is for you!
In this class, Chef Mervyn will take us through cow anatomy and show you where the different cuts come from. He will also be showing us how to cook a steak properly as well as making a simple steak sauce such that you would think twice about paying big bucks eating at a restaurant next time.
This class is made possible through the generous support of
greengrocer.com.sg
and
cookyn-with-mervyn.com
and all proceeds will go to supporting the work of the next ieatishootipost community project with
Goducate.org
in Batam.
You might want to check out the extensive online catalogue of specialty beef and other gourmet products you can buy online at greengrocer.com.sg which is operated by indoguna, one of Singapore's largest supplier of meat and produce to the hotels and restaurants. Here you can find all the different cuts of beef and other fantastic gourmet products all at your fingertips! Chef Mervyn runs his own cooking studio and conducts fun and interactive cooking parties, so we will be in for an entertaining afternoon. You can check out his classes at cookyn-with-mervyn.com.
If you are wondering if there will be enough beef to eat (I have been asked by some people), I just spoke with Indoguna and they assure me that at the end of the session, you will probably not need to eat dinner or supper or breakfast the next day.
Here are the details:
1. Date: 28 Aug 2010 (Sat)
2. Time: 3pm to 6pm
3. Title: Beef appreciation with ieatishootipost
4. No of pax: 40
Australian grassfed ribeye
Australian grainfed ribeye
US prime grainfed ribeye
Australian wagyu ribeye
Dry-aged angus ribeye
Beef flank steak
Braised beef cheeks
To register for the class, please click this link.
Sponsored by: