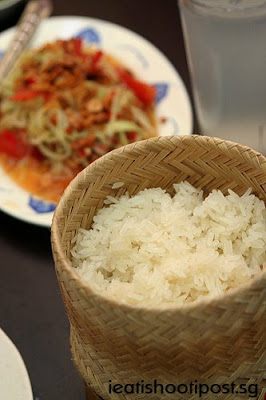 My mother would have described it as "Kee Ka La Kior". (lit Kee Ka La sound ie noisy)
And that probably sums it up for the first ieat Makan Session for 2008. Well that's what you get when you try to cram 47 people into a small eatery which can comfortably seat 40. But hey, it's a great way to meet new friends and share a 14 course meal in "togetherness"!
For this session, I had asked Thai Chef Joe to whip up some dishes which I was accustomed to in Thailand which is difficult to find in Singapore. He did better than that, he even simulated a real time "Bangkok" blackout in the middle of dinner. It is amazing that when the lights go out, our kakis response is the predictable "OOooooooo" followed by a period of silence followed by someone making a wise crack to break the silence. Err, the guy making the wise crack that night would have been me!
Anyway, we were treated to some authentic Esarn food which comprised of sticky rice eaten with Som Tam (Green Papaya Salad), grilled chicken and pork neck. After spending two years in Thailand, I must say that these has become my favourite of Thai dishes although it took some time to grow on me. Not surprisingly, a lot of our kakis didn't take to it immediately. Trust me, after a few more goes, you'd prefer this over the normal Thai food. There is a good reason for it being the most popular dish in Thailand, you know.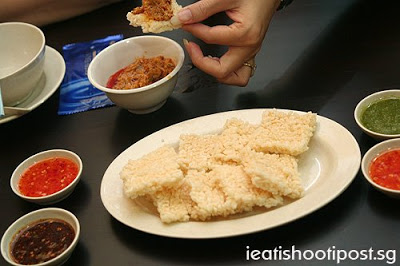 The Kao Dang Na Dang is also another dish not commonly seen here. It is basically an appetiser comprising crispy rice cakes with a savoury minced pork and peanut dip. I thought that the chef was a little too generous with the peanuts that night and as a result the dip was a bit too oily. But some people like holydrummer was saying it was the best stuff he had ever tasted! Could still be better, my friend, with a bit more tweaking!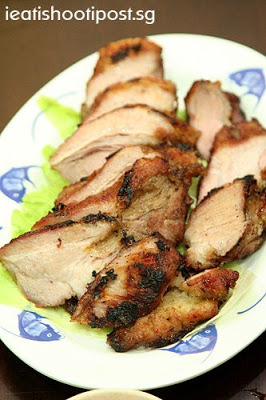 A lot of our kakis likened the grilled pork collar to a Thai style Char Siew. Khaw Mu Yang, or grilled pork collar is one of the most common street foods in Thailand and commonly eaten with sticky rice and Som Tam. I really miss this dish as it is not very commonly found in Thai restaurants here. Most of the kakis found it very good, though I can tell you that it can be even better if it were cut thinner and grilled till the fats melt and causes the smoke from the charcoal to flavour the meat. (Joe told me he will tweak it a bit an add it to the menu!)
Joe actually went out to buy a new grill just so that he could make the grilled pork and chicken dishes for us. The grill also meant that now he can also chargrill the condiments like lemongrass, onions, galangal, ginger etc before adding it into the Tom Yum Soup! Thanks for making the extra effort Joe!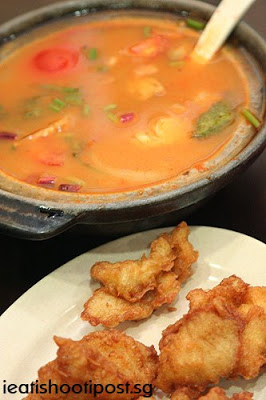 Speaking of Tom Yum soup, Saturday's version was the closest to the one's I had in the street stalls of Thailand so far. It had the right amount of hot and sour to get the salivary glands going. Initially, he had wanted to make seafood Tom Yum, but I requested the fried fish Tom Yum instead. In retrospect, I think some of the kakis would have appreciated it more if there was seafood in the Tom Yum to give it a sweeter taste. Nevertheless, dipping a piece of the tasty, crispy fried fish into the Tom Yum soup was definitely one of the highlights of the evening for me.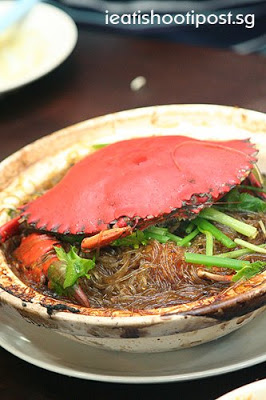 The crab tang hoon drew mixed reviews from our kakis. Eastcoastlife liked it. In fact it was the only dish she liked out of the whole menu. You can read her review here. Bashful Hunter on the other hand thought it was the only item on the menu that was not so good. He was comparing the crab tang hoon with Ya Kwang's version. So it really goes to show that taste is indeed subjective even amongst a group of seasoned foodies.
Conclusion
Thanks very much to Joe and Jamie for so kindly hosting us on a Saturday night and for making the extra effort to specially cater the menu to my specification. I was happy to be able to eat my favourite Som Tam, Gai Yang with Khao Niao and also Mango Sticky Rice.
Thanks especially to Damien for organizing the makan session!
And of course thanks to everyone who turned up to add to the Chaos of the Makan Session! I hope everyone had fun and look forward to seeing you all at the next one!
If you all know of any particular restaurant which can host our makan session, do write in to let me know!
You can read Keropokman's reviews here
Eastcoastlife here
The rest of the comments on the Forum here
Ladyironchef's cleavers a bit blunt, so stay tuned
Link to previous post on Joe's Kitchen
Joe's Kitchen Blk 125,
Bukit Merah Lane 1 #01-182
(Opp Alexandra Hospital)
11am to 3pm 5pm to 10pm
62708484
Jamie 98577007