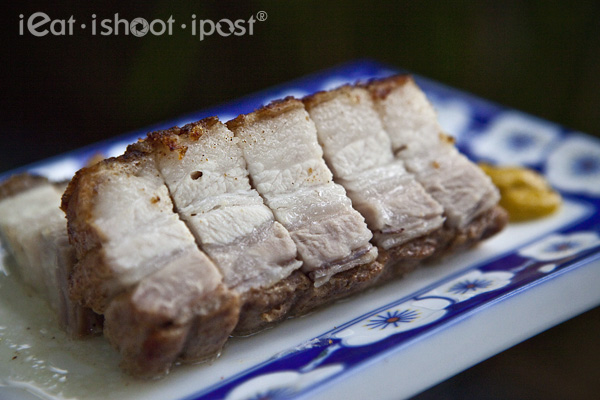 Sio Bak is actually quite a simple thing to do at home as compared to say, Laksa where you have to prepare a whole list of ingredients. All you need for a Sio Bak with a crispy rind and juicy, tender meat is a few simple ingredients and patience.
The following video will show you all the steps you need to achieve a good Sio Bak. Once you are confident of the technique, then you can get your hands on some Kurobuta Pork belly and really show off your Sio Bak skills!
Ingredients:
Pork Belly: 1.5kg
Sea Salt: 1.5 Tbs
Pepper: 0.75 Tbs
Five Spice Powder: 0.5 tsp
Points to keep in mind:
1. I bought my skin pricker from Sia Huat at temple street. You can of course use any instrument that can poke little holes in the skin like a needle or the tip of a knife, but it is going to take a long time.
2. I salt only the meat but not the skin. Some others have said they salt the skin, but I find that you don't really need to in order to achieve a crispy skin.
3. If you are in a hurry, instead of leaving the pork in the fridge overnight, you can air dry it for 3 hours which is what the hawkers do.
4. I roast the pork to an internal temperature of 75 degrees C. Meat cooks at 65 degrees C and connective tissues at 75 degrees C. You don't want to hold the meat too long above 65 degrees or it will dry out. But cooking it to 75 degrees will break down the connective tissues so that the meat is more tender.
4. A 50 min roasting time is applicable only to 1.5 kg of Pork. You will have to adjust according to your oven and portion of pork belly.
5. Once the meat is cooked, white vinegar is applied over the skin and the pork is returned to the oven under the grill at maximum heat. The skin will start to blister and char. The process only takes a few minutes.
6. Always rest the meat before cutting to allow the juices to be reabsorbed into the meat.
7. I find a serrated knife to be the most useful for scraping off the charred bits. It is important to make sure that the entire surface has blistered or you will have bits of pork skin which is still chewy. The pork in the video is very charred, you don't have to char it this much really, just make sure that the entire surface is blistered.
I wish you success with your Sio Bak! Do write in to let us know how yours went.
Update: 16 Jun 2015
I have a new, improved recipe! Here is the link!
Disclosure: Some links above are affiliate links, meaning, at no additional cost to you, we will earn a small commission if you click through and make a purchase.