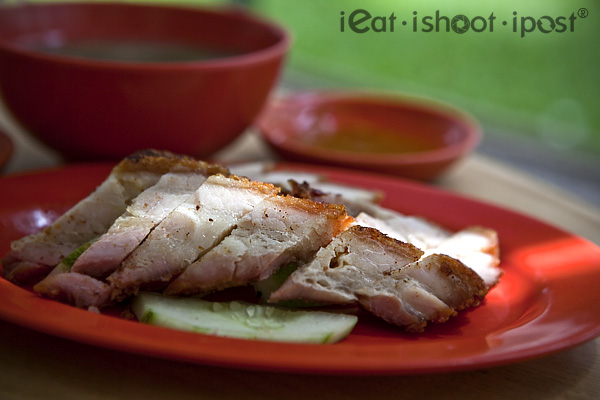 Sio Bak (Roast Pork Belly)
Sio Bak, so simple, so primal, so shiok.
Sio Bak really celebrates the pure flavour of pork since it is simply pork that has been salted and roasted. The beauty of Sio Bak is that with one bite, you can taste the nutty flavours of the meat combined with the crispy texture of the rind melded with the pork fat which is roasted till it only takes the warmth of your mouth and a few chews to create perfect porcine pleasure for your palate. Ahh…. why does something so good have to be soooo bad for you?
Having said that, it really does take skill to create the perfect Sio Bak. The most important ingredient is of course the pork which is where a lot of hawkers hit the first road block. In the good old days, we used to have our own pig farms in Punggol and those were the glory days for the Sio Bak men. Pigs ate very well then. They basically ate what you and I ate, or more precisely whatever is leftover after we have eaten. Swill might be the stuff that commandos use in initiating new recruits, but they were prized feed for pigs. Can you imagine the difference between pigs that ate rice, meat and veggies compared to ones that eat processed feeds made from who knows what?
Of course, nowadays we do have kurobuta pork which I am sure would make heavenly Sio Bak, but which hawker would have the guts to introduce such a dish to a price sensitive market? Thus, Kurobuta Sio Bak is only reserved for posh restaurants and hawkers have to make do with fresh Indonesian pork, which I am told is inferior to Malaysian pork which is still banned in Singapore.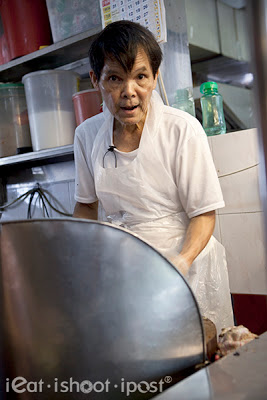 Anyone familiar with this uncle?
But some hawkers made do with whatever they can get their hands on and still make an excellent dish given the limitations. The Sio Bak at Yee Kee is just one such example. As I said in the beginning of this post, Sio Bak is actually a very simple dish. All you need is good quality pork belly, salt, pepper and five spice powder. As with all simple recipes, it is often difficult to get right because you really need to focus on the technique. Without the attention to details, the rind will be tough and chewy and the meat dry and lifeless. But after many years of experience, this uncle manages to get the Sio Bak to have a nice crispy rind and juicy, tender meat that still retains that springy chew. 4.5/5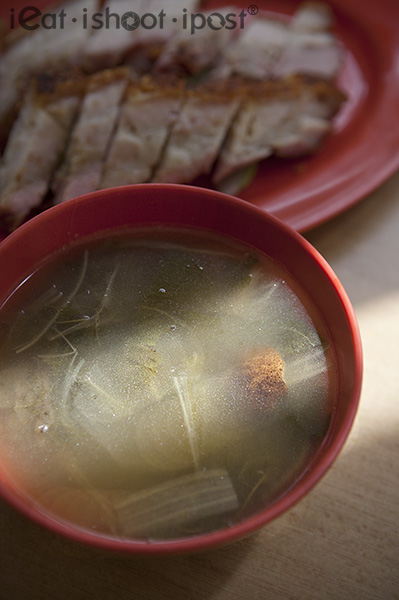 Preserved lettuce and duck soup: Free standard soup!
Two other things that really impress me about this stall are the rice and the soup. These are two things that most other stalls overlook. When you are ordering your rice, just take a look at how they keep the rice warm. They actually keep the rice in a large clay pot and place some charcoal at the bottom of the pot. Frankly, I am not sure if it made the rice taste better, but I do admire the stallholder's insistence on doing it the traditional way. At most other stalls you would also be expected to pay for some double boiled soup, but at Yee Kee, they actually provide some really nice Cantonese style soup for free! They have different flavours and the soup is easily the best free soup I have taken.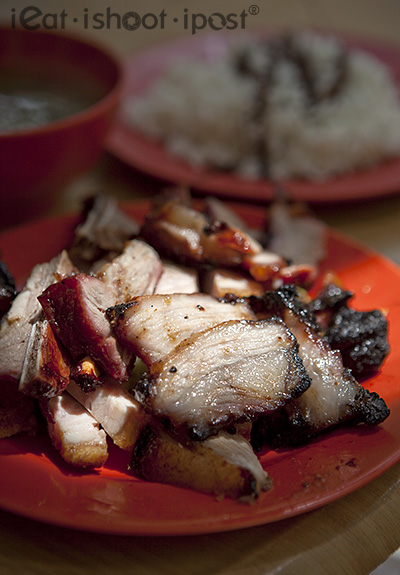 The Char Siew here is not as sweet as I would like it to be but I suspect that Char Siew was probably not as sweet in the past as it is nowadays. I am just postulating since this stall has been around for a long time and they claim that they always served Char Siew like this. It is closer to the style of Char Siew that you find in Hong Kong restaurants like Crystal Jade, so perhaps the sweeter Char Siew is more of a Singaporean style. It was roasted perfectly, but I would have liked it a little sweeter and stickier. 4/5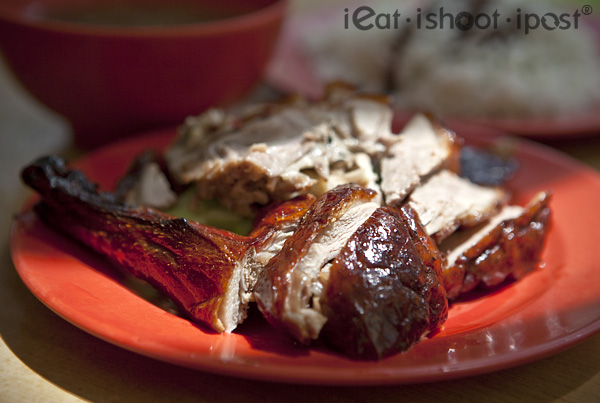 Although the stall claims to specialize in Roast Duck, we actually found the Roast duck to be quite unremarkable. Perhaps we have to be there when it comes out of the oven fresh. Anyone a fan of the roast duck here? 3.5/5

Conclusion
This is a great place for old school roast meats, especially the Sio Bak. Any long time fans here among our readers who can tell us a bit more about how they were when they were still located at Lavender Street?