This stall is closed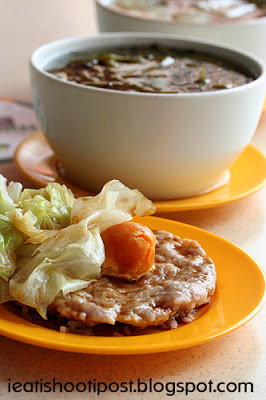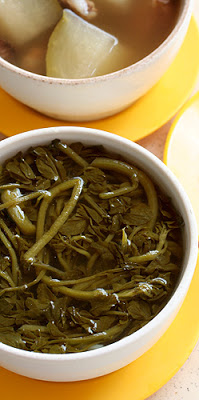 Some foods you eat because it is shiok. Some foods you eat to cleanse your system because the night before you ate something which was shiok. Whenever I need to eat something guilt free, I think of steamed soup and plain rice. Yep, as I get older, plain white rice seems to taste better and better. Not only that, it is guaranteed not to give you indigestion or reflux!
There are lots of steamed soup places that have made their appearance in recent years to cash in on the healthier lifestyle trend. You can now find steamed soups in a majority of air-con food courts. So what is it that sets this one apart from the others? For me it was 3 things. 1. The generous quantity of ingredients. 2. The fact that the soup is actually double boiled ie steamed in a steamer and not boiled then put in a steamer and 3. The friendly couple selling the soup ie great service.
A lot of times when you order a bowl of Xi Yang Chai (Watercress) Tang, you get a few strands of Xi Yang Chai that has been boiled to death and maybe 3 pieces of lean pork. Here, you get a generous helping of the vegetables that are steamed such that the soup is tasty yet the vegetables are soft but still intact. Same goes with the Winter Melon soup, the chunks of Winter melon are still intact but soft. This is achieved because the soup is not pre-boiled first. Instead all the raw ingredients are put into the bowls and then cooked by putting it in a steamer. This way the temperature is never too high to overboil the soup, resulting in maximal extraction of the flavours without destroying the precious nutrients. In addition, they use only pork soft bones and you get around 5 generous pieces per bowl! 4.25/5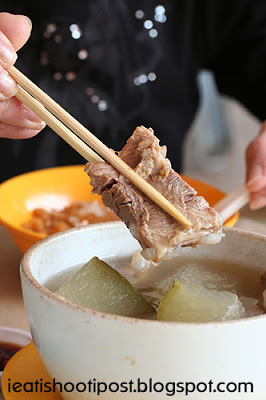 Hong Kong style food is less robust when compared to Singapore food. So don't expect the soup to be very savoury. It is very Cheng (clear) and some may even find it a tad bland. However, as I said, it is great for those seeking something healthy to cleanse the system.
The steamed rice was also very good. I had the steamed pork with salted egg which was excellent. The pork was perfectly marinated and it was bouncy to the bite. Having the minced pork with the rice was really tasty yet gentle to the stomach. 4.5/5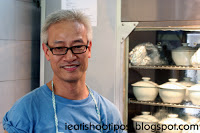 Here's the Hong Kong Chef himself. Mr Heung has lived in Singapore for quite some time now and is married to a Singaporean. He still speaks with that typical Hong Kong accent though his mandarin is pretty much almost localised. I had a great chat with him. Friendly and unassuming, it is great to find a hawker who is passionate about his food and provides service with a smile!
Conclusion
Certainly not something you would drive all the way from Choa Chu Kang to eat, but if you living in the East and hankering for something nutritious and tasty, this would be a good choice. At $3 per bowl of steamed soup or steamed rice, it is one of the best value for money HK food that you can find!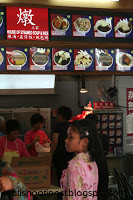 Recommended by Sker