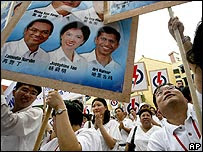 I realise that there are lots of readers who do not like to write comments for various reasons. Some don't feel that they have anything to say. Some don't like to write. Some are really shy and prefer to remain anonymous. Some simply Bor Chap (don't give a hoot)
Anyway, to cater for the first 3 groups of readers (last group already Bor Chap what), I am experimenting with a new poll widget. All you need to do is a simple click and you can voice your opinion anonymously!
I think it would be interesting to see what our readers feel about different issues including questions like, "Do you prefer Black or White Carrot Cake?" or "I eat my noodles first then the Char Siew last"
So let's go to the Polls! And if you have an interesting question you like to poll, do write in and let me know.