This eatery is closed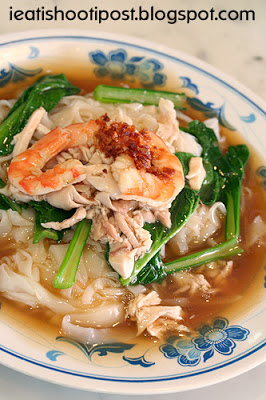 LTK Hor Fun $3.80
This is probably one of the most well established Ipoh Hor Fun in Singapore. Mr Lee Tong Kee started selling his Hor Fun in 1948 in KL and then opened one in Tanjong Pagar in 1969. It is one of the few restaurants around that serves Ipoh Hor Fun as their signature dish. (I am not aware of any others)
I think the key characteristic of a great Ipoh Hor Fun is the texture of the Hor Fun itself and Lee Tong Kee has got a Hor Fun that is really smooth and slippery. It is one of the best I have tasted. The sauce is a closely guarded secret and is made everyday by Mr Lee's daughter. It was tasty and complemented the Hor Fun well though I felt it could have a bit more ooomph. However, being a bit bland does allow you to fully appreciate the quality of the Hor Fun itself. The chicken and prawns were nothing spectacular. They are like people you wouldn't miss if they didn't turn up at your birthday party. 4/5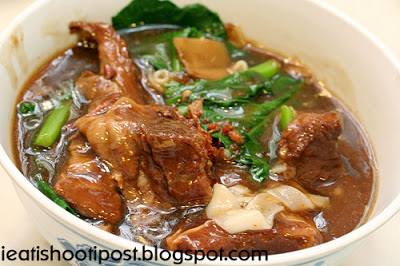 Beef Hor Fun $5.50
For those of us who prefer our tastebuds to get a bit more excited, I would suggest you go for the Beef Hor Fun instead. The gravy is a classic Ngau Lam (Stewed Beef Brisket) which is spiked with a good dose of Chinese Five Spice powder.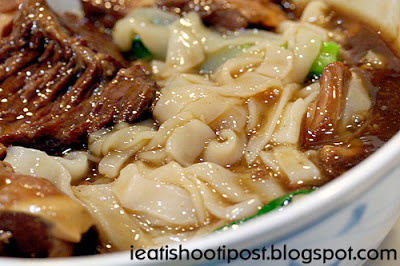 This is one of the best Ngau Lam Hor Fun that I have come across. The only complaint was that I did not get some "melt in your mouth" beef tendons that day. Next time, I will have to specially request for it. 4.5/5
Conclusion
Excellent Hor Fun in an air-con environment. I have to admit that when it comes to Chicken Hor Fun, my tastebuds still yearn for Wing Kee at Changi Village. Please don't give me that "but Ipoh Hor Fun is not supposed to have fried chicken cutlet" look. I just like it. However, this place is where I'd come for Ngau Lum Hor Fun. Mmmmm…. smooth, slippery and shiok!