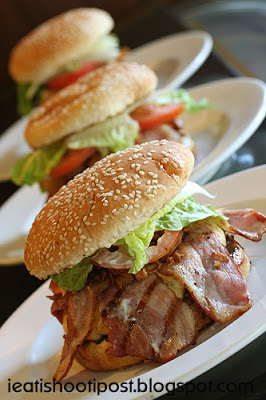 ieat SuperBurger 3 in a row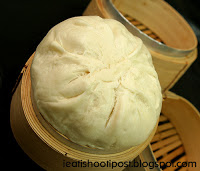 I brought the family down to Elias Mall for my kids to experience the Godzilla Da Pao for themselves last weekend. The stall was crowded and the owners told me that people have come to the stall asking for the Godzilla Da Pao after visiting the blog. It was heartwarming to see that their business is doing well after they were booted out from their last location and had spent the last three months looking for a new stall. They have expressed their gratitude to me and I want to channel that appreciation to you, our blog readers as well.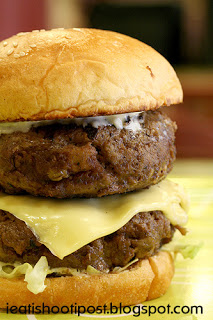 I realise that there is a particular group of readers out there whom I shall call ieaters (I thought of ieat-associates, we-alsoeat, iread-ieat but I don't think they were workable) who frequently log in to find out what is being reviewed. They will then go try the food for themselves and pen their own comments on the blog. Some may not go immediately, but they will start spreading the news to their friends about the eatery. As a result, the stall gets a quick boost in their business and if the food is really good, word continues to spread. So stallowners like those of Godzilla Da Pao are indebted to the efforts of the ieaters.
I don't know if you realize it yet, but I do get rather wacky ideas when it comes to food and I frequently try to get hawkers and restaurant owners to create something special for me. The fact is that most of them don't mind doing it, but they are always afraid that there is no way of promoting it. This blog with its community of ieaters have thus become a platform to introduce new food creations to Singapore. So because of the ieaters, (and also all my makan kakis from the makansutra forum from where ieatishootipost all started) we can now enjoy the ieat Superburger, Double Whammy, Beef Epok Epok and of course the Godzilla Da Pao. Not everyone is a success of course and there has been some failures. The Sirloin Beef Satay did not quite make it, but in its place we have the Super Power Chicken Satay.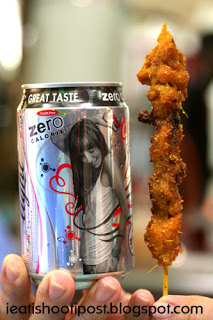 In an effort to build our community of ieaters, we had our first ieat-weMeet-weEat session last month where our readers could meet each other. It was good to meet some of the people who frequently pen their comments and also most of the foodies expressed the desire to meet other like minded(like-stomached) people. In order to continue to build on this, I have incorporated a "recent ieaters" widget on the right column. This will give ieaters an opportunity to introduce themselves and meet other ieaters. I thought it was a good idea. So do sign up and be part of the community!

Lastly, if you have any wacky ideas and know of a certain hawker who is open to experimentation, do write in and let's blog it so that everyone else can try out your new creation! In this way, we will be having new and better things to eat!
Look forward to blogging your wacky creations!!