This Stall is Closed!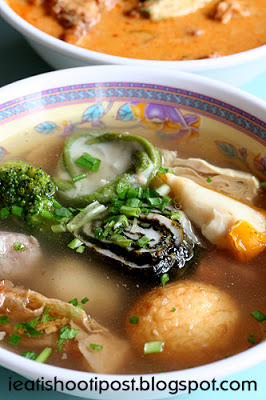 The book of Ecclesiastes tells us that "there is nothing new under the Sun" which is very true. Everything you see which is "new" has been tried before and recycled. Take mosaic tiles for instance. They were in fashion in the 70's and are now in fashion again. But when you trace it back, you find that they were already in fashion in Greek and Roman times! So there is really nothing new under the Sun.
BUT, this does not mean that we never get to experience novelty in our lives. We perceive something to be new because we are ignorant of its existence in the first place.
So with that excuse, may I say that I have been pleasantly surprised, delighted and very excited to share pictures of some Yong Tau Foo which I have never come across before. There may be nothing new under the Sun, but these were certainly new to me!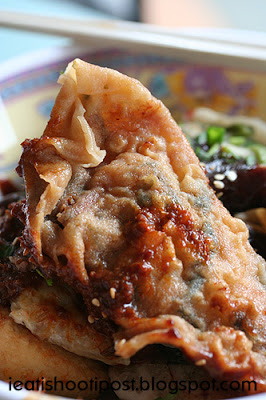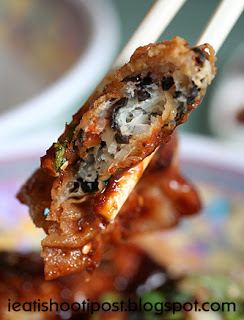 This stall boasts 60 different Yong Tau Foo items which means you can actually come every day of the week and still eat something different. The Boss proudly declared that there are at least 16 items in their menu that are not found anywhere else in the world. In fact a lot of the items here don't even have a name, they are just described by the ingredients.
The giant fried Sui Gao looking item above is called a Poh Piah. It might look like an XXL fried Sui Gao, but when you actually bite into it you find that the ingredients are quite complex. I could make out black fungas, carrots, vermicelli and maybe meat and fish paste. The owner was tight lipped about the contents of the "Poh Piah". All I can say is that it was very yummy and had a very unique texture that can really be described as spongy. The filling is like a spongy matrix which traps all the juices within the Sui Gao. Very difficult to describe. Very easy to eat.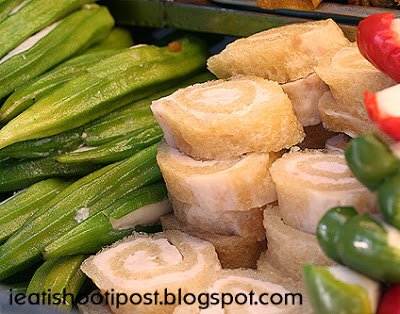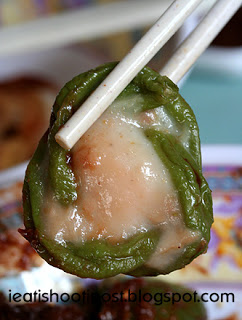 The paste here is made from a combination of meat, fish and salted fish and is very good. It makes its way into many of the items here including this Pig Skin, Fish Paste Roll. Another variation of this theme is found in the Seaweed, Fish Paste Roll shown in the top pic and below right.
If you just had a quick glance at the picture on the right, you might have thought that it was the usual bittergourd with fish paste. But look again, it is actually long beans which have been weaved into a circle and filled with fish paste in the middle.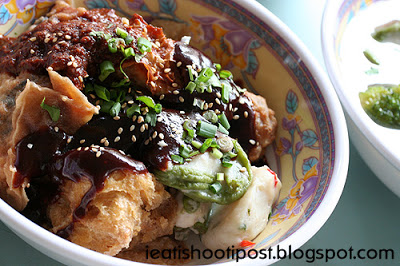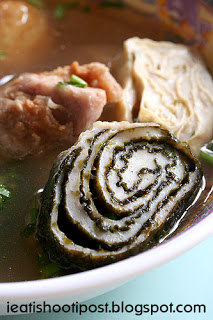 The other items that really got me excited were the Ngor Hiang which has very different ingredients from the norm. The Fried Yam with Meat Paste (pic right) is also another item you must try if you love yam. They have not one but several types of homemade meat balls which are very addictive. The one that I liked best was the Pig Tendon Ball which has a texture and taste that was a cross between a Siew Mai and your normal pork balls.
Conclusion
I could go on and on about the other stuff here, but I think you already got the idea. Just like a picture, a taste is also worth a thousand words so I shall spare you a few thousand words and just let you experience the YTF yourselves. 4.6/5
Here's a challenge for our readers. Let's see if anyone who has never been to this shop can come away not discovering a YTF that they have never eaten before!
If normal Yong Tau Foo were a sightseeing tour, this would be an expedition!