With Tag, carnineviand, iwatch_ueat, Bashful Hunter and iwatch_ueat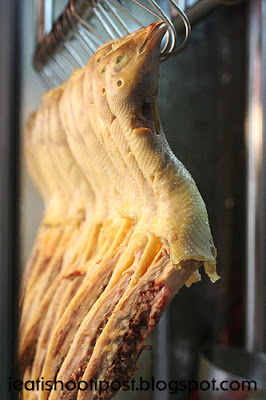 I wish I know just who it was that started this trend of deboning chicken? It was a brilliant move. Suddenly you have another type of chicken rice in the market. But then, like any other great idea, the copycats stepped in and usurped it for their own. Now we don't even know who started the trend. Perhaps some of our more informed foodies can enlighten us on this?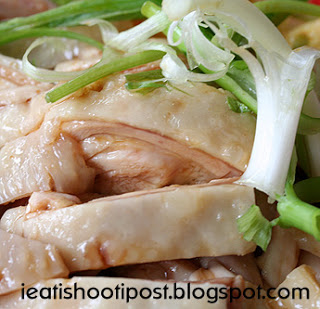 This chicken rice is NOT for those who consider themselves the religious guardians of the Chicken Rice Code. I am talking about people like my friend VB who insists that none of the Chicken Rice in Singapore is worth eating. According to Chicken Rice Purists, authentic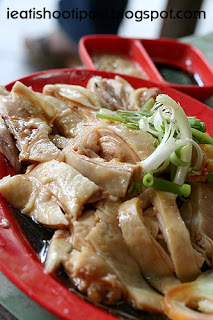 Hainanese Chicken Rice Chicken is never put into cold water after cooking and never hung because it will drain out all the precious juices. Also the Chicken MUST be an Old Mother Hen who had laid eggs twice. No more, no less. The chicken must be served plain without the drizzling of sauce of any kind. To do it would be to violate the Hainanese Chicken Rice Code. So given all the commandments of the code, this stall does not qualify to call itself "Hainanese Chicken Rice" at all!
But for those heathen amongst us, the pariah of Chicken Rice eaters, this is one pretty shiok chicken rice. The timing of the chicken is perfect, so the flesh is still tender but the bone is cooked right through. Being scared of Salmonella food poisoning, I am always wary of eating chicken that is still pink. I tried the chicken by itself without the sauce and it was "Chickeny" enough but not overly so such that you feel like you are eating chicken that has just been running around you in a Kampung. (I find it hard to eat chicken that I have just been chasing!). Being a Hainanese Chicken Rice pariah, I actually like my chicken with the yummy savoury soy sauce that they drizzle over the chicken. And the sauce here is the BEST I have tasted so far. It has got the right balance of sweet, salty and umami that I find suited my tastebuds best.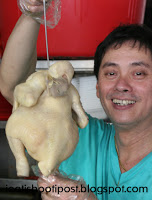 To top off the list of transgressions, might I just add the final nail in the coffin. While speaking to the stall owner, I found out that he was not even Hainanese! He is Hokkien!
The rice on that day was unfortunately freshly cooked and was a little too soft to the bite. Tastewise it was fragrant enough though it was not any more memorable than others I have tasted. The chilli was good, but again not head above the rest, especially compared to the sample of chicken rice chilli that VB gave us to sample.
Conclusion
Let the true believers be forewarned, this is anything but a true Hainanese Chicken Rice. But for this Hainanese Chicken Rice Liberal, this is currently my favourite Chicken Rice stall! 4.6/5