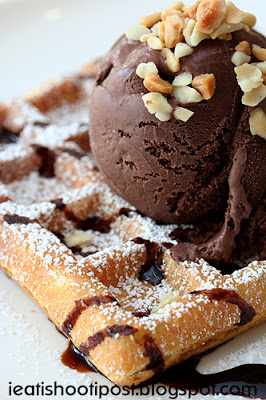 I was sent to this stall in sleepy Sunset Way by the Big MOG who would visit the shop to satisfy his ice cream crave every time he is in Singapore. You may not know who the Big MOG is or maybe you do. He is quite well known among the people at Church of Our Saviour as well as many other churches. Anyway I always enjoy sitting down with the Big MOG to listen to his many stories. You know how there are some people who really put you at ease when they speak to you because their words are full of grace and you always walk away feeling very blessed? The Big MOG is one such person. I never walk away without learning something about life and how to live it better. Big hearted but unfortunately also big bellied, I always have to straddle the tightrope between blessing him with his favourite dessert and looking after his health!Anyway I found myself in a quiet part of Singapore on a lazy weekday afternoon only to find a small ice cream cafe that was buzzing with activity. Oh yeah, it was like an oasis in the desert.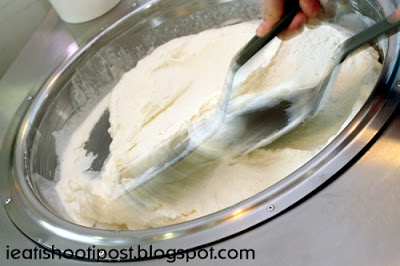 What makes this ice cream parlor different from the rest is the fact that they churn their ice cream by hand. So it is quite interesting to watch the liquid cream being poured onto the cold pan and turning to ice cream as they churn it around.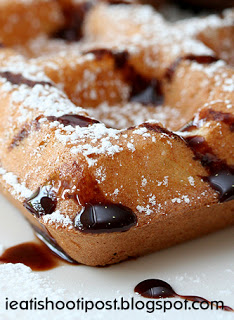 According to the owner their ice cream has less air than those that are machine churned. In order to make the ice cream more healthy, the ice cream is made from low fat milk, no eggs and is not overly sweet.
I found the ice cream here to be more subtle than the other ice cream boutiques that I have blogged. I tried the brandied fig and honey. It was pleasant but did not have enough kick from the brandy. The butterscotch was much better but I still felt that the flavors could be more robust.
4/5
However, the real gem lies in the cones and waffles which were very very good. On a weekend, you will have to wait quite a long time to get your waffles! It was crisp on the outside and airy inside with a strong buttery vanilla flavour. Excellent with the chocolate ice cream which was not overly sweet and just slightly bitter. The combination of the homemade cone really lifted the flavour of the butterscotch ice cream.
4.5/5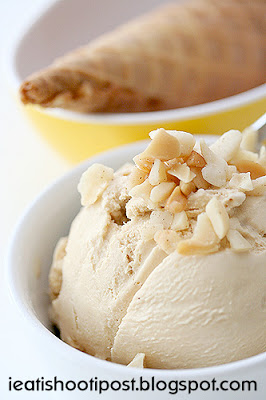 Conclusion
Great waffles and cones. The ice cream is good but I have yet to find the ice cream flavour that I really really like.
You can listen to some of Big MOG's stories by clicking here
More of his sermons can be found on this link

Search for "Michael Ross Watson"