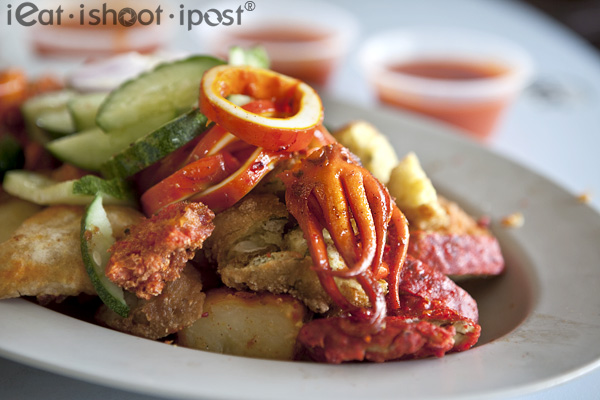 I am undergoing an Indian Rojak Renaissance of sorts. Frankly I have not been eating that much Indian Rojak, but of late I have again rediscovered just how good Indian Rojak can be. I think the problem is that most places serve mediocre stuff because not many people bother to make their own anymore. So most of the Indian Rojak stalls are traders who buy their items from suppliers and employ other people to sell them. You can't blame them really. Making Indian Rojak is tedious and requires a fair amount of skill.
Take the "Egg Flour" for example. I never thought much about this item before, but the Boss owner, Habib tells me that this one item is the most difficult to make. There is a certain level of skill involved in order to get that egg in the middle of the batter and then frying it! I will certainly treat it with a little more respect the next time I pick it up!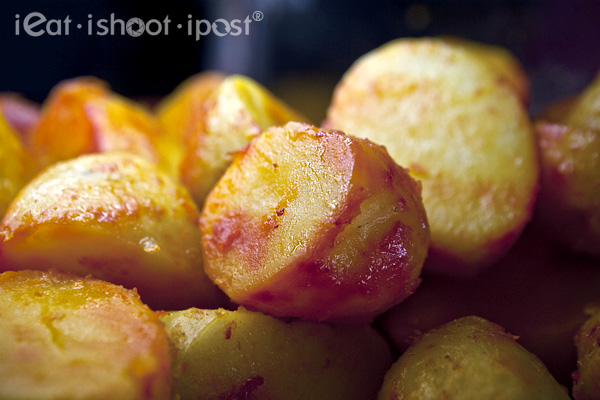 Of the five items which Habib said were the really must try items, the potato was the most surprising. After all, what is so difficult about peeling and cutting up potatoes and frying them? But Habib told me that it is always the potatoes that sell out first. And he was right of course, the potatoes are strangely satisfying and when combined with the gravy was something so simple yet so shiok! His potatoes are specially selected and have to be parboiled before frying. In case you wonder what the other four items are, they are the aforementioned egg flour, fish fillet, coconut fritter and the crispy prawn fritters.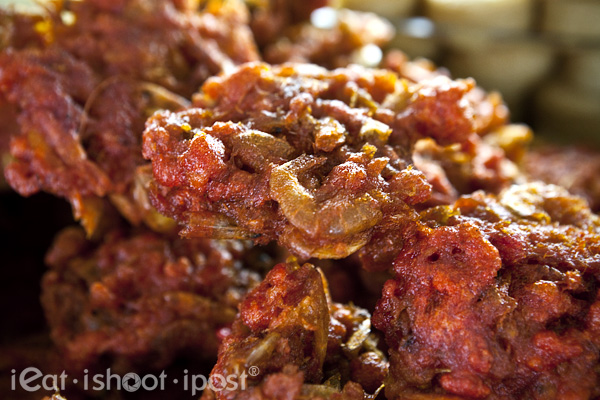 Crispy Prawn
The Crispy Prawn fritters are just about as sinful as you can get. Small prawns are dipped into batter and fried till they are crispy. When dipped into the sweet sauce, its crunchy texture and umami flavours really stand out. Yes, its sinful but its really no different from the Sakura Ebi fritters that you can order at the Japanese Restaurant, only much cheaper.
Habib's dad started selling Indian Rojak 23 years ago and named the stall after his one year old son who is now the one running the stall. He starts his day at 3am, making all the items which is only ready by 12pm. Habib then runs the stall till 10.30pm at night while dad comes in during the day to cook another pot of gravy should it run out. It's really good to see some passionate Singaporeans who are working hard to keep our Indian Rojak tradition alive!
Conclusion
The Indian Rojak here is excellent. If there are any flaws, I would say that on its own, the sauce could have just been a little more spiced up. However, when combined with the fried items, you will forget about it as flavours just meld together so well. Certainly worth the drive all the way to the West Coast for this! 4.5/5