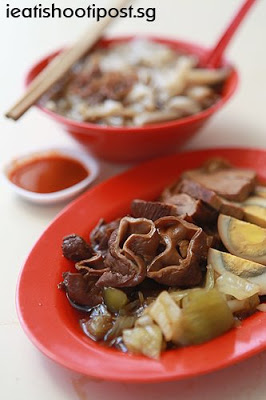 The hawker scene in Singapore is undergoing a change much like the rest of our society. Not enough Singaporeans want to clean tables and serve food anymore, so we have to hire people from China to help us. Not enough Singaporeans want to work in retail, so we have to hire people from the Philippines to help us. The same thing is happening in our hawker centres. Not many people want to carry on their parent's stall and you really can't blame them. Being a hawker is hard work and only a handful of stalls achieve that status where IRAS would come knocking at the door.

So in twenty years' time, you would be hard pressed to find stalls like this one where there is a proud family tradition of cooking and serving good hearty hawker fare. One way that hawker tradition is going to be preserved is if the stalls go the way of places like Beach Road Prawn Mee or Kim's Hokkien Mee. That means that we have to recognize and reward good hawkers by allowing them to charge more for a better bowl of noodles. Then they will expand, take over a whole coffeeshop and make it like a restaurant. The younger generation would then find that being the CEO of a the restaurant attractive enough to want to carry on the family recipe.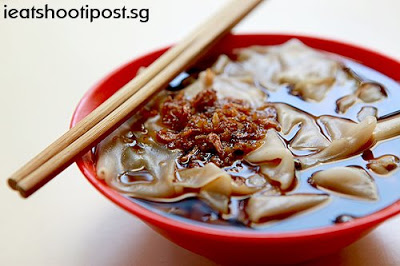 Fortunately, for this stall at least, there will be Kway Chap for us to enjoy for one more generation as the son has taken over from the dad. I think this might be the most famous stall at this particular food centre and perhaps it is the father's legendary status that makes it attractive enough for the son to continue the family business. But I can only postulate.
Anyway, the Kway Chap here is very good, but I did not find it to be that exceptional. Then again, I have not found any Kway Chap to be exceptional. The braising sauce was good, the kway was smooth, no one item stood out, but everything was above average. I wonder if the 6 chopsticks awarded by Makansutra was given when the Dad was still selling the Kway Chap? 4/5
Conclusion
So are there any fans of this stall who think that my rating is too low?