This restaurant is closed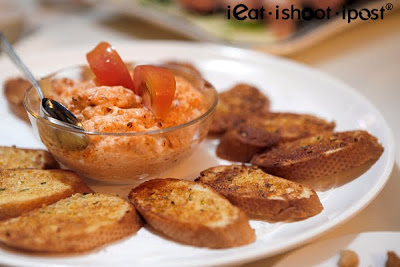 Warm Salmon Mousse with Garlic Bread
Have you ever stood at the foyer of HDB Hub in Toa Payoh and looked at their map of Singapore? It can be quite unsettling to see all the housing estates taking up much of our island and identifying all the places that you know and have been to. I guess we all know that Singapore is a small island and that space is a premium. But to see just how many green patches are left on our island makes you really realise that our space is indeed very limited.

So in Singapore, "Ulu" is a precious commodity. I remember just 11 years ago when I was still a Medical Officer working in New Changi Hospital (now called Changi General Hospital), one of my colleagues introduced me to Pasir Ris Park which at that time was really Ulu. It was excellent. All you had was a little shack by the beach where you can enjoy the seabreeze and order a drink. Now the spot is occupied by Fisherman's Village which is part of a developement that has taken over much of the beach front there. It's still a nice place where you can get something to eat, but it ain't Ulu no more.
Being an island, we have a large coastline to inland ratio and yet, it is not easy to find a nice, laid back beach shack that hasn't been given the "Nanyang Polytechnic Interior Design" look. Sure, you have lots of spanking new establishments which overlook water, but to find somewhere that you feel really alone is not easy.
If you are looking for somewhere to chill out and get away from the crowds, this is one place which you might consider.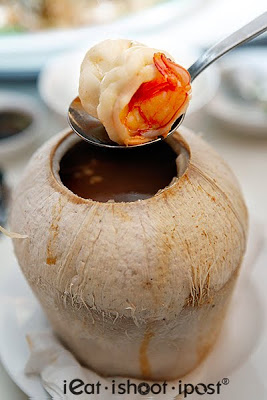 Seafood Soup in Coconut $14
Galley by the Straits is situated in the SAF Yacht Club in Sembawang at around the spot where Mas Selamat was thought to have made his crossing into Malaysia. While sitting in their "Capacabana", which looks like a make shift thatched roof shack with its projection TV Karaoke machine, one just can't help but feel that the place has somehow managed to escape the ravages of the Singaporean modernisation program.
I would describe the food as a cocaphany of wonderous imaginations which would appeal to the mildly adventurous. Being a clubhouse, you can basically order anything from East to West and even North to South with a sputtering of eccentric flavours which are essentially the creation of Jimmy, the retired financier who operates the place.
Take for instance the starter of warm Salmon Mousse with Garlic Bread. This was an inspiration from a trip to Alaska where this dish was served. Baked NZ Salmon is mixed with mayonnaise and served warm (not cold) with garlic bread. I guess you can imagine that Alaskans would prefer to eat their food warm. It's actually not bad and the serving of Salmon is quite generous. 4/5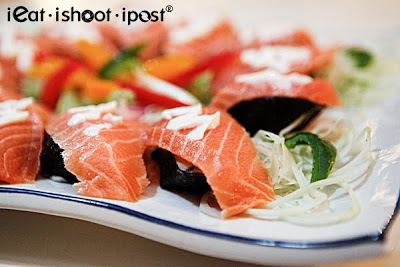 Smoked Salmon Sushi $15
Then there is the cold smoked salmon sushi which is another example of the eccentric menu. The restaurant has a smoker and they actually smoke their salmon in-house. By itself, the smoked salmon is excellent. But they put it over some cold mash potato which is wrapped in seaweed and then topped it with mayonaisse. Again, it is not bad, but I would just order their smoked salmon and eat it sashimi style. The smoked salmon would have scored much higher by itself, but hey, you might like the combination, who knows? 3.5/5
The seafood soup is very very good. Its an excellent soup stock which is full of the savory flavour of conpoy and you get a large succulent wild seaprawn and a huge lucious scallop to go with it. They should have just served it in a bowl because I don't think the flavour of the young coconut complemented the flavours well. Would have been better if it was Tom Yum soup instead. 4/5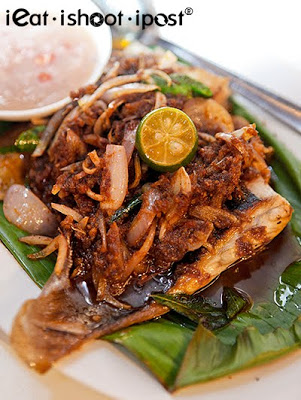 BBQ Stingray $6
But eccentric dishes aside, there are some real hits at this place. If there were one dish which I would travel all the way to Ululand to eat, the BBQ Stingray has to be it. This is the best BBQ Stingray that I have had for a long while. The sambal is excellent and the flavours are nicely balanced which lots of sliced onions to add sweetness to the dish. And the amazing thing is that it is actually very cheap. You'd be hard pressed to get a $6 stingray nowadays. Given the standard of the sambal, I would highly recommend this place for its seafood BBQ. They can actually cater for your BBQ parties where you can have your little piece of coastline for the night with a BBQ pit and BBQ meats. Well worth considering. 4.5/5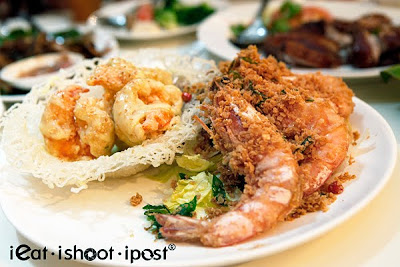 Ying Yang Prawns: Wasabi and Cereal Prawn Combination Platter
(Jumbo Seaprawns are $8 per 100g)
Now, I would say that Jimmy has a good sense of quality when it comes to the produce. The prawns, salmon and scallops are all very fresh and excellent. The prices are also quite reasonable for the seafood. The Ying Yang king prawn platter is very competent. It is very good but I think the dish scores highers on value. They use wild caught King Prawns and at $6 a prawn, it is definitely much cheaper than Newton Circus. 4/5

Conclusion
This place is well worth a visit just because it is Ulu and the menu is slightly eccentric. There are hits and misses, but you would get a good meal if you know what to order. I was told that the curry fish head is actually quite popular here. If you are looking for a place to hold your company function, this would be a great place to explore.