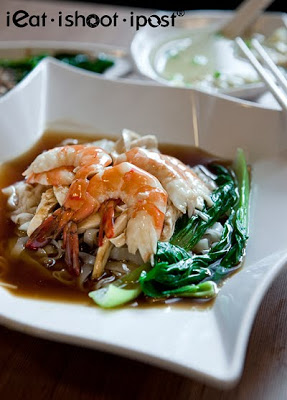 I am sure you have heard of the legendary hawker street called Hock Lam Street right? Ever wondered where it was originally? Well, Hock Lam street was where Funan Digitalife Mall is standing now. I guess they did not want to call the new shopping centre Hock Lam Centre, so they converted the Hokkien name to Mandarin when they named the brand new shopping centre.
When then new Funan Centre was built, some of the original hawkers from Hock Lam street were relocated back to the new Funan Centre food court which used to occupy the whole of the top level of Funan Centre where Challenger is now. For those who can remember, this was Singapore's very first air con food court. Some might even go as far to say that this spelt the the beginning of the end of great hawker food. But let's not talk about air con food courts right now.

Amongst those hawkers who moved back to the food court was Mr Ho Weng, a second generation hawker who changed his father's wanton mee stall to a stall selling Ipoh Ho Fun. Mr Ho's new creation became very popular and soon he was being featured on TV. When Funan Centre underwent major renovation in 1993, Mr Ho relocated to Ghim Moh Hawker Centre. This was where our young protagonist, Mr Ho Jr started learning how to make his father's secret sauce for the Ipoh Ho Fun (Think Kung Fu Panda).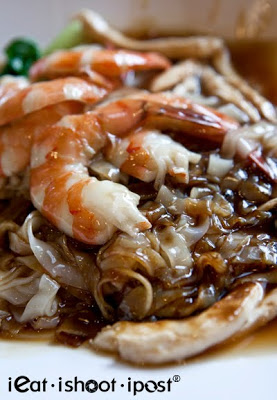 But Mr Ho Jr had much bigger plans for his father's stall. A Harvard graduate, Mr Ho Kuen Loon, who was previously working as a CFO, decided to take his father's stall to the next level and opened a modern eatery so that his father's Ipoh Ho Fun can be introduced to a new generation of Singaporeans who, in the Food Court era, might not wish to suffer the inconvenience of having sweaty armpits after lunch at the hawker centre.
So, here we are. Sitting in a casual eatery with a plate of Ipoh Hor Fun, a bowl of Sui Gao and another plate of Kailan with oyster sauce which costs $7.80 per set. The price is actually quite competitive since I paid $8 recently to eat a plate of Wanton Mee with an extra bowl of Sui Gao at Kok Kee Wanton Mee. But over at Lavendar Food Centre, there is no aircon, no extra plate of veggies and certainly no service. (OK, perhaps bad service should not be considered no service)
Funan Weng's Ipoh Hor Fun cannot be found in Ipoh. Just like you never find Singapore Chow Mien in Singapore. The Ipoh Hor Fun was a recipe concocted my Mr Ho Weng to cater to the local Singaporean taste buds. The one thing that made this Ho Fun stand out is a dollop of specially brewed herbal dark soy sauce before the Ho Fun is bathed in the more conventional light Ho Fun gravy. The dark soy sauce that give the Ho Fun a certain kick that you don't get elsewhere. However, if you are not big on anything herbal, you might find the herbal taste a little overpowering. Otherwise the Ho Fun is very smooth, as you would expect an Ipoh Ho Fun to be and the tiger prawns are a good size though the shredded chicken is more like a garnish than a topping. Not something mindblowing from the start, but it would certainly grow on you. 4/5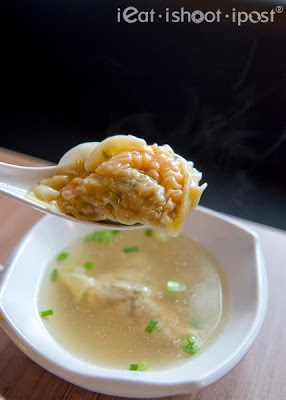 Sui Gao
The next generation of hawkers also has the health aspect of what we eat in mind when they serve their food. I found this to be true of the other famous Hock Lam Street eatery who has also gone the way of modernization by its third generation of hawkers (who should be rightly called entrepreneurs). Even though we do enjoy the original robust taste of the original hawkers, nowadays, we do have to pay attention to wellness. So, some of the next generation of hawkers have also opted to go the way of low salt, no msg and less saturated fats. Mrs Ho proudly declared that her gourmet Sui Gao has no msg and is made of all natural ingredients. For a Sui Gao with no added MSG, I must say that it actually tastes pretty good. Each Sui Gao has a whole prawn and the use of the green onions adds a very nice contrast to the pork. 4.5/5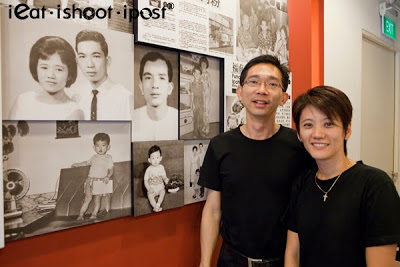 Three generations pictured here: Ho G2, Ho G1 and Ho G3 + Mrs Ho.
Conclusion
This is way to go in order to preserve some of our heritage hawker dishes. It is not feasible anymore to expect the younger generation of hawkers to preserve their family heritage unless there are opportunities for them to become more than the owner of one Hawker stall. So, over the next few years, we should see even more household names turning into chains of eateries. It is my hope that with modernization, more research would go into the food to further improve it and take it to the next level just like what is happening with our Kopi and Kaya Toast. The future is looking a bit brighter for our beloved hawker food.