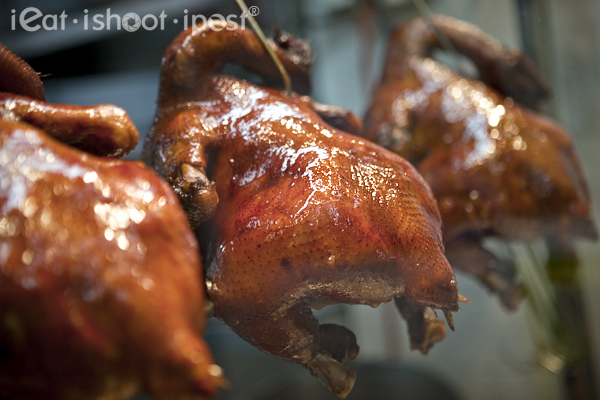 Soy Sauce Chicken $32 each (2.5kg chicken)
Think about it. If you told someone who hasn't tasted chicken rice before that you're going to bring him to eat a dish of boiled chicken, he'd probably tell you that he has to go see a man about a dog. I think in general, most people would want their meat grilled or fried but not just boiled. Stewing is ok and it's fine if you're cooking a soup, but boiled meat? Somehow the lack of the Maillard reaction dulls our perception to meat.

Of course, we know better, which is why Chicken Rice is almost our National Dish. But that is if you are Singaporean. If you are a Hong Konger, then you really want to eat your chicken properly sauced and that is precisely why Mr Chia, the owner of this stall calls his stall Fragrant Sauce Chicken.
Although the owner, Randy Tse was from Hong Kong, he has lived in Singapore long enough to make his soy sauce chicken local style rather than Hong Kong style. Our Singapore style soy sauce chicken is darker than the Hong Kong version and it's got more of that five spice flavour. The beauty of the chicken lies in its sweet caramelized skin and it takes a bit of skill to be able to get the skin fully infused with the sauce while still making sure that the meat does not overcook.
I guess it is a matter of preference whether you like the Hong Kong or Singapore version. I personally have always found the local version to be too harsh on the cinnamon and star anise flavours. The two stalls along cross street tend to be like that. This one is somewhere in between the local and Hong Kong version, so the five spice flavour is significant but not overpowering. A good place for your next Soy Sauce chicken fix. 4.25/5
Ginger vinegar chicken
The dish that really caught us all by surprise was the ginger vinegar chicken. This is somewhat like Samsui Chicken which you get at the Soup Restaurant but with a bit of a tangy twist, thanks to a splash of Zhenjiang fragrant black vinegar. The flavour of the sauce is perfectly balanced. Just a slight tang to get your salivary glands going without causing you to grimace. The fragrance of the ginger and the vinegar complemented each other perfectly to bring the pristinely poached poultry to a level we never experienced before. All of our kakis made the Gen Macarthur vow that day, that we "shall return"! 4.6/5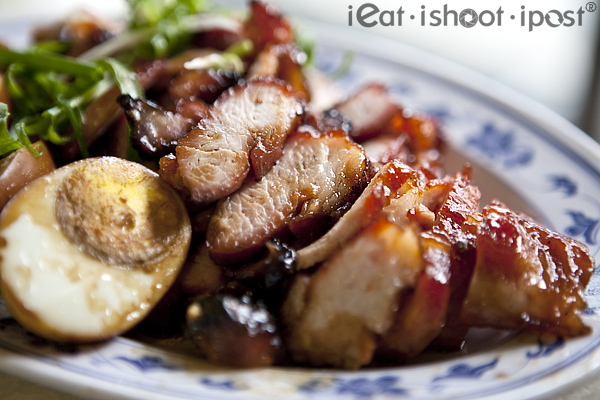 Char Siew and Lu Dan (Braised Egg)
Aside from the chicken, they also roast their own charsiew here and it's worth some of your calories if you wish to make sure you have a three legged meal (4 leg pig + 2 leg chicken = 3 legged meal). The meat is perfectly roasted such that even the lean meat has got that tender yet bouncy tooth-feel. The marinade just lacks a bit of that ommmph to make it a star dish. But a good charsiew nonetheless. 4/5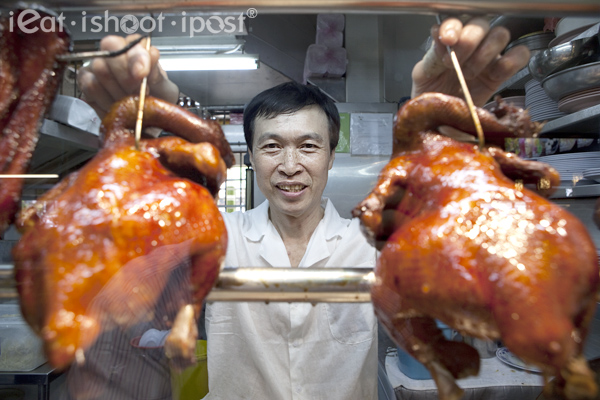 Mr Randy Tse and his frangrant Soy Sauce Chicken

Conclusion
The soy sauce chicken here is a favourite of our kaki PK, who comes here quite regularly for his soy sauce chicken fix. If I were there alone, I would just go for the ginger vinegar chicken and a bowl of chicken rice ($3.50). But with a few kakis, you can go for both and have a 2nd order of the ginger vinegar chicken. Yes, it is that good. Once the word gets out, we might be seeing others copying the recipe. Let's wait and see…..
Update 18 Feb 2013
This stall will relocate to Smith St Food Centre. The last day will be 26 Mar 2013. They will move to their new stall at 02-85 on 15 April after Smith St Food Centre reopens after a month of renovations.
Update 26 Aug 2013
The stall is now operating at Smith St Food Centre #02-85 (next to Fatty Ox). The opening times are 7am to 3pm. Closed Mon-Tues. Their menu has changed. They now serve braised pig trotters, braised chicken wings and pork soft bones.