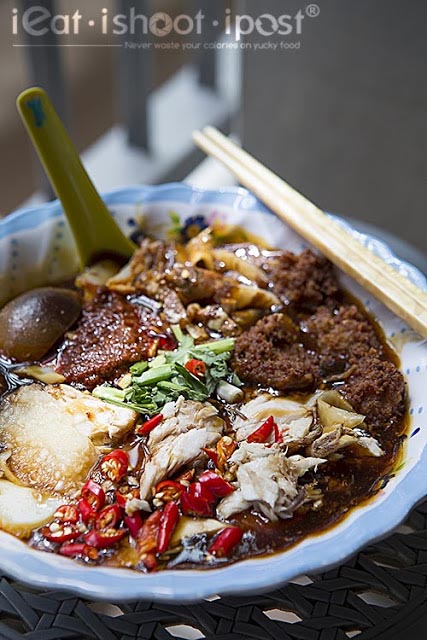 I don't know what you think of Lor Mee, but my first thought is always "Heavy".
Lor Mee is not the kind of food you would eat if you are going for something light. However, if you are a coolie who has been working hard, carrying sacks of rice off the bumboats at Clarke Quay in the past, then it is probably what you are looking for to satisfy that intense craving for carbs. When you order Lor Mee, not only will be get a whole mound of thick, carbolicious noodles, but they would be submerged in a thick, starchy gravy which make pulling the noodles out of the bowl as difficult as pulling your foot out of a puddle of mud.
It's no wonder Lor Mee is seldom on the list of things to eat for the tourist. Especially tourists from the west where gooey, gelatinous food is not usually the order of the day.
Tracing the history of Lor Mee has not been easy. Most of the hawkers agree that this is a dish that was brought over by our Hokkien forefathers from Xiamen. I have found some evidence (1) that in Xiamen, they have a version of Lor Mee that is eaten together with Ngor Hiang (Chinese pork rolls). This explains why one of the toppings for Lor Mee is Ngor Hiang. Singaporeans might not be able to easily connect Ngor Hiang to Lor Mee, but if you are familiar with the Penang version of Ngor Hiang called Lor Bak, then you will see the connection immediately. Over there, the dipping sauce for the fritters is a dark, gooey soy sauce based sauce that is very similar to the Lor (gravy) used for Lor Mee. In Singapore, this Lor has evolved to become the pinkish sweet sauce that accompanies Ngor Hiang. I believe that the Penang version is closer to what they have in Xiamen while the Singapore version was somehow changed sometime in the past. Putting these facts together, I postulate that some hawker in the past must have started serving Lor Mee together with the Ngor Hiang in the same bowl and over time, it evolved to have the other ingredients such as the fishmeat, fish cake, braised eggs and braised pork. If anyone has more information about this, please do let us know!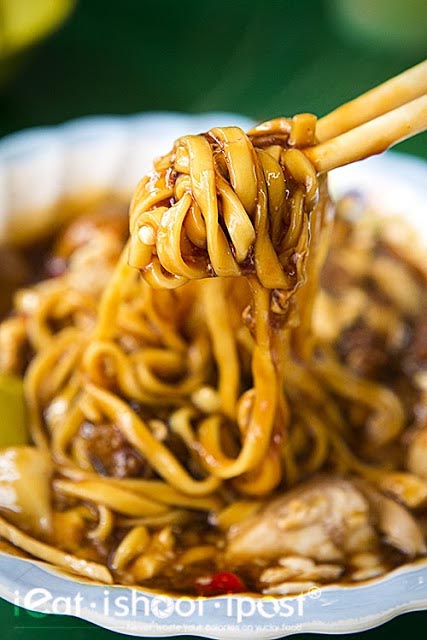 Speaking of fish meat, it is something that we are seeing less and less of nowadays. In the past, most Lor Mee shops would feature a fried whole red snapper in the display case. But as the snappers are getting harder to come by these days, a lot of Lor Mee stalls omit this topping. Feng Zhen Lor mee still uses fish meat as a topping but they use Batang fish (Spanish Mackeral) instead because it is still readily available.
The Lor is very tasty and the toppings are generous at Feng Zhen. My only complain is that the fried meat balls were not crispy enough and a tad chewy. However, I must admit that I went in the middle of the afternoon, so they have been fried and left there for a while. I am sure that they would be more cripsy during lunch time. The braised eggs are done very well with the braising sauce penetrating all the way through to the egg yolk. Overall a very good bowl of Lor Mee and certainly very good value. 4.25/5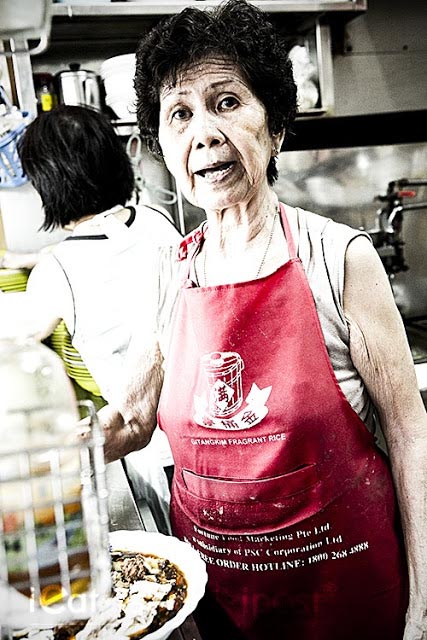 The lady here tells me that she moved to the food centre 7 years ago. Previously she was at Jurong West Blk 503 where she has been for 37 years! Are there any of her fans here who remember her from the old stall?
Conclusion
This is a bowl of Lor Mee which has been very lovingly put together and certainly one which I can recommend if you are looking for a hearty meal in the West.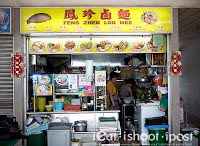 References
1. Food Hometown, Popular Book Company, 2010