The stall is closed wef 29 June 2009, the owner is looking for a new location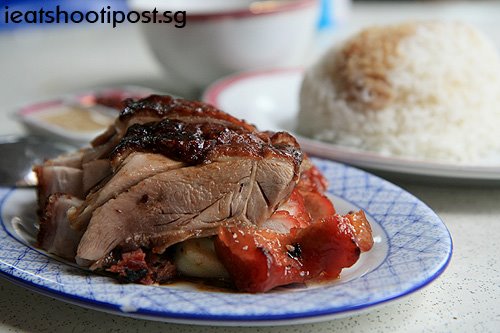 Roast Duck $32 each
Fans of Fatty Ox Hong Kong Roast Duck can rejoice that their favourite Hong Kong Roast Meat man is back after a one and a half year hiatus.
Unlike some other stalls whose "comeback" is claimed by a relative or an ex-employee of the place, this one is a proper return to the pugalistic world (Chung2 Chu4 Jiang1 Hu2) of the famed roaster, Fatty Ox. The last time I met Mr Fatty Ox was just before he closed his shop at Murray Street. Since then Mr Cheung, who is neither fat nor bears any resemblance to an Ox (The only truth in the stall name is the fact that he is indeed from Hong Kong) has been roaming the HDB estates looking for a suitable place to once again entice Singaporeans with his Roast Duck.

I am sure glad he is back because his Roast Duck is still one of the best around. Tender and nicely spiced and served with plum sauce, I gave it high marks in my last review and I am glad to report that standards have not dropped. 4.5/5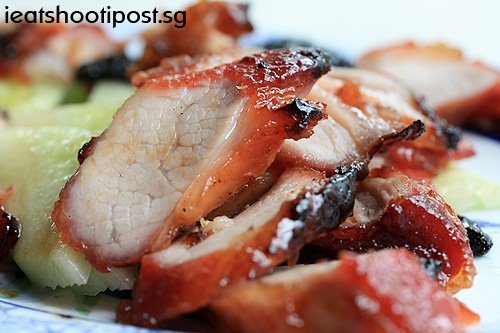 Char Siew $32 per kg
When it comes to Char Siew, I had the most mind blowing experience recently when our makan kaki Wahcow, bless his soul, tarpaued this incredible Char Siew from KL which is like 50% meat, 50% fat but 100% shiok. That Char Siew scores a 4.85 from me but sadly I have not come across any that is close to it this side of the border.
Fatty Ox's Char Siew doesn't come close but is one of the better ones around. In terms of tenderness and juiciness it scores very highly. However, it still lacked that X factor when it comes to the taste. Alas, now that I have tasted that KL Char Siew, I might not be completely satisfied with any of the local ones anymore! 4.25/5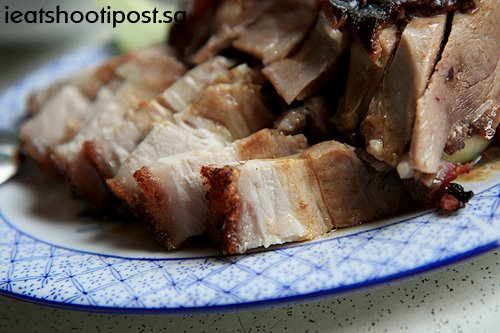 The Sio Bak was tender and juicy and meat has a great flavour. It is much better than a lot of other places where the Sio Bak is always cut too thin and the meat is completely dry. My only complaint that day is that the skin wasn't as crispy as it should be. That could be because I went after the lunch hour, so it wasn't freshly roasted. If you want the best roast meat experience, you might want to get there at around 11am to get the roast just when it comes out of the oven. 4.25/5
Conclusion
I am sure fans of Fatty Ox will be making a beeline to his new location. They still have one of the best roast duck in town in my opinion and the Sio Bak should also be one of the best around if you get it when it is just out from the oven.