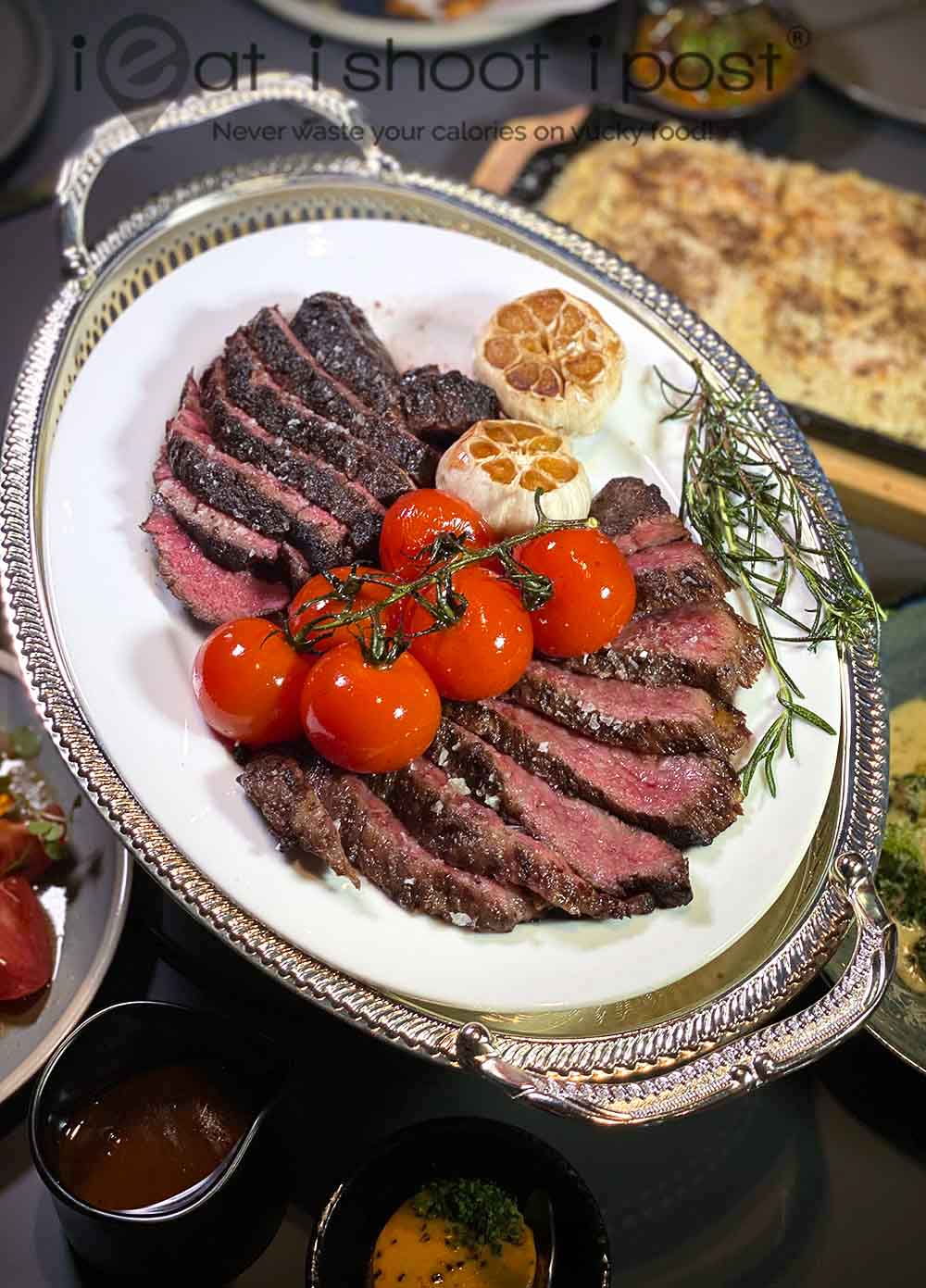 Eating is largely a communal affair amongst Singaporeans who are used to sharing everything that is on the table, whether it is at the hawker centre or at home.  Even when it comes to eating a formal western meal, I am sure most of us would order a starter, mains and dessert but end up trying everybody else's dishes.  I think it is partly due to our kiasu mentality as no one wants to miss out on something on our friends plate which may be more amazing than what we ordered!
As such, there are more steakhouses nowadays which have adopted a communal dining practise where the starters and sides are presented as sharing portions and the steaks are pre-sliced on a central platter for sharing rather than portioned individually.  Just take a look at my last two steakhouse stories,  Bistecca and Keef the Beef!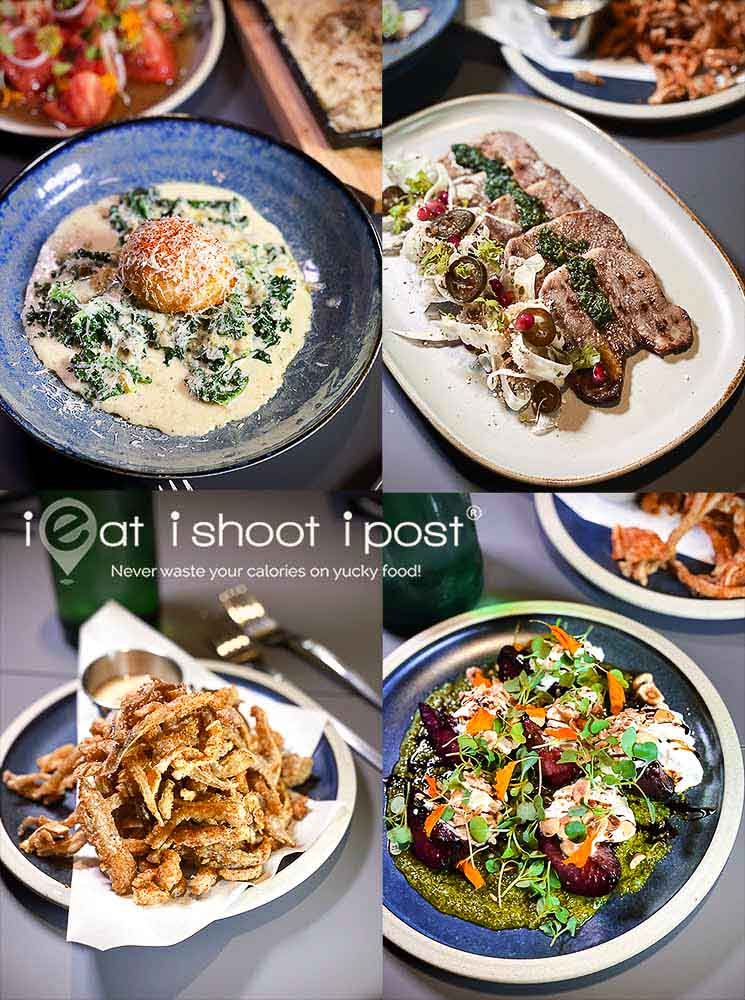 Fat Belly Social Steakhouse is the latest to hit town.  The focus of their first restaurant at Serene centre was to offer alternative cuts of meats, but they were still portioned as individual servings.  With this new restaurant, the focus is still on alternative cuts, but they have put an extra spotlight on the communal dining experience.
For starters we were presented with dishes like the ox tongue and crispy pigs ears.  These exemplify the "nose to tail" philosophy of using every part of the animal.  They were both done very well.  Chef managed to get the texture of the ox tongue perfectly tender yet retaining a nice bite without that offal stench which you sometimes get when it is not prepared properly.  The pigs ear was nice and chewy on the inside while crunchy on the outside.  It is the perfect dish to enjoy with beer.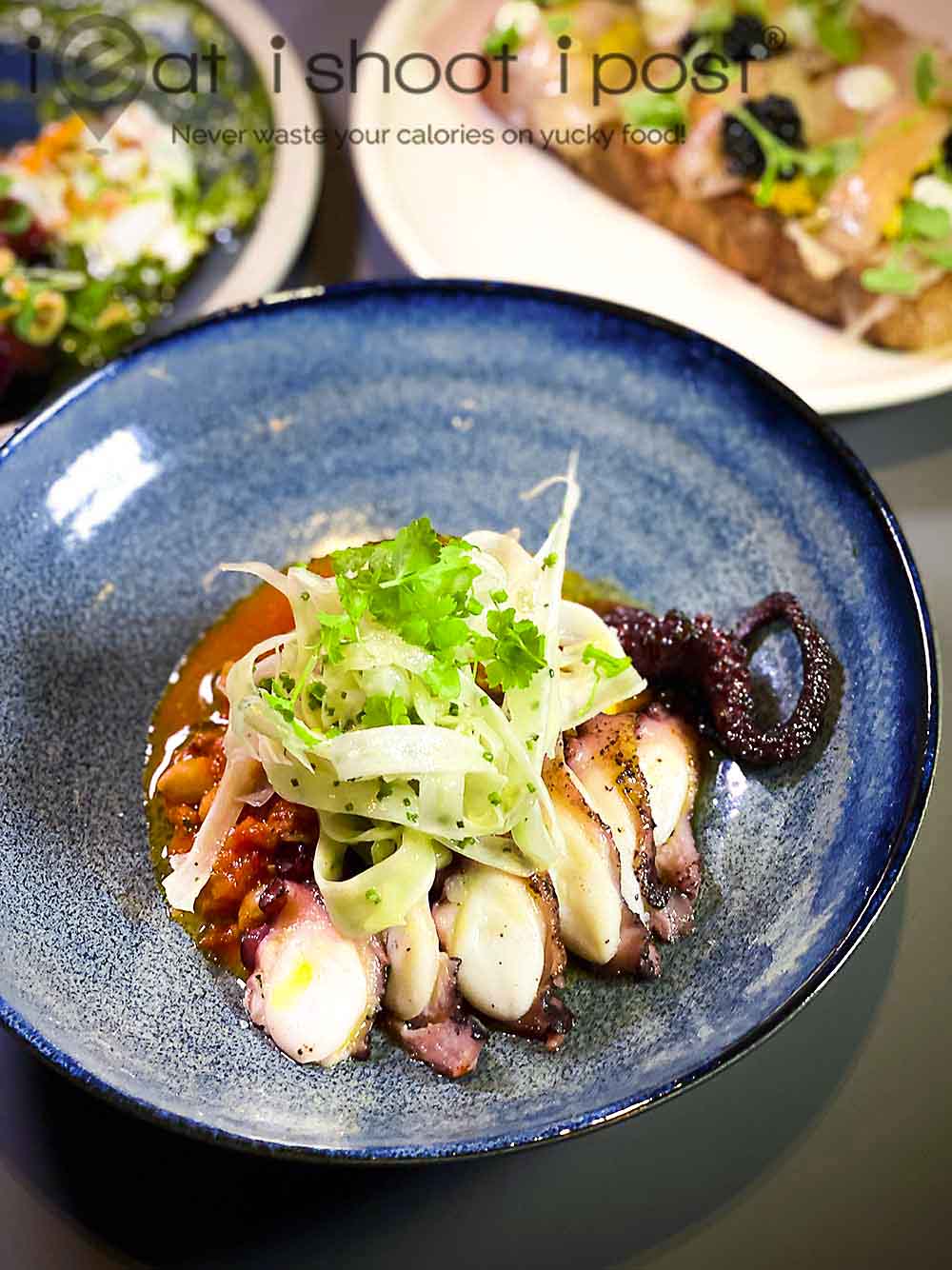 One dish I enjoyed very much was the grilled octopus with tripe.  Both proteins were cooked till the texture was very similar — chewy yet tender and they paired really well with the chorizo stew.
Lisa adds:
I am not big on offal so I was initially quite unsure about having the ox tongue and pigs ear.  However, they actually turned out to be quite alright!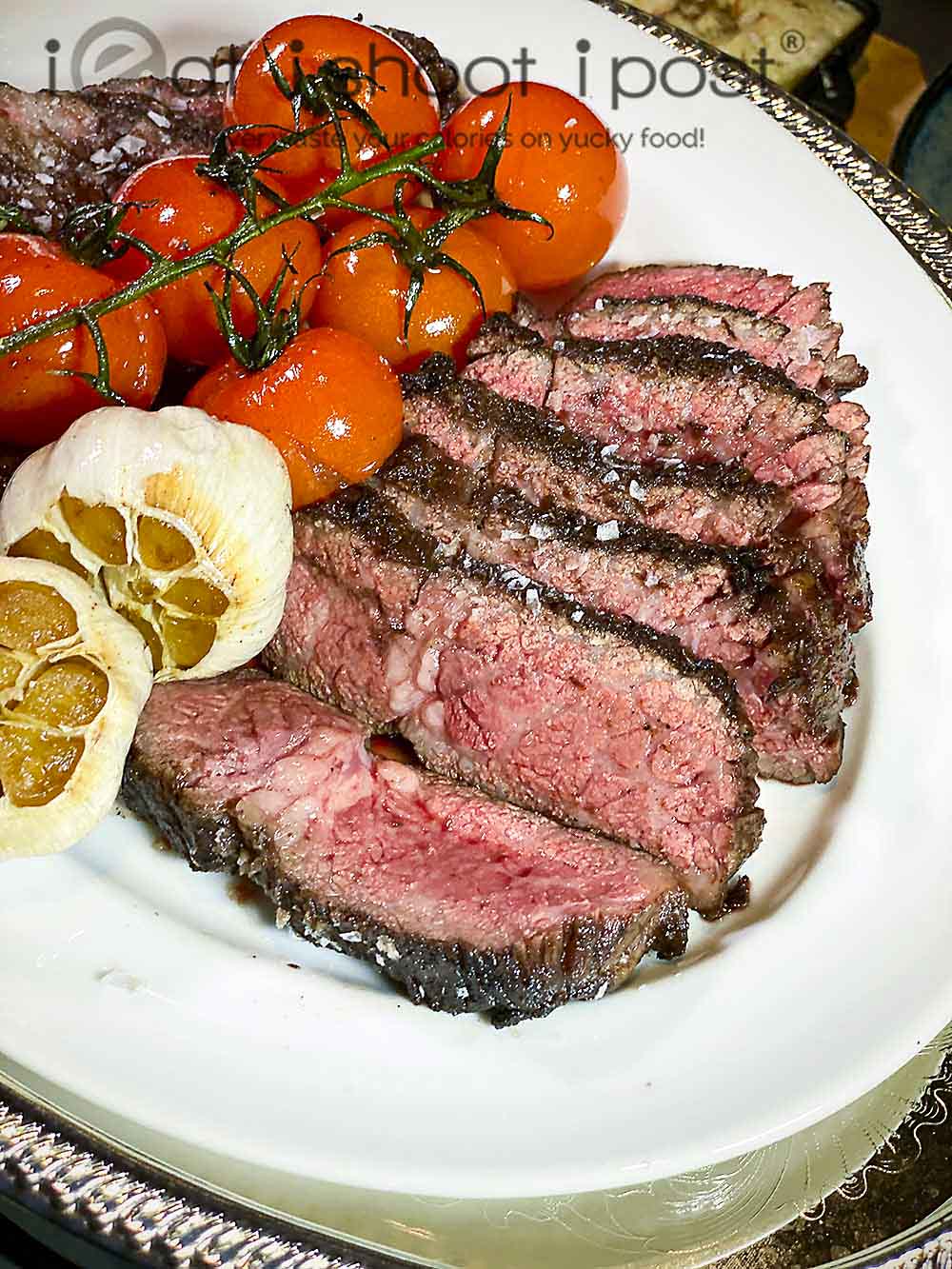 For the beef, we tried two very interesting cuts.  One was the Wagyu Rib Cap MBS 8/9 and the other was the Wagyu Zabuton MBS 6/7.  The Rib Cap, not to be confused with the Rib Eye Cap is the flap of meat located on top of the ribeye which is usually made into mince iby butchers in the West.  However, in the Wagyu, the Rib Cap is nicely marbled and thick enough to be served as a steak.  It's texture is a little more chewy but it is rich and full of flavour.  The Zabuton, which is a taken from the chuck primal is a very popular cut for Japanese yakiniku.  It is leaner than the Rib Cap and has a very nice beefy flavour.  Both were very good, but my feedback to the chef was that the prices need to be adjusted to reflect that they were secondary cuts as they are almost as expensive as the prime cuts that I can get elsewhere!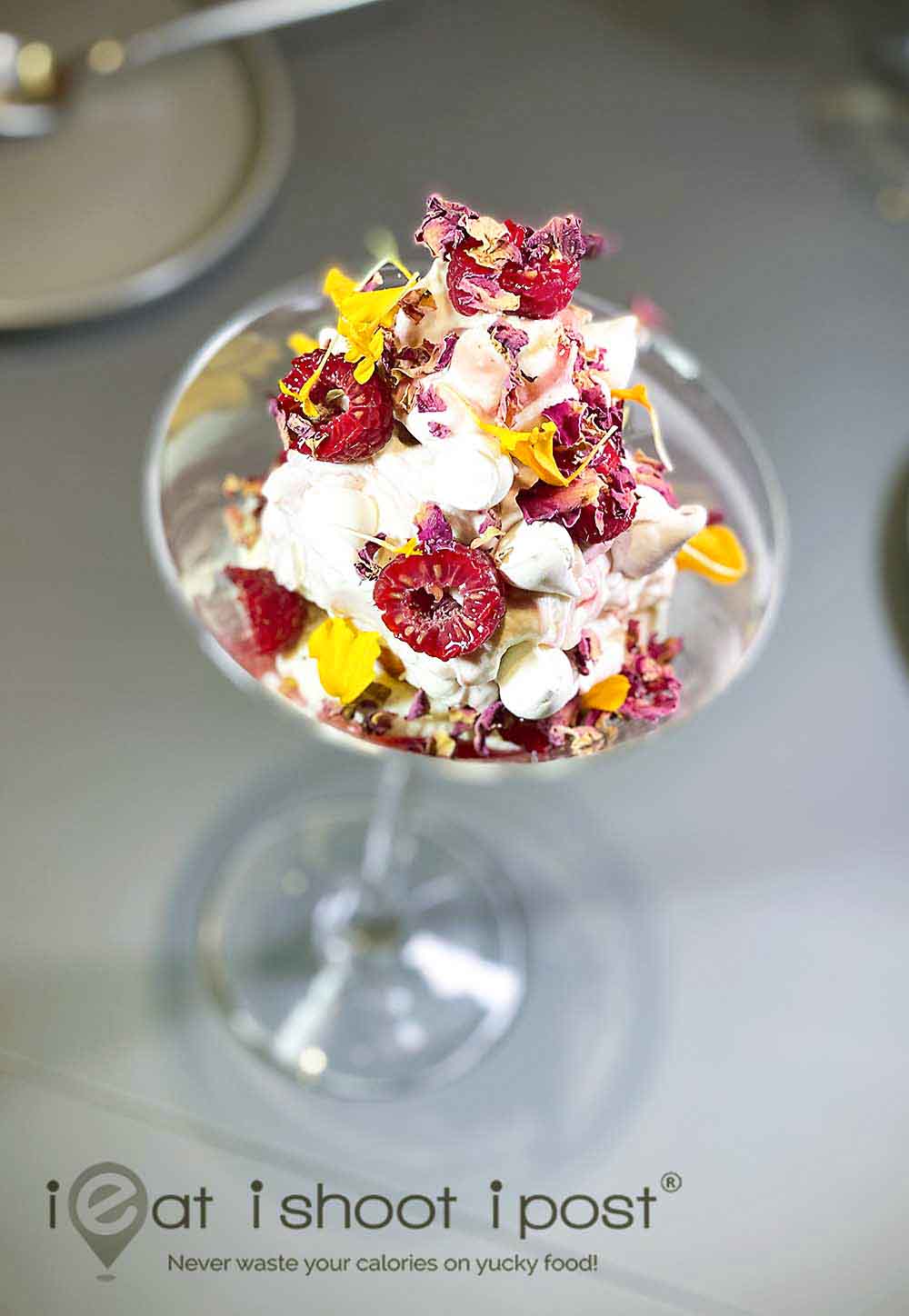 For dessert I enjoyed the Eton Mess which is a combination of raspberries, chantilly creme and meringue.  It's a classic old school dessert that still works!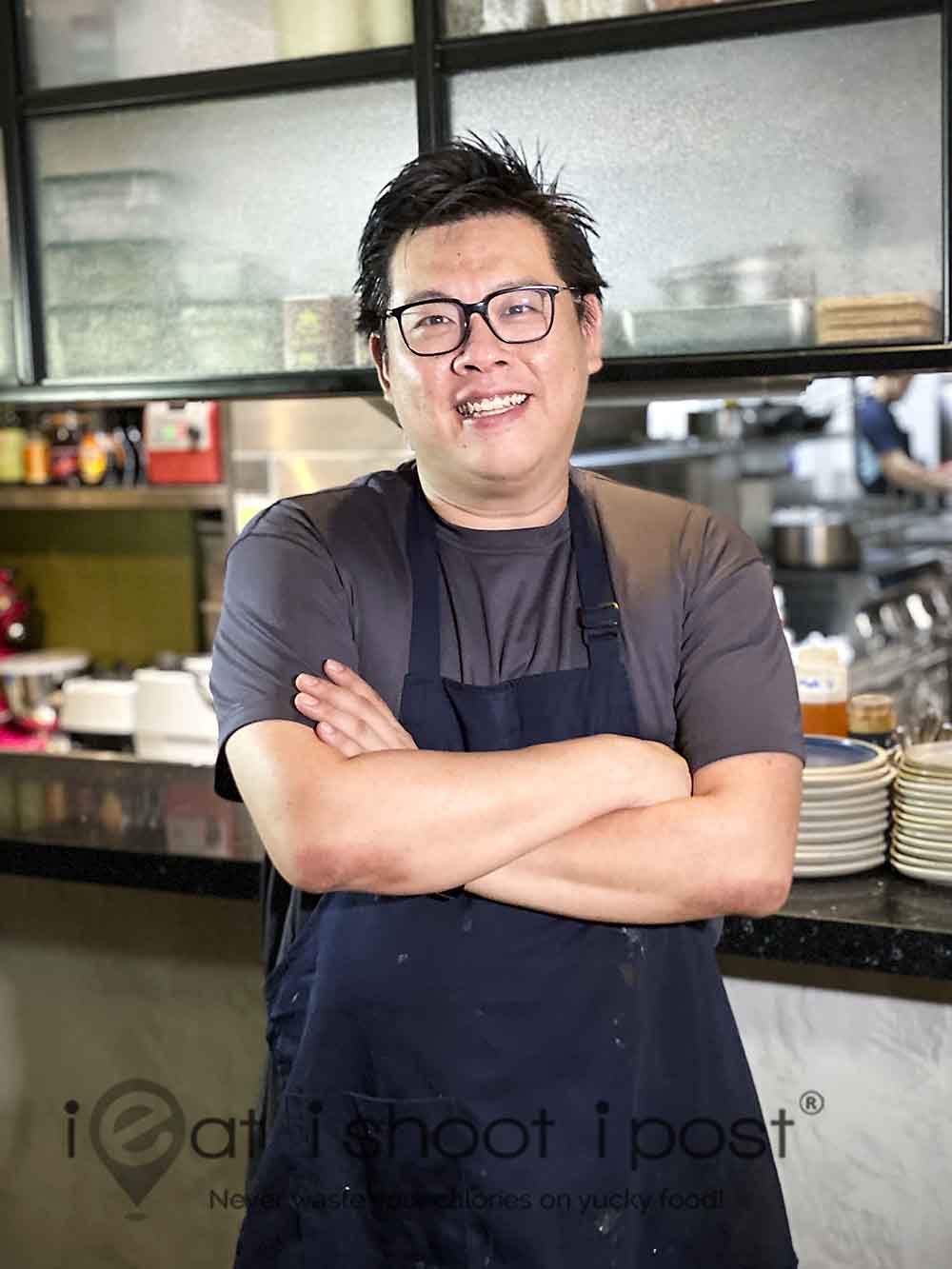 The man behind the dishes is Penang-born Chef Victor Loy who managed to spend some time in Europe before his last stint at a restaurant which focusses a lot on seasonal vegetables.  As such his starters and sides are more than just a supporting cast to the meats and are almost like different courses in a menu degustation, except of course, that they are meant to be shared.  I think that about sums up what Fat Belly Social Steakhouse is all about!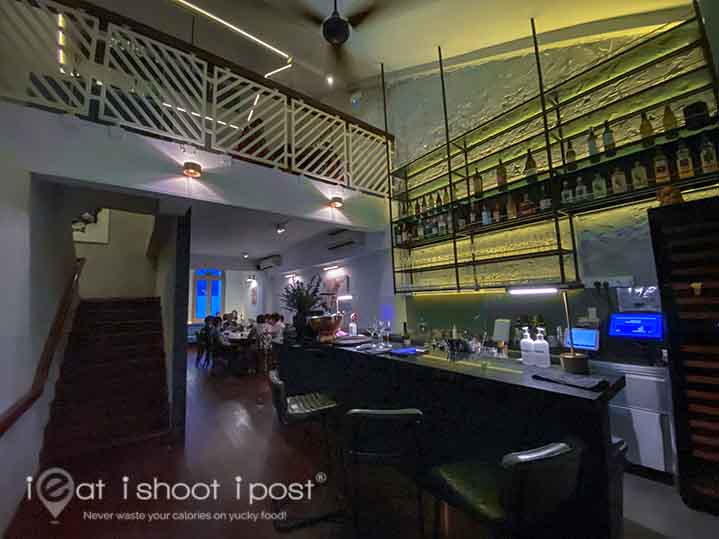 Conclusion
Great place to get together to share some alternative cuts of beef and interesting sides!  The seating capacity is a little small for such a concept, but it makes for an intimate and cosy evening with friends!
Ieatishootipost Special
Enjoy 10% discount for minimum 4 pax dining till the end of Mar 2021.  Just make sure you:
Follow the Fat Belly Social Steakhouse Instagram page
Flash your review post when making payment
Disclosure
This was a media tasting.  That means that the meal was hosted by the restaurant with no obligations to write unless we feel it is good enough to recommend to our readers.