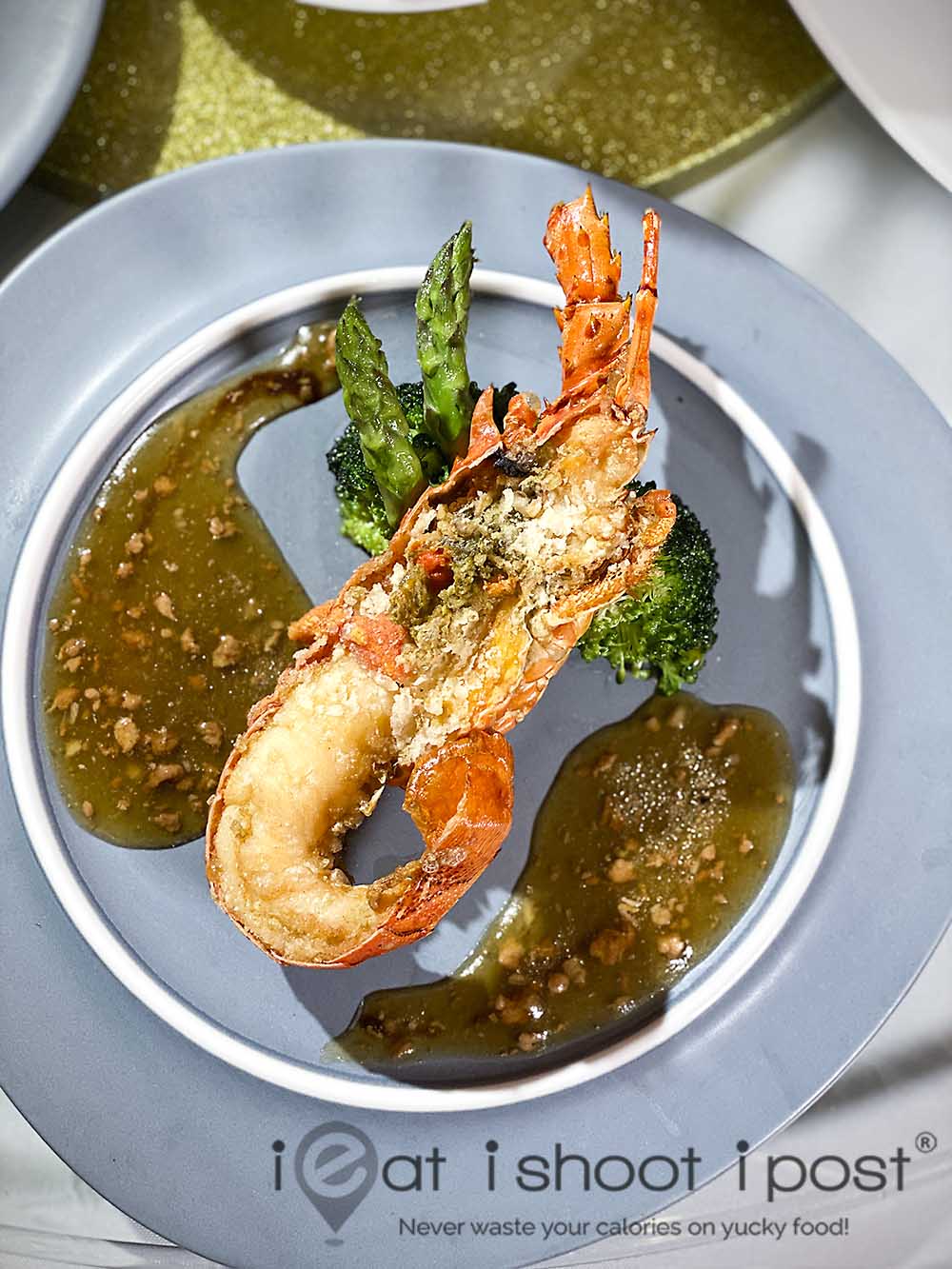 Peach Garden Thomson Plaza (tel: 6451 3233) has just undergone a major renovation and to celebrate its re-opening, they are offering $2 Lobster Noodles for minimum $50 spend during their dinner service on weeknights!  We made a trip down to check out their new decor and other signature dishes.
The new decor is modern yet intimate and cosy and what is most eye catching are two giant LED screens showing underwater marine life.  Unfortunately, none of the coral fish shown on the screen are available on the menu, so it isn't meant to portray a "live seafood tank" but rather to give the impression that you are dining under the sea, or at least next to an aquarium.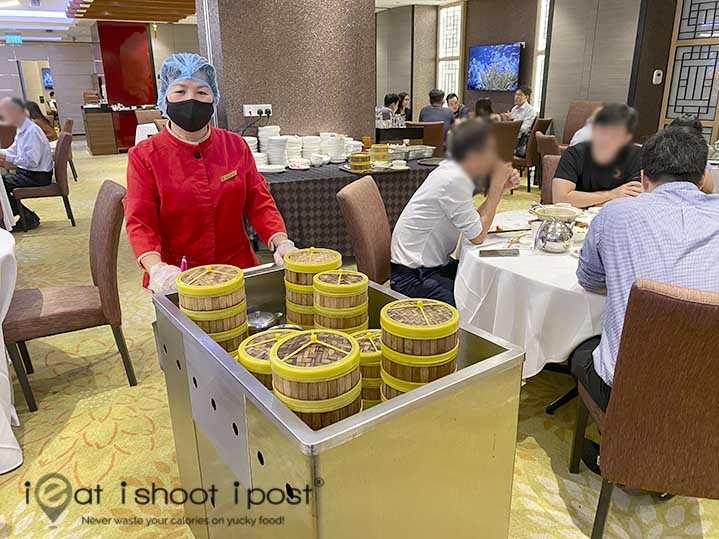 I was pleasantly surprised that they are still using the old school Dim Sum trolleys at the restaurant.  When I was growing up, eating Dim Sum meant having those trolley ladies come round to your table to show you their offerings!  Somewhere along the line, that practice became less popular and nowadays there are only a few places still offering it.
Dim Sum Trolley
One of the problems is that the local authorities outlawed those little gas cylinders some time ago and so it isn't easy to produce steam in those little trolleys anymore.  I have always toyed with the idea that someone should design a trolley that produces steam via an induction cooker and a rechargeable battery.  I mean, we can have electric cars, surely it isn't difficult to have electric dim sum trolleys?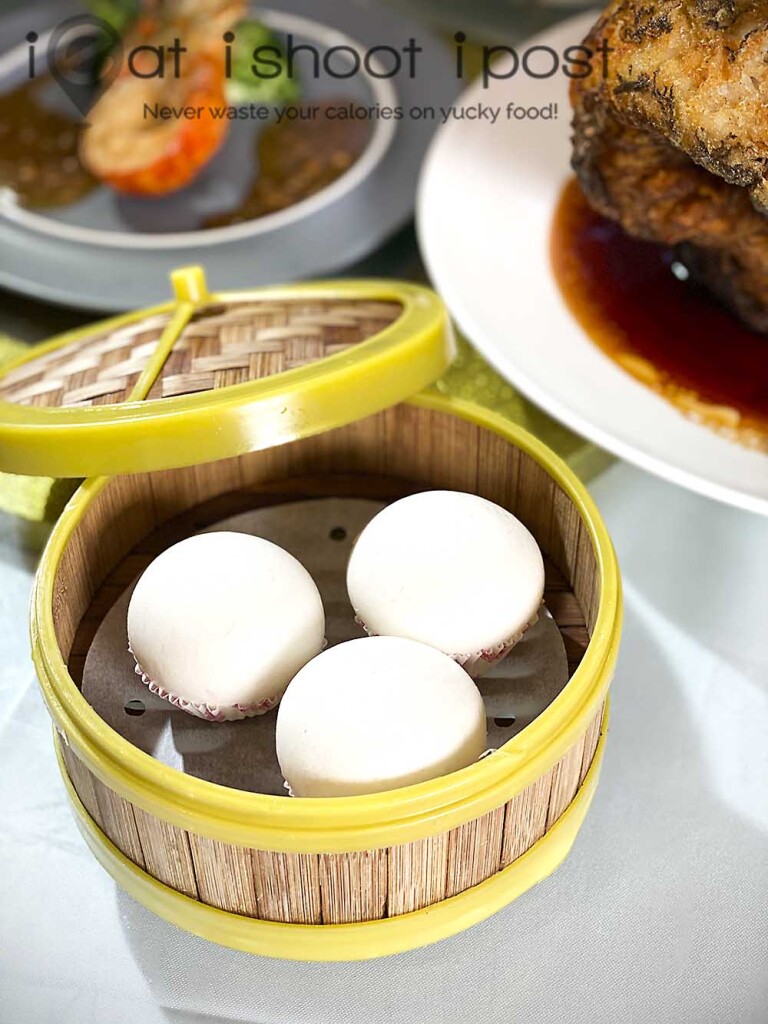 The dim sum are very good quality overall.  You can expect the standard fare of har gow, siew mai, char siew pau and the like.   They are all done to a standard expected of a fine Chinese restaurant and  all handmade in the kitchen. Two dishes that stood out were the liu sar pau which had the prerequisite flowy salted egg yolk filling.  By the graininess of the filling, you can tell that they used real salted egg yolk instead of salted egg yolk powder.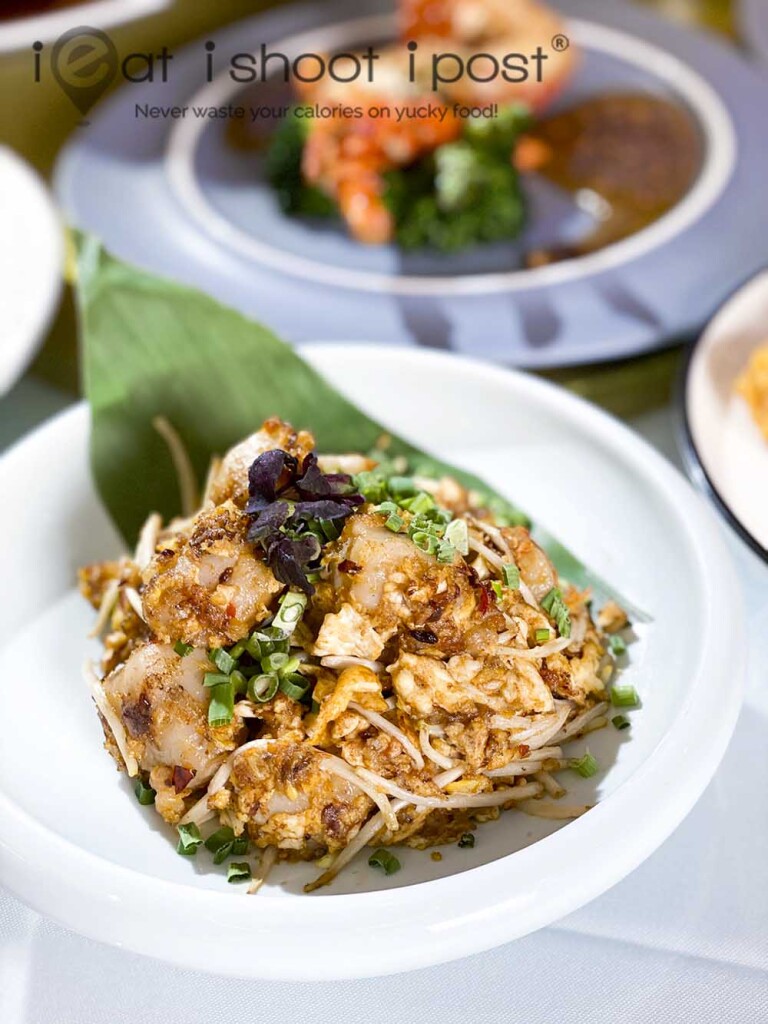 The other dish that stood out was the XO carrot cake.  Instead of just pan frying the Cantonese style carrot cake, they add eggs and a healthy dollop of XO sauce to it and infuse it with wok hei!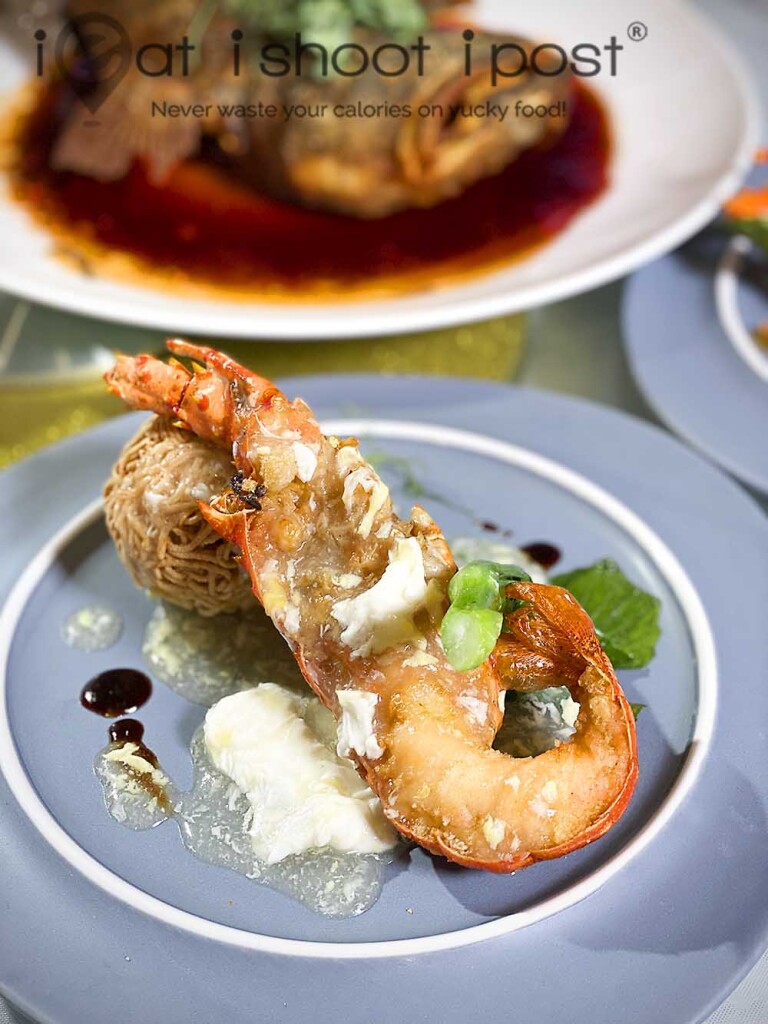 They have three different lobster noodle dishes to choose from.  Their take of the lobster sang meen is quite interesting as the chef managed to deep fry the noodles in the shape of a ball.  The lobsters are around 300-400g which is big enough such that the meat remains sweet and juicy after deep frying.  They also make lobster with fried udon and meat sauce and a version that is closer to the classic lobster noodles using black sesame noodles with ginger and shallots.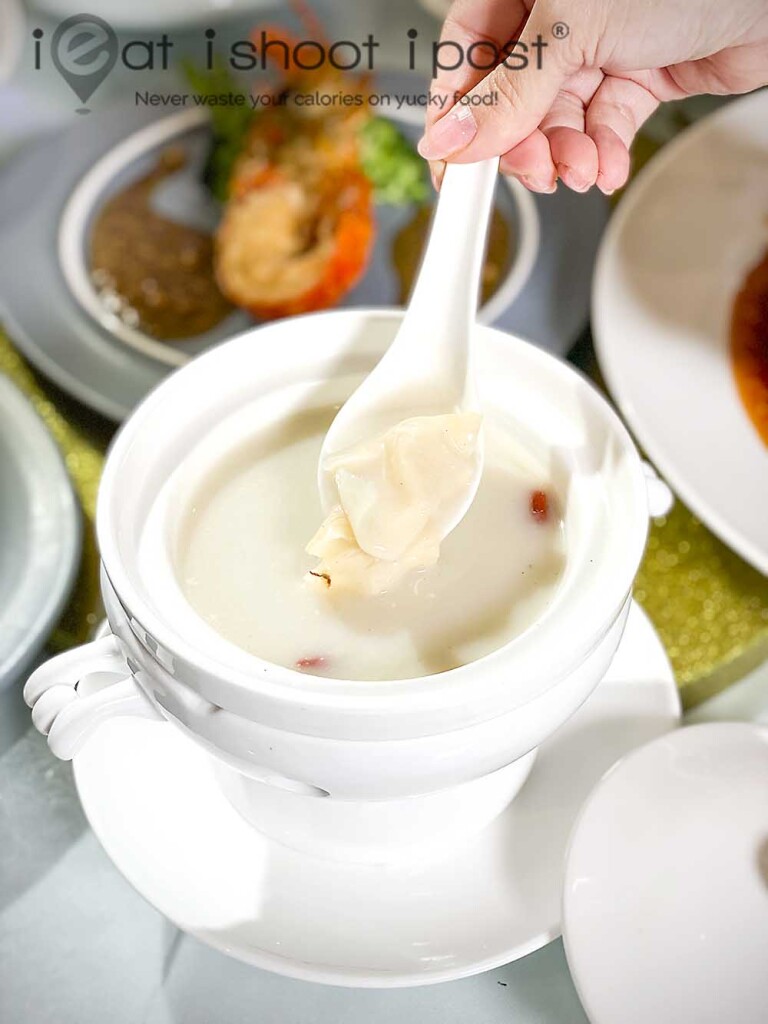 Collagen soup is all the rage now and if you want something to keep your skin looking taut and youthful, then their shark bone soup is the way to go.  The texture of the broth is smooth and silky and has a good depth of flavour that come from a robust soup stock.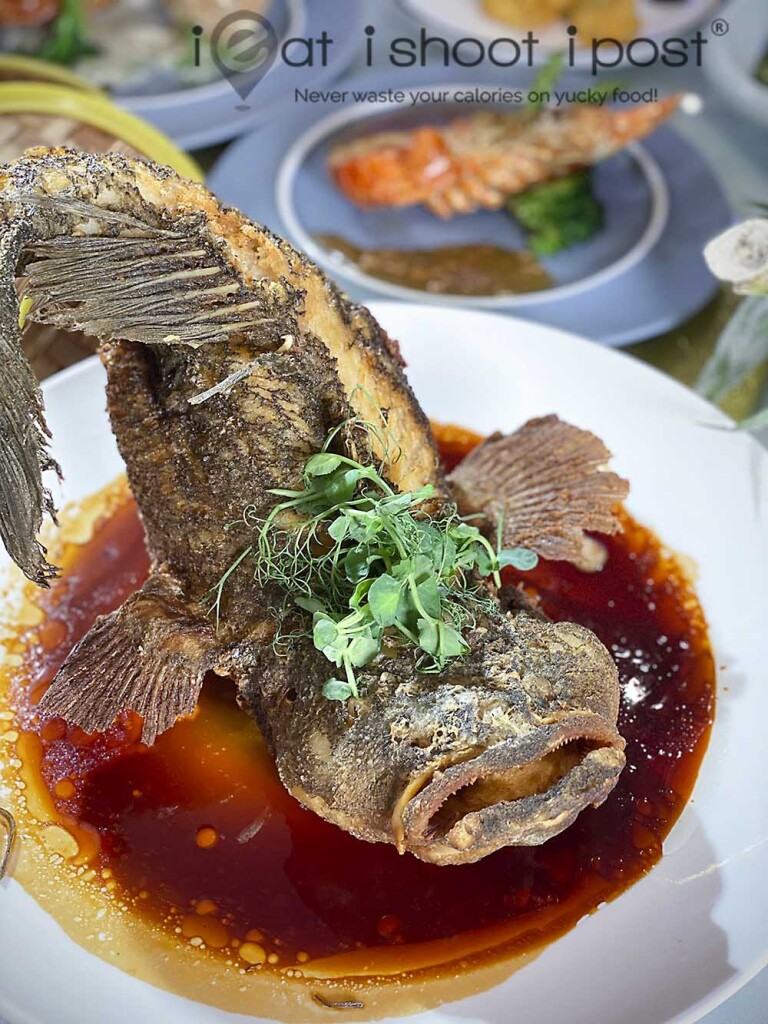 Their nicely presented "U Shape" Soon Hock with superior soy sauce is a twist from the classic Cantonese dish.  The fish is large enough such that the flesh remains tender and flaky after deep frying.  I found their sauce to be a little on the sweet side and the microgreens, though giving the dish a more classy look lack the zesty punch of the more traditional julienned ginger and scallion.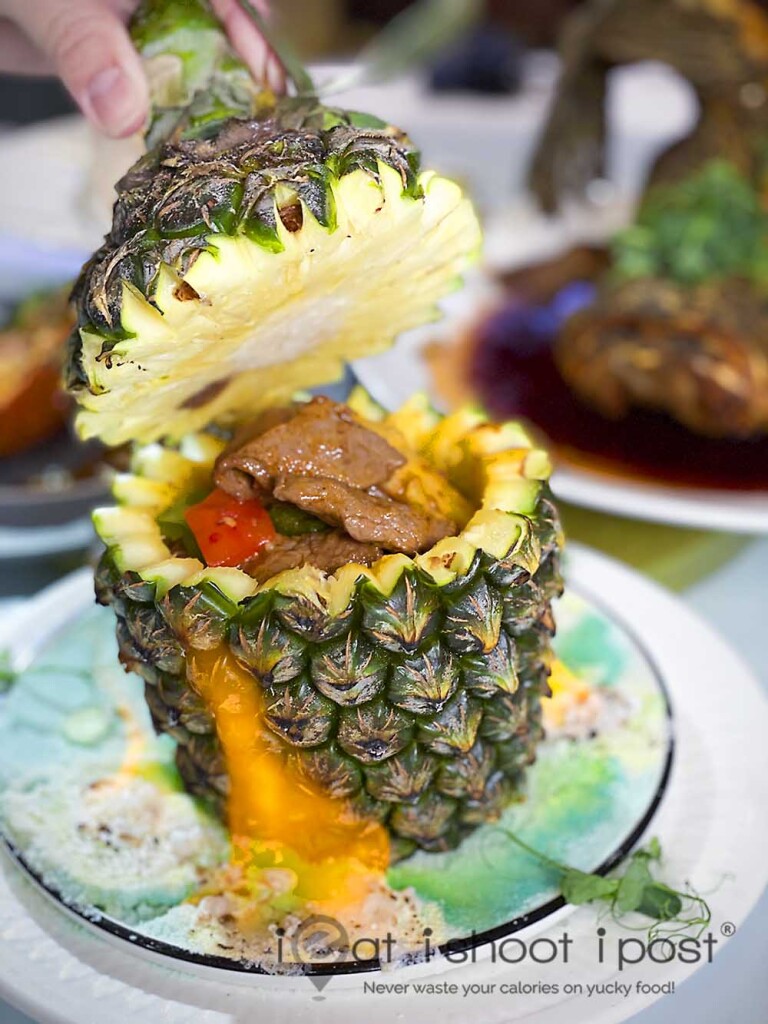 The presentation of the dishes at Peach Garden reflects the current trend in some Chinese Restaurants where chefs are challenged to plate their dishes with more flair.  If you are looking for a dish with with an impressive entrance, the venison served in a flaming pineapple might just be what you are looking for.  The flames don't really function to keep the meat warm since the pineapple husk is a pretty good insulator, but it will certainly attract more attention than if the venison were just served on a plate.  The venison is tender and fried in a sweet and sour sauce.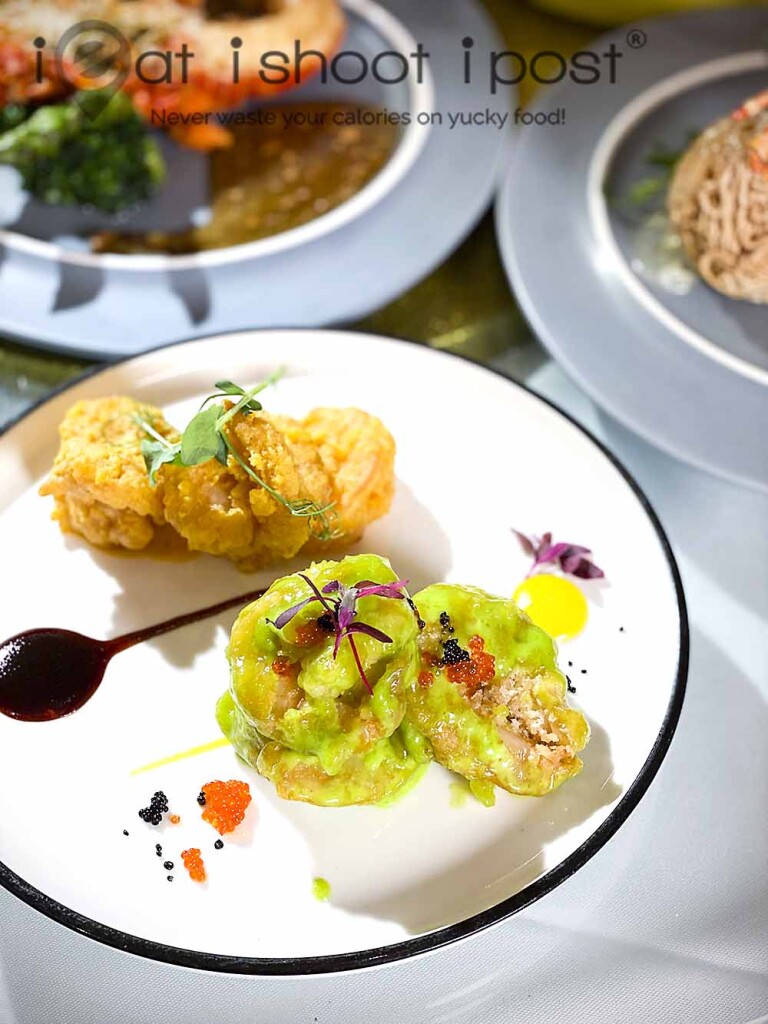 Another of their signature dishes is the duo of salted egg prawn and wasabi prawns.  No surprises here, both were good and presented nicely.  The wasabi sauce could have had a bit more punch.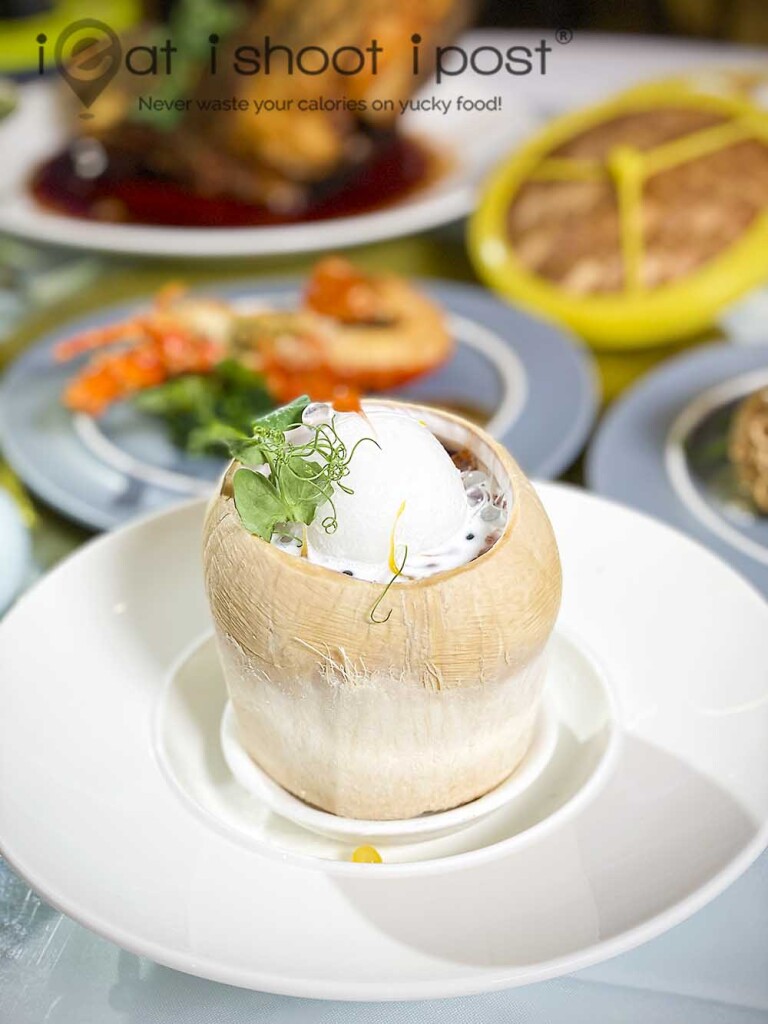 Their pulut hitam with coconut ice cream served in a young coconut is a nice way to end the meal.  It comes with colorful "tadpoles" for textural contrast.
Other Promotional Offers at Peach Garden Thomson Plaza
1 for 1 Set Dinners with 60mins free flow wine and beer.
(available for $58++ & $78++ sets)
Push Cart Dim Sum (10:30am – 2:30pm on weekdays, 9:30am – 2:30pm on weekends)
30% off on weekdays and 15% off on weekends
One Dines Free with 3 paying adults for Ala Carte High Tea Buffet on weekends and Public Holidays from 3-5pm. ($23.80++ per pax)
Click here for more information on promotional offers across all Peach Garden outlets.
Conclusion

Those of you who are familiar with the old Peach Garden at Thomson Plaza would be impressed with their new facelift.  The LED screens add an extra dimension to the dining experience.  If you are looking for push cart dim sum, this is the place to find it!
Disclosure: this post was written in partnership with Peach Garden