With smart and Mr.YaKwang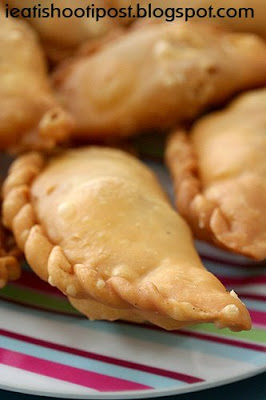 Epok Epok with egg 50 cents each
The most surprising thing about this Epok Epok is NOT that it is one of the most addictive things I have eaten recently, but the fact that the hands that make them belong to an exclusive breed of Hawkers whom I have created a new tag for — Hawker Hunks.
Now, its been commented in the blog that one of the most attractive things about a man is the fact that he can cook.
I challenge that statement.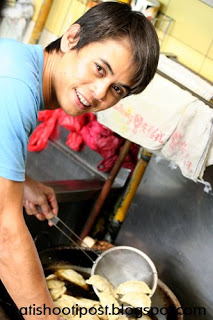 I think that what women actually find attractive is a man that looks as if he would have women falling at his feet AND he can also cook at the same time. I think that women view the domestic ability of the male as an indicator of his domesticability. In other words, if he can cook, I can probably get him around my fingers.
Anyway, I don't want to detract you from the Epok Epok, so ladies, please avert your gaze from this fine specimen of manhood back to the picture on top. Today we are talking about Epok Epok. The type that Nenek used to make.
It was Mr.YaKwang (aka Jason) who alerted me to this particular Epok Epok. Now, Mr.YaKwang is one of the most fussy (almost obnoxiously fussy) foodies I know. Nine out of ten things recommended on the blog cannot make the grade for him. So he ends up eating his own food most of the time. So when Mr. YaKwang told me about how much he likes this Epok Epok, it got my attention straight away.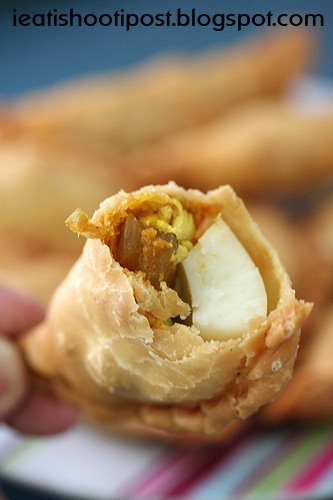 If you stare long enough, you too might be transported back to your childhood!
Do you remember the scene from Ratatouille when the food critic Anton was transported back to his childhood with one taste of the Ratatouille? Well, its sort of like that for Mr.YaKwang. He said that this was the type of Epok Epok he remember eating when he was a kid.
So after taking the first few pictures, I gingerly held the Epok Epok in my hand and prepared myself to be transported into a surrealistic dream sequence as I bit into the Epok Epok…….. nothing. Not surprising since the curry puffs I was used to were those from my school tuckshop and they are a little different.
That's not to say that the Epok Epok here was not good. They were excellent. The crust was thin and crispy and combined with the freshly boiled egg and buttery curried potatoes, I downed about five of them before I knew it! 4.25/5
The thing I felt was missing is one or two pieces of savoury chicken meat in the Epok Epok. I know it is not so common in Epok Epok as it is with the Chinese version, but nevertheless I love the joy of finding that savoury piece of meat hidden among the potatoes! I am also dreaming of a minced beef Epok Epok which Lokman promised he will make soon.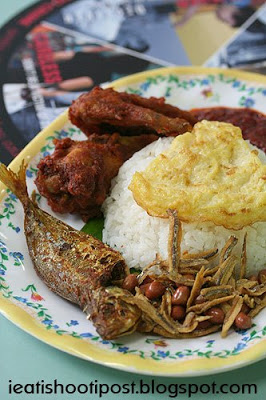 Nasi Lemak with the works $2.50
There has been some discussion over at the forum about Nasi Lemak and more specifically, where to find a good Malay style one. Well, look no further! All I needed to do was just have a whiff of the steaming rice to know that this is a good one. The sambal belacan here is also very shiok and it is on the sweetish side which I feel should be the case with Nasi Lemak. The sambal also has that wonderful savoury taste of the belacan which hits the Umami Spot. You can buy the ready packed ones for $1.20 which comes with rice, ikan bilis and choice of egg or ikan kuning. They put in the special effort of sandwiching the chilli between two pieces of banana leaves for that added fragrance. Sedap lah brudder! 4.25/5
The chicken wings here are well marinated with lots of tumeric and ginger so they were very good, but I would advise you to be there around lunch time in order to get them freshly cooked.
Conclusion
The simple things in life are often the best. Personally, my idea of the perfect breakfast is a cup of Teh Tarik, a plate of Epok Epok and Nasi Lemak. That is what I miss most when I was overseas.
Oh, back to the Hawker Hunks issue, I don't want to be sexist, so I was actually going to name the Tag "Hawker Hunks and _____ Babes" but I can't really think of an adjective that begins with B to describe girls who operate hawker stalls who look like they should be on the catwalk instead. Let me know if you have any ideas. And don't forget to check out the other Hawker Hunks in the blog.