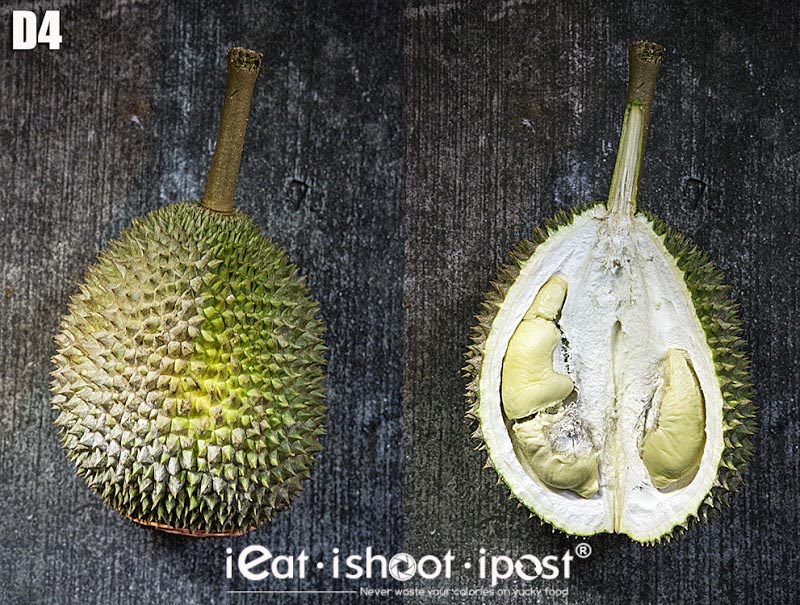 March is the short season for some of the lesser known cultivars. So it is good news for durian connoisseurs looking to walk the road less traveled! Generally, these durians will remind you of the kampung durians of the old days. They come from certain plantations in Malaysia and generally they have not been cultivated as much as the other more popular ones because of certain undesirable characteristics. It may be that they ripen too quickly or not as fleshy and so they are not as commercially viable. These plantations have been around for a long time, so the trees are very old. Since they are not commercially attractive, it may well be that in a couple of years time, they may not even be available any more! So, these are really durians to savour.
Today, we present two such durians, the D4 and the D17. Both from plantations in Batu Pahat. The season is very short and lasts only about 3 weeks. There will be another short season for these durians in May when they start falling off the trees in Yong Peng.
The D4 is not popular with the durian sellers because they ripen quickly after dropping off the trees. So by the time they reach Singapore later in the day, they would invariably start splitting at the seams. Most of these durians will thus have rubber bands at their base to prevent them from splitting further. The other less desirable quality of these durians is their varied shape. The one I featured is round, but the batch of durians came in all shape and sizes. There are also few arils (seeds) per section. They are characterized by smallish thorns.
The flesh of the D4 is milky white in colour and when you are able to get a good one, the flesh has a unique bitterness which connoisseurs look for. It is usually creamy and not fibrous. Price range from $8 to $10/kg this season.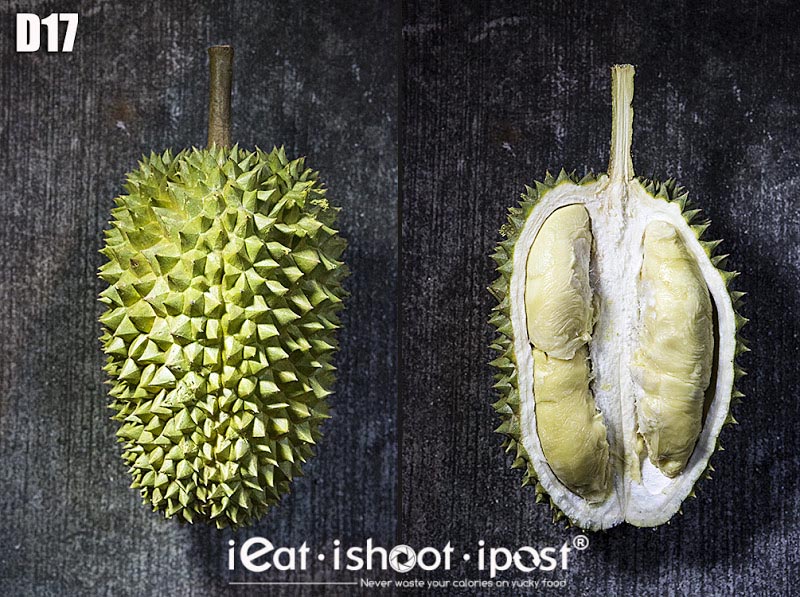 D17 has large thorns and its elongated shape makes it look quite similar to the Green Bamboo (Tek Kah). However, unlike the Green Bamboo, it does not have the "longgang" at the core of the fruit.
The flesh is dull yellow and it also ripens quickly so the fruit is often quite wet by the time it gets to Singapore. This is the reason why they are not cultivated widely as not many durian sellers want to sell a durian that cannot be kept overnight. In Penang, it has quite a cult following as they go for its unique bitterness which is liken to that of coffee thus giving it its popular nickname, "Coffee Durian". Some experts like my durian guru, Tommy, say that the aftertaste is more like Baileys or Kahlua rather than a long black. When the flesh is dry, it lacks that unique bitterness. So if you manage to get a dry one, you might want to wait for it to ripen a little more before you eat it to get your coffee kick! They are going for $10/kg.
Both of these durians are now available at Durian Seng for the next 3 weeks and stocks are very limited. So if you are really after these durians, you might want to ring up first to check for availability. At Durian Seng, you get one free durian when you buy three and 3 free durians when you buy ten.. He is giving away free "Wan Bao" for the next 2 weeks! He is quite a character and its always quite good fun watching him up to his antics there.
Oh, do remember his birthday is on 11 July. He usually gives away free durians during his birthday, so put that date on your calendars now!
Read more about Durian Seng here.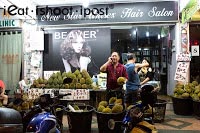 Acknowledgement
Thanks to my Durianologist, Tommy Lim for his invaluable inputs!