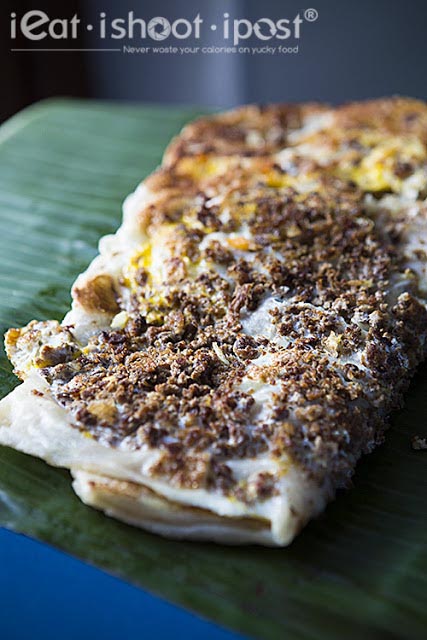 Murtabak is one just one of those dishes that never fails to excite. From the theatrics of the flipping the dough to the bubbling anticipation that builds while the flatbread is sizzling away on the griddle, there is very little not to like about Murtabak, except for what it does to your cholesterol levels! Like pizza, it is a dish which has almost universal appeal and a safe bet if you are bringing guests from overseas to sample Singapore cuisine.
One of the best places to go for Murtabak in Singapore is Kampung Glam where there are two century old restaurants next to each other just opposite the Sultan Mosque. I have previously written about Zam Zam which was founded in 1908. Zam Zam is 105 years old this year making it one of the oldest eating establishments in Singapore. At 103 years of age, Victory Restaurant is no less established but perhaps lesser known then its older compatriot. Both restaurants specialize in a style of Murtabak that is quite unique to Singapore. No one is sure which of the two restaurants started it first. It's origin has unfortunately been buried in the distant past. But I think it is quite safe to say that either one of the restaurants must have started it first and the other quickly joined in the game when the style of Murtabak started to get popular.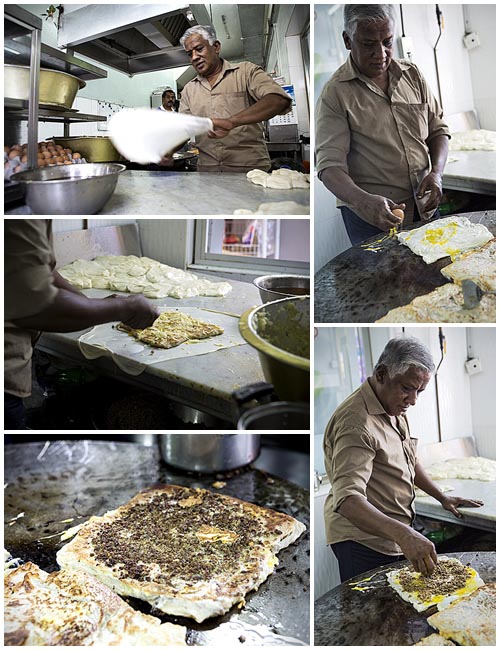 Not many restaurants in Singapore can command a $15 price tag for a Murtabak. You are probably wondering how can a dish that is normally priced between $4 to $6 for can go for $15, right? Well, I am glad you asked, because I am just about to tell you.
The pricing of the Murtabak here can be very confusing. The cheapest one is $5 while the ultra mega one is $15. In between you get to choose either a $6, $7, $8, $10 or $12 murtabak. So, which one to choose? Well, if you are eating by yourself, you can choose from the $5 to $10 range. Beef starts at $5, mutton starts at $6. From $7 onwards, you get the extra egg and mutton on top of the murtabak. If you are a big eater go for the $10 Murtabak which is the super deluxe, extra egg, extra meat, appetite obliterating size. The $12 and $15 dollar ones are the family sized portions. What they do is to make a $7 murtabak first. When it is ready, they then wrap another layer of dough over this murtabak, add extra eggs and meat and then fry it again! I met an elderly man in his 60's who have been eating there for years and he swears by the $15 portion because of the extra ingredients!
Both the chicken and the mutton murtabak here are very good. The masala used for the chicken tastes slightly different from the one at Zam Zam but it is just as tasty. I brought some friends from Dubai to eat there and they preferred the chicken over the mutton. I would say that the chicken tends to be a little more juicy than the mutton, but it is hard to choose either. So I always end up ordering both. 4.5/5
The great thing about Victory is that even though they are so established, they still take a lot of pride in the food they serve and have resisted outsourcing their dough and ingredients to a 3rd party. So the prata dough is still being made in house as is the blending of the spices that are used for the meat filling. The essence of any Indian restaurant is in their proprietary spice mix. So most restaurants which are serious about their food will usually prepare their own spice blend rather than buying them ready mixed and ground. I am glad that after 103 years, they still insist on making their food the same way!
Conclusion
If you are craving for Murtabak, you can't go wrong heading down to this family run, century old restaurant! Best to get a few friends along and just go for the Mega $15 Murtabak!