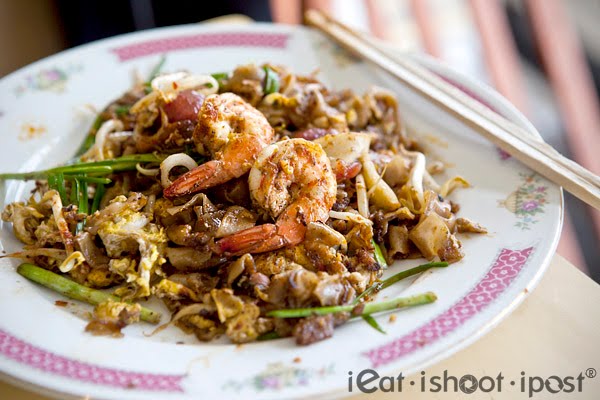 I have often lamented that there was a lack of really good Char Kway Teow nowadays. So when some of our kakis started talking about this less well known Char Kway Teow stall over at Old Airport Road Food Centre, it did not take me long to organize a makan session there to find out what the fuss was all about.
Now, I am sure that the first thing you would say when you see this plate of CKT would be, "Ay? How come this plate of Char Kway Teow got prawns one?" Ah, how very observant. Not only was there prawns in the Char Kway Teow, there was squid as well as the obligatory cockles.
So one might argue that this really isn't a typical plate of Char Kway Teow and I would agree with you wholeheartedly. No, this plate of Char Kway Teow seems to be more like a fusion between Penang and Singapore style Char Kway Teow. Now, if you are a big fan of Penang Char Kway Teow, then you might suddenly sit up in your chair and take notice.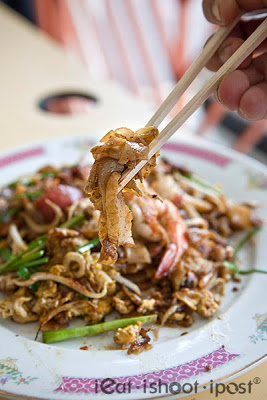 As with most food, your eventual level of enjoyment really depends a lot on your initial expectations. If you are expecting a plate of Char Kway Teow that tastes like Hillstreet CKT or Hai Kee CKT, then you are going to be a little disappointed. On the other hand, if you like how the Penang Hawkers fry the prawns first to infuse the lard with crustacean flavour before adding in the Kway Teow, then you are going to be in for a pleasant surprise. But the real beauty is that you really do get the best of both worlds, because after frying the Kway Teow, the Uncle will still had in the cockle juice to bring the flavour back towards Singapore.
One of the big differences between Penang CKT and Singapore CKT is the level of sweetness. Our style is usually sweeter because of the liberal use of sweet black sauce, whilest the Penang style is more savoury. This stall is somewhere in between, which explains why some of our kakis really love it and others who think it was good but not that great.
Me, well, I had actually stood at the stall to see the Uncle, pour all of his 40 plus years of frying experience over a hot wok and I saw how he fried the fresh prawns in the oil before adding the Kway Teow. Honestly, I thought the plate of CKT was pretty darn good. The kway teow was lively and I like the way it sort of sticks momentarily to your lips as it leaps off the chopsticks into your mouth. I was tempted to give it 4.5/5, but my other kakis only thought it was a 4, so my final rating is 4.25/5.
Conclusion
I like this Char Kway Teow. It is a little different from your usual CKT, but if you take it as what it is, I think you are going to really enjoy it.