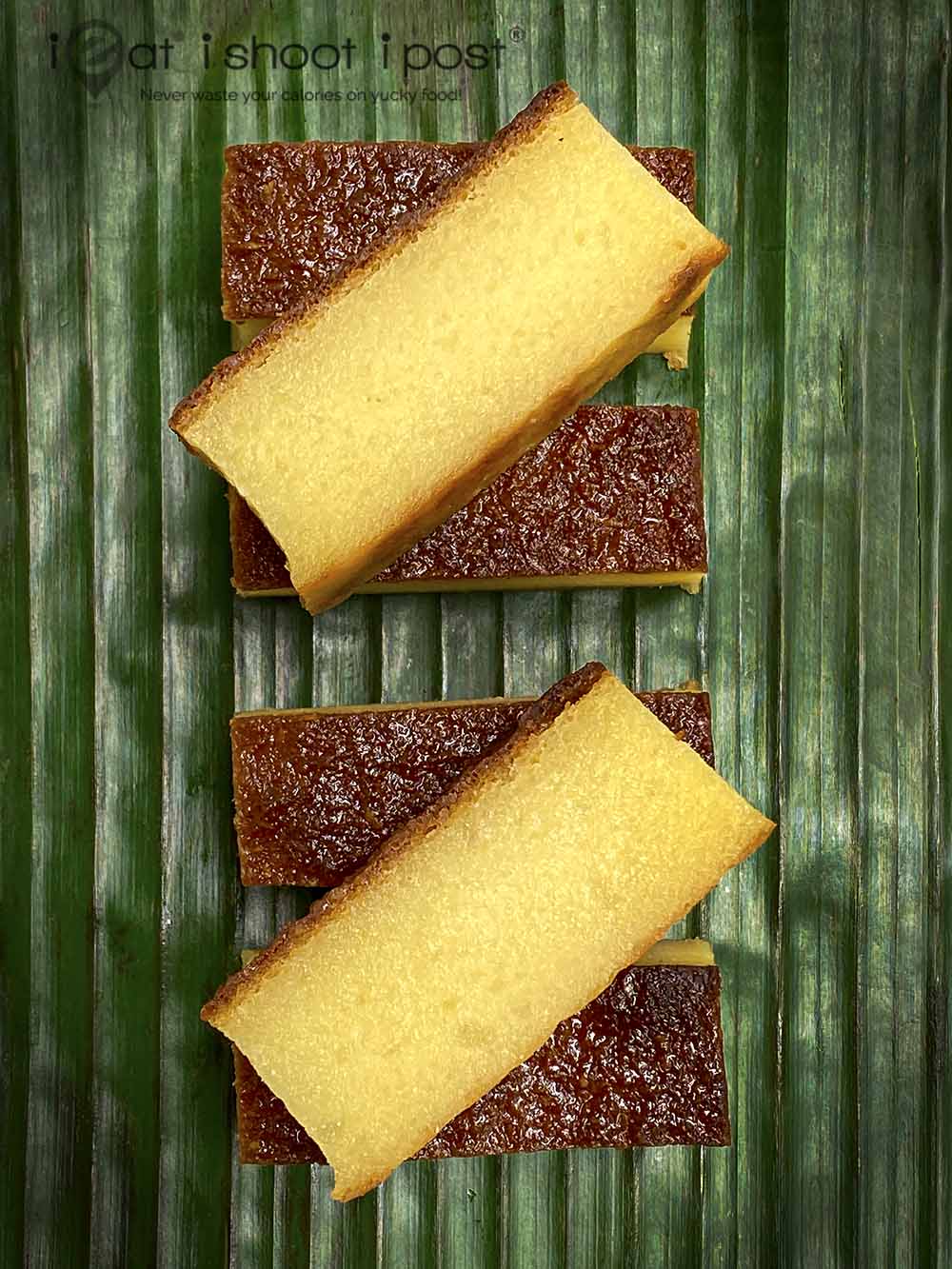 Damian D'Silva's Kueh Bingka Ubi Recipe
Kueh Bingka Ubi had been one of those things I would happily eat if I come across it but I have never actually gone out my way to look for it.  That was before I tasted Chef Damian D'Silva's version at Kin.  That first bite was a moment of epiphany and I was immediately smitten.  Chef graciously shared his recipe with me and I immediately got down to my research and recipe testing.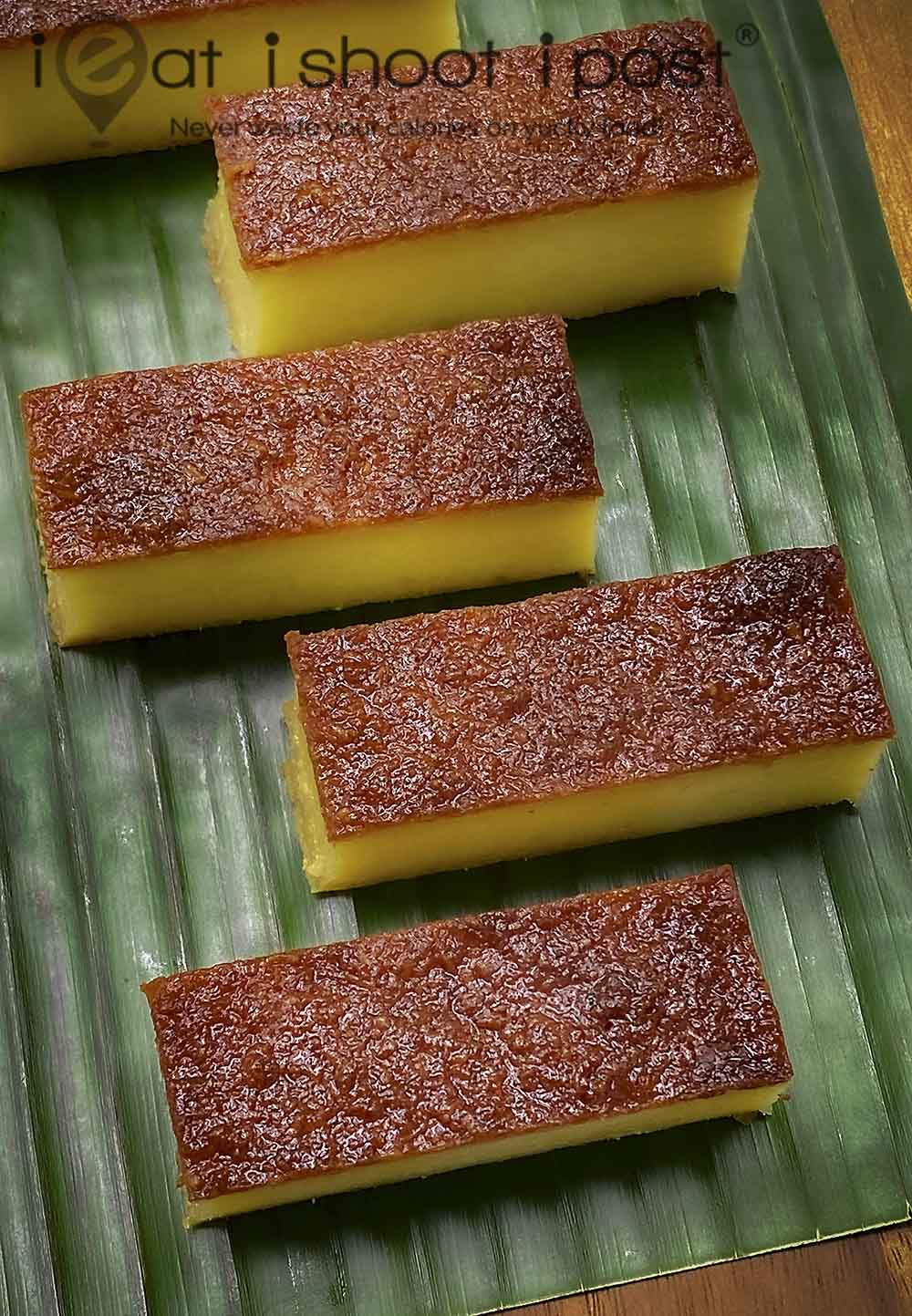 Damian's recipe is quite unlike anything else I have seen online on in recipe books  The one thing that really stood out was the caramelisation of the sugar syrup which added that extra dimension of flavour to the kueh.  I also liked the thick layer of browned crust on the top of the kueh which develops over a longer 2 stage baking process.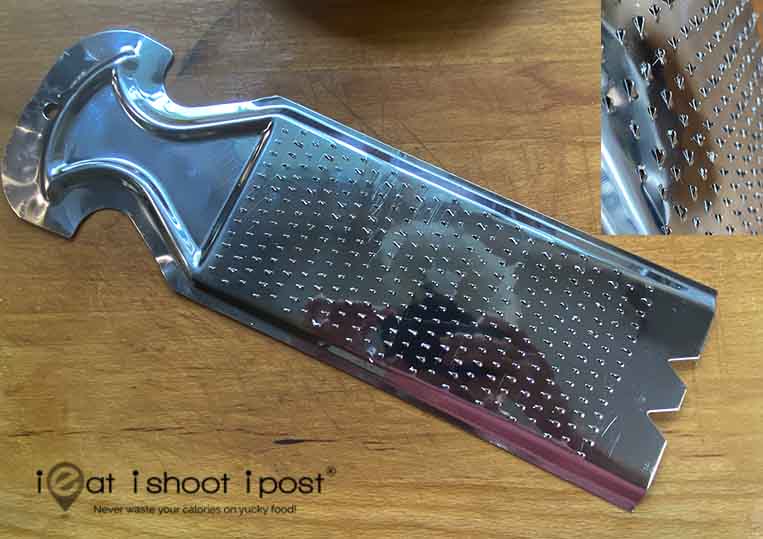 Thankfully it is not a difficult kueh to make and it only took me three attempts to get it right (it also helps when I can get tips from Damian!)  It does take a bit of effort, though, as you do have to grate the tapioca by hand. On my second attempt, I took a shortcut and bought the ready grated tapioca from the stall that sells coconuts at the market but the texture and flavour turned out vastly different.  The extra work of grating the tapioca with a proper old school coconut grater is one of the secrets to this whole endeavour!
It is also important that you buy the right tapioca.  You need to look for the slim dark brown coloured ones from Indonesia. Don't buy the big fat ones as they are too old. I bought mine from Geylang Serai market.
Recipe Card
Ingredients
1  Grated tapioca 1kg (after sqeezing out the water)
Buy 2kg tapioca as there is a lot of wastage
2  Banana leaves to line the pan

Group A
Coconut milk 100ml
Water 180ml
Sugar 400g
Salt 7g
Butter 30g
Pandan leaves 5pieces (knotted)
Group B
Coconut 380ml
Eggs 5 (60g eggs)
Corn flour 5g
Equipment
24cm x 24cm aluminium baking tray with a height of at least 7-8cm.  Mine has a removable bottom.  It makes it easier to de-pan but it is not essential.
Method
1.  Cut tapioca into approx 10cm (4 in) segments and peel off the tbark.  Grate using coconut grater.  Press dry through a sieve and set aside.
2.  Put Gp A ingredients in a non-stick pot and bring to a boil.  Simmer until it becomes a thick, golden syrup.  The temperature of the syrup should reach 126°C-128°C.  This should take 15-20mins.
3.  Add the tapioca to the syrup and stir to mix evenly.  Slowly cook till the tapioca is slightly translucent but don't allow it to start clumping.  Temperature should be just above 60°C.
4.  Whisk ingredients in Gp B together making sure the egg whites are completely broken.
5.  Slowly add the egg/coconut mixture to the tapioca in 4-5 batches, making sure the eggs are mixed well with the tapioca before adding the next batch.
6.  Bring the temperature of the batter to 60°C.  It should be slightly thickened.  You should stop cooking once the batter starts gelling at the bottom of the pot.
7.  Pour batter into the banana leaf lined baking tin.
8.  Place on the bottom rack of a pre-heated 200°C on fan force mode
9.  Bake for 15mins, then rotate 45° and bake for 5 mins. Keep this going for 2 rotations. (15+5+5) ie 25mins
10.  Rotate 45°, (ie the tray is back to its original position) change to conventional heat and lower temp to 160°C.
11.  Bake for 25mins then rotate 45°, then 20mins rotate 45° and final 20 mins.  ie 65mins.  Total time in oven is 90mins.
12.  By end of 90mins, check doneness by inserting a skewer into the middle of the cake.  It should come out clean.  Remove the tin and place on cooling rack.
The kueh can be kept in the fridge.  Warm before serving by placing in microwave or toaster oven.
Details and Tips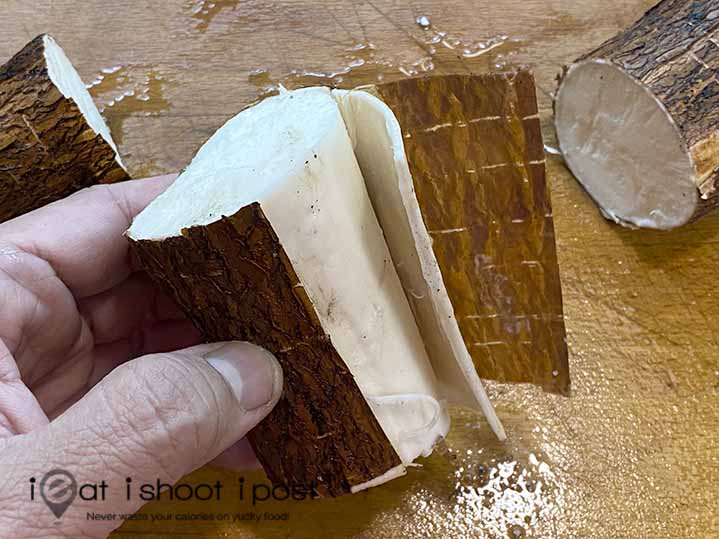 To get 1kg grated tapioca, you need to buy 2 kg of tapioca to be safe.  You will have some leftoever tapioca.  But better to have leftover than not enough.
There are two layers that need to be removed from the tapioca root.  I don't bother cutting it into half and removing the core which can be quite woody.  Once you grate it,  I find it really doesn't make a difference.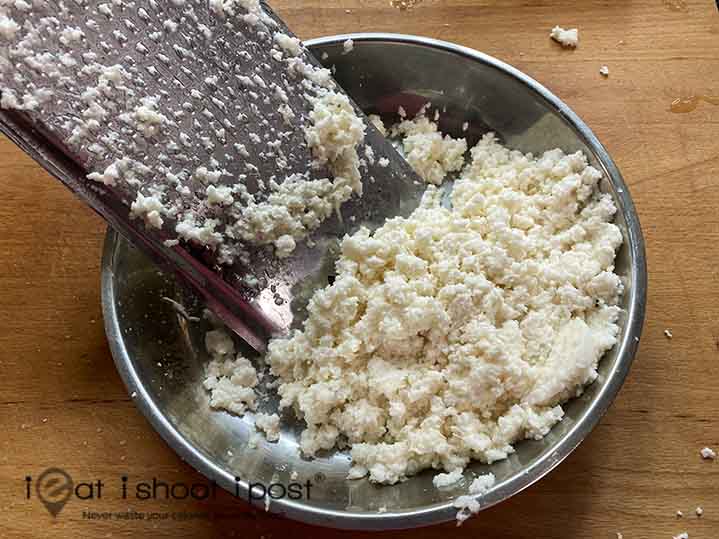 You will need the right grater to grate the tapioca properly.  I bought mine from 5B Pte Ltd at Joo Chiat and costs only $2.60.  They call this a coconut grater.  When you grate, most of the tapioca is on the top of the grater.
Grating the tapioca is a chore.  But remember this wise old saying (by me) while you are grating it.
"You want nice kueh, don't complain!"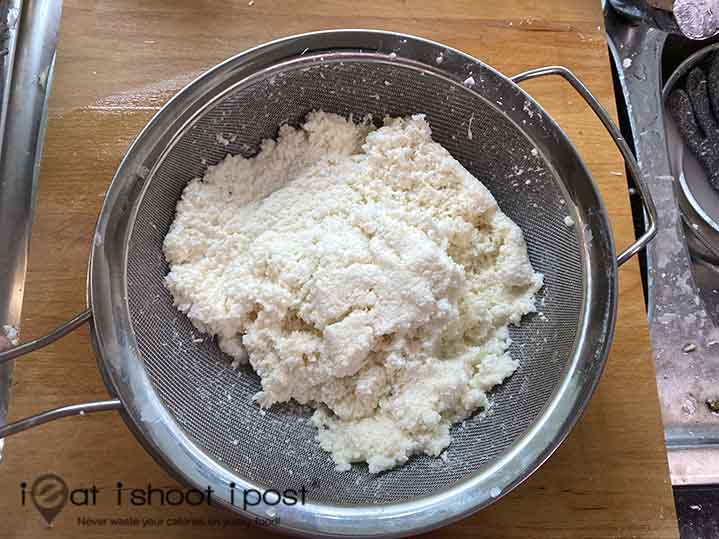 After grating, sqeeze out as much water as you can through a sieve (or a bag) and then weigh out 1 kg of grated tapioca and set aside.  You can do this at the same time as when you make the syrup.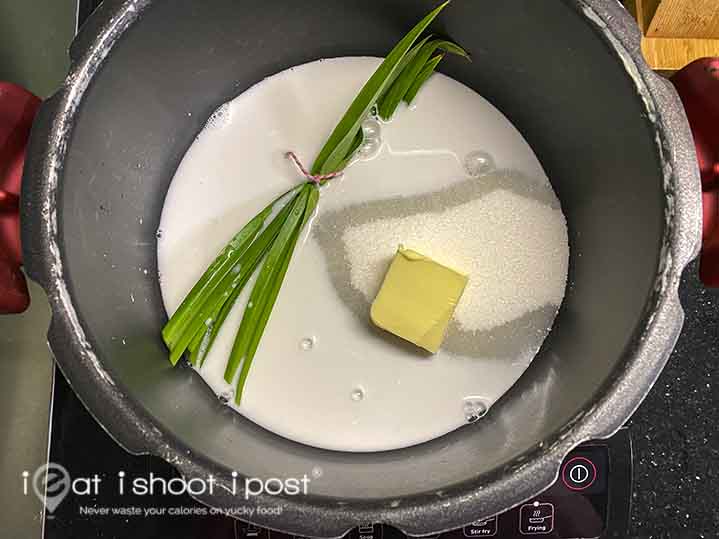 To make the syrup, add all the ingredients in Gp A in a non stick pot.  Bring to a boil then lower the heat to a simmer.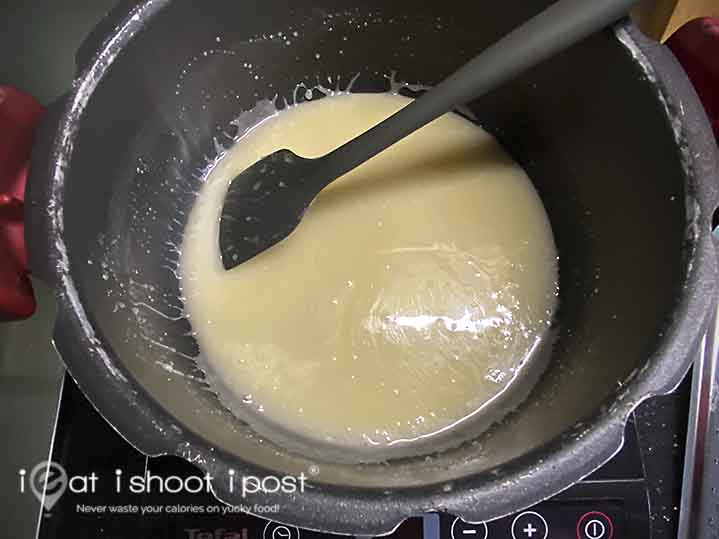 It should take around 15-20 mins to cook it down into a syrup that resembles condensed milk. The temperature of the syrup should reach 126°C-128°C and it should be very sticky.  If it cools it will turn hard, so keep it on low heat.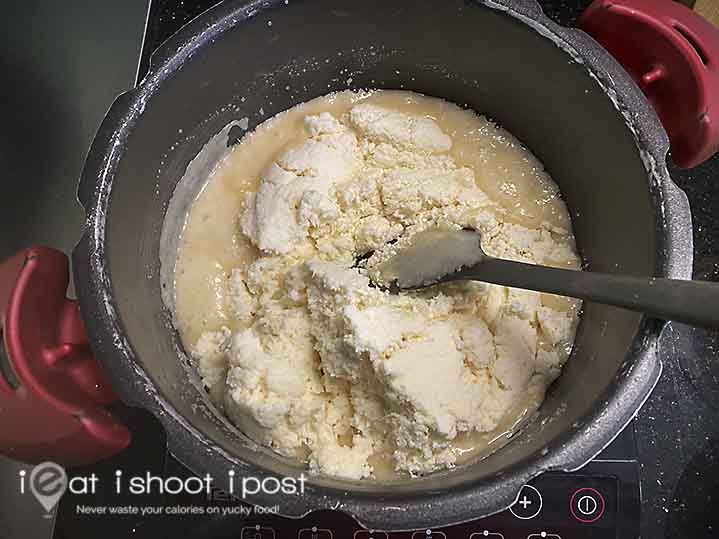 Turn off the heat, add the grated tapioca and stir until well mixed.  Then turn up the heat again and gently cook until the tapioca is just slightly translucent but still a slurry.  Don't allow the tapioca starch to start clumping.  The temperature should be just over 60°C.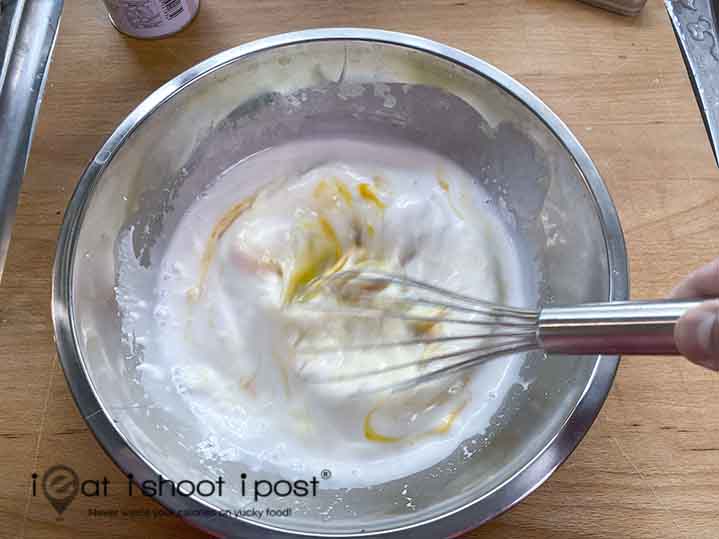 Beat the ingredents in Gp B, make sure you break up the egg whites properly.
Add the eggs in batches and keep stirring to mix properly. Keep stirring and don't allow the tapioca to start gelling at the bottom of the pot.   Once the temperature passes 60°C, the batter should be thickened but but still pourable like a thick porridge.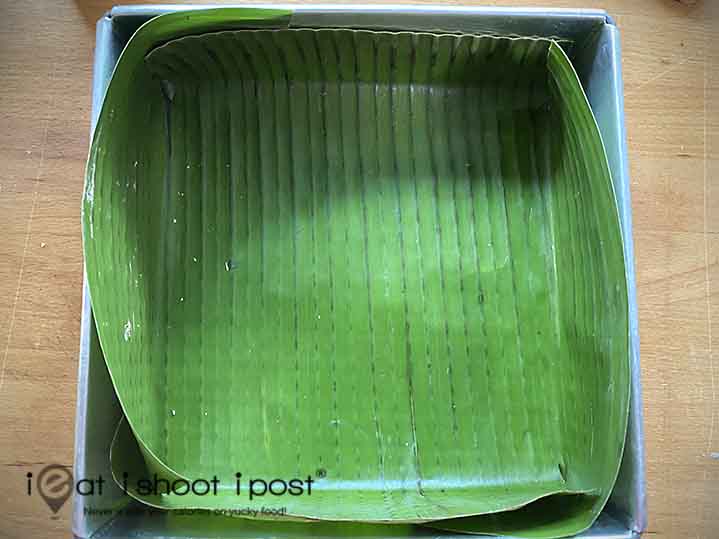 Line tray with banana leaves or baking paper.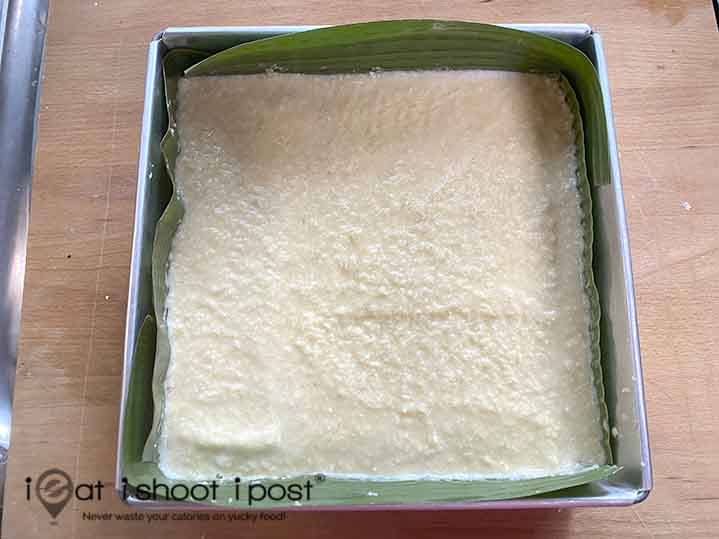 Smooth the top after pouring in the batter.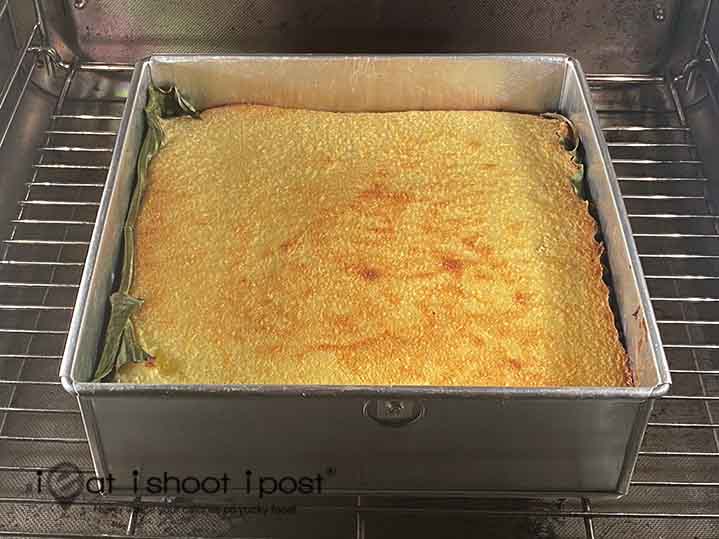 At the end of the first stage of cooking (200°C), it should be lightly browned on top.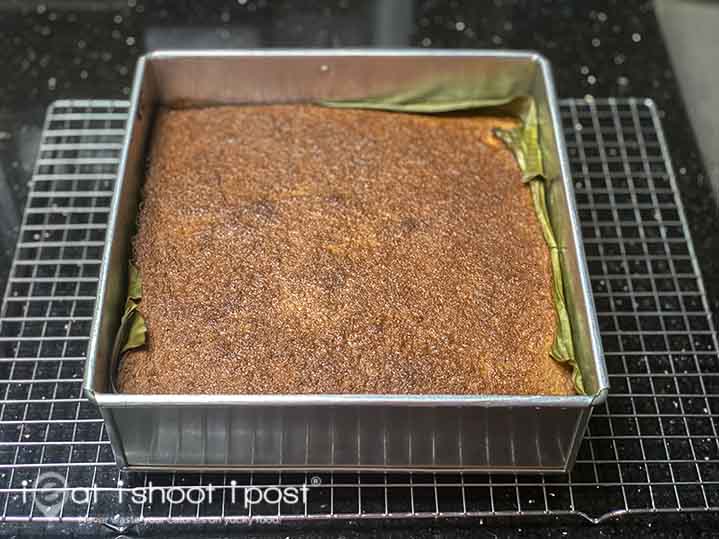 By the end of the 2nd stage (160°C), the top of the kueh should be evenly brown and when you stick a skewer in the middle, it should come out clean.
Hope you enjoy Damian D'Silva's kueh bingka ubi ecipe!
Acknowledgements
Thanks to Chef Damian D'Silva for sharing his recipe and also the Christopher Tan for his tips on how to grate the tapioca.
Disclosure: Some links above are affiliate links, meaning, at no additional cost to you, we will earn a small commission if you click through and make a purchase.