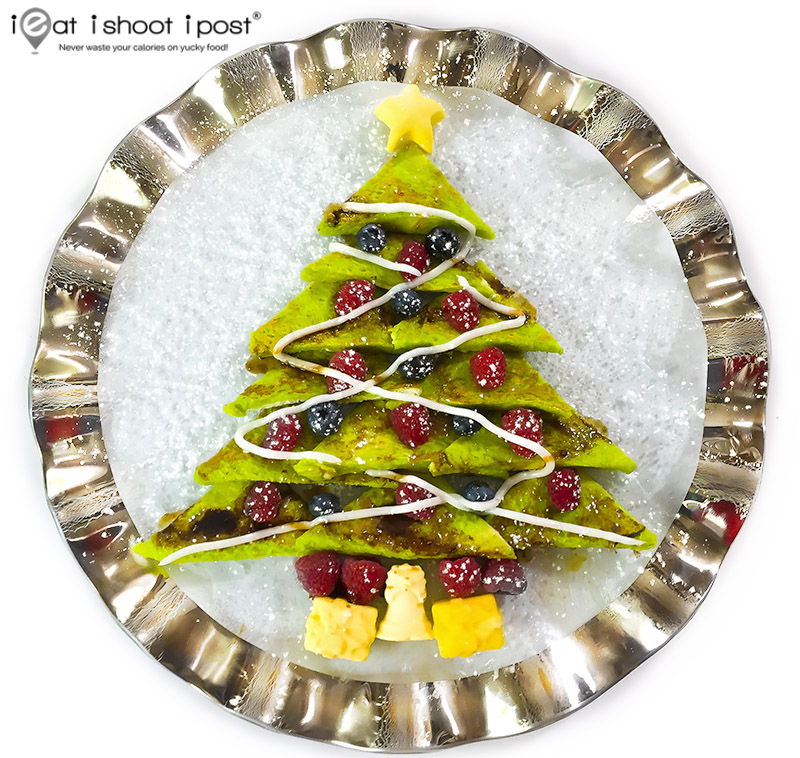 It's Christmas Time again so here is a fun little recipe for Christmas which you can do with the kids and get them involved with the cooking!
You have probably made French Toast before but they are likely to be yellow in colour!  Green coloured French toast might seem a little wierd at first but once you consider that kaya is made of eggs, sugar, coconut milk and pandan leaves, then it will all make sense.  After all, Pandan Chiffon cake is green too! The French toast is very easy to make on a non-stick pan.  You only really need a scant teaspoon of oil to start and thereafter, you don't need to add any more oil! Once the basic tree is made, everyone can have fun decorating it!
Ingredients:
White sandwich bread 3 slices
Egg 1
Coconut cream 3 Tbsp
Sugar 1 tsp
Pandan paste 1 tsp
Method
Beat all the ingredients together.  Dip bread into the egg mixture and pan fry over low heat till cooked.  Serve with butter and gula melaka and other decorative toppings like blueberries, strawberries, raspberries, colourful sprinkles and whatever might take your fancy!
Notes:

1. It is important to beat the eggs well so that you don't get streaks of white when you fry the toast. The Tefal chopper is quick because it actually cuts through the egg whites.
2. It does help to add just a teaspoon of oil to the hot pan for the first piece of toast.  You can use a paper towel to wipe it off.  This will leave a thin layer of oil on the pan which makes it easier to fry the toast.  You don't have to add any more oil after that.
3. The dish does work well with gula melaka but you can use honey, maple syrup or golden syrup if you don't have gula melaka.
This recipe was brought to you by Tefal
Disclosure: Some links above are affiliate links, meaning, at no additional cost to you, we will earn a small commission if you click through and make a purchase.