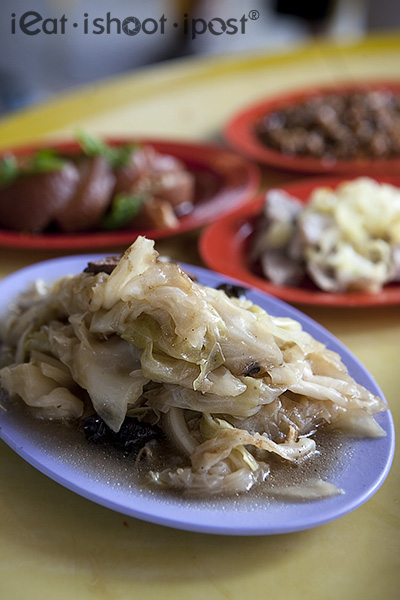 Stewed Cabbage – Typical Teochew Muay dish
Choon Seng Teochew Porridge: $80 steamed fish in a Coffeeshop! – ieatishootipost
Sometimes when I look at scenes from Tsukiji Market and catch a glimpse of a huge Tuna, I wonder to myself, "How did this Tuna, which must be at least 20 years old, manage to escape being caught all these time?"
I felt exactly the same way with this particular Teochew Porridge stall. In the hour that we were there, business was non-stop until they finally closed at 2.30pm. When the boss finally got a breather, I got to chat with him and found out that the stall has been in existence even before WWII. His father had arrived in Singapore as a boy of 5 years of age in 1937 to join his dad (his grandfather) who has been helping his brother (his granduncle) at the stall along beach road.

I wonder how such an established stall, which is obviously very popular, managed to escape the media radar all these years? The owner tells me that they have never been featured on any TV, newspapers or magazines, ever!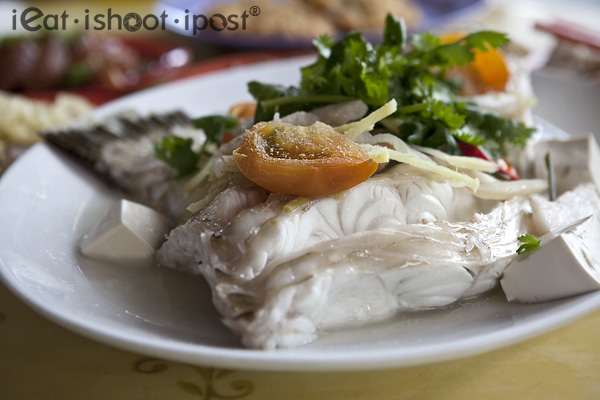 Napolean Wrasse </span>蘇眉 steamed Teochew Style $80
So how did we stumble upon this gem? Well, our friend, Wahcow was at Pek Kio one day for Wah Kee prawn noodles and got really frustrated because they had just sold out. While he was walking despondently along the shophouses, his Foodar (foodie radar) suddenly picked up the sounds of very satisfied people slurping on slurry (porridge lah, but porridge doesn't start with S). Zeroing in on the signal, his astute subconscious assessed the kitchen situation and in a blink, came to the ultimate Teochew conclusion: The fish here is Chngee (fresh), very Chngee.
What caught my attention was when he reported that this place sells a plate of steamed fish for $60! Now, a coffeeshop stall that dares to sell a $60 plate of steamed fish really is worth investigating. It turns out that the fish was the much talked about Soo Mei (蘇眉, Napolean Wrasse). Now I don't know much about Soo Mei fish prior to this, but I knew that it was this fish that won Sin Huat its infamy of being able to charge $1000 a table in a coffeeshop Cze Char!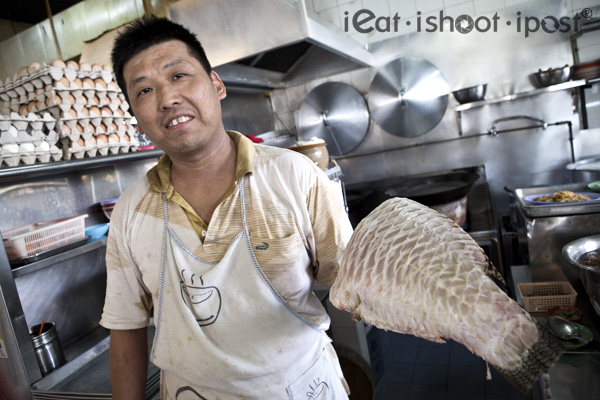 Boss with the tail end of a Soo Mei
I have never eaten Soo Mei before, so when the fish finally arrived, the most question foremost on my mind was whether this fish is really worth all the hype and the hefty price tag. As you can see from the photo, the fish is steamed Teochew Style with some ginger, salted plums, tofu, tomatoes and a few generous slices of pure pork fat. This is typical Teochew steamed fish where the ingredients don't overpower the dish as you really want to focus on the freshness and original taste of the fish rather than the sauce. The key to the dish is a fish that is very very Chgnee (fresh).
The boss, Mr Thomas Tan, tells me that in order to ensure the freshest of fish, he personally visits the Senoko Fishery Port at 1am every day to handpick the best fish for the day's steaming. I was very fortunate that he managed to pick up a Soo Mei that day. Someone else has already bought the head which is very popular among Soo Mei . Apparently, they love to nibble on Soo Mei's lucious lips.
The flesh of the fish was very tender and delicate even though it was quite large. (Large for steaming, but small for Napolean Wrasse which can grow to almost 200kg) The fish was steamed perfectly, so the tender flesh flaked off beautifully. It was an excellent fish, but I must say that I personally don't feel that the price tag is justified. Furthermore, when I found out about just how endangered the fish is, I really felt that there were better alternatives out there, like parrot fish for instance. So, I think that it would likely be the first and last time that I eat Soo Mei. He does serve many other fish including Chinese Pomfret and his steaming technique is excellent, so this is a good place to get a bowl of porridge and some freshly steamed fish. 4.5/5
To read more about the state of the Napolean Wrasse please read this article.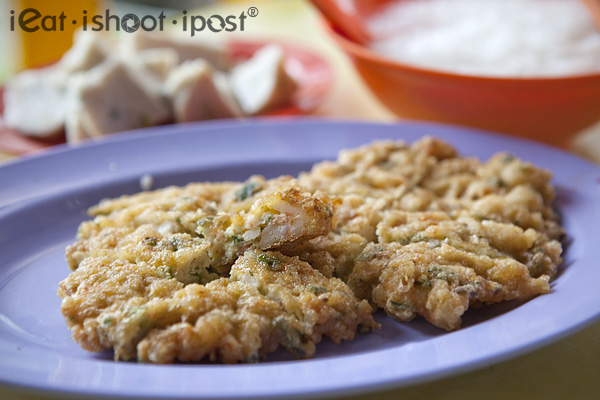 Heh Nerng (Prawn Omelette) $4 ea
Aside from the steamed fish, this stall sells a very unique omelette that I have seldom seen at other places, Heh Nerng (lit Prawn Egg). Each burger sized omelette is $4 which might seem expensive until you bite into it and realize that they don't stinge on the prawns.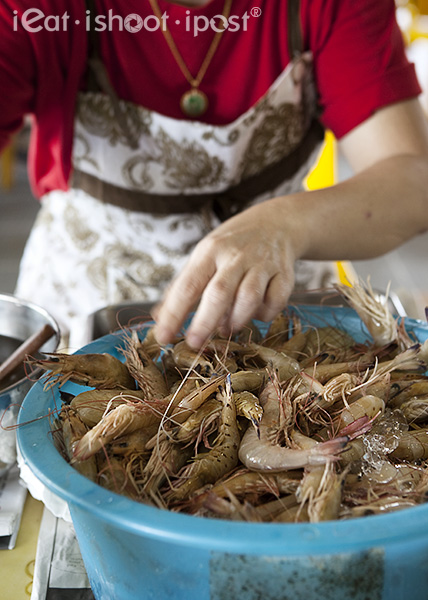 Peeling Wild Sand Prawns (Sua Lor) for the next day's omelette
And they don't use just any prawns either. He only uses Sua Lor (Sand Prawn) which is wild caught prawn known to be especially sweet and full of umami. Needless to say, the omelette is excellent and would have been even better if it could be freshly fried. So if you can, make an effort to get there at 11am when the stall starts selling! 4.25/5
The boss here prides himself at making everything from scratch. Even the fish cake is made from hand scraping fresh Batang (Spanish Mackeral) daily and hand beating it into a fish paste before the addition of minced meat. It was very good, but the texture could have been more tender. 4.25/5
The sambal minced pork here is very good. We noticed that there are cubes of what looks like luncheon meat mixed in with the minced pork which gives the dish a very interesting texture. The boss was tight lipped about what he puts inside except to deny that it was luncheon meat. Its the kind of flavour packed dish that makes you want to slurp more porridge in order to wash all that flavour from the palate. 4.5/5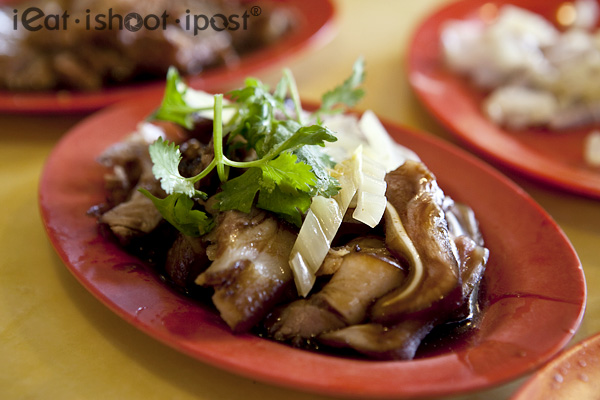 My opinion of the braised pork here is however divided. The good, they serve pigs head meat here, so you can get your ears and cheeks. The braised pork belly here is slow cooked for long enough such that the fibres separate easily with the slightest pressure from your chopsticks. However, we all felt that they were a little light handed with the braising sauce which could do with an extra power-up. 4/5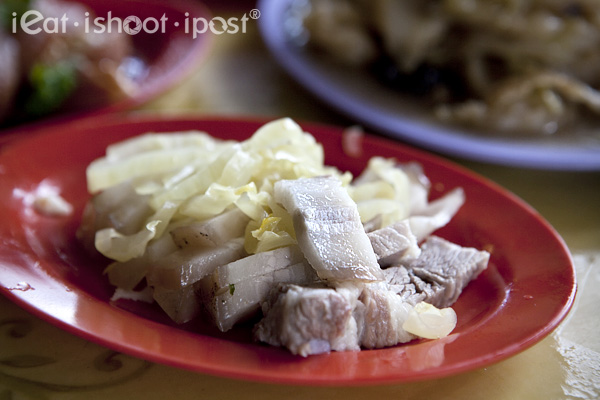 Peh Ter Bak (Fatty Pork Belly)
Whenever I play Mahjong with the family, we always used the term Pui Ter Bah (Fatty Pig Meat) to describe the rectangular window tile piece. Now pure pig fat is not something I eat often, if ever. But over here big white slabs of pork fat which has been simply poached is available in case your last cholesterol report showed that your cholesterol levels need a boost. Eaten simply with some preserved veg, this is one dish which I think perfectly exemplifies the shop owner's determination to keep with tradition. I can't imagine this dish to appeal to the modern day Singaporean as we have all been programmed to avoid animal fats. But for the traditional Teochew muay fanciers, this must be a welcome sight! 3.5/5
Conclusion
Given the popularity of the stall with the locals and the effort put in by the owners to ensure that the quality of the food is top notch, I really can't figured out why they have been able to stay low key for so long. If you love super fresh of steamed fish, this is one of the best places to get it. Aside from the freshly steamed fish, most of the other ready dishes go for $2 to $3 a plate, so you can still have a wonderful meal of Teochew porridge with plenty of change left in the pocket.