This restaurant is closed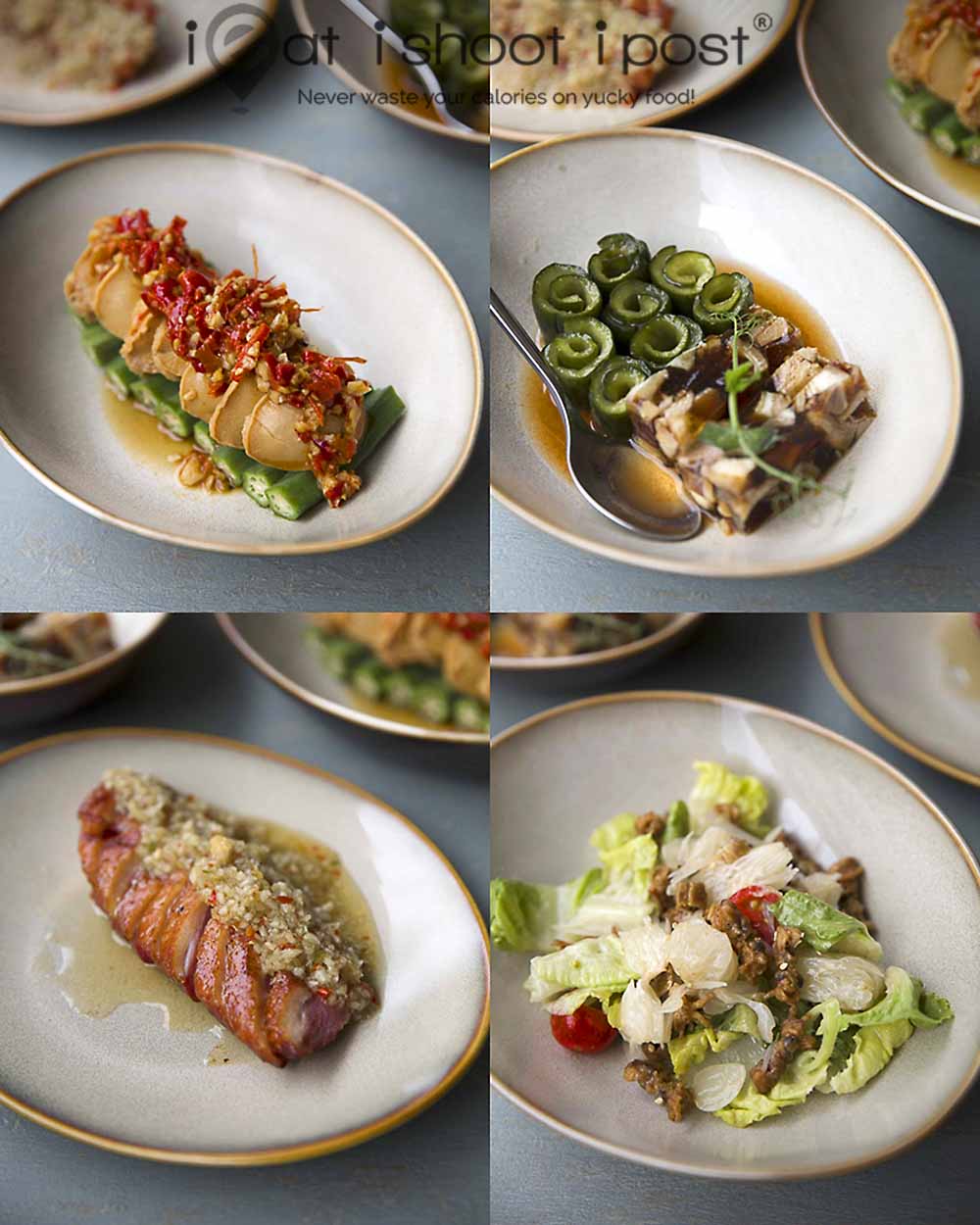 The Chinese Kitchen: Creative Chinese cooking – ieatishootipost
When Chef Kang won his Michelin Star this year, I had hoped that it would inspire other Chinese chefs to start their own restaurants.  The problem with Chinese cuisine is that most of the time they are prepared in large kitchens with minions of wok-hands doing the cooking and so the dishes tend to be rather generic.  There aren't many places like Chef Kang's kitchen where you get to taste the chef's cooking, like what you would at small Japanese or a European restaurants.   Chinese chefs also tend to be more conservative when it comes to technique and the use of ingredients.  Whereas you would find Western chefs readily using konbu, fish sauce, uni and miso, you seldom find Chinese chefs being as adventurous with foreign ingredients. There are exceptions of course, and The Chinese Kitchen is one of them.
The man behind the wok is Chef Austen Ong who started his cooking career as a 13 year old apprentice of the legendary Chef Tham Mui Kai (One of the Four Heavenly Kings).  Since then, he has worked in Chinese kitchens around the world, spending almost two decades with the Hyatt group.  In 2005 and 2007, he led the Singapore team to victory in the world culinary contest held in Taipei which eventually earned him the title of "god of the kitchen". 厨神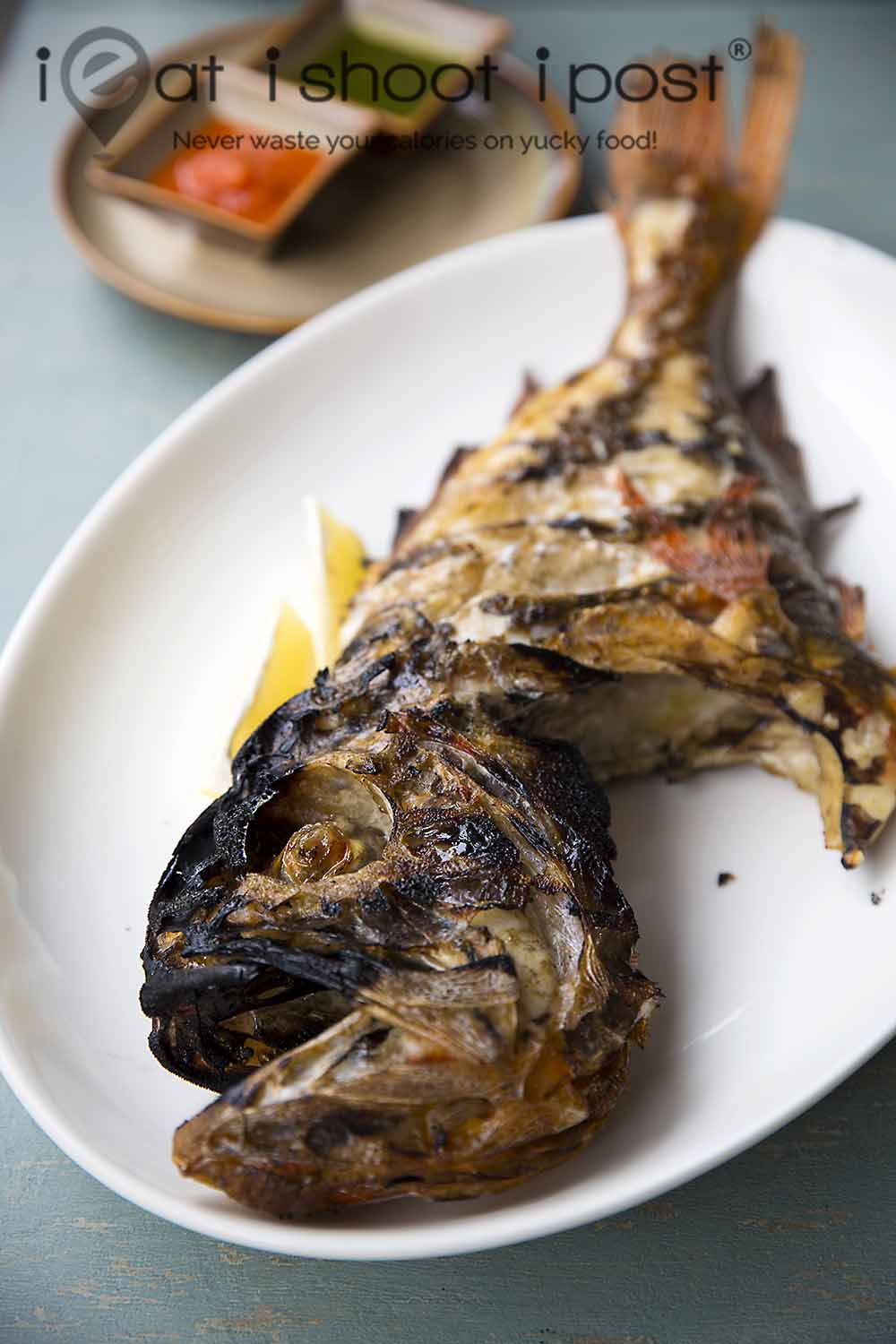 The dishes served at The Chinese Kitchen reflects Chef Austen's creativity innovative use of ingredients, though the style is  unmistakably Chinese.  For starters we were served a dish of pork trotter jelly which is a traditional Teochew specialty.  To give it a modern twist he served it with pickled cucumbers marinated with passion fruit. 4/5  This dish best encapsulates what Chef is doing at the restaurant, viz giving traditional dishes a new twist in order to appeal to a younger crowd that is constantly seeking novelty.
The dish which will catch anyone's attention is the grilled deep sea perch aka orange roughy.  Firstly, the fish is not widely available and also because you seldom get grilled fish in a Chinese restaurant.  Being a deep sea fish, the flesh is naturally oily and is moist and flaky after grilling.  The texture is somewhere between a silver cod and a snapper and quite similar to the alfonsino which is very popular in Japanese restaurants.  The fish comes frozen from New Zealand and is simply salted and grilled over charcoal. Most of the kakis liked the fish, although I found mine just a little over cooked.   4.25/5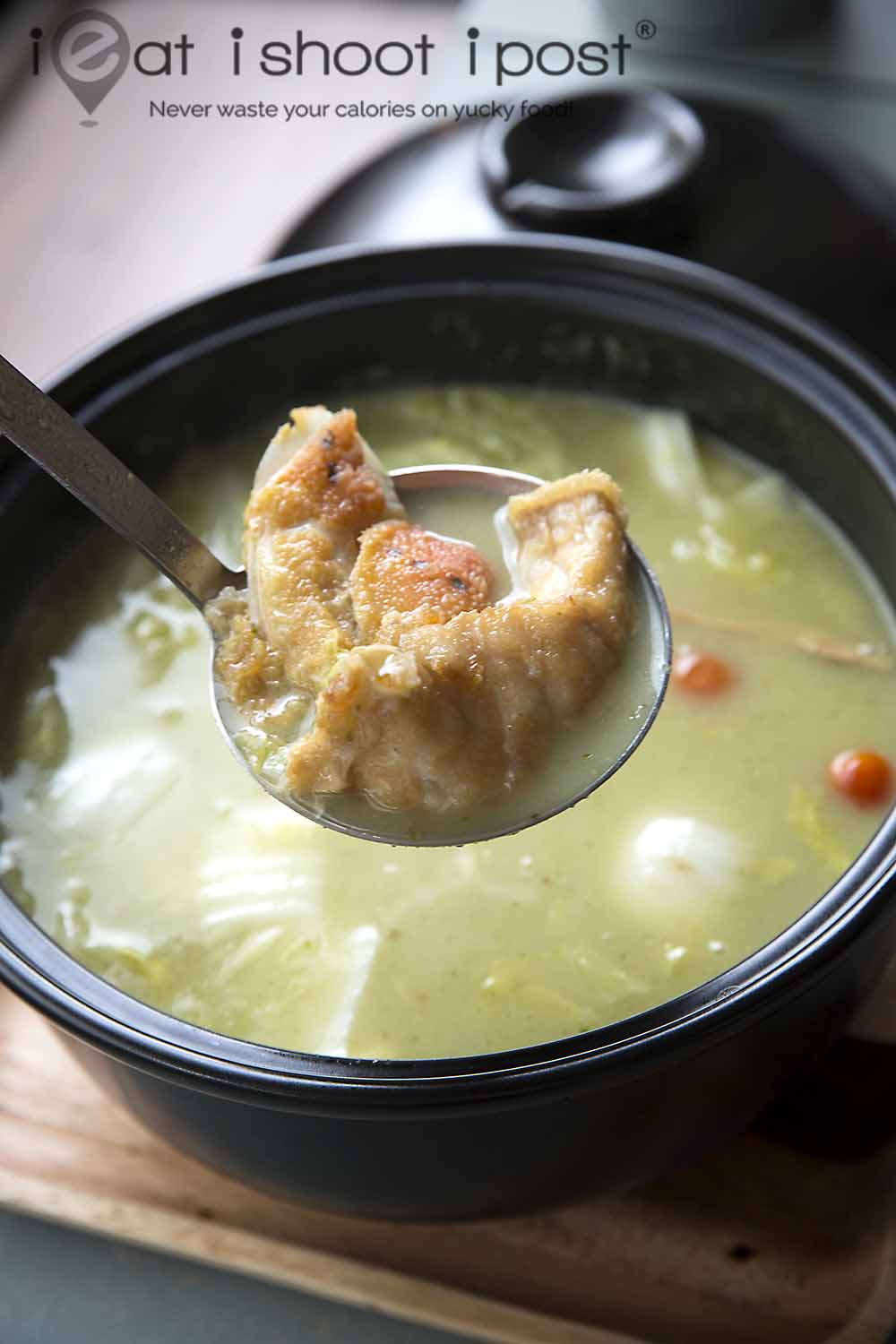 The signature old fifty collagen broth is something which I will definitely order again.  It is inspired by what Chef Austen used to eat while he was growing up in the kampung in the 50's.  It consists of pork, chicken and skin of the ocean sunfish (mola) that is slowly simmered over charcoal for 10 hours.  We tried the spicy version which is spiked with Thai green chilli which gave it an unexpected kick.  The soup itself is full of collagen with gave it that lip smacking tackiness which we all love in a long cooked soup. 4.5/5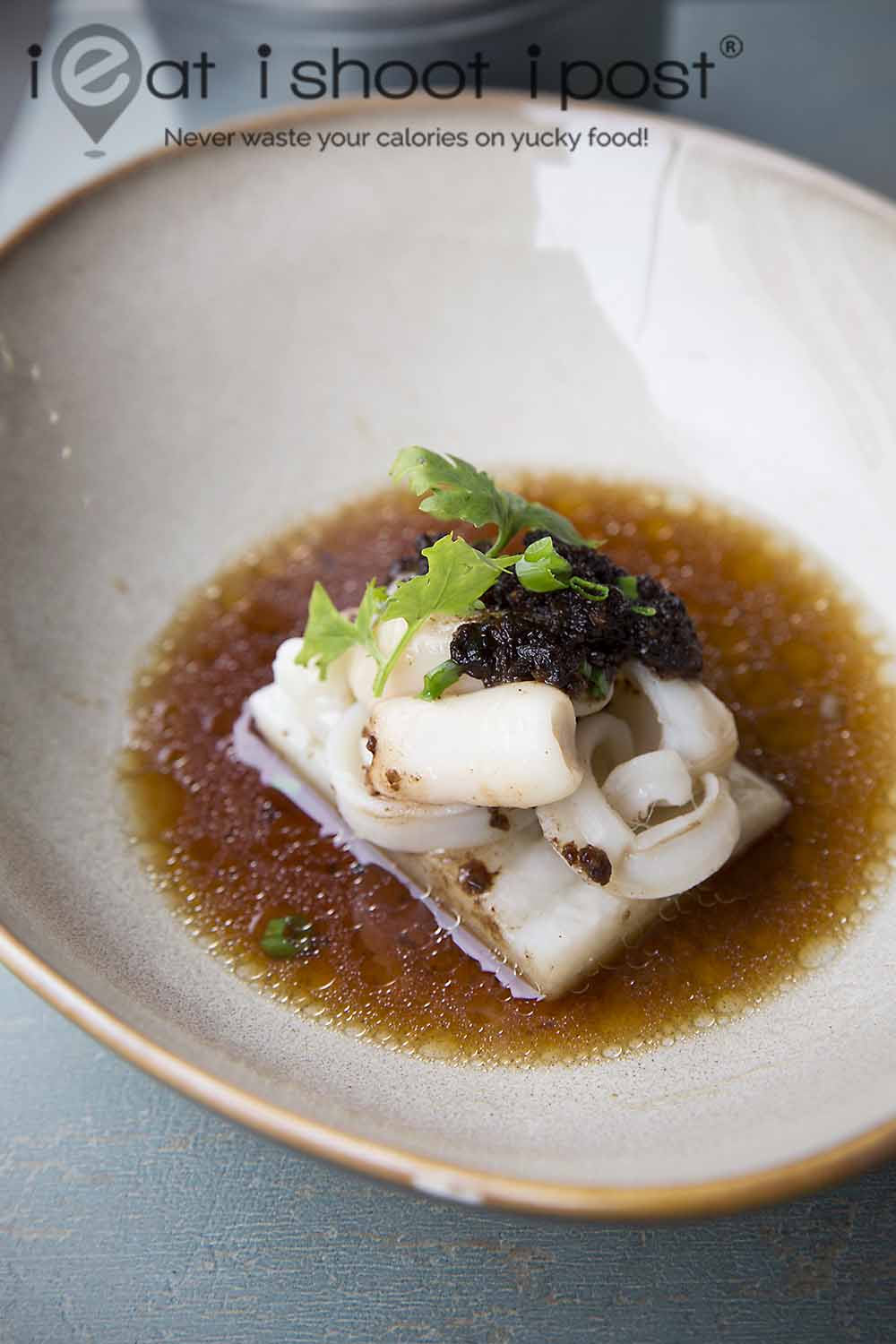 Another crowd favourite was the razor clams steamed with black garlic on a slice of mountain yam.  Most of us are familiar with steamed razor clams which is served in the shells.  Chef felt that it was a little intimidating for some people and presented in a more modern fashion.  Dishes served in individual portions like this is also a departure from Chinese style dining.  The black garlic topping was also a nice variation from the norm.  4.25/5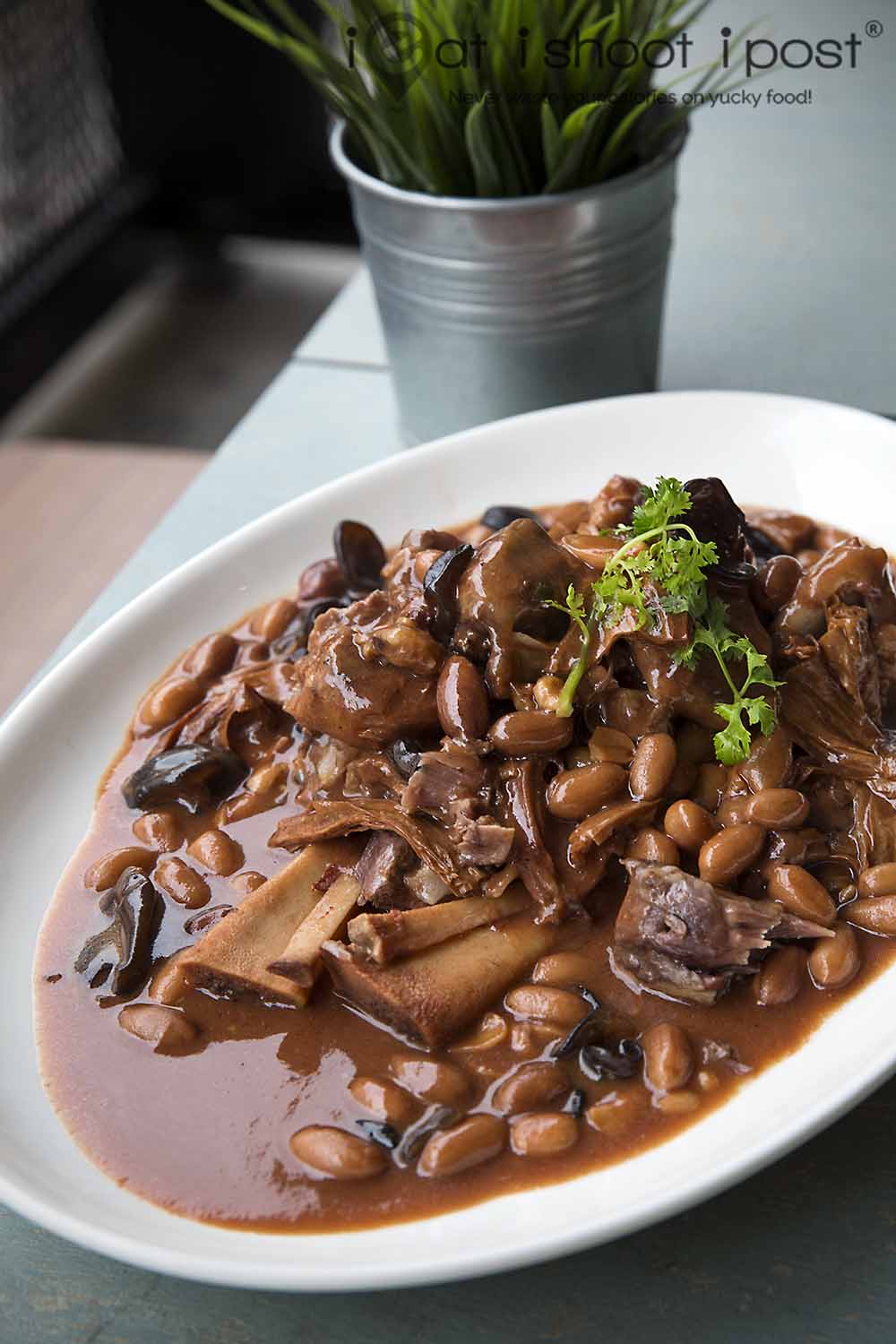 Our kakis were divided about the lamb shoulder.  The sauce was very nice but the gaminess of the lamb threw some people off.  It is not often that you find lamb in a chinese restaurant but if you are a fan of lamb, then you should go for it.  4/5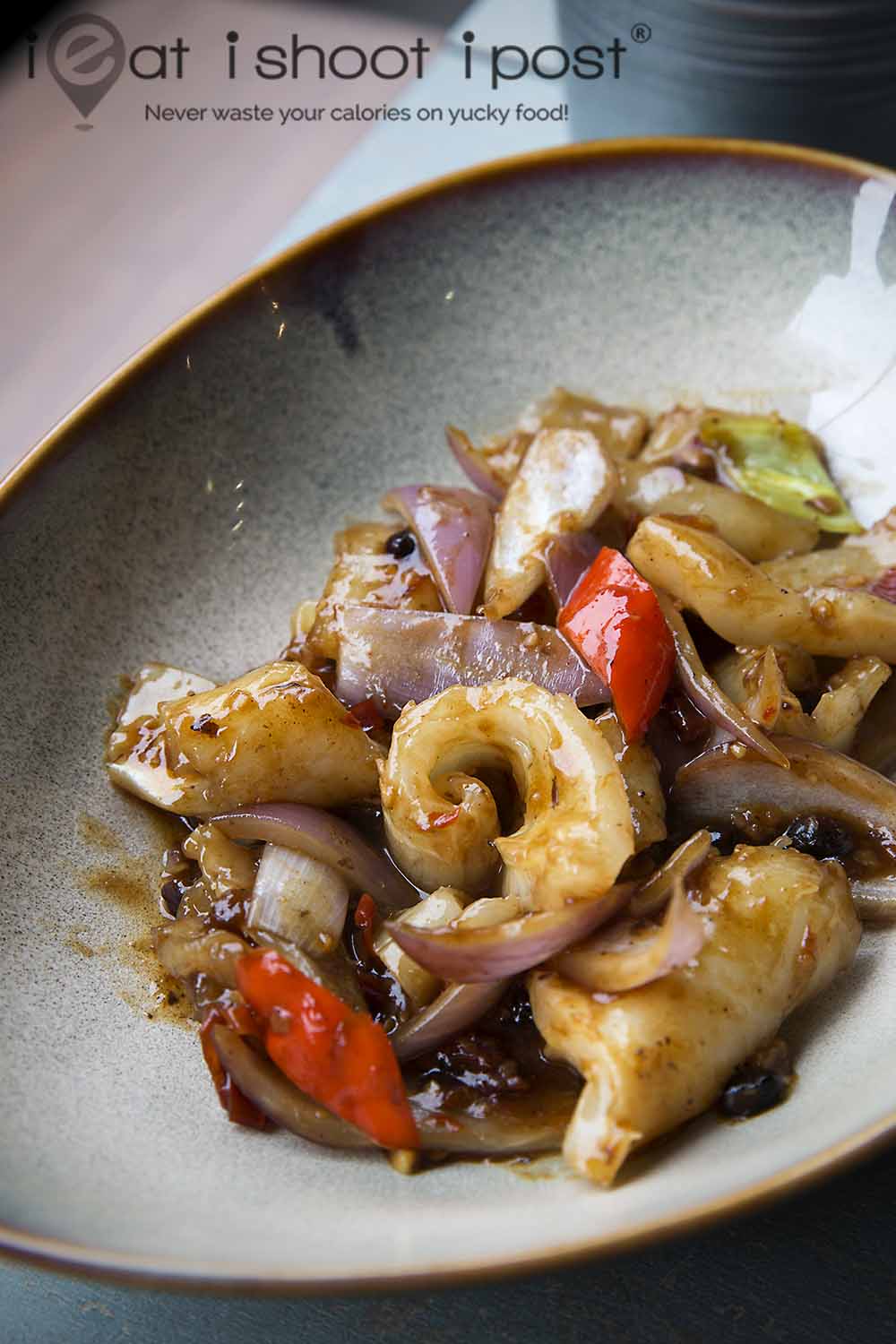 Most of us would be familiar with the deep fried version of the fish maw which is often served in a soup.  But fish maw also comes in a sun dried version which is often served braised.  Eschewing both of these traditional methods of cooking, the fish maw here is wok fried in a spicy bean sauce.  Preparation of the dried fish maw takes three days and entails soaking and frequent change of water.  The end result is something with a unique texture and mild fishiness.  Good to try but I wasn't bowled over by it.  4/5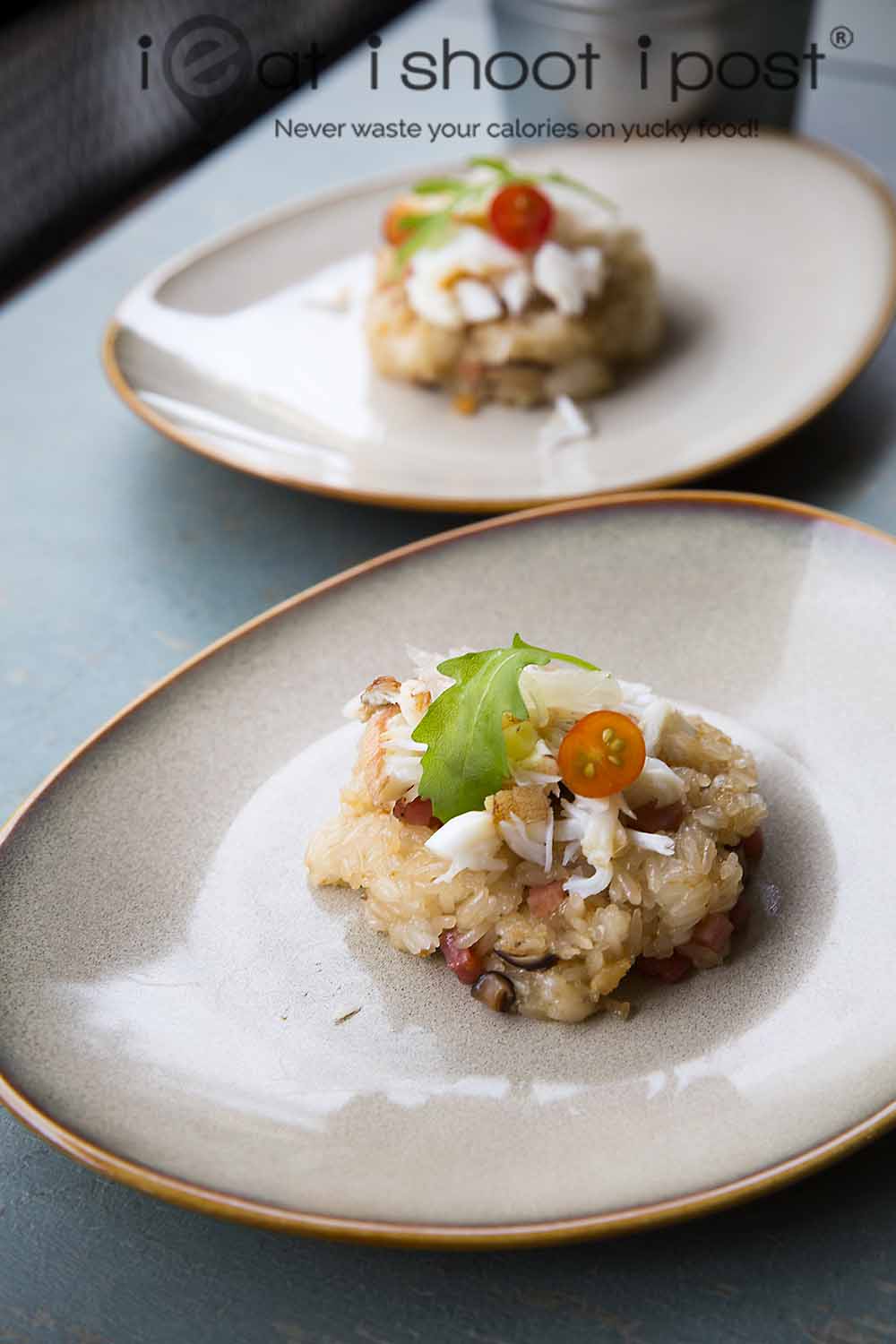 The steamed glutinous rice with mud crab was a let down.  The crabs were steamed on top of the glutinous rice before they were de-shelled and served on top of the glutinous rice in individual portions.  It is easier to eat, but somehow the presentation and taste of the dish just wasn't right.  It would have been more impressive to see a whole crab atop the glutinous rice in a bamboo basket.  3/5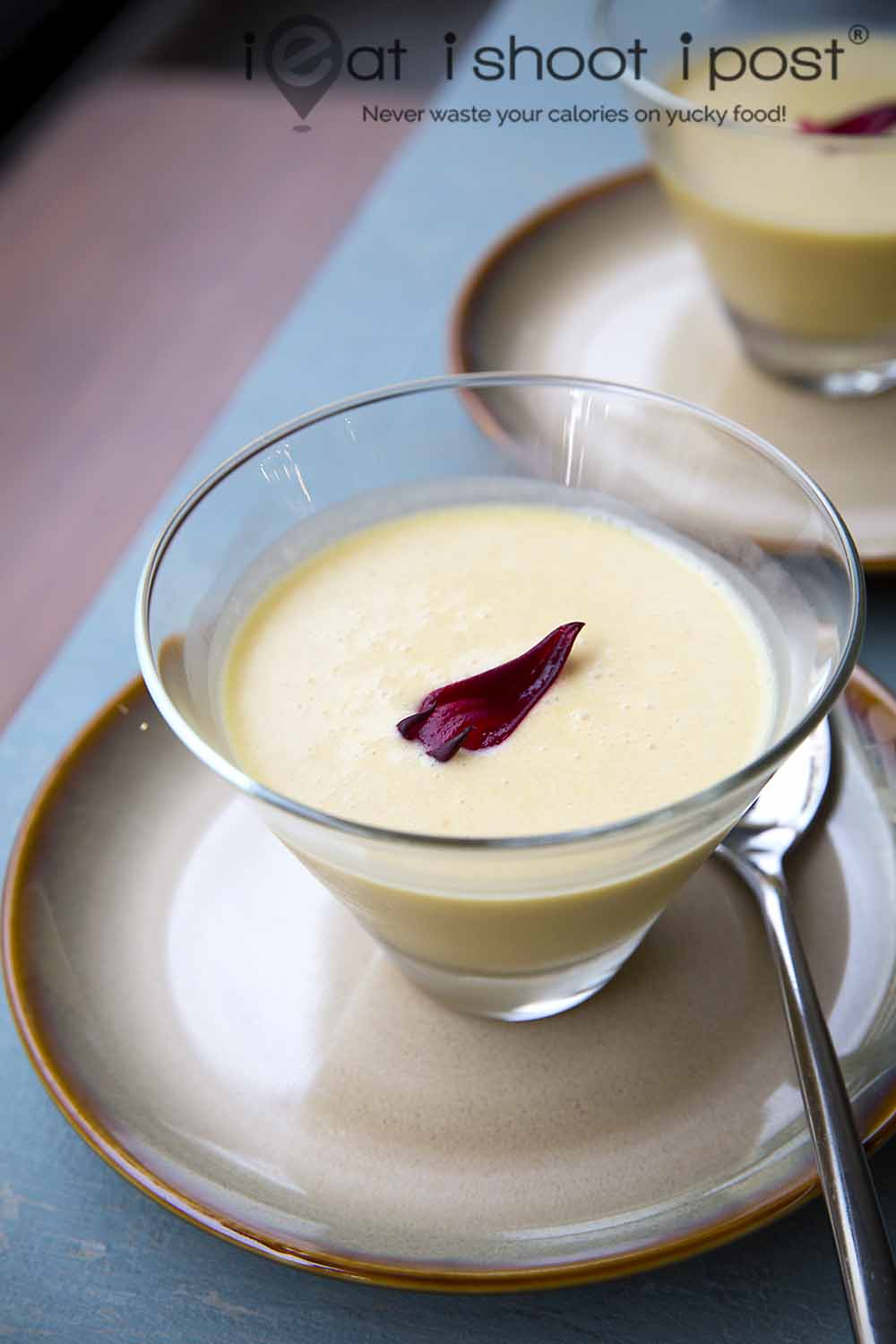 For dessert, we were presented with a yam and pumpkin puree which was a twist from the traditional orh nee.  It was served chilled and was quite light on the palate unlike the traditional yam paste which can be quite heavy after a eight course meal.  Yam and pumpkin are steamed and mashed, then whipped with milk and cream to create the puree.  Something different to try.  3.75/5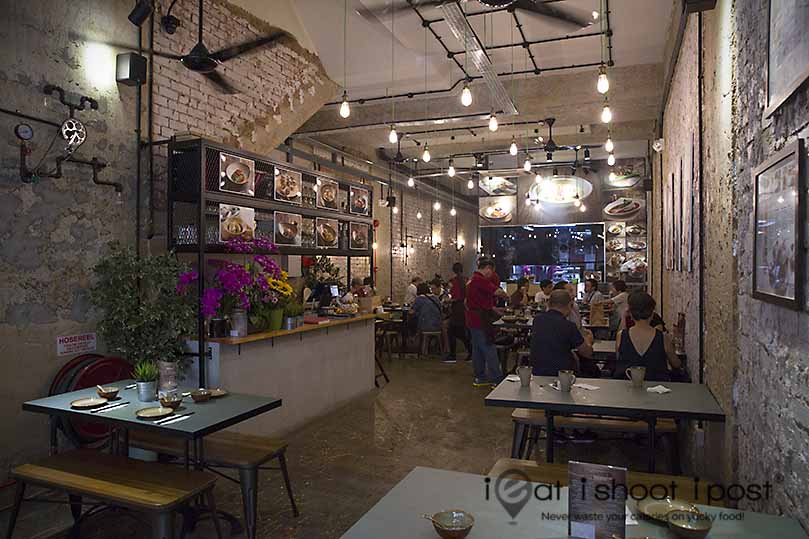 Conclusion
Our kakis all agreed that The Chinese Kitchen was a good place to discover new and innovative Chinese style dishes.  There is no doubt that the chef is very experienced and adventurous in his interpretation of the ingredients.  Personally, there wasn't a dish that was so good that I needed to return to eat, but the overall experience was good enough to warrant a return visit to check out the rest of the menu.