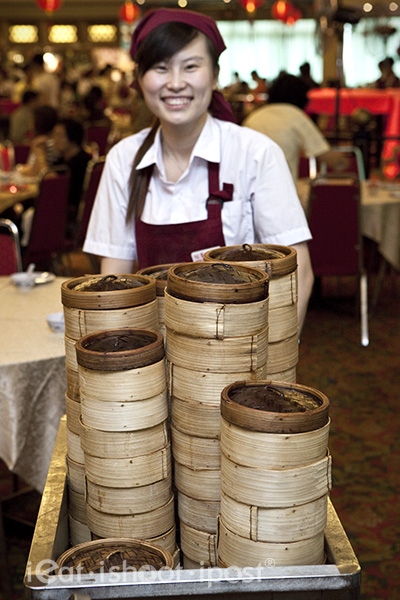 If you are a child of the 60's and 70's, lunch at the Red Star restaurant will transport you back to the days when the only stress was whether you get to be chosen for the soccer team during recess time.
Red Star is the kind of restaurant that some people would love while others would complain that the food just cannot make it. It is old school Dim Sum served on trolleys and the only Dim Sum I knew of when I was growing up. Truth be told, the taste and style of the Dim Sum probably wouldn't appeal to the new generation of Singaporeans who have grown up eating Dim Sum picked from a menu. But for the old boys and girls, this is the kind of place where you go to reminisce about the good old days and Mommy, Daddy, Ah Gong and Ah Mah.
The men we have to thank for preserving this piece of Singapore Heritage are none other then Grand Masterchefs Sin Leong, and Hooi Kok Wai, two of the remaining members of the Legendary Four Heavenly Kings of Cantonese Cuisine. You might not have heard about the Four Heavenly Kings, but I am sure you are familiar with some of the dishes that they created viz: Chilli Crab, Yam Ring, Yu Sheng (Raw Fish Salad) and USA Duck.
So how did these Four Men of culinary legend come to be? Well, they were all disciples of Hong Kong Master Chef Luo Chen who was the Head Chef at Cathay Restaurant in the 50's. Those were the days when eating at a Restaurant was a big deal as there weren't many around, and the Cathay was the Grand Dame of Cantonese Cuisine. These four Singaporeans started training under Chef Luo as apprentices and worked their way up to be Chefs. When the master felt that their Culinary Kung Fu had reach the limits of what could be achieved in his kitchen, he sent them out to spread Cantonese Cuisine to a wider audience. And so they did, but not as competitors, but as a band of brothers. They made a pact such that their restaurants would each serve their own signature dishes so that they don't compete with each other.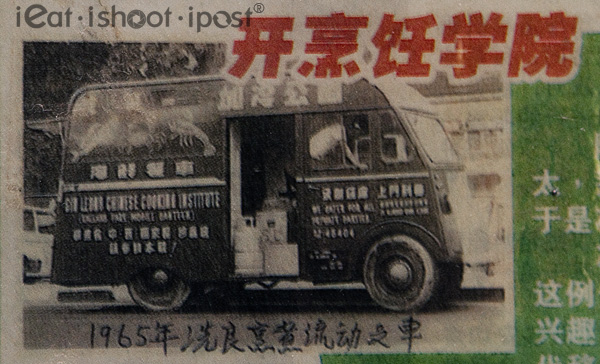 Chef Sin Leong started out with a Mobile Teaching School called the Sin Leong Chinese Cooking Institute in 1965 (due to lack of capital) and eventually opened Sin Leong Restaurant in 1971. Sin Leong Restaurant would eventually be sold to his Godson, Roland who renamed it Roland Restaurant. Chef Hooi, opened Dragon Phoenix Restaurant and was responsible for modifying Mdm Cher's original Chilli Crab (Palm Beach Seafood) recipe by adding eggs into the recipe, thus creating the familiar Chilli Crabs we have today. The late Chef Tham Yew Kai was the head Chef and co-owner of Lai Wah restaurant which was most famous for the popularization of Yu Sheng (Raw Fish Salad). (I say "popularization" because Yu Sheng was something which the four Heavenly Kings concocted during one of their frequent gatherings. In fact they all had minor shares in each other's restaurants). Chef Lau Yoke Pui was the one who headed Red Star which was eventually taken over by Chef Sin Leong and Chef Hooi upon his passing.
Every weekend, the restaurant would be bustling with extended families lining up for Dim Sum. It is a huge restaurant which can easily be used to hold wedding banquets and it was great to see the ladies pushing their carts around and kids running around playing catching. The decor is dated, but that is precisely what you are going for. There are some gems to be found amongst the Dim Sum. The Custard Puff is one of them. I was told that the flaky custard puff was an invention of Chef Hooi who modified the Portugese Egg Tart to this version without the blackened top. Rocket Girl said it was one of the best Egg Tarts she has ever eaten. 4.25/5.
Aside from that, I honestly felt that the other Dim Sum were nothing to shout about. I would rate most of them between 3/5-4/5 I am not sure if it is because they are just old school recipes which have not changed over the years or whether it is because the kitchen is now helmed by younger chefs. If you have been eating at Red Star for years, perhaps you can share your own experience?
Speaking of Dim Sum Trolleys, I really feel that it is time for them to make a comeback. There must be more Gen Xers like myself who have grown up eating off the Dim Sum Trolleys who would love to see them again in Singapore. They are, after all, still commonplace in Hong Kong and Australia, so they should be practically feasible.
Conclusion
The Legend of the Four Heavenly Kings is slowly fading but the stalwarts and keepers of the Legend are still fanning the flame at the Red Star. I think the Dim Sum must have been better in the past, but that is beside the point. You go there for the Dim Sum Trolleys, the 80's decor and to teach your kids about what it was like when you were growing up. To further embellish the experience, start the Heritage tour by playing some Abba and Bee Gees on the way there! Such places are rare in Singapore and I hope it never changes.